10 Best Crypto Wallets in Australia 2023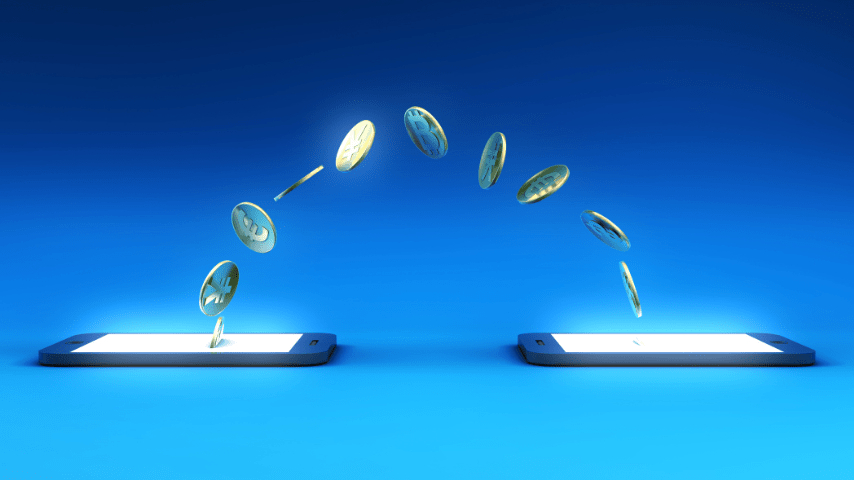 Are you looking for the best crypto wallet in Australia? In this easy-to-follow guide, we'll reveal the top 11 wallets for Australian investors. We'll explain what a crypto wallet is and discuss why they're essential for investors.
We'll also break down different wallet types and share practical tips to help you pick the right Australia Bitcoin wallet after considering factors such as asset protection, supported cryptos, fees, and user experience.
List of The Best Crypto Wallets in Australia
Discover the best crypto wallet for Australian investors in 2023 with our comprehensive list below. These wallets cater to Australian traders, providing a perfect blend of security, convenience, and functionality.
Best Wallet – Overall Best Crypto Wallet in Australia in 2023 with Multi-Chain Swaps, Native $BEST Token, Built-In DEX, and Enhanced Insights.
YouHodler – Leading crypto wallet with up to 15% annual yield on cryptocurrencies, crypto loans, exchanges and Bitcoin cloud mining.
Ledger – One of the best hardware wallets that keeps your seed phrase offline, making it hard to hack. It also comes with staking, swapping and buying crypto with a card.
Trezor – Leading hardware wallet that offers a mobile app, desktop app and a browser app to manage your crypto portfolio, stake coins and even make your transactions private.
Binance – Prominent wallet with low fees and vast crypto support.
OKX – Popular non-custodial crypto wallet app.
MetaMask – Browser extension wallet for seamless Web3 access.
Trust Wallet – User-friendly mobile wallet with integrated DEX.
Coinbase –  Simplified wallet experience for crypto newcomers.
Crypto.com – Feature-rich wallet with easy app integration.
Reviewing the Best Crypto Wallets For Australian Traders
The best crypto wallet in Australia provides numerous features, robust security measures, low fees, and in-wallet crypto trading capabilities.
This section evaluates the best Bitcoin wallets in Australia in 2023.
1. Best Wallet – Overall Best Crypto Wallet in Australia in 2023 with Multi-Chain Functionality, a DEX, and Enhanced Features
Topping our list of the best crypto wallets for Australia-based investors is Best Wallet, a newly launched non-custodial software wallet that is available on Google and Android.
It allows users to securely store, send, and receive cryptocurrencies while offering several enhanced insights and features that target those interested in Web3 technologies.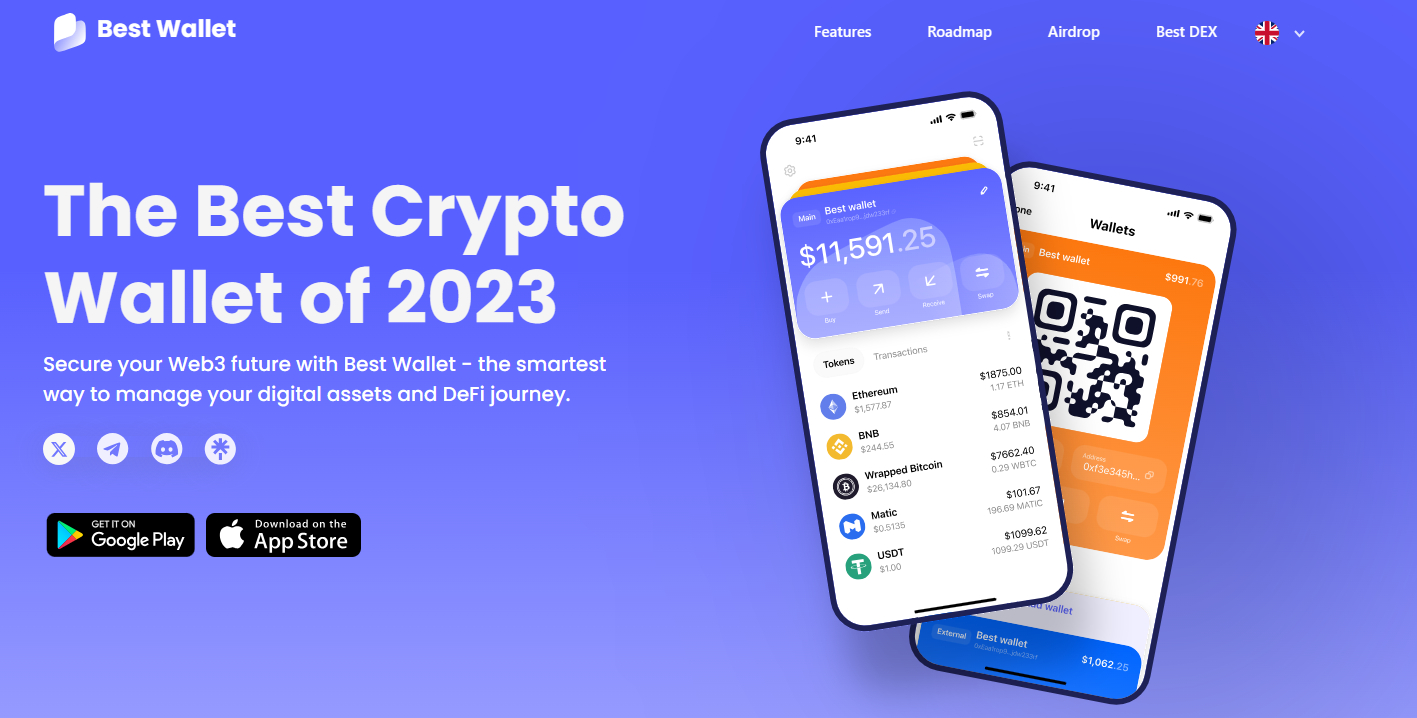 Best Wallet has multi-chain support, including Ethereum and the BNB Smart Chain. Not only does this mean users can store thousands of tokens hosted on these networks, but it also means these users can interact with all of the DeFi protocols built on the chains – providing limitless options for yield generation.
It even has its own built-in DEX, so although purchasing crypto with fiat is handled via trusted third-party app Wert, users can trade thousands of new and established cryptos directly on the platform. 
It also offers insights such as information on new and trending cryptos and airdrops to help users get ahead of the competition, a feature other wallets don't tend to offer.
Best Wallet also has full support for NFTs, making it ideal for those with a diversified digital asset portfolio – the development team plans to create an NFT gallery where users can view their collections seamlessly.

When it comes to security, Best Wallet leaves no stone unturned. The wallet deploys advanced cryptographic techniques to protect user holdings while implementing biometric identification to prevent bad actors. Users can also select two-factor authentication and fingerprint ID to enhance their security when creating an account.
On top of all these features, Best Wallet also has a native token called $BEST. $BEST holders will receive various perks, such as early access to presales, although those who opt to stake their tokens will also benefit from zero gas fees and exclusive voting rights. The token has not yet been launched but will be airdropped to regular users of the app, with 10% of the total supply to be distributed. 
Overall, Best Wallet's state-of-the-art technology, enhanced insights, focus on interoperability, and advanced security features — as well as the upcoming token airdrop – make it a fantastic option for Australian crypto investors.  
Follow Best Wallet on Telegram and on the Best Wallet X page to stay up-to-date with new information and releases.
| | |
| --- | --- |
| Number of coins | Thousands via its DEX |
| Type of wallet | Software |
| Fee for Buying Bitcoin | Set by Wert |
| Mobile App? | Yes |
Pros
Overall best crypto wallet
Available as a mobile app on Google and Andriod
Strong security features
Multi-chain functionality and built-in DEX
Enhanced insights on trending and upcoming tokens and airdrops
$BEST token airdrop
Cons
Mobile-only, although desktop extension launching soon
Fees for buying crypto with fiat decided via third-party app Wert
2. YouHodler – Leading Crypto Wallet With Up To 15% APY on Cryptocurrencies, Crypto Lending, And Multi-Chain Swaps
YouHodler is a popular crypto wallet that lets you trade your cryptocurrencies, swap them for coins on various blockchains, or use your holdings in YouHodler's yield earning program and earn up to 15% APY on select cryptocurrencies. Stablecoins like USDC and USDT come with up to 12% APY, which is one of the highest yields you can get on stablecoins.
However, to get this yield you need to advance your levels by trading or holding a certain amount of funds in your account. The Basic level APY is 7% for LTC and 6% for stablecoins. This is still competitive with other DeFi platforms.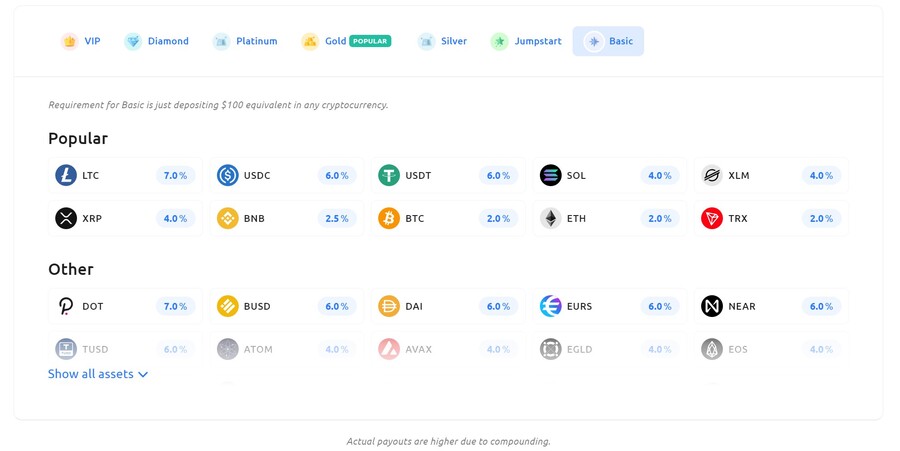 If you're looking to diversify your crypto assets without leaving your wallet, you can swap between multiple chains like Bitcoin, Ethereum, Solana, Ripple and even less popular coins like ApeCoin and Decentraland.
Another rewarding feature is the Bitcoin Cloud Miner. The way it works is you complete weekly tasks and you earn sparks. You can then use the sparks in the Cloud Miner to earn BTC with up to 0.2 BTC per month.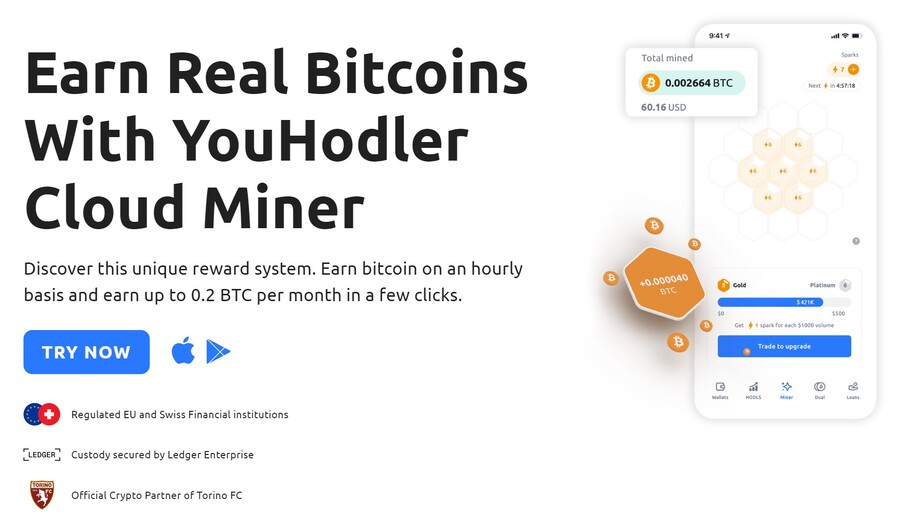 Those who are strapped for liquidity can use their cryptocurrency holdings as collateral to get crypto or fiat currency loans like EUR, USD, CHF and GBP and instantly withdraw them. The loan-to-value is 90%, which is among the highest in the crypto space. 
YouHodler is regulated in Switzerland and in Italy. The company uses Ledger Vault technology to secure its holdings with $150 million in pooled insurance. You can also secure your wallet with two-factor authentications and biometrics.
Pros: 
Supports multiple cryptocurrencies
Up to 15% yield on select cryptocurrencies
Can mine Bitcoin with Cloud Miner
Crypto loans with 90% LTV
Crypto to fiat exchange
Cons: 
Not available for US residents
$100 minimum crypto loan
| | |
| --- | --- |
| Number of coins | More than 50 |
| Type of wallet | Web & mobile |
| Fee for Buying Bitcoin | No fee, only the bid-ask spread difference |
| Mobile App? | Yes |
3. Ledger – One of the Best Crypto Hardware Wallets With In-App Staking and Swapping
The Ledger hardware wallet uses a military-grade secure chip to store the user's private key. This is encrypted and offline, meaning fraudsters can't see your seed phrase if they somehow hack your computer.
Aside from security, Ledger boasts a seamless user experience via the Ledger Live mobile and desktop app. From there, you can manage over 5500 tokens, including purchasing crypto with a card, swapping via decentralized exchanges, sending and receiving coins and tokens, as well as staking supported coins, including Ethereum and Bitcoin. The app also supports NFTs.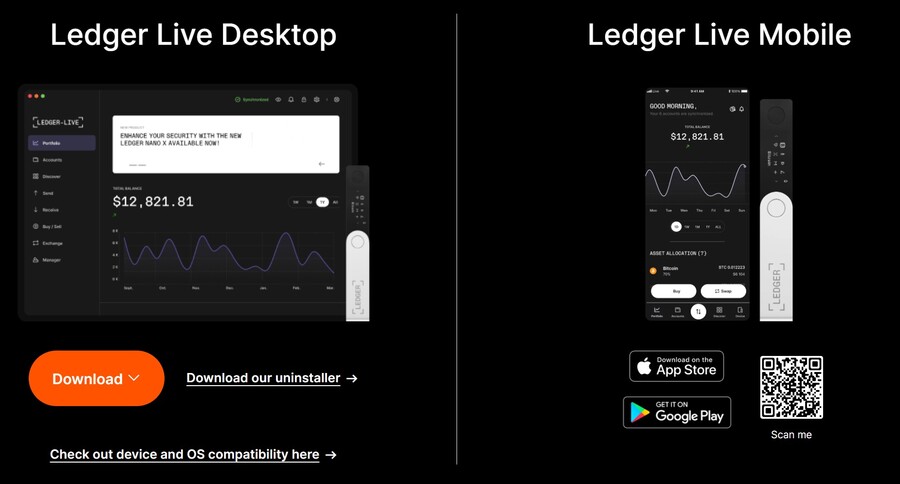 Choose one of the three hardware wallets: Ledger Nano S Plus, Ledger Nano X and Ledger Stax. Nano X offers Bluetooth, which makes it an excellent addition for those who want to use the Ledger Live app on mobile. That's because you won't need cables to connect the two.
Pros
Maximum security features
Military-grade technology
Millions of users
Huge number of cryptos supported
Ledger Live app to trade, stake and buy coins
Cons
| | |
| --- | --- |
| Number of Supported Cryptos | 5,500+ |
| Type of Wallet | Hardware |
| Fee for Buying Bitcoin | Variable |
| Mobile App | Yes (Ledger Live) |
4. Trezor – Security-Focused Hardware Wallet with Simple Functionality
The Trezor cryptocurrency wallet is one of the most secure wallets as it uses a hardware device to encrypt and store your seed phrase off line.
Choose from Trezor Model T, Trezor Model One and Trezor Safe 3, which are the only models currently on sale. The Trezor Model T is more advanced than the other two, offering wider crypto token support and a touchscreen.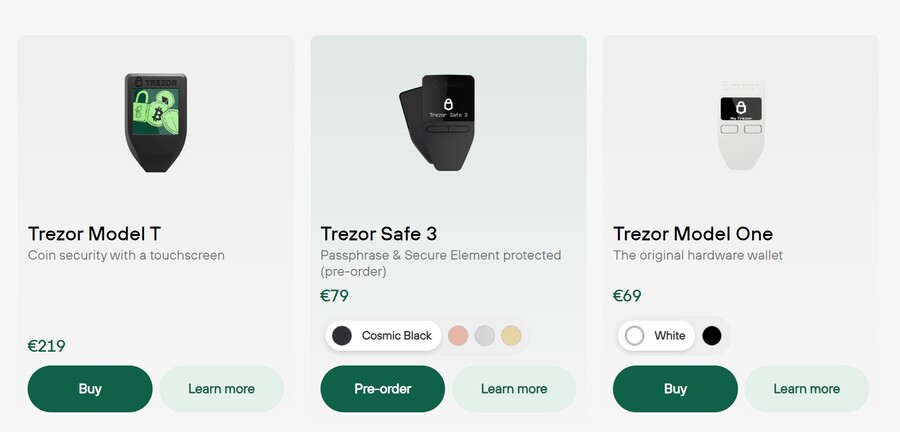 There's also wallet app called Trezor Suite, available on desktop, mobile and in your browser. Use the app to trade crypto, send or receive or even obscure your transactions with Coinjoin.
However, none of the Trezor devices support Bluetooth, meaning you need to connect your hardware wallet with your phone via USB-C cable.
Pros
Extremely secure hardware wallet
Comprehensive security features
Trezor Suite app on mobile, desktop and browser
Mobile app to allow trading
Cons
Missing some features of software wallets
No Bluetooth
| | |
| --- | --- |
| Number of Supported Cryptos | 8,000 |
| Type of Wallet | Hardware |
| Fee to Buy ETH | Variable |
| Mobile App | Yes |
5. Binance – Prominent Wallet with Low Fees and Vast Crypto Support
Binance is a prominent crypto exchange with an extensive trading volume of over $10 billion daily transactions and caters to millions of users. The Binance Wallet is one of the most promising Australian Bitcoin wallets. It accommodates AUD deposits using debit/credit cards and PayID transactions.
The platform supports over a thousand crypto pairs and offers some of the best cryptos to buy, including Bitcoin, Ether, Shiba Inu, Litecoin, and USDT. A nominal commission rate of 0.10% applies to all token pairs. Additionally, Users can enjoy reduced fees by holding or trading BNB tokens each month.
The Binance wallet securely stores your crypto and is compatible with the platform's trading app, available for iOS and Android devices.
Binance also employs robust security measures, such as two-factor authentication, which requires desktop login verification via SMS code when accessing your crypto wallet. Additionally, the platform necessitates email verification for app access, ensuring unauthorized individuals cannot utilize your wallet.
Nonetheless, it is crucial to note that Binance does not fall under the jurisdiction of the Australian Securities and Investments Commission (ASIC) and is currently under investigation in the USA.
| | |
| --- | --- |
| Number of coins | More than 350 |
| Type of wallet | Custodial web & mobile |
| Fee for Buying Bitcoin | Trading commissions: up to 0.1%, and debit card deposits: 1.8% fee. PayID deposits: free. |
| Mobile App? | Yes |
Pros
Extensive trading volume ($10 billion daily)
Supports over a thousand crypto pairs
Low commission rate (0.10%)
Reduced fees with BNB tokens
Robust security measures (two-factor authentication)
Cons
Risk of losing funds if private keys are lost
Not under the purview of the ASIC
6. OKX – Popular Non-Custodial Crypto Wallet App
OKX is one of the top crypto exchanges globally, serving a customer base exceeding 20 million. The platform takes pride in offering some of the most affordable trading fees in the industry while extending support for an impressive range of over 350 unique digital currencies, including a diverse range of blue chips and some of the best penny cryptos.
To enhance user experience, OKX has developed its exclusive crypto wallet, specifically tailored for traders and investors seeking a secure storage solution for their digital assets. Users can access the OKX wallet through multiple channels, such as a mobile app or a browser extension, without incurring extra costs.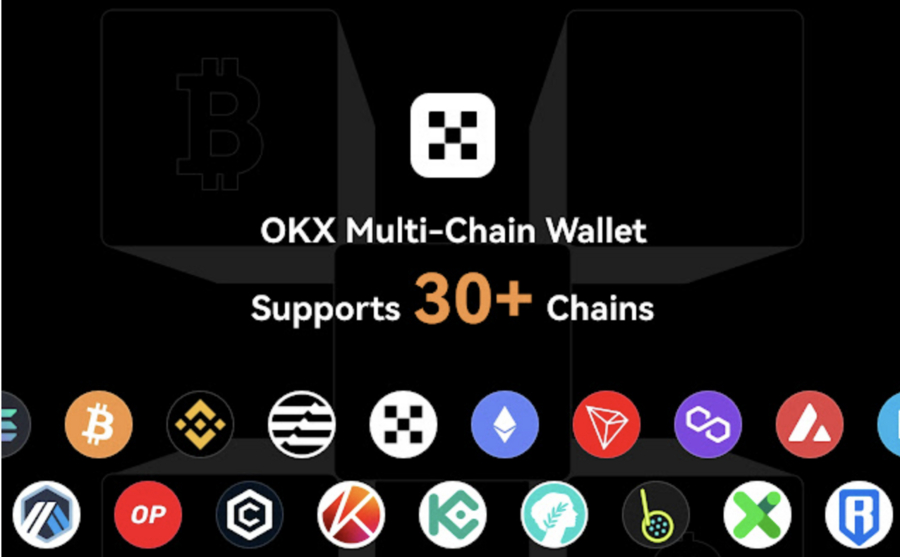 One of the OKX wallet's primary advantages is its valuable features for traders and investors. At the forefront, it streamlines exchanging tokens across widely-adopted blockchains. Furthermore, the OKX wallet is designed to seamlessly integrate with the OKX exchange platform, promoting efficient and cost-effective transactions between a diverse array of digital tokens.
In addition to its core functions, the OKX wallet has incorporated its own NFT marketplace. It consolidates the management of all their tokens and NFTs into a single, user-friendly location. This is a significant benefit for crypto enthusiasts who maintain a positive outlook on the NFT market.
The OKX wallet also accommodates an ever-growing selection of decentralized applications (dApps) catering to various purposes. Within the OKX ecosystem, users can find dApps specifically designed for multiple applications, such as those within the DeFi and GameFi sectors.
By providing a versatile and feature-rich wallet solution, OKX aims to create a comprehensive and convenient user experience for its customers. As the world of digital currencies continues to evolve, the platform is committed to staying ahead of the curve by continually expanding its range of services and support, further solidifying its position as an emerging player in the crypto wallet industry.
| | |
| --- | --- |
| Number of coins | More than 350 |
| Type of wallet | Non-custodial web & mobile |
| Fee for Buying Bitcoin | Transaction fees of a maximum of 0.1% apply, while the exchange rate incorporates AUD deposit charges. |
| Mobile App? | Yes |
Pros
Trusted global platform with over 20 million users
Less trading fees
Supports 350+ digital currencies
Free, versatile OKX wallet for secure storage
Integrated NFT marketplace
Robust support for diverse dApps
Cons
Geographic restrictions for some countries
KYC requirements
7. MetaMask – Browser Extension Wallet for Seamless Web3 Access
MetaMask has gained popularity as an Australian Bitcoin wallet over the last few years. Setting up a new MetaMask wallet is quite simple. Users receive a secure 12-word passphrase for added protection. 
Additionally, accessing the wallet requires only a password, ensuring a user-friendly experience. This versatile wallet is available as Android and iOS apps and as a browser extension, offering compatibility with Chrome, Firefox, Brave, and Edge.
The wallet supports tokens on various platforms, including Ethereum, Binance Smart Chain, Optimism, Arbitum, Avalanche, and Polygon. Unfortunately, MetaMask does not support Bitcoin, which may be a limitation for some users. Despite this, MetaMask offers a valuable feature that allows users to swap tokens directly within the wallet, eliminating the need to navigate to external platforms.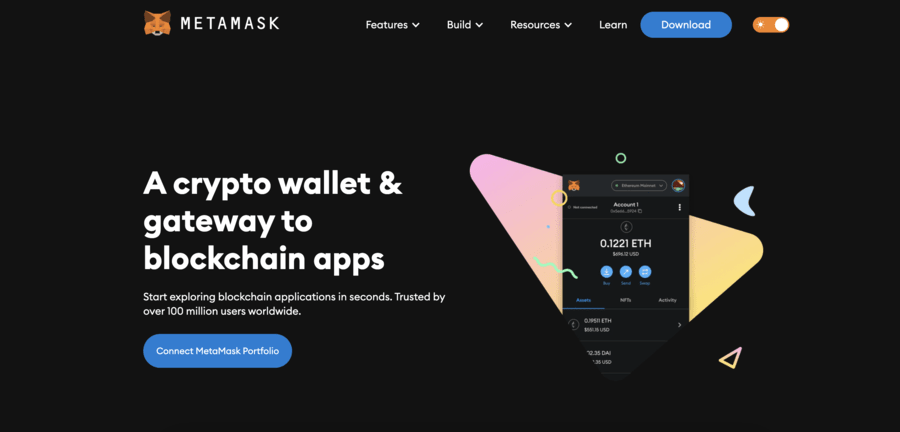 MetaMask charges a transaction fee of 0.875%. In addition to the competitive transaction fees, MetaMask is well-regarded for its security measures, offering users peace of mind that their assets are protected. The wallet is consistently updated to ensure it remains up to date with the latest security protocols and features, further enhancing user trust in the platform.
All in all, MetaMask is an attractive Australian crypto wallet option for those seeking a non-custodial wallet that provides versatility, ease of use, and robust security. With support for multiple tokens and platforms and convenient token-swapping capabilities, MetaMask is a reliable choice for managing digital assets.
Read our complete MetaMask review.
| | |
| --- | --- |
| Number of coins | Tokens from any EVM-compatible networks |
| Type of wallet | Non-custodial browser extension & mobile wallet |
| Fee for Buying Bitcoin | 0.0875% (Does not offer Bitcoin Integration)  |
| Mobile App? | Yes |
Pros
User-friendly access (password only)
Versatile (Android, iOS apps, and browser extensions)
Supports various platforms and tokens
In-wallet token swapping capability
Cons
8. Trust Wallet – User-friendly Mobile Wallet with Integrated DEX
Over 25 million individuals have utilized Trust Wallet, a non-custodial digital currency wallet. Trust Wallet provides users with the functionality to access dApps, including PancakeSwap. Operating on the Binance Smart Chain, this exchange is recognized for featuring the best low-market-cap crypto investments.
Initially, Trust Wallet was only compatible with Apple and Google devices, but developers later introduced support for the Chrome browser.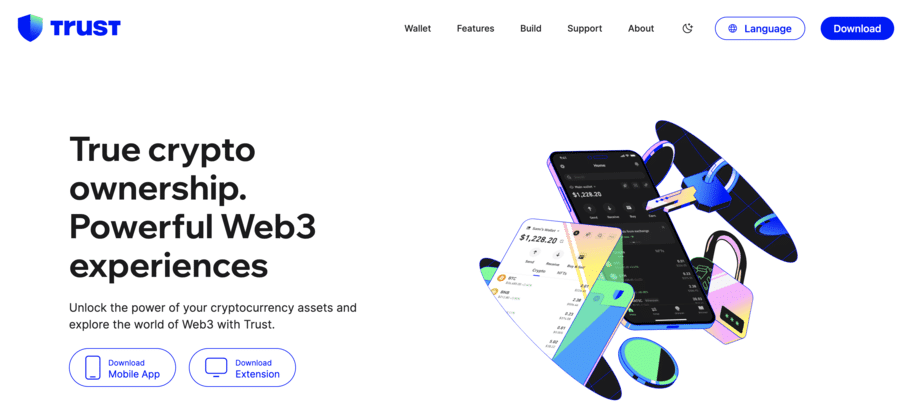 Trust Wallet has integrated staking tools, allowing users to earn up to 16% APY with BNB. The wallet supports over sixty blockchain networks, including Bitcoin, Ethereum, Binance Smart Chain, and Solana. This compatibility allows users to manage many cryptos within a single app. Another advantage of Trust Wallet is the ability to trade tokens internally among its user base.
This feature eliminates the need to transfer tokens to an external crypto exchange. Furthermore, Trust Wallet enables users to purchase, trade, and store NFTs that comply with various blockchain standards. In Australia, Trust Wallet users can acquire digital currencies using a debit or credit card. Nonetheless, A swift KYC verification is required, along with a minimum purchase of $50. Users must provide identification documents and personal information to complete the process.
Number of coins
Over 4.5 million digital assets
Type of wallet
Non-custodial browser extension & mobile wallet
Fee for Buying Bitcoin
No wallet/swapping or dApp fees. 
For purchasing coins: third-party fees may apply. 
Blockchain network fees also apply.
Mobile App?
Yes
Pros
Supports 50+ blockchains
Access to dApps
Built-in staking tools
Internal token trading
NFT management
Cons
Higher fees for purchasing crypto using debit or credit cards
9. Coinbase – Simplified Wallet Experience for Crypto Newcomers
Coinbase Wallet is quickly gaining traction while striving to be one of the top crypto wallets in Australia. Coinbase is a good choice due to its simplicity and robust security measures. Whether you're on the hunt for new cryptos to explode or seeking to buy high market-cap cryptos, Coinbase offers a diverse range of cryptos.
As a U.S.-regulated exchange, Coinbase's stock is publicly traded and highly regulated. As a result, it stores an impressive 98% of customer funds in secure cold wallets.
The platform offers high-security measures when purchasing Bitcoin or any other digital currency. Coinbase mandates that users activate 2FA, considerably enhancing the security of their digital holdings.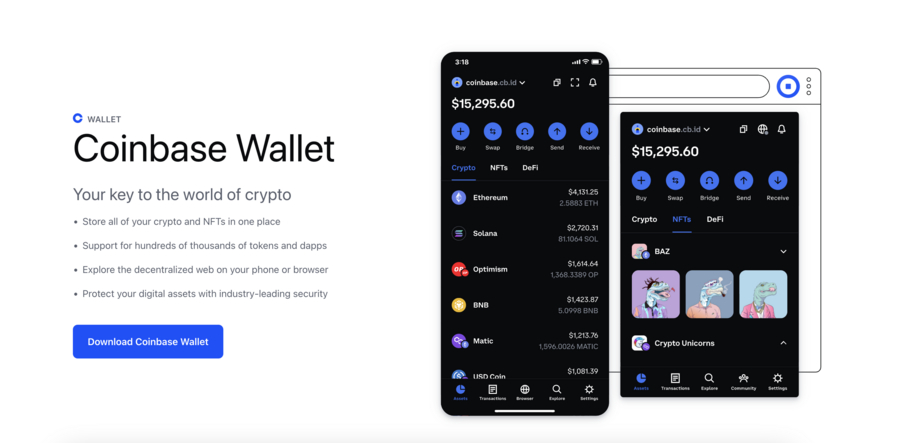 Coinbase provides a versatile custodial wallet accessible through your primary web account or Android or iOS mobile applications. This platform allows users to easily store, buy, and sell digital assets.
One downside to Coinbase is its relatively high fees. For instance, Coinbase fees range from 0.5% to 4.5%, depending on the transaction size and payment method.
As a result, Coinbase's wallet is a better fit for long-term holding rather than regular trading. Nevertheless, Coinbase offers an exceptionally user-friendly experience, making it an ideal choice for beginners apprehensive about crypto investments.
Opening a Coinbase account is quick, requiring only a few minutes for verification. However, due to its streamlined design, Coinbase does not offer features such as copy trading services, cutting-edge technical indicators, or crypto savings accounts.
| | |
| --- | --- |
| Number of coins | Over 100 |
| Type of wallet | Custodial web & mobile wallet |
| Fee for Buying Bitcoin | 0.5% to 4.5% |
| Mobile App? | Yes |
Pros
User-friendly: Ideal for crypto beginners.
Strong security: Cold wallets and 2FA.
Versatile access: Web and mobile apps.
Diverse crypto options: 100+ available.
Fast setup: Quick verification process.
Reliable: U.S.-regulated and transparent.
Cons
High commission/transaction fees
10. Crypto.com – Feature-rich Wallet with Easy App Integration
The Crypto.com DeFi wallet is an upcoming Australian crypto wallet that offers a user-friendly and all-encompassing platform for storing crypto. The wallet distinguishes itself in the crowded crypto market by supporting over 30 blockchain protocols and over 1000 tokens.
Users can easily access the wallet via a mobile app, desktop software, or browser extension, ensuring uninterrupted access to their digital assets.
One significant advantage of the Crypto.com DeFi wallet is that it's non-custodial, allowing users to control their private keys completely.
This aspect is crucial for individuals who value security and independence over their digital holdings. Additionally, the wallet houses NFTs and presents a specialized marketplace for purchasing and trading goods, further broadening its functionality.
Crypto.com extends beyond a primary wallet by integrating with third-party dApps like Uniswap, VVS Finance, and OpenSea. This offers users an extensive range of options for savings accounts that yield attractive annual returns. Furthermore, the wallet enables cross-chain token trading, increasing users' trading versatility.
For the Australian user base, the Crypto.com DeFi wallet delivers a competitive advantage with a minimal commission of only 0.075%. This enables them to trade hundreds of tokens in the crypto market, solidifying their position in the top Australian Bitcoin wallets.
| | |
| --- | --- |
| Number of coins | The platform supports 1,000+ digital assets, with 250+ available for trading on the exchange. |
| Type of wallet | Custodial web & mobile wallet |
| Fee for Buying Bitcoin | A 2.99% fee applies to debit/credit card transactions. For commissions – maximum 0.075%. |
| Mobile App? | Yes |
Pros:
Supports 30+ blockchain protocols and 1000+ tokens.
Accessible via mobile app, desktop software, and browser extension.
Non-custodial, ensuring users' control of private keys.
Houses NFTs and offers a specialized trading marketplace.
Low commission of 0.075% for users.
Cons:
Deposits may require a processing time of a few days.
What is a Crypto Wallet?
A digital wallet allows users to store, manage, and perform transactions with cryptos like Bitcoin, Ethereum, and many others. Crypto wallets are essential for interacting with the blockchain, which powers these digital currencies.
Crypto wallets can be categorized into two types: custodial and non-custodial. Custodial wallets involve a third-party service, like an exchange or a wallet provider, holding private keys on behalf of users. While they offer the convenience of easy access and management, users must trust the service to keep their keys secure, which can be risky.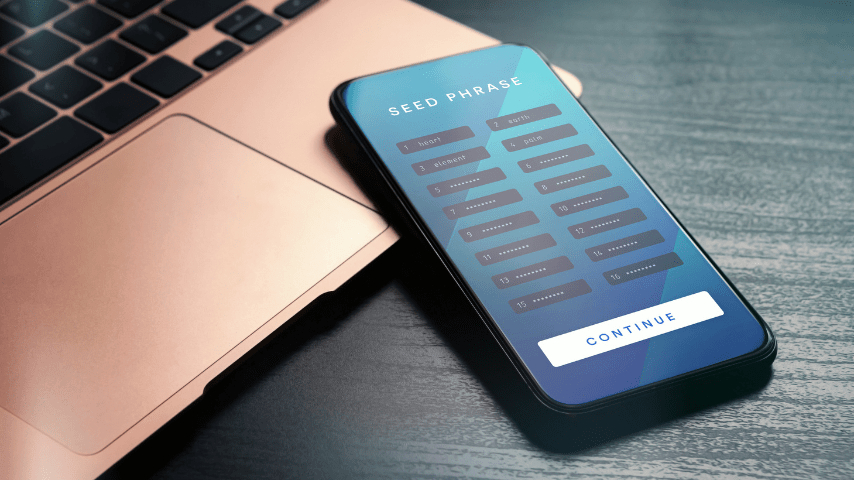 Non-custodial wallets give users complete control over their private keys, allowing them to store and manage their cryptocurrencies independently. This offers better security but requires users to take responsibility for safeguarding their private keys.
There are various types of custodial and non-custodial wallets, including software, hardware, paper, and web wallets. Each type has its unique features and security levels. To keep your crypto wallet safe, choose the right one based on your needs, take advantage of backup and recovery options, and use strong security measures such as encryption and two-factor authentication.
Why Crypto Investors Need a Crypto Wallet
Crypto wallets are vital for investors looking to venture into the world of crypto. These digital wallets allow users to store, send, receive, and manage various digital assets securely and efficiently. Let's see why crypto investors need a crypto wallet:
Security
The primary function of a crypto wallet is to secure users' digital assets. Wallets use advanced cryptographic techniques to generate unique private keys that are required for accessing and managing cryptos.
For instance, hardware wallets like Ledger and Trezor provide an additional layer of security by storing private keys offline, mitigating the risk of online hacks and thefts. Investors can also enable 2FA to further enhance their crypto wallets' security.
Control
Crypto wallets give investors complete control over their digital assets. Unlike leaving funds on exchanges, where users are vulnerable to hacks, wallet owners can manage their cryptocurrencies as they see fit. 
For example, investors can quickly transfer funds between wallets or utilize DeFi platforms directly from their wallets, such as MetaMask or Trust Wallet.
Convenience
Best crypto wallets simplify the process of sending, receiving, and managing cryptos. They often come equipped with user-friendly interfaces and support multiple cryptos, allowing investors to manage all their digital assets from a single location. 
Some wallets even offer built-in exchange features, enabling users to swap cryptos without using external platforms.
Interaction with dApps
Best crypto wallets, especially those compatible with Ethereum, enable users to interact with dApps and smart contracts. 
For instance, MetaMask, a popular Ethereum-based wallet, allows users to directly access various DeFi applications and NFTs platforms, such as Uniswap and OpenSea, from the wallet interface.
How do Bitcoin Wallets Work?
Bitcoin wallets enable users to store, send, and receive digital assets seamlessly. A Bitcoin wallet comprises two critical elements: public and private keys. The public key, or wallet address, is an alphanumeric sequence that is the destination for sending and receiving Bitcoin. Sharing the public key poses no risk to security.
Conversely, the private key is a secret alphanumeric code providing access to the wallet's funds. Safeguarding private keys is crucial, as misplacing them can lead to permanent fund loss while disclosing them exposes the wallet to theft.
The Transaction Process
To receive Bitcoin, share the wallet's public address with the sender. The wallet relies on the private key to authorize the transaction to send Bitcoin. This transaction is then transmitted to the Bitcoin network, where it undergoes verification and is added to the blockchain.
Protecting Your Wallet
Maintaining the security of a Bitcoin wallet is of utmost importance. Consider the following best practices:
Backups: Schedule regular wallet backups to prevent data loss from hardware malfunction or theft.
Multi-Signature: Opt for wallets necessitating multiple private keys for transactions, increasing security levels.
2FA: Implement 2FA (two-factor authentication) to shield your wallet from unauthorized entry.
Offline Storage of Private Keys: Keep private keys in an offline environment, minimizing exposure to hackers or malware.
Types of Cryptocurrency Wallets 
Before selecting a storage solution for their digital assets, investors should familiarize themselves with the different crypto wallets available in Australia. This knowledge will enable beginners to make informed decisions and choose the most suitable crypto wallet for their requirements.
Here is an overview of the primary crypto wallet types:
Software Wallets
Software wallets are digital wallets that store your crypto as software applications. They are further divided into two types: mobile wallets and desktop wallets.
Mobile Wallets
Mobile wallets are applications designed for smartphones and tablets. They provide users with easy access to their cryptos, allowing them to transact and manage their digital assets on the go.
Pros
Convenient and user-friendly, making it easy to manage cryptos.
QR code scanning simplifies sending and receiving transactions.
Many mobile wallets offer additional features like built-in exchanges and portfolio tracking.
Cons
May be susceptible to hacks and phishing attacks, as smartphones can be compromised.
Limited to the device, so if the phone is lost or damaged, access to the wallet may be lost.
Desktop Wallets
Desktop wallets are applications designed for personal computers and laptops. They offer a higher security level than mobile wallets, as they are less prone to hacks and viruses.
Pros
Desktop wallets could often provide advanced features like coin staking and multi-signature support.
Better suited for long-term storage of cryptos.
Cons
Less portable and convenient than mobile wallets.
Accessible only from the device it's installed on, so if the device is lost or damaged, access to the wallet may be lost.
Hardware Wallets
Hardware wallets are physical devices designed to store your crypto offline, known as cold storage. They provide an added layer of security by keeping private keys separate from internet-connected devices. Popular hardware wallets include Ledger Nano, Trezor, etc.
Pros
Offers the highest level of security for storing cryptos.
Resistant to hacks and malware, as private keys are stored offline.
It supports multiple cryptos and integrates with various software wallets.
Cons
More expensive than software wallets.
Less portable and convenient for everyday transactions.
Paper Wallets
Paper wallets are physical documents that store your crypto's private and public keys in QR codes. They provide a simple and inexpensive way to secure your digital assets offline. 
Pros
Highly secure, as the keys are stored offline and cannot be hacked.
Inexpensive and easy to create.
Cons
Prone to physical damage, such as fire or water, which can lead to the loss of assets.
Not user-friendly for everyday transactions and managing multiple cryptos.
Selecting the right crypto wallet depends on your preferences, usage, and security requirements. Evaluate your needs and choose the wallet type that best suits your requirements. Mobile and desktop wallets offer convenience and ease of use, while hardware and paper wallets provide heightened security for long-term storage.
How to Choose the Best Australia Bitcoin Wallet for You
With the rise of cryptos, selecting the ideal wallet for your needs is crucial. The best Bitcoin wallet in Australia or any other region should be secure, user-friendly, and compatible with various currencies. This section will guide you through choosing the perfect crypto wallet for you and exploring the key factors to consider, such as security, private key ownership, supported coins, fees, mobile experience, and more.
Prioritizing Security
Your crypto wallet's security should be a top priority. When looking for the best Bitcoin wallets in Australia, consider wallets with robust security measures such as two-factor authentication (2FA), biometric authentication, and encryption.
Hardware wallets, also known as cold wallets, are among the most secure options. These wallets store your private keys offline, making it difficult for hackers to access your funds. Examples of the best crypto hardware wallets include Ledger Nano and Trezor.
Ensuring Private Key Ownership
Owning your private keys is essential for maintaining control of your assets. You can choose a wallet that gives you full ownership of your private keys rather than entrusting them to a third party. Non-custodial wallets, such as MetaMask and OKX, grant you complete control over your private keys.
Considering Supported Coins
Different wallets support different cryptos, so make sure your wallet accommodates the coins you own or plan to invest in. The top crypto wallets in Australia, like Best Wallet, typically support many digital assets, including Bitcoin, Ethereum, etc. Ensure your wallet supports all the cryptos you want to avoid compatibility issues.
Evaluating Fees
Transaction fees vary depending on the wallet you choose. Some wallets, such as the best Bitcoin wallets in Australia, offer competitive prices, while others may charge a premium for their services. 
Research the costs associated with each wallet before deciding, and factor in the frequency of your transactions. Some wallets allow users to set custom fees, providing greater flexibility in terms of costs.
Assessing Mobile Experience
If you plan on managing your cryptos on the go, consider a wallet with a user-friendly mobile app. Some Australian crypto wallets offer seamless mobile experiences, allowing users to easily monitor their portfolios, trade, and transfer funds. Ensure the mobile app is compatible with your device's operating system, whether iOS or Android.
Examining User Interface and Usability
A simple and intuitive user interface is vital, particularly for those new to cryptos. When evaluating the best Bitcoin wallets in Australia, consider wallets that offer simple navigation and a clean layout. 
Wallets like MetaMask and OKX are known for their user-friendly interfaces, making them suitable for beginners.
Preparing for Backup and Recovery
In case you lose access to your wallet, it's crucial to have a backup and recovery plan in place. When comparing Australian crypto wallets, opt for wallets that provide a secure backup solution and clear instructions on recovering your funds in an emergency. Most wallets offer a recovery phrase or seed phrase, which can be used to restore your wallet on a new device.
Exploring Additional Features
Some wallets offer extra features that can enhance your overall experience. For instance, built-in exchanges allow you to trade cryptos directly within the wallet, while staking features enable you to earn passive income on your holdings. When choosing the top crypto wallets in Australia, consider the additional functionalities that could benefit your needs.
How to Get a Cryptocurrency Wallet in Australia
Choosing the best Bitcoin app or wallet can significantly impact the ease of getting started in the world of digital currencies. This section will discuss installing Best Wallet, which we consider the best crypto wallet for Australian investors and newcomers.
Step 1 – Download Best Wallet
Best Wallet is available as a mobile app on both Android or Google so head to the Play Store or the App Store and download it.
It should take less than a minute to complete. Although not yet available on desktop, a browser extension is expected to be launched in the coming months.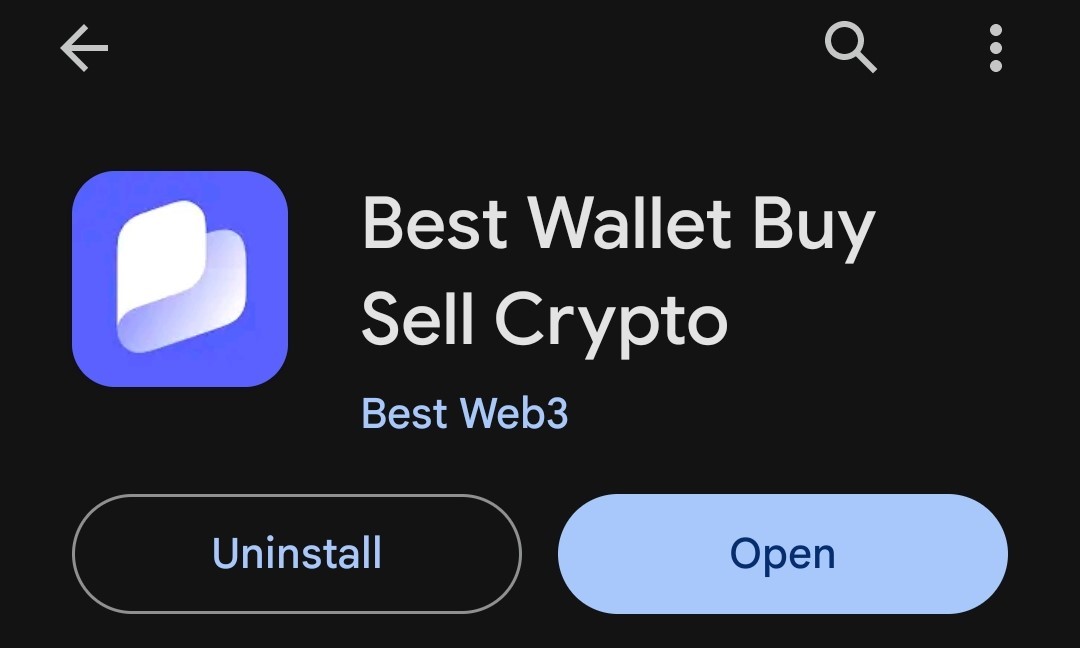 Step 2 – Create Account
Next, select an email address to use for the account by either inputting one and selecting 'Continue' and following the steps, or selecting 'Continue with Apple/Google' to select a linked account.
Step 3 – Select Security Features
Best Wallet has strong security features including a four-digit password, two-factor authentication and fingerprint ID.
However, the latter two are optional, so the quickest way to get started is to just choose and confirm a four-digit password. We would recommend adding 2FA and fingerprint ID for enhanced security.
Step 4 – Purchase or Trade Crypto
Your Best Wallet account should now have been created and users will be redirected from the home screen.
There, it is possible to manage your crypto portfolio including looking at insights and purchasing cryptocurrencies with AU$ via trusted third-party broker Wert.
Best Wallet also offers a built-in, custom decentralized exchange, which means it is possible to trade thousands of new and established cryptos directly.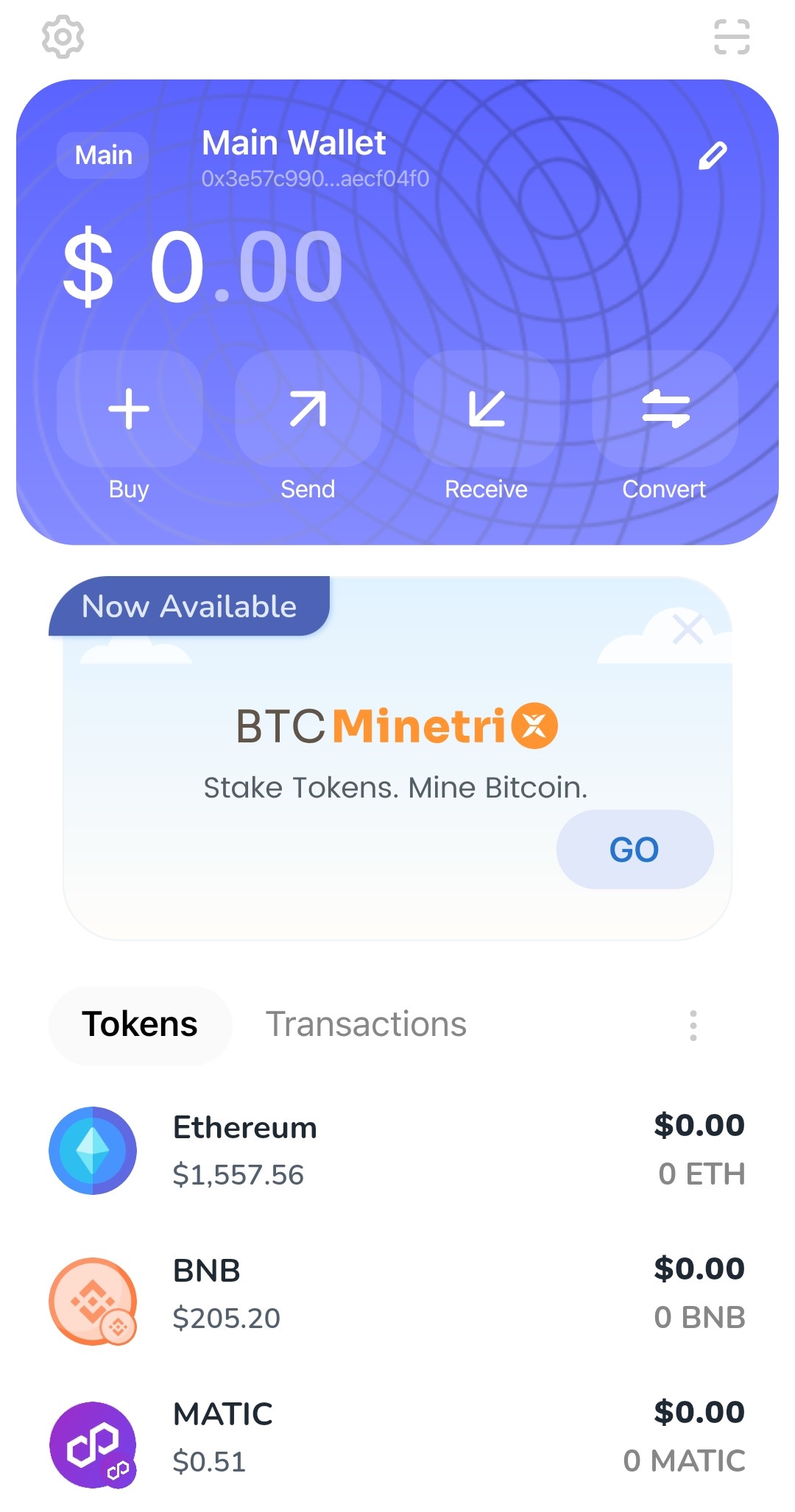 Conclusion
Crypto wallets may differ in form and features, but their essential purpose remains consistent: to store, transmit, and receive digital tokens securely. Choosing the right crypto wallet in Australia is crucial for securing and managing your digital assets. With numerous options available, prioritizing security, fees, and user experience is vital.
Best Wallet stands out as a top choice for both new and experienced investors, with the mobile app – available on Google and Android – to offer enhanced features and strong security.
The non-custodial wallet offers insights on trending tokens and has a custom, built-in DEX allowing users to trade thousands of different cryptos. It also gives its users insights onto new and trending cryptos and airdrops, and is also NFT compatible, with an in-app NFT gallery.
It is also set to launch its own native token, $BEST, which will offer early access to presales and governance benefits. The token is set to be airdropped to active users when it launches in the coming months.
FAQs
What is the best crypto wallet for Australian traders?
For Australian investors, Best Wallet stands out as the top crypto wallet choice. Available on Google or Android, the non-custodial software wallet has a built-in DEX and offers advanced insights on new and trending tokens, as well as an NFT gallery. Its native $BEST token will be airdropped to active users in the coming months.
Which is the most secure crypto wallet?
While hardware and paper wallets provide top-notch security and protection for your digital assets, they can be less convenient for frequent transactions. 
Are Bitcoin wallets free?
Online Bitcoin wallets can be downloaded and maintained free of cost. However, executing transactions from these wallets typically incurs a blockchain mining fee. Additionally, choosing a hardware wallet, such as Trezor or Ledger Nano, requires an initial purchase cost, as physical devices are designed to enhance security.
How do I get a Bitcoin account in Australia?
You can download a suitable mobile-based or desktop-based crypto wallet based on your device's compatibility. A non-custodial wallet such as Best Wallet will allow users to purchase Bitcoin and store it safely. 
Disclaimer: The Industry Talk section features insights from crypto industry players and is not a part of the editorial content of Cryptonews.com.
---
Other Wallet Guides Guides