Exclusive: "There Is an Organized Campaign Against Us," Says Tether
Media reports about Bahamas-based Deltec Bank accepting suspicious transactions is part of an "organized campaign" against their customer Tether, Leonardo Real, Chief Compliance Officer (CCO) at Tether, the most popular stablecoin, told Cryptonews.com, without specifying who's behind this campaign.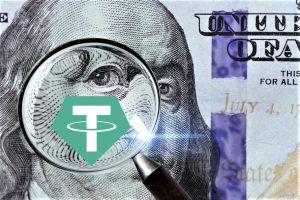 According to him, this is all "misinformation" designed to hurt Tether itself, after they unveiled their account with the bank, claiming that they can back their USDT coins one on one thanks to those holdings.
Cryptonews.com talked to the CCO about these and many other issues that the stablecoin has run into and how that affected their business.
Cryptonews.com: According to Bloomberg, while federal prosecutors opened a broad criminal probe into cryptocurrencies months ago, they've recently homed in on suspicions that a tangled web involving bitcoin, Tether and crypto exchange Bitfinex might have been used to illegally move prices. What's your comment on this?
Leonardo Real: We stand by the fact that all outstanding USDT are backed 1-to-1 by fiat USD. This has been confirmed on numerous occasions, by unrelated parties and at unconnected points in time.
The story put forth by Bloomberg cites an unbacked, independent study which claims that, if USDT were to be unbacked (i.e. supply-driven and "pushed" onto traders as opposed to "pulled" via organic demand) it could indicate manipulation of the Bitcoin price. The entire study relies on the assumption that USDT is unbacked and therefore not sufficiently driven by trader demand. This is flawed, and claims which suggest that USDT transactions aren't driven by demand when it is consistently in the top 2 of traded cryptocurrencies in the space with regards to volume, are simply ridiculous by now. To reiterate, the accusation against Tether is based around the assumption that outstanding USDTs are unbacked - something which has been proven false time and time again.
The story is a clear example of technological innovation moving too quick for mainstream journalists to learn, understand and analyze developments in a certain space.
The Deltec bank account case was the latest in a string of those where people don't believe you that you hold the assets to back your stablecoin. What's your next step? How will you prove to your customers that their trust in you is not misplaced? Will you finally say yes to an official audit?
We have clearly demonstrated to all parties that we have the funds we say we have at various points. We released the consulting report from Friedman LLP [a New York City-based accounting, tax and business consulting] firm last year. We had Freeh Sporkin & Sullivan [a Washington-based law firm] investigate our balances in June 2018. We published a letter from Deltec bank this month. The only people who don't believe that we have the funds are people that refuse to acknowledge the facts, presumably for their own reasons. We have never said no to an audit or refused to engage in this process, but the accounting industry continues to grapple with and have difficulty providing assurance services in the cryptocurrency space. As and when they are ready to help, we hope to be able to engage with them.
According to media reports, your bank, Deltec, is suspected to be accepting suspicious transactions, such as laundered funds, as well as being named in two global bribery cases. What's your comment on this? How does this affect your business with them? Will this cast a shadow on your own trustworthiness?
This is more misinformation that is now targeting our bankers as part of an organized campaign against us. We are proud to be working with Deltec. Their compliance and operational standards are second to none. Their compliance functions have not been compromised and they are not involved in any case that could cast doubt on their integrity. Deltec has done nothing wrong in any of the allegations made against it of which we are aware.
How does the community's skepticism affect you? Have you noticed drops in your transaction volumes?
Not at all. In fact, we continue to be a leader in transaction volume. We are proud to offer a service that focuses on our customers' needs, and we believe that this focus has been a key to our success.
What caused the steep price drop of USDT on October 15?
We do not comment on the price of USDT on other platforms. Tether continues to maintain a 1:1 peg. USDTs are always valued at USD 1.
The community is currently outraged about the fact that you, as well as some other stablecoins, retain the right to refuse service to whoever you want to, calling it centralized and against cryptocurrency politics. What's your comment on this? Is this a necessary tradeoff in the case of stablecoins? Are there ways to keep both users and regulators happy?
We must maintain the right to refuse service to bad actors and those who are in breach of our terms of service. This is a legal requirement, but even if it were not, we would want to do it to prevent our platform from being exploited by those trying to harm others.
Do the recent troubles Bitfinex has been having (fiat withdrawals especially) affect Tether in any way? How is Bitfinex's fiat withdrawal fee increase affecting Tether? Is the lack of trust in Bitfinex translating to Tether, and vice versa? What about Bitfinex insolvency rumors?
Demand for Tether remains steady and strong. It is the dominant stablecoin in the space because it is useful to people transacting business among exchanges.
There have been several social media cleanses, most notably one where every post in the r/Tether subreddit (on popular social network Reddit) has been deleted. Why? Spam? Bots? Something else?
We have set our subreddit spam filters to high on both /r/Bitfinex and /r/Tether to control a coordinated wave of unsubstantiated, ill-researched and, at times dangerous claims (e.g. leaking of private employee information), which made their way to our subreddits. It is publicly verifiable that we actively address all support inquiries, issues, concerns and complaints across the Bitfinex subreddit and that we have never taken the steps to conceal any potential customer concerns. Our community managers and support agents are active across both Reddit and Telegram should users or industry followers wish to discuss certain industry developments taking place.
Are other stablecoins competing with Tether? Do you see your stablecoin being overtaken by new ones as the biggest stablecoin? Who do you see as your biggest competitor currently?
There are a number of stablecoin alternatives, and all try to offer something in the space. Tether's main competitor may have not yet emerged.
---