Altcoins, Seasons, and 20 Crypto Jokes
In the "everything's connected" news: BTC has been going below and above USD 10K again. Speaking of BTC, while it may be more dependent on the governments than many people think, ETH, which has climbed above USD 200, may surpass BTC daily transaction fees. Speaking of ETH, BitPay will start supporting payments in ETH. Speaking of BitPay, it will announce additional coins soon, with LTC and XRP being evaluated. Speaking of XRP, Ripple wants its lawsuit gone. And speaking of alts rallying, is it alt season yet?
Meanwhile, Germany 'rejected' stablecoins, urging the world to follow suit, while the South Korean branch of OKEx decided to delist five privacy coins. Nonetheless, some of the country's biggest companies are investing in domestic blockchain and crypto startups, with the Seoul government looking to get in on the action.
In other relevant news, Binance made its first strategic investment in China, while Binance.US officially added BNB to its markets. LG has confirmed that it's considering the release of a blockchain-powered smartphone, and Wells Fargo plans to pilot its Wells Fargo Digital Cash in 2020. However, there might be no space for more than four blockchain standards until 2022.
And now – introducing Their Blockchainess, the Crypto Jokes.
__________
When you wish to hear the sweetest of words...
Altseason https://t.co/94Y9kRE850

— Mati Greenspan (@MatiGreenspan) September 18, 2019
__
Finding hope in the smallest of details.
#ALTSEASON pic.twitter.com/yRrpTf0mel

— Bulldog (@CryptoBulld0g) September 17, 2019
__
As a precise of an estimate as it gets.
"When is altseason coming?"

-sound on- pic.twitter.com/lcg95R7BKG

— Panama ₿ (@Panama_TJ) September 16, 2019
__
When you see it all clearly.
The state of things ( ͠° ͟ʖ ͡°) pic.twitter.com/lmUcZqNb0d

— The Crypto Monk ⛩ (@thecryptomonk) September 11, 2019
__
Loading. Please wait. Estimated time: IDK.
Upgrading the global monetary system to Bitcoin pic.twitter.com/pRzdpZmb1p

— Pierre Rochard (@pierre_rochard) September 13, 2019
__
Well, look, you know, sometimes it's oops...
Helping people get into crypto like pic.twitter.com/NW2DPcxTMd

— ⛏Crypto Christopher Walken🥃 (@cryptochrisw) September 16, 2019
__
But other times... Cue 'The Avengers' theme song.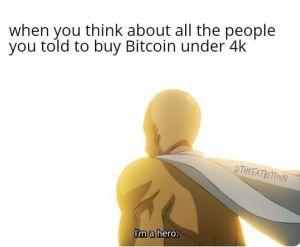 __
When they ask you what it's like, show 'em this.
Cryptocurrency trading be like#BTC #Bitcoin pic.twitter.com/UIC53yH9lp

— Boxmining (@boxmining) September 10, 2019
__
This week agrees.
10k support$BTC pic.twitter.com/IElbFnBbjl

— TEDDY ⛓️🌐 (@teddycleps) September 10, 2019
__
It seems like a painful experience.
Market reaction when I buy altcoins. pic.twitter.com/kM7kSvC4MW

— ₿lackbeard (@crypto_blkbeard) September 6, 2019
__
(-_-)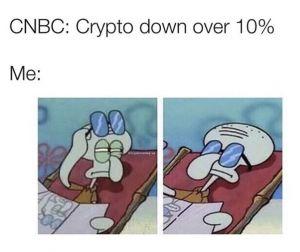 __
The moment you age in a single second.
Me: I'm quitting my job to become a trader.

My finances: pic.twitter.com/mIIAPvy6Tz

— Ry Carr (@RyRy_Carr) September 14, 2019
__
[ •́ ‸ •̀ ]
altcoin bulls so far pic.twitter.com/IKakq202pa

— Tuur Demeester (@TuurDemeester) September 9, 2019
__
Hodl it for me, I'll be right back.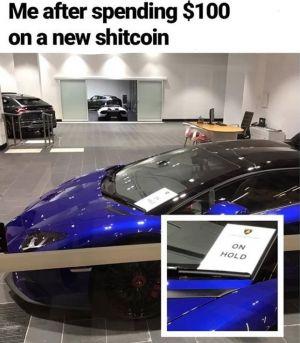 __
Get this man a dictionary! Google it for him!
Jamie you keep using that word, I do not think it means what you think it means. from r/Bitcoin
__
Looks about right.
Catching a pump like pic.twitter.com/oKnFSTHmMy

— HASHR8 (@h4shr8) September 5, 2019
__
Kids these days...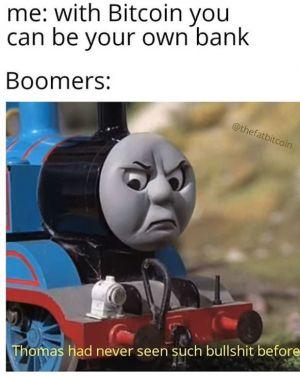 __
There's just no impressing them.
My alts on 2019... judges are Bitcoin. pic.twitter.com/XUBsgmF5iO

— Panama ₿ (@Panama_TJ) September 6, 2019
__
Call everybody you know.
That moment when your altcoin is still down by 50% but it pumped 6% today pic.twitter.com/svSzrqzsVp

— Squeeze (@cryptoSqueeze) September 17, 2019
__
And for the end, here's your weekend crypto anthem.