Prime XBT Review
Prime XBT is a Bitcoin-based derivatives trading exchange that allows you to trade cryptocurrencies and traditional financial instruments such as Forex, S&P 500 and Nasdaq composite indices, commodities like crude oil and natural gas, and more from a single account. Despite the variety of choices, Prime XBT is extremely simple to use, as even a mere beginner can open an account and load it with Bitcoin (BTC) in minutes. The platform allows up to 100x crypto leverage trading and up to 1000x leverage for Forex trades. The platform is available to traders from more than 150 countries worldwide.
General info
| | |
| --- | --- |
| Web address: | Link |
| Main location: | Seychelles |
| Daily volume: | 0.0 BTC |
| Mobile app available: | Yes |
| Is decentralized: | No |
| | |
| --- | --- |
| Parent Company: | PrimeXBT Trading Services |
| Transfer types: | Credit Card, Debit Card, Crypto Transfer, |
| Supported fiat: | |
| Supported pairs: | 10 |
| Has token: | - |
| Fees: | Low (Compare rates) |
Pros & Cons
Ability to margin trade cryptocurrencies and traditional assets Up to 100x leverage for crypto and 1000x leverage for Forex Quick sign up process with no forced KYC Low fees
No fiat deposits or withdrawals Self-regulated exchange No spot trading, only CFDs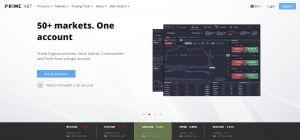 Prime XBT Review: Key Features
Prime XBT is an excellent cryptocurrency margin trading exchange for traders who are looking for a way to use bitcoin (BTC) as margin collateral to trade cryptocurrencies and traditional markets. Other notable features of the platform include:
Bitcoin-based platform. Prime XBT lets you deposit and use multiple trading accounts using bitcoin (BTC), ether (ETH), tether USD (USDT), USD Coin (USDC), but all trades on the platform are denominated in BTC.
Ability to margin trade traditional assets as well as top cryptocurrencies. Trade bitcoin, ether, litecoin, EOS, and XRP with up to 100x leverage along with top stocks, commodities and Forex with up to 1000x leverage. The platform supports more than 50 assets from both crypto and traditional worlds.
Powerful and well-designed platform with customizable widgets. It comes with more than 12 integrated liquidity providers, which is capable of executing up to 12,000 orders per second and makes sure that the average order is executed in less than 7.12 ms.
Covesting module. Prime XBT integrates directly with another crypto social trading platform Covesting, which allows you to track and automatically copy the actions of expert traders.
Low fees platform. Prime XBT is extremely transparent when it comes to fees and guarantees some of the lowest fees out there.
Privacy. Prime XBT is a pro-privacy platform, which means that there are no mandatory KYC (know your customer) checks before you can start trading. Nevertheless, the platform has partnerships with various anti-money laundering (AML) service providers.
All in all, Prime XBT is an ambitious player in the margin trading sphere. It is likely to continue expanding its loyal user base and become a premier destination for both new and experienced margin traders, considering its user-oriented focus, convenience, and ever-growing lineup of innovative features.
Background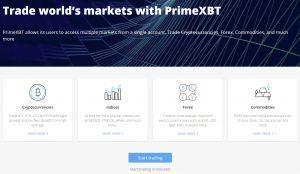 Prime XBT was founded and registered in Seychelles in 2018 under the holding company name Prime XBT trading services (148707). However, the platform didn't launch its trading services until early 2019.
Later in 2019, Prime XBT also opened an office in St. Vincent & The Grenadines and moved its domain and trading infrastructure to the so-called world's capital of cryptocurrency - Switzerland.
At the moment, the company claims to process approximately USD 545 million per day on average, and it is said to employ over 40 staff members in 3 offices.

Prime XBT operates in a borderless manner, which comes with minimal compliance with local regulations. As of today, the platform is accessible in more than 150 countries but is not available in the United States, Québec (Canada), Algeria, Ecuador, Ethiopia, Cuba, Crimea and Sevastopol, Iran, Syria, North Korea, and Sudan.
The website is available in sixteen international languages: English, Chinese, Spanish, Japanese, Korean, Portuguese, Russian, Turkish, French, German, Italian, Hindi, Indonesian, Vietnamese, Thai, and Bengali.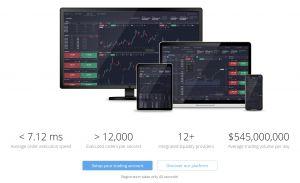 Prime XBT Fees
In terms of fees, Prime XBT is on the lower end of exchanges. The platform does not charge any deposit fees, but any withdrawal will cost you 0.0005 BTC - a standard fee to cover your Bitcoin transaction cost. In contrast, BitMEX, other popular Bitcoin derivatives exchange also says to charge only a small fee to cover BTC transaction cost, but it has been observed to charge people approx. 0.001 BTC which is not much but as twice as expensive.
Other principal fees at Prime XBT are Trade Fee and Overnight Financing.
The Trade Fee is charged every time you open or closed a position:
0.05% for cryptocurrency trades
0.01% for indices and commodities
0.001% for Forex
While competing exchanges offer rebates for market makers, PrimeXBT is an STP broker and always pays for order execution at the liquidity provider.
Other trading conditions to keep in mind while trading with Prime XBT are as follows: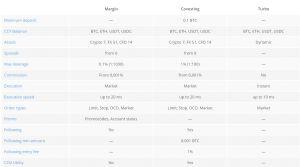 Overnight Financing is incurred only when an open position is carried into a new day. A trading day at Prime XBT closes at 00:00 UTC. If you open and close your position during the same trading day, no Overnight Financing fees are charged at all.
| Prime XBT market | Trading Fee | Daily Financing Fee Long | Daily Financing Fee Short |
| --- | --- | --- | --- |
| BTC/USD | 0.05% | 0.7361% | -0.0694% |
| ETH/USD | 0.05% | 0.3333% | -0.0417% |
| ETH/BTC | 0.05% | 0.0833% | 0.0694% |
| LTC/USD | 0.05% | 0.1111% | 0.0833% |
| LTC/BTC | 0.05% | 0.1111% | 0.0833% |
| EOS/USD | 0.05% | 0.1389% | 0.0972% |
| EOS/BTC | 0.05% | 0.1389% | 0.0972% |
The latest fee and funding information can be found here.
But how do Prime XBT's fees rank compared with other margin trading exchanges? Let's have a quick look:
As you can see, Prime XBT offers by far the lowest trading fees on the market, which makes it an excellent exchange for cryptocurrency or other financial instruments margin trading.
The platform is extremely transparent when it comes to various charges and makes it easy for you to do the math - there are no hidden charges.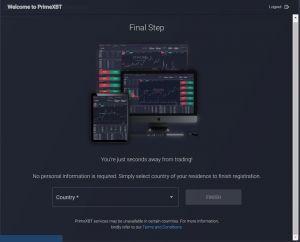 Prime XBT Security
Safety is by far the most critical aspect of any trading platform. Prime XBT has not been hacked yet and is generally considered a secure and trustworthy platform.
Most of the bitcoins stored on the platform's wallet are kept in cold storage - secure storage locked away offline to minimize the chances of unauthorized access. Funds that are needed to cover day-to-day withdrawals are being held in a hot wallet. The transfers between the hot and the cold wallets are confirmed using multi-signatures, which is considered to be a standard security measure in the industry and helps to alleviate the risks of having a single point of failure.
Other security measures deployed by the exchange include Cloudfare's protection against Distributed Denial of Service Attacks (DDoS). The platform's hardware is hosted on Amazon Web Services servers, granting it sufficient capacity to run its powerful and efficient trading engine.
All the data exchanged between you and the platform is encrypted using full SSL encryption and is nearly impossible to intercept.
On the user side of things, Prime XBT allows you to secure your account using a strong email plus password combination along with Google Authenticator-based 2FA (2-factor authentication). Besides, it protects your password and privacy by hashing them using bcrypt with a cost factor of 12 and encrypting all other sensitive data.
Besides, there is an address whitelisting feature, which lets you withdraw funds to pre-approved addresses only. This can help you to prevent transfers to unauthorized wallets, which is handy in case anyone gets unauthorized access to your trading account.
Prime XBT's security gets significant props for protecting their user's privacy, too. It does not force you to pass any mandatory KYC (know your customer) checks and doesn't link your data to your name, which is a major win for their customers' security by default. You can't become a victim of targeted hacking if no one can identify you.
However, In case someone does manage to get into your account anyway, your funds are also protected by the mandatory Bitcoin address whitelisting feature. It ensures that your bitcoins can be withdrawn only to your pre-approved BTC addresses.
Also, the platform lets you control whether you want to receive email notifications once someone signs into your account or your position is liquidated.
In sum, Prime XBT is one of the most secure platforms out there. Despite being self-regulated, it compensates for that by offering its users all-around security in terms of account security and privacy.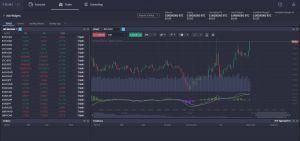 Prime XBT Design and Usability
The first thing you'll see when you register onto the platform is its seamless user experience.
In fact, it takes less than a minute to open an account, and a few more to load it with BTC or stablecoins, and start trading.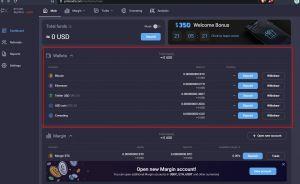 Another impressive feature is the design of the trading platform. It is extremely simple to navigate, place orders, watch markets, and trade. However, if it isn't so for you, you can also customize the platform's interface according to your individual needs. If you're a beginner, it likely won't take long for you to start trading, too - despite all the advanced trading tools and charts, Prime XBT looks exceptionally intuitive and user-friendly.
It also has Android and iOS mobile apps to help you trade on the go.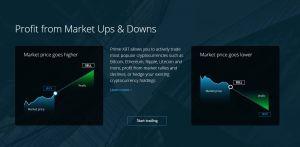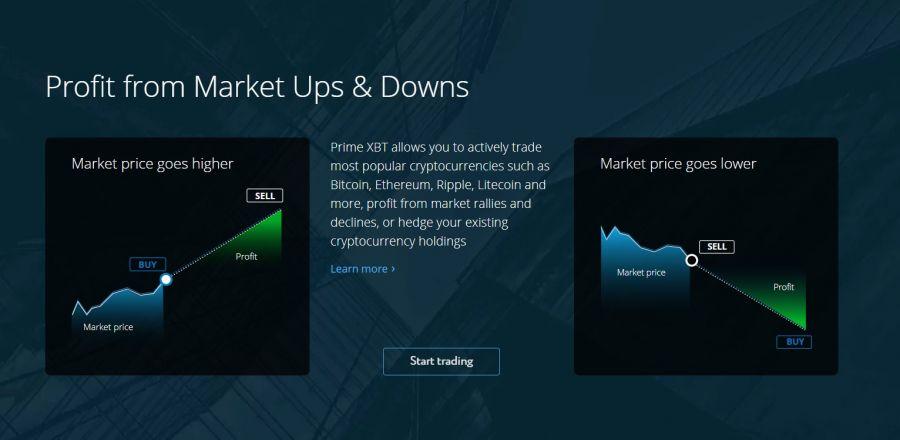 Trading on Prime XBT
All trading on Prime XBT revolves around either shorting or longing the market. Unlike P2P markets, PrimeXBT is a Straight-Through-Processing (STP) platform, meaning that it sends all your orders to liquidity providers rather than matching them against other platform users. Such an operating model ensures that there will always be enough liquidity to execute orders as soon as they are placed.
If you anticipate a market decline, you can buy a short position and profit from it if it does come true. In case you anticipate an increase in price, you can long the market and earn from the appreciation.
Prime XBT allows you to add leverage to your trades, too. Although leverage trading is a risky activity, it lets you enhance your position size by borrowing funds from the platform.
For example, if you're trading BTC/USD market with a 1:100 leverage using USD 1000 of your funds, your position size reaches USD 100,000. Such a position means higher potential profits but also a higher risk of liquidation - the higher the leverage, the less price fluctuation it takes to close your positions and liquidate your funds. It is always recommended to have more than 50% of margin available to minimize your risk of liquidation, especially when trading in highly volatile markets like cryptocurrencies.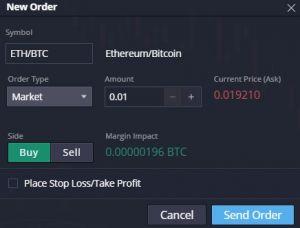 Prime XBT lets you place four types of orders:
Market (default): an order which is executed immediately at the current offer/buy price.
Limit: an order which lets you place an offer at a wanted price. It will execute when the market price reaches it.
Stop: an order that lets you close position if the market reaches a certain level.
OCO: an order used by experienced traders to combine a stop order with a limit order to mitigate position risks.
In addition, you can set up a stop loss or take profit levels for every trade. This feature comes in extremely handy if you have specific targets in mind before entering the position.
Prime XBT Covesting module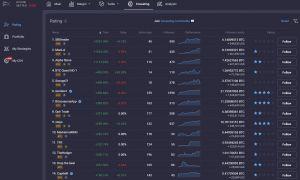 Covesting allows traders to set up and manage trading strategies. It shows a pool of trader's assets visible to the public and can be copied by others.
This provides an opportunity for both experienced successful traders and followers to boost each other's profit potential. After the platform upgrade, you can now create a strategy or follow traders using USDC, USDT, and other currencies.
This module is provided by Covesting, a fully licensed DLT services provider. Covesting was one of the first to receive a DLT license in Gibraltar, along with Huobi, Etoro, and CEX. You can read our full review of Prime XBT Covesting module here.
Prime XBT Turbo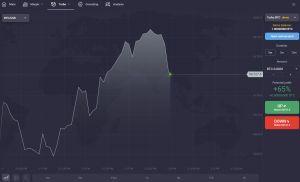 Turbo is the latest addition to the PrimeXBT platform. It allows users to bet on the price action of multiple assets within short timeframes. As such, you can earn up to 90% our your bet by predicting the price change within 30 seconds, 1 minute, or 5 minutes. However, if you're wrong, you will lose your invested amount. Every asset on the Turbo module has its own payout ratio and contract durations.
Besides, Turbo gives you a free 1 Bitcoin demo account, so you can try it out without risking any funds. In case you decide to give it a shot with real money, be aware that this product involves a high risk of quick capital loss.
Customer support
In case you have any questions about the Prime XBT platform or trading, you can use its FAQ section to find answers.
Other than that, the platform has a customer support chat and a support email. Both of these support channels are open for messages 24/7.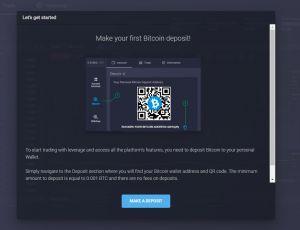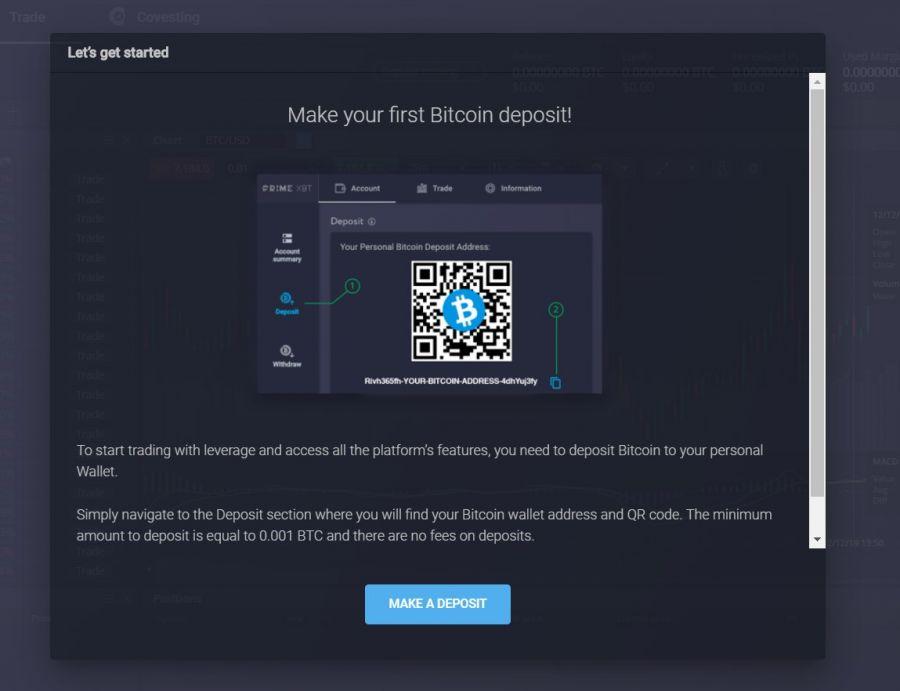 Deposit and Withdrawal methods
The minimum deposit on the Prime XBT exchange is 0.001 BTC. If you decide to use leverage, it will allow you to open up to 0.1 BTC worth of positions. Alternatively, you can deposit and withdraw Ethereum (ETH), Tether USD (USDT, ERC-20), USD Coin (USDC, ERC-20), and Covesting (COV) coins.
Concerning withdrawals, there are no limits, but the amount should be higher than the pre-set bitcoin network transaction fee of 0.0005 BTC. ETH withdrawal fee is 0.01 ETH, USDT withdrawal will cost you 20 USDT, USDC withdrawal is 18 USDC, while COV withdrawals incur a 5 COV fee.
Prime XBT processes withdrawals only once a day, somewhere between 12:00 and 14:00 UTC. As per the company's website, any withdrawal requested before 12:00 UTC will be processed on the same day, but withdrawals requested after 12:00 UTC will be processed the next day only.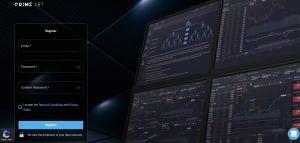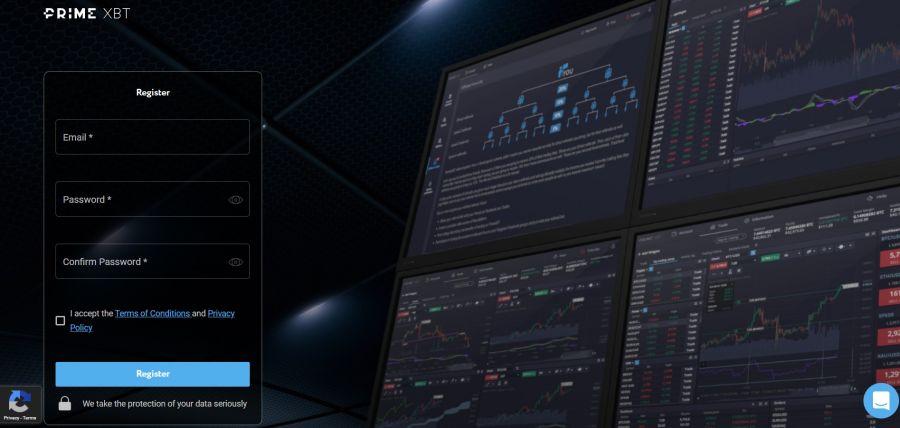 How to sign up and start trading on Prime XBT
Registering an account to start trading on Prime XBT takes just a few minutes. Here's what you need to go through:
Registration form. Sign up with your email, confirm it, and log in onto the platform.
Fund your account. Deposit your bitcoins directly to the platform. If you don't have any yet, you can buy it with your credit or debit card via Changelly or other instant-exchanges like Switchere, ChangeNOW, or Coinmama.
Start trading. That's it! You can trade cryptocurrency, Forex, commodities, and other indices with up to 1000x leverage.
Conclusion
Prime XBT is a rising star in the derivatives trading niche. The platform stands out by taking a clear stance against forced anti-privacy regulations, which is a massive plus for privacy enthusiasts.
Prime XBT's trading platform is tailored for both experienced users as well as beginners and provides a clutter-free experience despite its many advanced features.
Making use of smart integrations like Covesting is a smart and open approach to enhance the platform's functionality outside of its default domain and makes up a wholesome trading experience.
All in all, a relatively new Prime XBT is already proving to be a serious player in the crypto trading industry.
Disclaimer: Margin trading is considered to be a risky activity, so do your own diligence and never trade more than you can afford to lose.