LocalBitcoins Review
LocalBitcoins is one of the oldest regulated peer-to-peer (P2P) online marketplaces for buying and selling Bitcoins (BTC). It works like a Craiglist or eBay - you open an account, get verified, and look for BTC traders in your area. Alternatively, you can create an add yourself - it costs nothing unless you find a buyer. Besides, LocalBitcoins offer the widest selection of payment options, as well as an integrated escrow service for truly secure trades with strangers.
General info
| | |
| --- | --- |
| Web address: | LocalBitcoins |
| Support contact: | Link |
| Main location: | Helsinki, Finland |
| Daily volume: | 0.0 BTC |
| Mobile app available: | Yes |
| Is decentralized: | No |
| | |
| --- | --- |
| Parent Company: | LocalBitcoins Oy |
| Transfer types: | Bank Transfer, Credit Card, Debit Card, Crypto Transfer, |
| Supported fiat: | Most currencies |
| Supported pairs: | 4 |
| Has token: | - |
| Fees: | Medium (Compare rates) |
Pros & Cons
One of the oldest Bitcoin exchanges Reputation system Relatively high liquidity Lots of payment options Works in 248 countries
Not anonymous No cash trades Lots of scam advertisements Users complain about frozen accounts
Key features
For a long time, LocalBitcoins was the most popular Bitcoin P2P trading platform. Today, it remains a popular option due to these features:
One of the oldest bitcoin exchanges. LocalBitcoins is the original Bitcoin P2P marketplace and has been operating since 2012. As such, the service is trusted by more than a million users worldwide and has relatively decent liquidity for a P2P exchange despite the ever-growing numbers of copycat services.
Escrow service with a built-in reputation system. It makes it easy to find reputable buyers and sellers, as well as identify and avoid suspicious offers.
Secure platform. Despite several minor breaches over the years, LocalBitcoins is a secure platform for buying and selling bitcoin.
Regulated exchange. Despite the backlash of the community, the LocalBitcoins team is dedicated to promoting trust, maturity, and legitimacy of Bitcoin in a regulatory compliant manner.
The widest selection of payment options. LocalBitcoins offer all of the local payment options, regardless of your country of residence.
Truly global platform. LocalBitcoins facilitate peer-to-peer trades in more than 248 countries worldwide, thus making it easy to find local bitcoin traders in your area.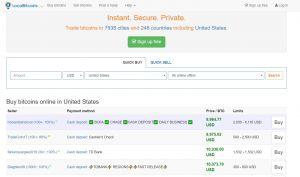 Source: LocalBitcoins.com
The exchange used to be a go-to place for buying and selling Bitcoin anonymously and was especially popular in countries with oppressive regimes and cryptocurrency bans. However, due to the European 5th Anti-Money Laundering Directive (also known as 5AMLD), the platform has chosen to vet all of its customers using traditional KYC (Know Your Customer) processes and removed the option to buy Bitcoin with cash from its platform. This has caused a wave of discontent in the Bitcoin community, and the LocalBitcoins trading volume and popularity has been gradually declining ever since.
Here's the chart of LocalBitcoins weekly global trading volume today: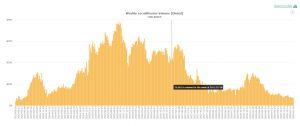 Source: Coin.Dance
Despite these recent developments, it remains a viable option for anyone who doesn't mind disclosing their personal information or does not want to deal in cash.
Who owns LocalBitcoins?
LocalBitcoins was founded in 2012 by Jeremias and Nicholas Kangas, who served as the platform's CEOs until 2017. As of today, the CEO of LocalBitcoins is Sebastian Sonntag.
Unlike its indirect competitor Coinbase, which was founded in the same year, LocalBitcoins have managed to grow to this size without any external investment. As of 2021, LocalBitcoins employ over 60 staff members.
Where is LocalBitcoins located?
Located in the capital of Finland, Helsinki, LocalBitcoins is regulated by the Financial Supervisory Authority (FIN-FSA). Hence, it acts in accordance with the Act of Virtual Currency Service Providers, which is the Finnish implementation of the European Union's Fifth Anti-Money Laundering Directive (AMLD5). In fact, the exchange has been advising the country's regulatory agencies on how to adapt to the new standards of compliance in the cryptocurrency industry.
As a result, today LocalBitcoins platform is paving the way for a more viable, safer, and widespread use of bitcoins while simultaneously fighting the use of Bitcoin network in criminal activities and frauds.
The full address of the exchange is LocalBitcoins Oy, Porkkalankatu 24, 00180 Helsinki, Finland. The VAT ID of the service is FI28554152.
Supported countries and jurisdictions

LocalBitcoins is a truly international platform even though it geared towards facilitating bitcoin traders locally. Its services are available in most places worldwide, including countries like the United States, Venezuela, Zimbabwe, Nigeria, China, India, Kenya, Iran, Qatar, Lebanon, Israel, Pakistan, Netherlands, Russia, South Korea, Philippines, Malaysia, Argentina, Romania, Uganda, Turkey, Kazakstan, Thailand, Spain, Ireland, Brazil, the United Kingdom (UK), and many more.
Besides, the platform is great for finding peer-to-peer buyers and sellers in highly populated cities like Tokyo, London, New York, San Francisco, San Diego, Toronto, Montreal, and many others.
As of February 2021, LocalBitcoins facilitates Bitcoin traders in 248 countries and 7938 cities.
The complete list of all supported countries and cities can be found here.
LocalBitcoins fees
How much does LocalBitcoins charge for its services?
Well, the exchange employs a relatively simple fee structure.
Registering, buying, and selling bitcoin on LocalBitcoins.com is free of charge.
The platform charges only the users who create advertisements. They pay a 1% fee per completed trade. This fee is higher than trading fees in most centralized exchanges but not as high compared with direct crypto purchases with credit or debit bank cards, which can cost you 3% to more than 10% per trade.
Other than that, you might be charged Bitcoin network transaction fees, but they depend on the congestion of the network. Transactions between LocalBitcoins wallet users are free, too.
However, mind that even though LocalBitcoins fees are average, they can be inflated based on your preferred payment method.
How does LocalBitcoins work?
Essentially, LocalBitcoins is a marketplace for people to post their offers of buying or selling bitcoin. As a user, you create a post where you specify the exchange rate, location, and preferred payment method for an exchange. You can also boost your post as an advertisement, which will increase its visibility (it's basically how LocalBitcoin's make money). If someone becomes interested in your post, they will reply to you and you can both agree to make a trade using a bank transaction, payment service, or any other available method.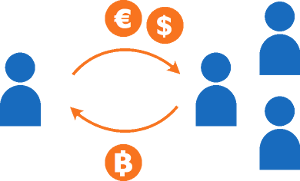 Source: LocalBitcoins.com
Unlike centralized exchanges like Coinbase, LocalBitcoins let you trade directly with other people. Nevertheless, the platform is not entirely decentralized either, as it registers and oversees all of your transactions made via LocalBitcoins.
When you initiate a trade, the exchanged bitcoins are held on LocalBitcoins escrow service. The swap is completed only when the seller confirms that the trade has been made.
Another crucial aspect of the LocalBitcoins platform is its native reputation system. Chargeback fraud is a common thing in ecommerce, and even though bitcoin transactions are irreversible, traditional payment vendors still allow it. As a result, some people may be tricked into selling their bitcoins and then lose their justly earned money. LocalBitcoins reputation management system allows users to leave feedback for buyers and sellers, which may help you to determine whether the buyer or seller is legit.
As a rule of thumb, it's safer to deal with older accounts with better feedback rather than make a deal with new and shady accounts. Do not choose offers based solely on price - any offer with unnaturally low price should be deemed with suspicion unless the trader fully verified and has received lots of positive feedback.
Besides, you can search the LocalBitcoin's forum to see if there are any issues connected with the seller's username.
In case of a conflict between the users, LocalBitcoins has a dedicated support team that helps with conflict resolution.
Here's a short video on how to buy bitcoins via LocalBitcoins:
LocalBitcoins design and usability
LocalBitcoins website is not a design masterpiece but it does its job - enables you to discover and post local bitcoin advertisements easily.
If you want to buy bitcoins, all you have to do is enter relevant search criteria like location, sum, and payment method into the search.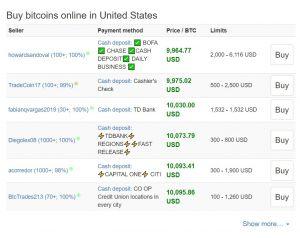 Source: LocalBitcoins.com
When you find an advertisement that interests you, all you need to do is click on it to see all of the seller's conditions, ratings, completed transactions, an average speed of escrow release, and other relevant details.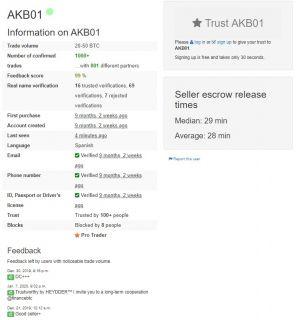 Source: LocalBitcoins.com
The same goes for selling bitcoins - you just search for relevant posts in your area.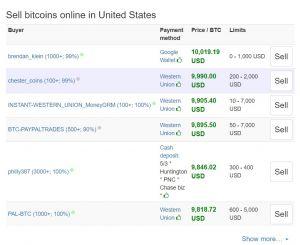 Source: LocalBitcoins.com
Alternatively, you can post an ad with your own terms and conditions. However, mind that you must be a verified user in order to be able to post. Also, you have to fund your LocalBitcoins wallet with at least 0.04 BTC for online payments.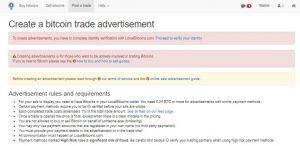 Source: LocalBitcoins.com
Posting an advertisement on LocalBitcoins comes with a lot of different options, including the trade type, liquidity, and security preferences.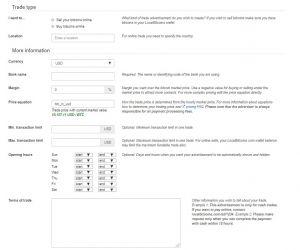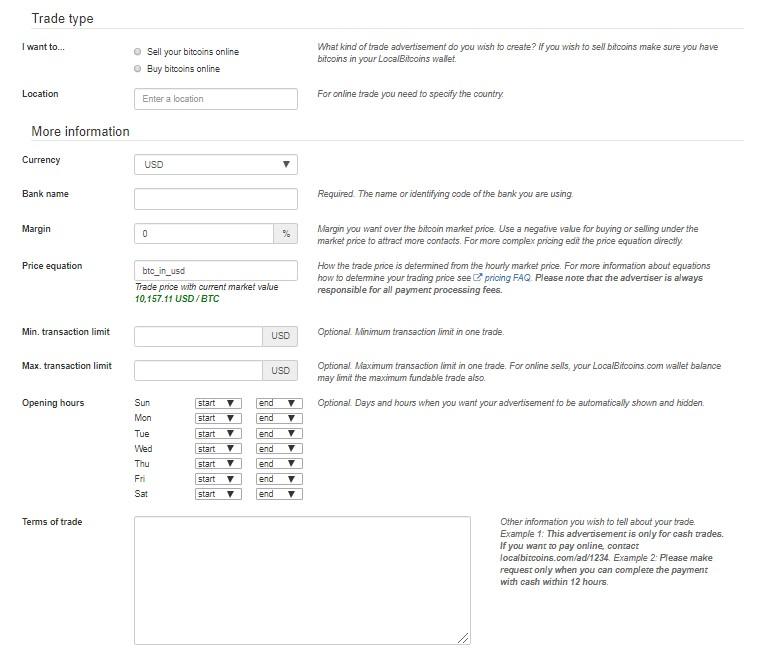 Source: LocalBitcoins.com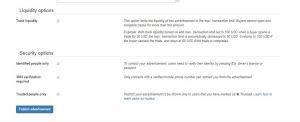 Source: LocalBitcoins.com
Once you meet all the requirements, you are able to make a post and boost its visibility. LocalBitcoins is going to charge you 1% for every facilitated trade.
All in all, using LocalBitcoins is not difficult. Yet, it might take you a few trades to get used to it.
LocalBitcoins payment options
As of February 2021, LocalBitcoins accept the following payment options:
Paypal
Bank (wire) transfer
SEPA or national bank transfer (based on your country of residence)
Western Union
WeChat
Neteller
MoneyGram
Skrill
Webmoney
Vanilla
Ethereum
XRP
Litecoin
...and many more options.
Since LocalBitcoins is a pure P2P platform, you won't be able to use your credit or debit cards in the exchange unless you transact via a third-party service provider like PayPal or Skrill.
LocalBitcoins also accepts dozens of local payment methods that differ from country to country, reflecting the differences between people's preferred payment options.
Keep in mind that some exchange options are riskier than others. For example, PayPal allows relatively easy chargebacks on the sale of digital goods, which also include Bitcoin purchases. Also, different money transfer methods also affect your exchange rate.
Buying bitcoin via LocalBitcoins with cash
As of June 1, 2019, LocalBitcoins no longer serves people who want to trade in cash due to changing regulatory requirements.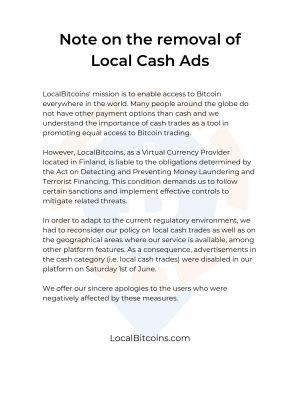 LocalBitcoins cash removal notice. Source: LocalBitcoins Twitter account.
The only viable option using cash is to deposit cash directly into the seller's bank account via cash deposit, which is far from using cash.
Nevertheless, there are numerous LocalBitcoins alternatives that do not force their users to submit their identity documents, as well as allow crypto-to-cash exchanges. See our guide on "How to buy bitcoin with cash" to learn more.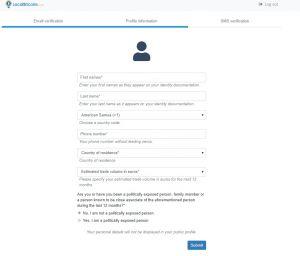 LocalBitcoins verification and buying limits
The usability of the LocalBitcoins platform also depends on your verification level. It has four different verification options:
| Tier | Limit | Required info |
| --- | --- | --- |
| Tier 0 | Up to $1,000/year | Email, full name, phone number, country of residence |
| Tier 1 | Up to $20,000/year | Tier 0 requirements, tier 1 form, address validation and identity verification |
| Tier 2 | Up to $200,000/year | Tier 1 requirements, tier 2 form, address verification |
| Tier 3 | Unlimited volume | Tier 2 requirements, liveness test, tier 3 form |
LocalBitcoins wallet
LocalBitcoins platform uses its built-in wallet. You send and receive bitcoins between the platform members. Besides, it is used to lock BTC in escrow service during the trades.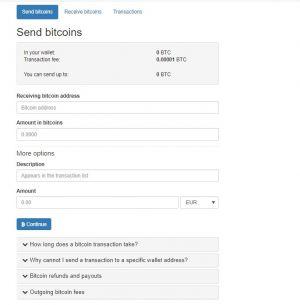 Source: LocalBitcoins.com
Prior to depositing your coins into the LocalBitcoins web wallet, be aware that you will be putting them into LocalBitcoins custody. Essentially, you're trusting LocalBitcoins to keep your funds secure, and the platform reserves the right to block transactions that it perceives as risky. That includes:
Wallet addresses associated with fraudulent trading
Wallets connected with scams, hacking, and phishing attacks
Malware
Financing of terrorism
For more detailed information on how to use the LocalBitcoins wallet, see the platform's Terms of Service.
LocalBitcoins mobile app
LocalBitcoins does not have its native mobile app. However, the website can be accessed using your smartphone browser. Besides, Android users can use a LocalTrader app to access the platform and make changes on the go.
Is LocalBitcoins safe?
LocalBitcoins is generally a safe platform that you can trust. It managed to be secure for the vast majority of its uptime, but there were few minor security breaches nonetheless.
In early 2019, the attackers compromised at least six LocalBitcoins accounts and stole nearly 8 bitcoins. In 2015, LocalBitcoins lost 17 BTC deposited into the platform.
Nevertheless, these were relatively small hacks. For instance, another popular cryptocurrency exchange Binance has lost over 7,000 Bitcoins in 2019, which is significantly more.
Still, when it comes to crypto, you should take all the necessary security precautions possible. Here's how LocalBitcoins protects your account and ensures overall security of the platform:
Login guard. An integrated protection layer that verifies if you're logging in from the same browser. New browsers are required to be verified via email.
Two-factor authentication (2FA). It allows you to add another layer of protection using Google Authenticator or paper codes.
Strong password. As a general rule of thumb, always make up a lengthy unique password that uses both numbers and symbols. Do not use the same passwords on other websites.
Reputation system. LocalBitcoins reputation system includes user's reputation rating and public history record of their past activities to make identifying fraudulent users easier.
The escrow service. During the exchange, bitcoins that are to be exchanged are held in escrow until a confirmation is received from the seller.
Conflict resolution support. In case of a conflict, LocalBitcoins has an experienced conflict resolution support team.
HTTPS web encryption. All communication data between your device and the website are encrypted with HTTPS.
SMS and email alerts. The system notifies users of unusual behavior or login attempts.
PGP email encryption. All email communications between you and the exchange use PGP encryption.
Even with all of these protections, you're still responsible for the deals with other platform users. LocalBitcoins can only help you with what's within their reach, and the team is unable to refund your money sent via external service.
You can ramp up your security level using the account settings section. Many users also ask "how to delete LocalBitcoins account." The account deletion option is here, too.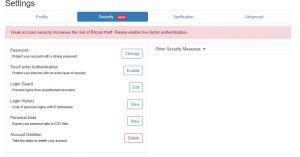 Source: LocalBitcoins.com
Always do your due diligence and avoid suspicious sellers. Reliable platform members have an established history and reputation. Never send additional information to the seller or agree to trade outside of LocalBitcoins if you want to be protected by the platform security mechanisms.
Is local Bitcoins a legit exchange?
In late 2019 and early 2020, LocalBitcoins have also received numerous complaints by its customers for freezing their accounts without any notice. The exchange's spokesperson told Cryptonews.com that the issues concerning those accounts are related to increased regulatory pressure in the EU.
LocalBitcoins is definitely a legit and trustworthy exchange, but you should decide for yourself if you want to trust its platform and wallet as your main gateway since its regulatory transition hasn't been unfolding in a very smooth way thus far.
Besides, the platform doesn't receive many positive reviews on review sites like TrustPilot. As of February 2021, it holds a poor 2.5/5 rating there. However, most of the disappointed users have either been scammed by other users or dealt with people outside of the platform.
The company is strictly regulated and simply cannot defraud its users. Nevertheless, that doesn't mean that there aren't any scammers on the platform itself, so you should deal with reliable users only.
LocalBitcoins customer support
LocalBitcoins customer support team can be reached via email only. What's more, the exchange also has an extensive FAQ knowledge base. It typically takes up to a day to reach a reply. However, due to an unusual amount of tickets in 2020, the current response time may extend up to 7 days.
Conclusion: should you use LocalBitcoins?
As always, it all depends on your individual situation. LocalBitcoins is a great way to trade bitcoins for people all over the world, especially in countries where there are little to none other options. It gained its popularity for being a go-to place for the world's underbanked, but unfortunately, that is no longer the case. Despite that, it still offers the widest array of payment options worldwide and remains a truly global bitcoin exchange.