XRP Price Prediction as Whale Moves $10 Million of XRP From Wallet – What's Going On?
Disclosure: Crypto is a high-risk asset class. This article is provided for informational purposes and does not constitute investment advice. By using this website, you agree to our terms and conditions. We may utilise affiliate links within our content, and receive commission.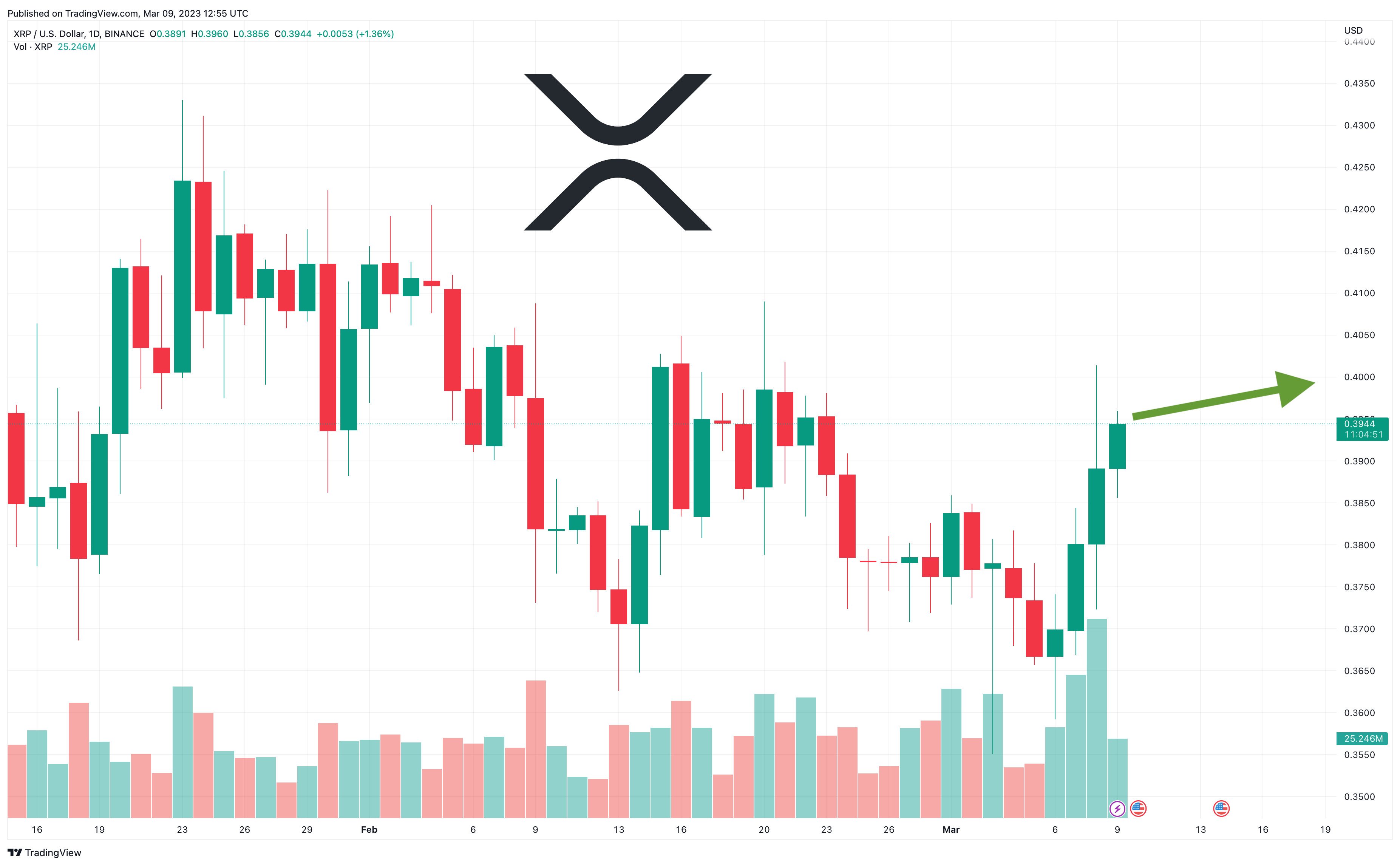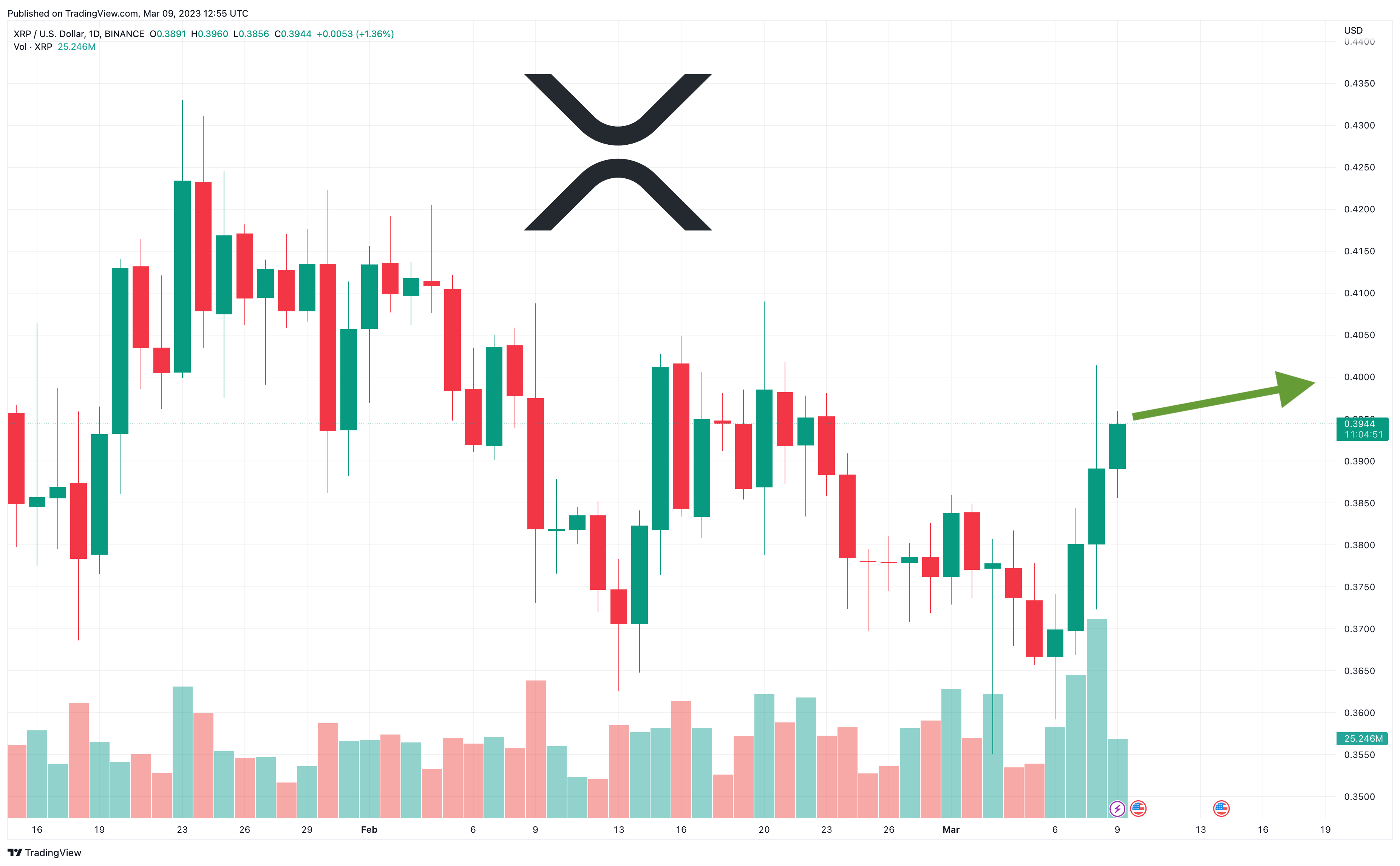 The price of XRP has risen by 1.5% in the past 24 hours, reaching $0.393371 on a day when news of Silvergate's voluntary liquidation has hurt the market as a whole.
The coin is now up by 2.5% in a week and basically flat in the last 30 days, although it has risen by 15.5% since the start of 2023.
Combined with increasingly positive expectations concerning Ripple's case with the SEC, this upwards movement paints a bullish picture for XRP.
And with a whale apparently moving $10 million in XRP off the Bitso crypto-exchange, it's likely that the coin's holders are preparing themselves for some major returns somewhere later in the year.
XRP Price Prediction as Whale Moves $10 Million of XRP From Wallet – What's Going On?
XRP's chart reveals a bullish reversal, meaning that after a period of negative indicators, there has been a sudden positive shift.
Its 30-day moving average (red) had recently fallen below its 200-day average (blue), yet this negative trend has been 'reversed' by the pronounced jump displayed by the coin's relative strength index (purple).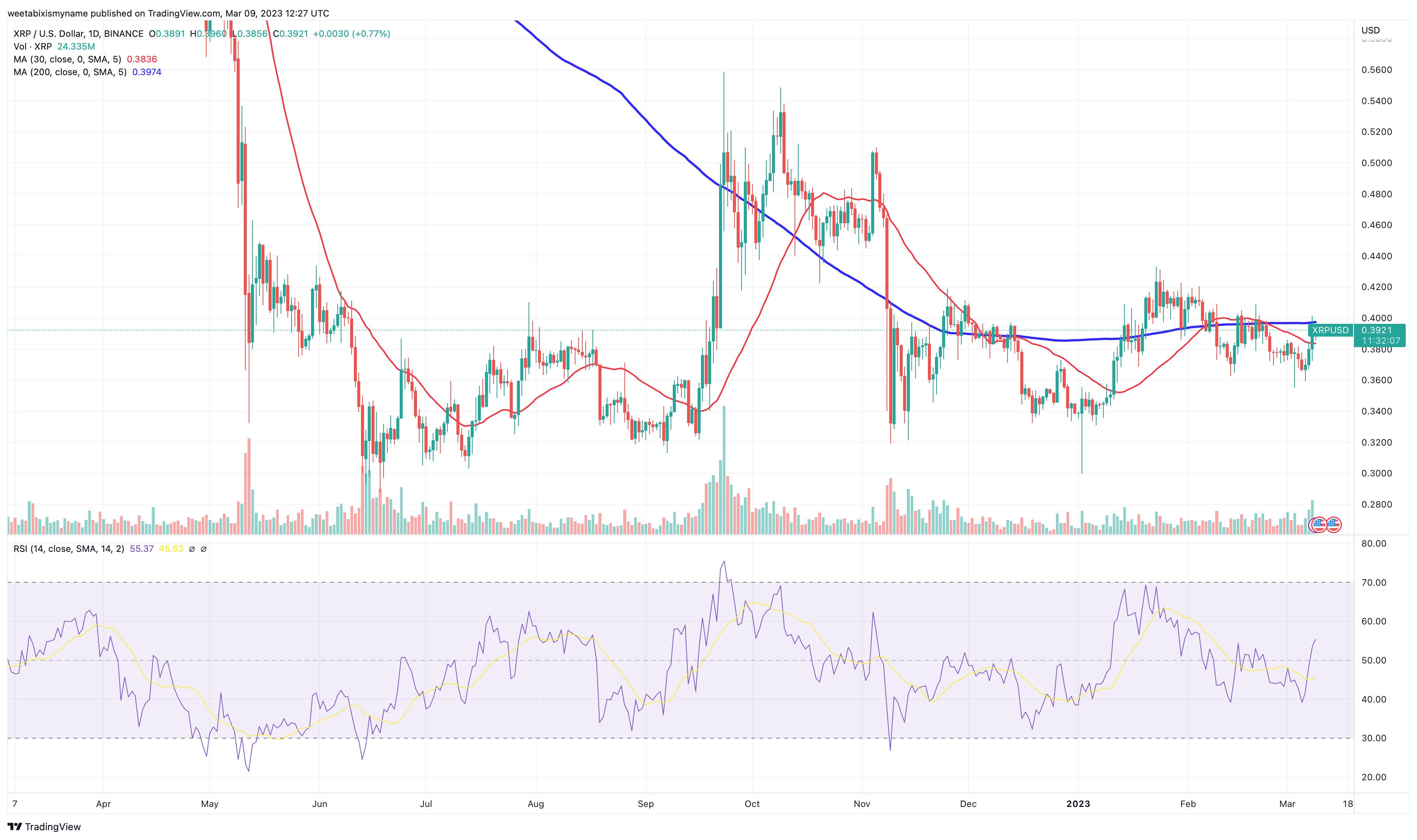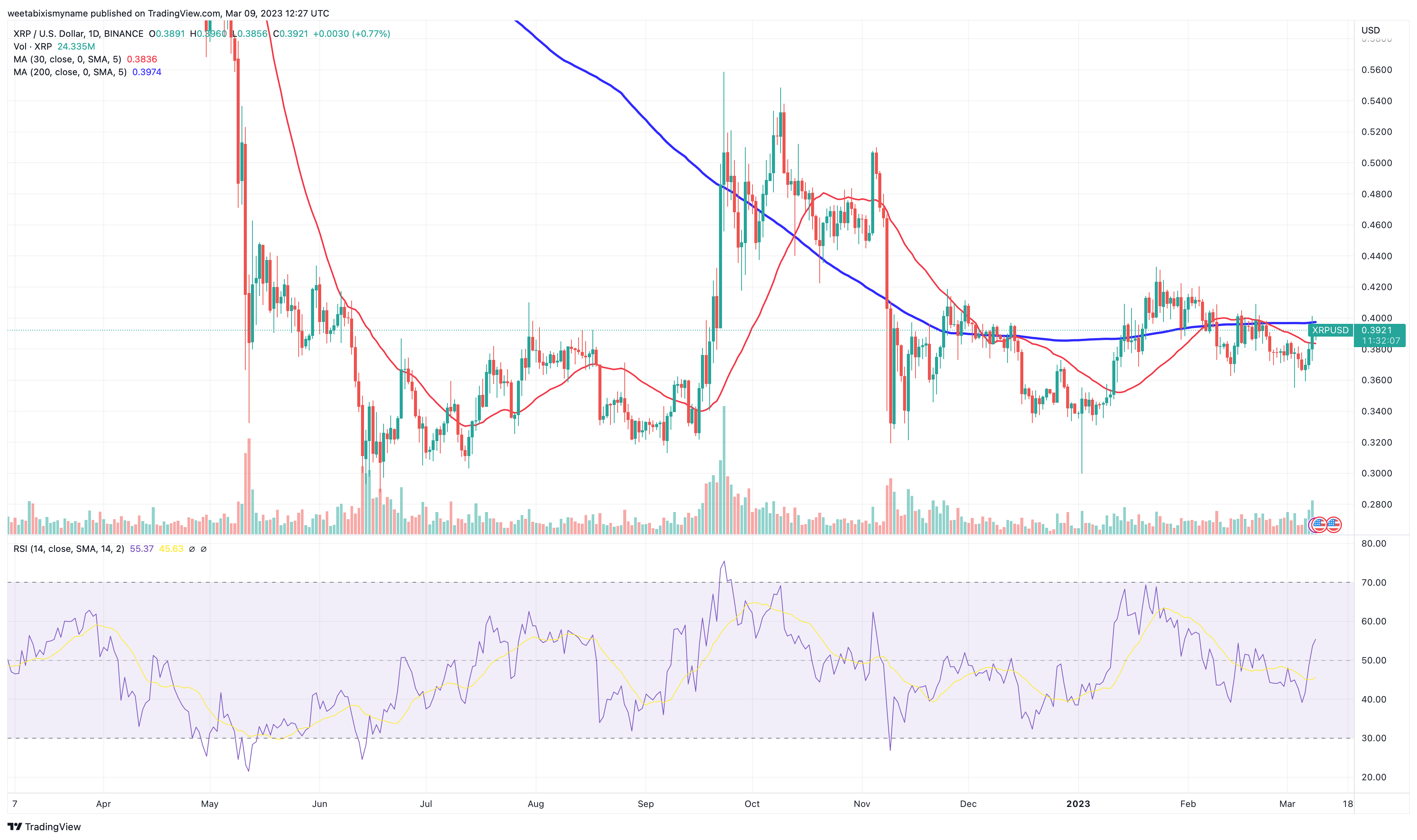 The RSI has jumped from 40 and a few days ago to nearly 60, and given the steepness of this climb, it's likely to continue.
XRP is currently facing a resistance level of roughly $0.40, so if it can break through this barrier, more joy can be expected.
It does seem that holders are expecting price rises in the coming weeks and months, with one whale moving 28.4 million XRP off the Mexico-based Bitso exchange in the past couple of days.
🚨 28,400,000 #XRP (10,794,884 USD) transferred from #Bitso to unknown wallethttps://t.co/59h4deBdjG

— Whale Alert (@whale_alert) March 7, 2023
However, there have been a couple of other big XRP movements since this Bitso transaction, with one whale moving $23 million in the coin to Bitstamp yesterday.
At the same time, an even bigger transfer of 150 million XRP (about $58 million) has been completed today, although this time, it involves one unknown wallet sending to another unknown wallet.
🚨 🚨 🚨 🚨 🚨 150,000,000 #XRP (58,132,224 USD) transferred from unknown wallet to unknown wallethttps://t.co/G8d6IYenEG

— Whale Alert (@whale_alert) March 9, 2023
As such, while there may be an expectation of XRP rallies to come, there certainly isn't a unanimous sentiment in the market right now.
That said, most observers of Ripple's long-running case with the SEC are tending to agree that things have taken a positive turn for Ripple in the past week.
For example, Judge Analisa Torres this week granted Ripple's motion to remove Patrick Doody as an expert witness while also blocking the SEC's motion to remove crypto-focused lawyer John E. Deaton as a witness for Ripple.
🚨BREAKING: Judge grants @Ripple's motion to exclude Expert No. 1 (Patrick Doody) from testifying about the perceptions of a reasonable XRP purchaser.

The @SECGov previously hired Doody to analyse the expectations of token purchasers in its case against Telegram, which it won. https://t.co/ixaWZMzZIf

— Eleanor Terrett (@EleanorTerrett) March 6, 2023
These two decisions have arguably underlined the weakness of the SEC's case against Ripple, in that the regulator has failed to decisively show how the firm created a reasonable expectation of profit among buyers of XRP.
Indeed, this is the view of attorney Jeremy Hogan, who tweeted this week "how the heck can the SEC prove 'reasonable' reliance?"
The SEC has to prove that you had a REASONABLE expectation of profits from Ripple's efforts.

And the Judge just struck the SEC's ONLY Expert Witness on that subject.

So, now, how the heck can the SEC prove "reasonable" reliance? Who will testify?

Just thinking out loud. 🙂 https://t.co/qnqvxEAMI2 pic.twitter.com/ujjfRt657q

— Jeremy Hogan (@attorneyjeremy1) March 7, 2023
This all chimes with earlier developments in the case, with last year seeing the court grant Ripple access to important SEC emails, as well as uphold its right to use a fair notice defense.
Given all of these small victories, it's not unreasonable to believe that the case will end in a summary judgment or settlement that's largely favorable to Ripple.
And according to Ripple's Brad Garlinghouse, such an outcome is likely to arrive this year.
In the event that the outcome is a positive one, there's every chance that XRP could end up challenging its current all-time high, which stands at $3.40.
This would take a more bullish market, but seeing as how XRP missed out on 2021's bull run, it has a chance of rising more steeply than other major coins once the 'bulls return.'
This is also because Ripple's business as a whole remains encouragingly healthy, even with the ongoing case.
In January, it published its Q4 2022 XRP Markets Report, which detailed how it had processed $226.31 million in net XRP sales in that quarter alone.
On top of this, its on-demand liquidity product is now available in over 40 countries, following launches in France, Sweden, and Africa.
This highlights how Ripple is primed to grow exponentially once the case ends, bringing XRP along for the ride.
Is Now A Good Time to Buy XRP?
While XRP is set for a short-term rise, it may not see really substantial gains until later in the year, when the Ripple-SEC case ends.
However, traders looking for gains now should be aware that there are a variety of other high-potential coins on the market, from new altcoins to presale tokens.
We've put such coins together in a list of the top 15 cryptocurrencies for 2023, as analyzed by the Cryptonews Industry Talk team.

The list is updated weekly with new altcoins and ICO projects.
Disclaimer: The Industry Talk section features insights by crypto industry players and is not a part of the editorial content of Cryptonews.com.
---