While XRP Pumps Up 10% In 7 Days, Whales Are Accumulating This Lesser Known Penny Crypto - Here's Why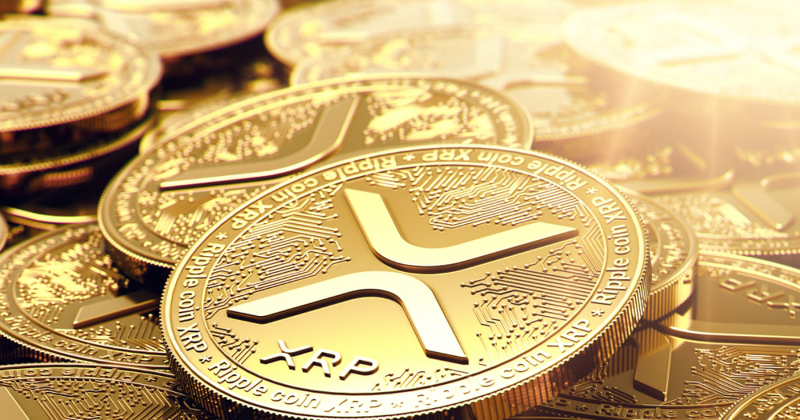 The crypto market is picking up steam again after sliding to the $1.13 trillion market cap a couple of days ago.
At press time, the market is up by 0.3% and has hit the $1.15 trillion threshold.
As expected, Bitcoin is leading this bullish charge, and the foremost crypto asset has posted close to 2% in the past week.
Cross-border remittance in the network Ripple has so far given investors a significant return on their investment, with a rise of over 10% in the same period.
This is due to a growing positive sentiment around its legal lawsuit with the US Securities and Exchange Commission (SEC).
If the judgment favors the Ripple blockchain, the $XRP token could experience explosive growth.
Meanwhile, a new meme coin protocol called Wall Street Memes is gaining popularity and has already raised over $3.2 million in its sixth presale stage, just two weeks after its launch.
XRP Posts Strong Weekly Gains Even After Crypto Market Flips Bullish
2023 has been a rollercoaster year for the crypto market as it has wavered between weeks of bearish and bullish signals.
The nascent industry is currently bullish and has gained one-third of a percent, heralding a positive market sentiment.
Ripple's $XRP has also caught on to this trend and is up 1.54% in the last 24 hours and trading at $0.52.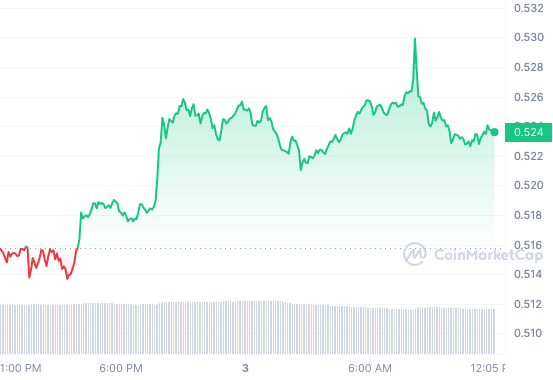 While this is significantly higher than Bitcoin's daily percentile gain, $XRP stretches its bullish streak further to the weekly charts.
So far, the cross-border remittance token has gained 10.76% in the past seven days. Its monthly performance has also increased, with the asset surging by 12.82% in the last 30 days.
Additionally, $XRP's 90-day growth has been in the double digits and stands at 39.95%, with a year-to-date (YTD) performance of 54.23%.
This shows strong buying pressure and overall positive sentiment surrounding the virtual currency.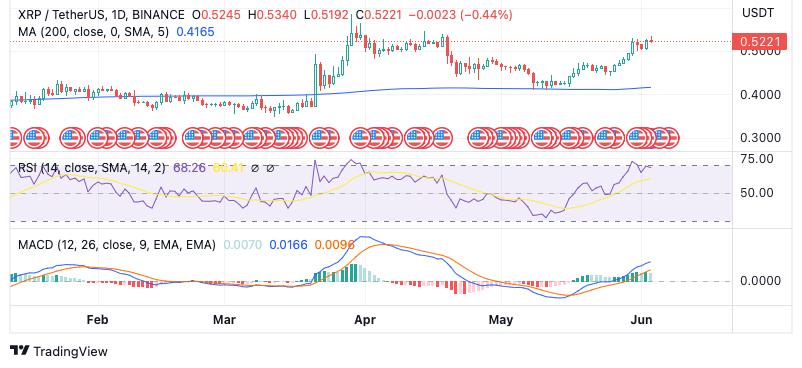 On its technical front, $XRP's 50-day simple moving average (SMA) price of $0.47 is currently below its market price, pointing to bullish sentiment.
This positive trend is further reinforced by the 200-day SMA price of $0.4195.
The asset's relative strength index (RSI) figure of 68.97 shows that it is trading very close to the overbought zone, hence the strong bullish sentiments at play.
Its moving average convergence divergence (MACD) shows a strong buy signal, following the rise of its blue trendline above its orange counterpart.
Ripple's strong performance has been tied to its fundamentals. In a recent round of acquisitions, the embattled blockchain protocol has recently purchased Metaco.
On the legal tussle with the US SEC, growing sentiments point to positive sentiment in the coming weeks.
Despite the SEC preventing the Ripple legal team from accessing the hugely controversial Hinman emails and speech drafts, crypto lawyer John Deaton has asserted that it is inevitable to remain hidden for long.
With this document, the Ripple legal team can further strengthen their position on the $XRP not being a security as the US regulator has claimed.
Meanwhile, crypto whales are currently turning their attention to another promising cryptocurrency to make massive gains.
What's the Next XRP? The Next King of Memes?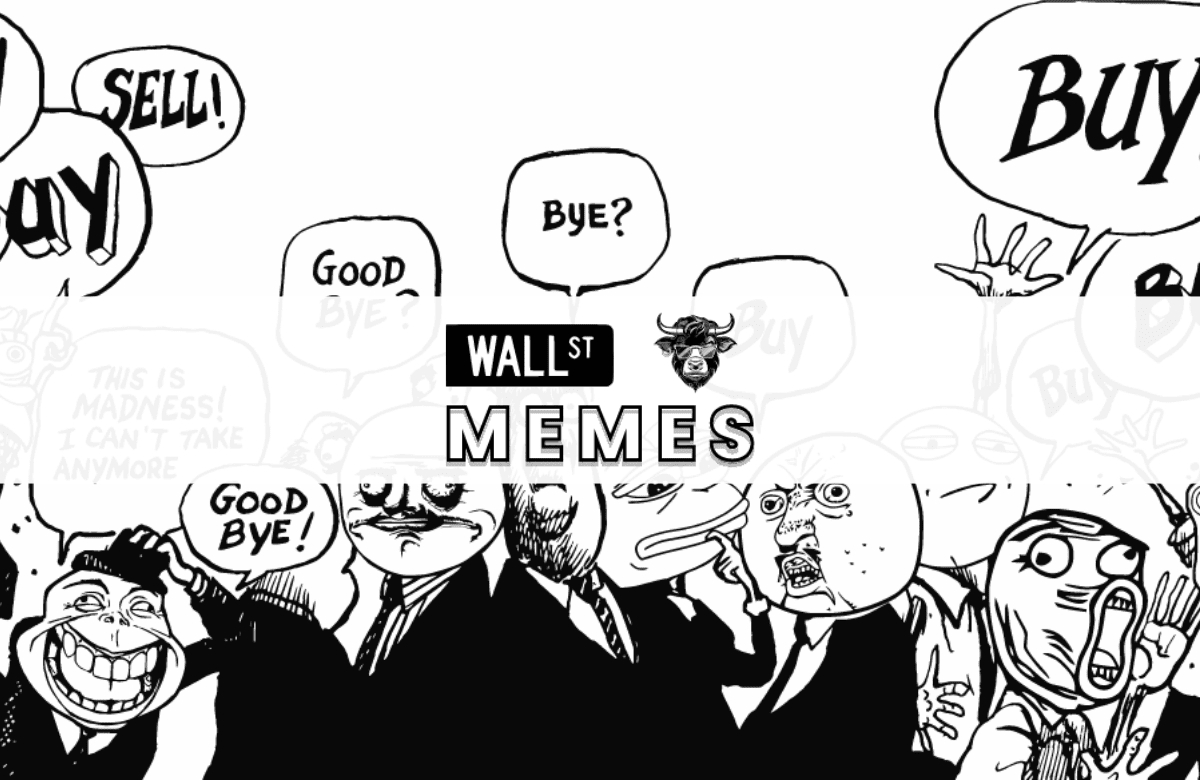 The Ripple blockchain is crucial in enabling cross-border transactions in a censorship-free and low-fee environment.
However, the crypto market is full of projects with diverse use cases addressing unique needs.
One such is a meme coin project, Wall Street Memes, that stemmed from the 2021 GameStop incident.
This innovative project is a tokenization of several retail investors' rebellion against corporate capitalism.
The movement is captured in an infinite loop of memes that are considered the ultimate expression of the internet's triumph over rampant capitalism.
The project has garnered a one-million-strong community looking to profit off these perceived worthless coins just like deep-pocketed investors do.
The Wall Street Memes project has gained significant attention online, considering its history.
It has garnered up to 400 million impressions while being spearheaded by the team who previously launched the popular Wall Street Bulls NFT collection on Ethereum, which sold out in just 32 minutes in 2021.
The project's unique appeal as the last hope for the common investor has seen it attract Tesla and Twitter boss Elon Musk who has spent some time interacting with the project on different social platforms.
The project has also launched its own Bitcoin-focused NFT collection showing that it is currently on trend with the broader market interest in Bitcoin-native digital collectibles.
With so much utility to offer investors, Wall Street Memes is quickly transcending the umbrella of being a regular parody coin.
Instead, many crypto whales and analysts are positioning it as the next king of memes right after $PEPE and $DOGE.
If the project maintains its strong online presence, its $WSM native token could easily be listed on a tier-1 crypto exchange in the coming weeks.
The $WSM token is experiencing a strong run in its presale, having already raised over $3.2 million.
Interested investors can purchase the token at its current presale price of $0.0268.
However, in two days, the token's value will increase to $0.0271, making now the most opportune time to invest in the project.​
Disclaimer: Cryptocurrency projects endorsed in this article are not the financial advice of the publishing author or publication - cryptocurrencies are highly volatile investments with considerable risk, always do your own research.
---