Ripple Price Prediction - XRP to $1 on Court Case Latest, While Wall Street Memes Pumps Past $1 Million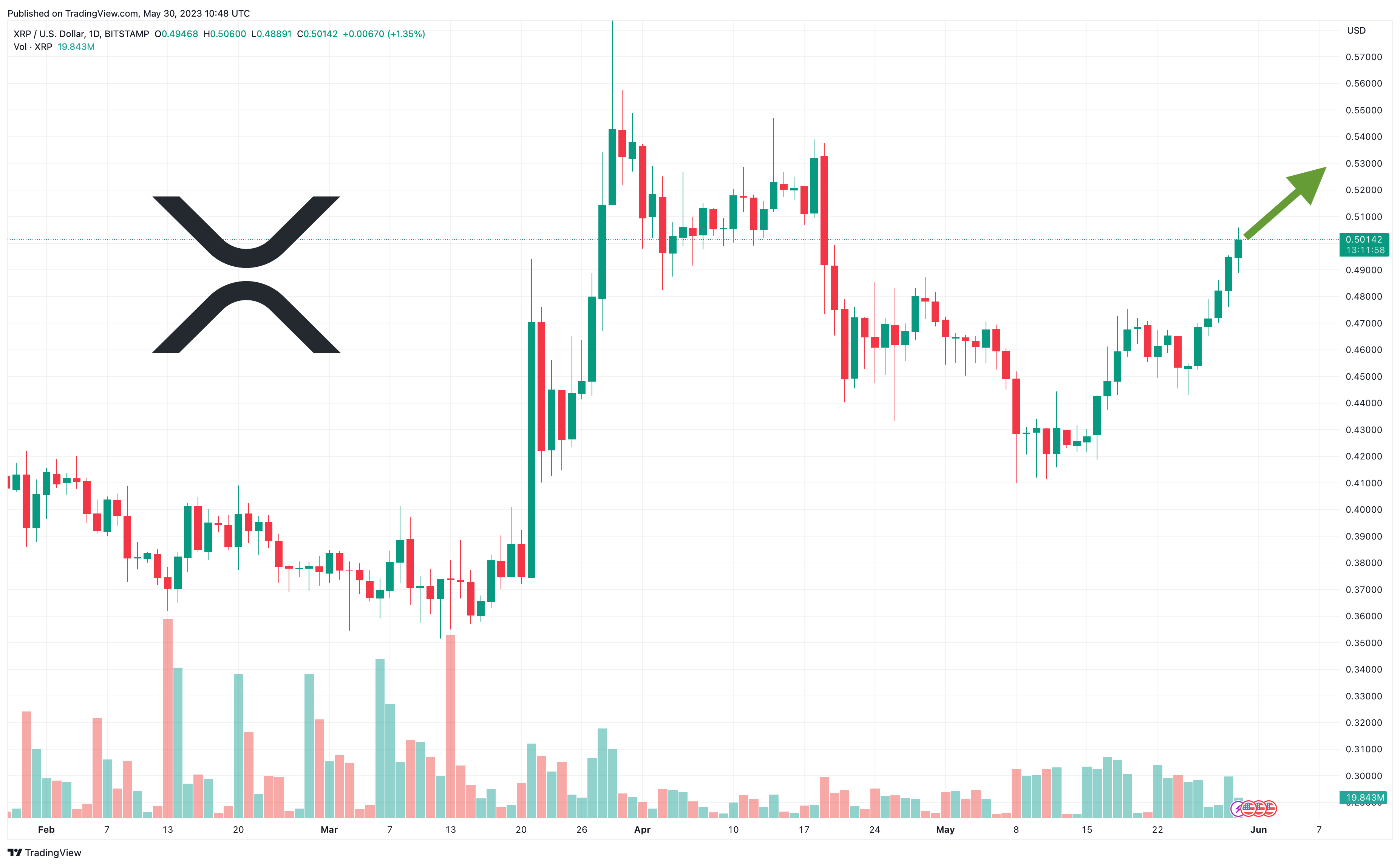 The XRP price has gained by 5% in the past 24 hours, reaching $0.502702 upon growing expectation that Ripple will win its long-running case against the SEC.
XRP's current level represents an 8% rise in a week and an 18% increase in the past fortnight, with the altcoin also having risen by 47% since the beginning of the year.
This appreciation has happened in the context of signs that the Ripple-SEC is due to end soon, and the recent release of SEC emails suggests that the ultimate decisions will end up more in Ripple's favor.
As such, XRP could witness a massive rally in the next few weeks, although it's not the only altcoin looking at the prospect of big surges this year, with the Wall Street Memes presale now raising in excess of $1 million.
Ripple Price Prediction - XRP to $1 on Court Case Latest
XRP's chart reveals a cryptocurrency with some very strong momentum, momentum which doesn't look like fading away anytime soon.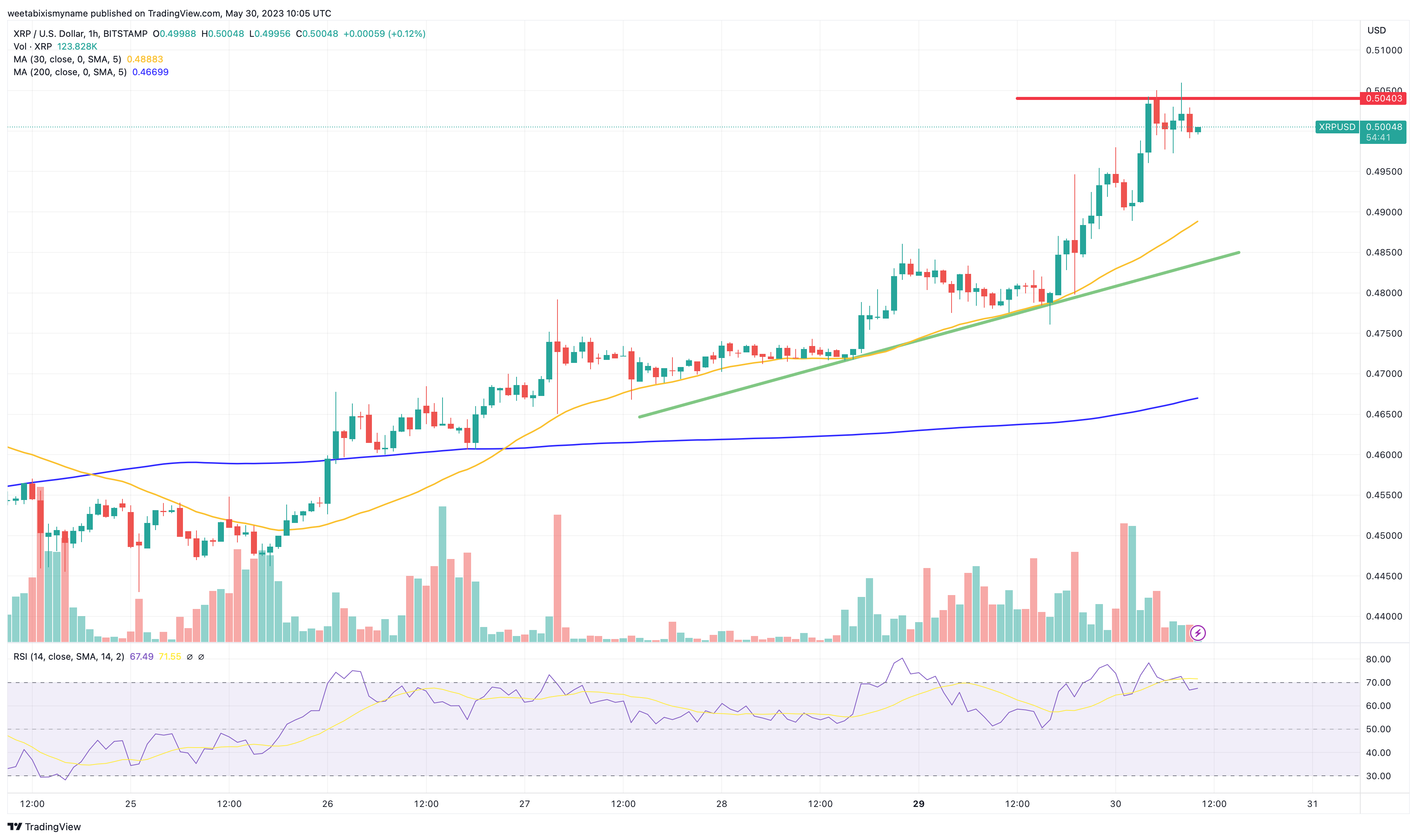 For one, XRP's price and 30-day moving average (yellow) have risen far above its 200-day average (blue), indicating a breakout to a new longer-term level.
At the same time, the coin's relative strength index (purple) has surpassed 70 in a few instances in the past couple of days, signaling some very healthy buying pressure.
Also healthy is XRP's 24-hour trading volume, which has risen to $1.5 billion in the past few hours, up from $500 million over the weekend.
What this reveals is a flood of investors looking to buy the coin now, as new details emerge which support the argument that the Ripple-SEC case will end with a positive judgment for the cryptocurrency firm.
In particular, SEC documents submitted as part of a Ripple submission appear to show that the regulator had received legal opinion (prior to opening its case against Ripple) that "XRP does not satisfy all elements of the Howey analysis and is therefore not a 'security' for the purposes of the federal securities laws."
This is a major development, with the document supporting the idea that the SEC had not really given Ripple sufficient fair notice that it may deem XRP as a security, largely because it didn't really regard XRP as a security itself.
Indeed, some observers are taking this new revelation as further evidence that the SEC launched its legal action against Ripple as some kind of motivated attack against the company, potentially driven by bias towards Ethereum.
Such a theory remains speculative, yet this doesn't change how weak the SEC's case appears at the moment, with the market increasingly expecting Ripple to come out looking victorious in the next few weeks.
And when this happens, XRP could easily rise from its current price of about $0.50 to $1 in a matter of days or weeks.
From there, the market's return to more bullish conditions could easily help it rise steadily toward $2 by the end of the year, while a full-blown bull market next year may even see it beat its current all-time high of $3.40.
Wall St Memes Pumps Past $1 Million
Of course, it may still be several months before the presiding court reaches a decision, and even if Ripple's case does look increasingly good, there's still no guarantee that it will secure the kind of outcome it wants.
As such, investors may be advised to consider diversifying their portfolios, including adding some newer altcoins and presale tokens that offer the opportunity to make some big above-average gains in a relatively short space of time.
One new cryptocurrency that ticks these boxes is Wall Street Memes (WSM), a meme token born out of the meme stocks movement that kicked off with the 2021 GameStop and AMC rally.
A few days ago, Wall Street Memes launched the presale for its WSM token, and has already raised more than $1.2 million.
This shows just how quickly the project has managed to generate interest, with the Wall Street Memes Twitter account also boasting well over 200,000 followers.
Such popularity hints at how strongly WSM could rise once its sale ends and it lists on exchanges, as witnessed by other new meme tokens (e.g. PEPE) this year.
Its presale will have 30 stages in all, with the current third stage offering WSM at a price of $0.02560000, which will rise $0.03370000 by the time the sale ends.
This would equal a price increase of 31.6%, yet WSM could easily rise by an even bigger percentage when it receives exchange listings.
Investors can participate in the sale by visiting the official Wall Street Memes website and connecting their wallets, before using either BNB, ETH or USDT (or credit card) to buy as much WSM as they want.
The vast bulk of Wall Street Meme's supply (of 2 billion WSM) will go to its community, with 50% allocated to the presale and 30% earmarked for community rewards.
Such a community focus is likely to be well-received by the market, as indicated by the early success of the WSM presale, and as will be indicated by the surges the meme token will probably enjoy once it lists.
---