US Election: Crypto Prediction Markets Flip Again, Now Favor Biden Over Trump
As the race between the two main opponents in the US presidential elections inches towards the end, crypto prediction markets flipped once again and now favor the Democratic candidate, Joe Biden. (Updated at 09:44 UTC: updates throughout the entire text).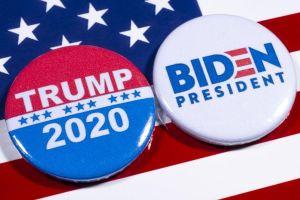 Now, according to these markets, there is a 43% (71% a couple of hours ago) chance that the still-President Donald Trump will win this race, compared with 57% (29% a couple of hours ago) in the case of Biden.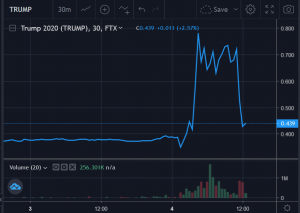 ___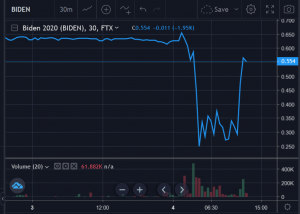 The Trump 2020 futures contract on crypto derivatives exchange FTX crashed to USD 0.43, while the Biden 2020 contract jumped to USD 0.57 (09:31 UTC).
Also, looking at 'YES Trump' and 'NO Trump' tokens issued by Augur, we see that the YES one dropped, while the NO one advanced.
For now (09:34 UTC), Biden secured 238 electoral votes out of necessary 270, while Trump has 213, according to Bloomberg data. While Reuters and some other sources claim that Biden has 224 votes, Trump - 213. In either case, results are still coming in. Moreover, some of the valid ballots left to count are from mail-in and early votes cast ahead of time that are in hand but not yet counted.
Despite this, Republican Donald Trump said, "Frankly, we did win this election" over Democrat Joe Biden and said he would take the election to the Supreme Court.
Meanwhile, bitcoin (BTC) started to move up again after it dropped from USD 14,000 reached earlier toda to USD 13,600. At the time of writing, it trades at USD 13,697 and is up by 1% in a day. Other major coins are showing mixed results today.
___
Learn more:
The US Election: Pullback Possible, But Neither Trump Nor Biden Won't Stop Bitcoin
Trump & Biden Voters Put Crypto Predictions Markets To The Test Today
---