US Dollar Crashes To USD 40,000 per Bitcoin
It took 17 days for the most popular cryptocurrency, bitcoin (BTC), to jump from USD 20,000 to USD 30,000, and less than a week to hit USD 40,000.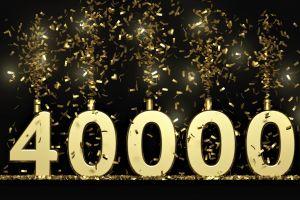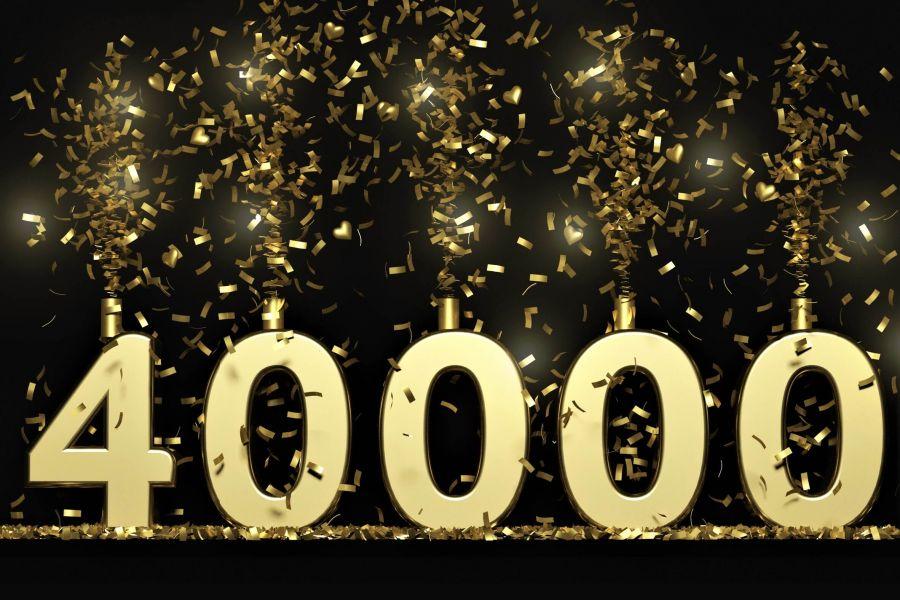 At the time of writing (18:16 UTC) it reached this level on multiple exchanges, such as Binance, Bitstamp, and HitBTC.
After reaching this milestone today, the market capitalization of BTC stands above USD 740bn. This network is now more valuable than the popular electric car maker Tesla, controlled by the world's richest person, Elon Musk, who in December was inquiring about a large BTC transaction.
BTC price chart: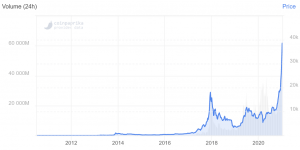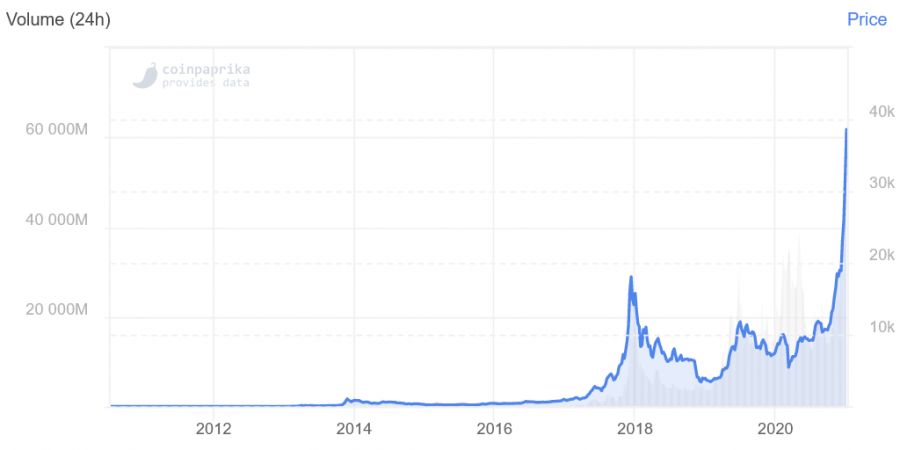 Meanwhile, even before this strong rally, some industry experts predicted that BTC might reach USD 100,000 - USD 500,000 this year.
"Bitcoin smashing through USD 40,000 proves that the COVID crisis is powerful enough to shift the incumbent monetary order. The new all-time high is palpable evidence of a major social conversion – a metamorphosis from a dollar-dominated economy to blockchain-based, deflationary, and limitless finance," Antoni Trenchev, Co-founder and CEO of major crypto lender Nexo, said in an emailed comment.
Meanwhile, Geoff Morphy, President of Bitfarms, a major public Bitcoin mining company, stressed that the more "people perceive that their assets, particularly their liquid assets such as fiat currencies are eroding in value, the more they will look for alternatives."
And here is what analysts were saying this week while BTC was on its way to USD 40,000:
"If Bitcoin continues to rally at its current rate, I believe we could see a price of USD 54K around Valentine's day. We could see a higher price than this by the end of Q1; USD 74K is also on my radar. However, I have the sense a pull back from USD 54K would leave the Bitcoin price to consolidate around USD 35K," Nicholas Pelecanos, Head of Trading at NEM, said.
"It's very likely that the asset will eventually pass USD 100,000 per coin," Sergey Nazarov, Co-founder of Chainlink (LINK) wrote in an email to Reuters. "People have been steadily losing faith in their government currencies for years, and the monetary policies resulting from the economic impact of the coronavirus have only accelerated this decline."
JPMorgan said that the current "speculative mania" will propagate further pushing BTC toward the "consensus region of between USD 50,000 - USD 100,000," which would be unsustainable.
Sonny Singh, Chief Commercial Officer of major crypto payment processor BitPay, estimated that BTC goes up to USD 40,000 - USD 45,000 "the next month or so" when the market might start feeling a stronger sell pressure.
"Bitcoin has entered into a new phase of price discovery, largely driven by amplified institutional interest in the digital asset. We have not yet seen peak retail participation, as highlighted by the low search and social activity relative to 2017," Craig Russo, Director of Innovation at Polyient, an infrastructure underpinning decentralized virtual economies, said in an emailed comment.
"Since we already know institutions are buying in large quantities, the flattening of spot inventory depletion is a sign that retail buyers are now entering in large volumes, attracted by recent price rises," according to popular BTC analyst Willy Woo.
Konstantin Richter, CEO and Founder of Blockdaemon, said that the next big hurdle for bitcoin is USD 50,000: "Between USD 30-50K, there may be a significant amount of asset liquidation, so I think that will be a harder number to achieve this year. With that hurdle cleared, I believe that we will see USD 100K in 2022."
"Any crash we do see will not be as drastic as those that we have seen before, thanks to increased network effects and institutional involvement," Rachid Ajaja, CEO and Founder of AllianceBlock, said, adding that it is unlikely that BTC whales - those who hold enough BTC to impact price - are going to be selling any time soon. He added that the masses of retail money are usually the last to enter the market, and offer a warning sign of potential downturns.
As BTC's latest surge continues to convert ranks of legacy finance institutions into crypto-enthusiasts, legendary investor Bill Miller predicted that "the current relative trickle into bitcoin" could become "a torrent."
____
Learn more:
Up or Down? Data Send Mixed Signals About Sell Pressure for Bitcoin & Ether
Crypto in 2021: Bitcoin To Ride The Same Wave Of Macroeconomic Problems
Bitcoin Wheel Cannot Be Stopped
Crypto Adoption in 2021: Bitcoin Rules, Ethereum Grows & Faces Rivals
Crypto in 2021: Institutions Prefer Bitcoin, Retail Open to Altcoins
Bitcoin is a 'Ponzi' With Infinite Supply - Skeptics Chime In
Economists Speak of 'Once-in-a-Millennium Change' in Monetary History
Bitcoin & Crypto Taxes In US: When to Sell and When to Hodl
Bitcoin Now Retail Inflation Hedge, Experts Agree – and Altcoins May Follow Suit
___
Other reactions:
---