US Congressman Proposes Bill to Block Federal Reserve from Creating American CBDC – What's Going On?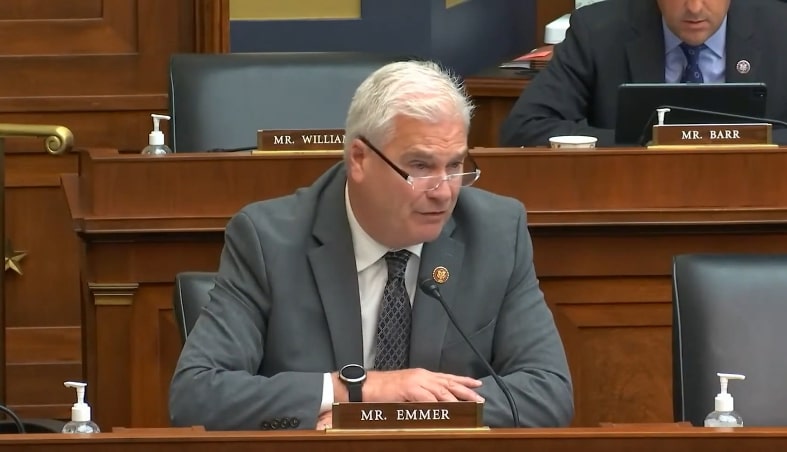 Tom Emmer, the Republican House Majority Whip, presented a bill on Wednesday aimed at prohibiting the Federal Reserve from issuing or utilizing a central bank digital currency (CBDC) to govern monetary policy.
"Today, I introduced the CBDC Anti-Surveillance State Act to halt efforts of unelected bureaucrats in Washington, DC from stripping Americans of their right to financial privacy," Emmer wrote in a tweet on February 22, listing three points the legislation focuses on.
There are, said Emmer:
prohibiting the Fed from issuing a CBDC directly to anyone;
baring the Fed from using a CBDC to implement monetary policy and control the economy;
requiring the Fed's CBDC projects to be transparent to Congress and the people.
Per the document Emmer shared in his Twitter thread, a section of the Federal Reserve Act is amended by adding that,
"Except as specifically authorized under this Act, a Federal reserve bank may not offer products or services directly to an individual, maintain an account on behalf of an individual, or issue a central bank digital currency directly to an individual."
The document stated that the Federal Reserve Board must consult each Federal Reserve Bank and report to Congress quarterly on any studies related to US digital currency implementation or potential CBDC pilot programs.
Digital versions of the dollar must "uphold our American values," wrote Emmer, warning about what he believes is the potential for creating a surveillance tool. The concern here, some argue, is that CBDCs may go against the freedom and privacy guaranteed to the people, giving unprecedented control and power to the government.
Emmer and several other US lawmakers previously expressed concern that giving this amount of control to the Fed would result in the government gathering sensitive transaction information.
In March 2022, US Senator Ted Cruz introduced companion legislation to a January 2022 bill drafted by Emmer, which banned the Fed from developing a direct-to-consumer CBDC that "could be used as a financial surveillance tool by the federal government, similar to what is currently happening in China."
Then in December, Emmer announced that he led an inquiry into "Project Hamilton" - a collaboration between the Federal Reserve Bank of Boston and the Digital Currency Initiative at the Massachusetts Institute of Technology to research the development of a US CBDC. "The more we learn about the Boston Fed's work on Project Hamilton, the more we have become concerned with the lack of transparency, especially as it relates to their partnership with the private sector," Emmer said.
The Tuesday bill was supported by other Republicans, including French Hill, Warren Davidson, Andy Biggs, Mike Flood, Byron Donalds, Pete Sessions, Barry Loudermilk, Young Kim, and Ralph Norman.
Biggs commented:
"Grateful to join this effort. These unelected bureaucrats are driving us to an authoritarian state. That can't happen."
Loudermilk added:
"Proud to join forces with [Emmer] on legis to keep the Fed from issuing a central bank digital currency. The Fed should be focused on its core mission of stable prices and max employment, not tracking our transactions indefinitely."
Meanwhile, just a week ago, the Federal Reserve Bank of San Francisco announced a vacancy for a CBDC developer as it aimed to explore the cost and benefits of the potential technologies for a CBDC.
____
Learn more:
- Centralized Money Has 'Never Been Good' - US Congressman
- Pro-Crypto Congressman Blasts SEC's Gensler Over Regulation Plans

- San Francisco's Move to Hire CBDC Developer Signals Digital Currency Progress – Here's the Latest
- US Senator Jon Tester Sees 'No Reason' Why Cryptocurrencies Should Exist – Regulation Coming?
---