Turks Turn to Exploring Bitcoin, Ethereum, And Tether as Lira Plummets
As Turkish lira (TRY) plummeted once again amidst massive economic uncertainty and opposing views over solutions, the country's citizens turned to Google to explore bitcoin (BTC) and other cryptoassets.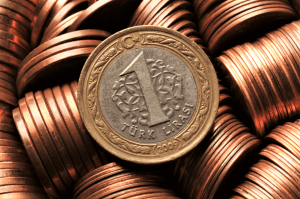 Looking at the interest in 'bitcoin' in the past seven days in Turkey, we see that it jumped sharply on March 21, from the value of just 17 to the peak popularity in a week and the maximum value of 100, before dropping again.
Compared to BTC, ethereum (ETH) and the most popular stablecoin, tether (USDT) recorded lower values of 13 and 6, respectively, on March 21. It can be noticed that the three jump and drop at similar or same times, but the difference in interest for each is large. On average in the past week, BTC stood at the value of 36, ETH at 7, and USDT at 1.
The rise in interest for crypto is happening at the time when Turkey's currency lira plummeted 14% after President Recep Tayyip Erdoğan fired the country's central bank governor Naci Agbal on Saturday, who's the third person on that role to exit in less than two years, reported BBC. Erdogan's move was reportedly quite a surprise, shocking both the local and foreign investors.
Per the article, Agbal, who was appointed in November, had decided to raise interest rates to combat inflation, and TRY jumped last week. Turkey's central bank's recent monetary policy was praised domestically and abroad, while at one point lira stood as the best performing emerging-market currency of 2021. His moves helped "to push the lira up 18% against the US dollar [...] winning plaudits from investors," Reuters reported.
Jeffrey Halley, a senior market analyst at currency exchange firm OANDA, was quoted as saying that the "base premise of Erdonomics [Erdoğan's economics] is that higher interest rates cause higher inflation, a theory that flies in the face of conventional economic theory everywhere."
Erdoğan's move also came at a really bad time for Turkish economy, some argue.
But this lira's drop could turn to be a blessing in disguise, argued entrepreneur and crypto-focused venture capitalist Marc van der Chijs - as citizens may be embracing BTC sooner.
Meanwhile, the old Turkish Lira (TRL) became obsolete when it was replaced with the New Turkish Lira (TRY) in 2005. The old lira's value had dropped tremendously, and the Grand National Assembly of Turkey passed a law in 2003 to enable redenomination by the removal of six zeros from the Turkish lira, and the creation of the new currency.
Some see this scenario repeating. "Fun fact," said Three Arrows Capital's Zhu Su. The "reason Turkish Lira is TRY and not TRL is [because] they've already re-denominated before due to massive hyperinflation." He'd "wager that on a long enough time frame, developed country currencies will undergo similar re-denominations. Be prepared."
Others pointed out the common trend of criticizing BTC's and cryptos' volatility while disregarding fiat's.
At 10:45 UTC, BTC is trading at USD 58,253 and is up by 3% in a day, trimming its weekly losses to less than 2%. ETH is changing hands at USD 1,806, having increased almost 2% in a day, while it's down by 3% in a week.
____
Learn more:
- Inflation Is Here & Bitcoin Will Hit USD 115K 'Ahead of Target' – Pantera
- Why The Return Of High Inflation Can No Longer Be Excluded
- Dalio Disses Dollar Debt, But Warns Gov'ts May Target Bitcoin & Gold
- A Debt-Fuelled Economic Crisis & Bitcoin: What to Expect?
- Huobi Expands to Turkey as Turks Flock to Crypto
- Why is Crypto Business Rushing to Turkey?
___
(Updated at 14:33 UTC with a comment from Mohamed El-Erian, an economic adviser at Allianz.)
---