Tron Wins the Daily Market as JustSwap Shows Arguable Volume Change
Tron network's native coin TRX is continuing its rally, reaching the coveted spot of the top daily performer among the top 40, as well as the top weekly performer among the first 20 coins by market capitalization. This comes as Tron's founder Justin Sun pointed to the rising rank of the recently-launched decentralized and Tron-powered token swap protocol JustSwap, as well as its rising daily trading volume - an increase with a discrepancy in numbers, and which some find questionable.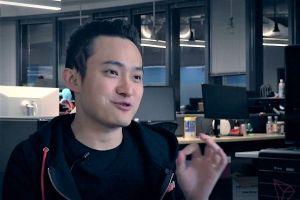 The 13th coin by market capitalization, TRX, has continued the rally we reported on yesterday, and has gone up more than 20% in a day, making it the best performer among the top 40 coins in the otherwise mostly red market today. The only coin among the first hundred by market capitalization that performed better than TRX is elrond (ERD), having appreciated nearly 22%.
In the past week, tron appreciated 53%, becoming the best performer in the top 20 category, reaching the price of USD 0.357 (UTC 09:40), and climbing to highs, last seen in June of 2019.
TRX price chart: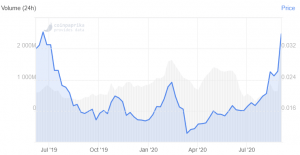 The rally comes as Justin Sun tweeted a screenshot of what appears to be CoinGecko's list of decentralized exchanges - ranked by 'market share by volume.' Sun's image depicts JustSwap at the first place, with a 41% market share, surpassing Uniswap that had reigned the list. The number 1 spot, according to the screenshot, was awarded to JustSwap, which exchanges TRC20 tokens only, thanks to its whopping USD 1.17 billion in 24-hour trading volume.
What CoinGecko shows at the moment of writing is JustSwap at the 4th place by the 24-hour volume, with USD 176 million. It's behind Uniswap, Curve Finance, and Aave, respectively. Its market share is 8.8%.
The chart, however, does show a sudden major rise from USD 143 million to USD 1.27 billion, followed by an equally sudden and major drop less than four hours later.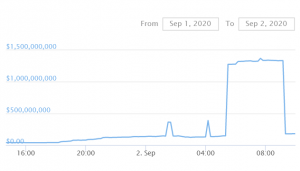 JustSwap's own numbers show the 24-hour volume to be USD 107.8 million, up 354%, with total liquidity of USD 55.3 million.
As for the discrepancy between the numbers, not much explanation is offered so far, with Sun tweeting that JustSwap "volume has too many digits. Designer didn't even expect this to happen."
Meanwhile, Uniswap founder Hayden Adams tweeted that it's the fault of a bug.
Others questioned where the volume was coming from, with Sun stating that he didn't know what was happening.
As reported, JustSwap was launched in mid-August, and it bears many similarities with the Ethereum (ETH) network's Uniswap protocol. It was the latest step in Sun's plan to create a new ecosystem for decentralized finance on Tron, dubbed "JUST DeFi." Meanwhile, "the bitcoin" of Tron – a new DeFi meme token called SUN, should enter genesis mining today.
---