Top Weekly Performer ATOM Takes a Breather After Massive Rally
Cosmos (ATOM), the blockchain network focused on interoperability and one of the top 10 ICOs of 2017, is finally taking a breather in the market today after what has been a near-exponential rally over the past month.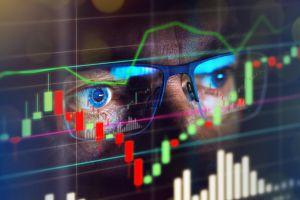 As of 10:47 UTC, the 15th coin by market capitalization, ATOM, was up about 0.6% for the day, trading at a price of USD 7.47. Furthermore, the coin was up by nearly 24% over the past 7 days, making it the best weekly performer by far among the top 20 cryptoassets by market capitalization, per Coinpaprika's ranking.
The slight rise today came after what has been a massive rally for the ATOM token since the beginning of August, with the price rising from USD 3.79 on August 1 to a peak of USD 8.88 on August 25 – a rise of more than 130%.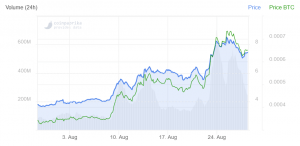 And although it is difficult to point to specific triggers for the rally and subsequent sell-off, technical analysis suggest that some profit-taking was in the cards.
More specifically, technical indicators such as the Relative Strength Index (RSI) is currently suggesting that the rally has gotten overextended, meaning that a pullback in price is only natural. Additionally, after seeing massive trading volume on August 23, volume has fallen in recent days, thus weakening the upwards momentum of ATOM.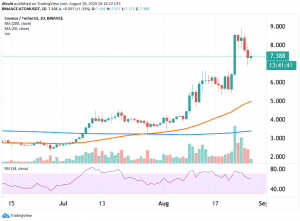 Unlike smart contract platforms like Ethereum (ETH), Cosmos does not enable other projects to release tokens on top of it, but instead offers a solution for other projects to build their own blockchains that are interoperable with Cosmos.
And with the sharply increased fees that have come with the popularity of many Ethereum-based decentralized finance (DeFi) protocols, some in the crypto community have started to turn their attention to alternative smart contract platforms.
The potential for DeFi applications built around the Cosmos ecosystem is also something that has been talked about by some analysts lately, with for example Ryan Watkins of Messari Crypto mentioning terra (LUNA), kava (KAVA), band protocol (BAND), and thorchain (RUNE) as interesting up-and-coming DeFi projects built around Cosmos.
In March this year, Cosmos celebrated a year since the launch of "the world's first decentralized launch of a proof-of-stake network, the Cosmos Hub," as the announcement said at the time.
____
Learn more:
Cosmos, Polkadot Join Terra In New DeFi Savings Project
Bitcoin Suisse Raising USD 56M, 'Free TON', Zcash Eyes Cosmos + More News
Cosmos Surges on Coinbase Pro Listing
---