The Memerable Market: Musk DOGE'ing Again, Lindsay Lohan Fails To Send BTC To The Moon
While coronavirus ruled the markets in 2020, it seems that the meme virus is in charge this year.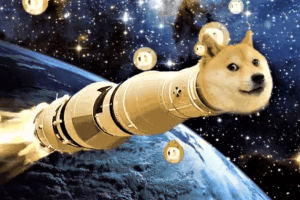 As bitcoin (BTC) is playing by its playbook today - once again correcting its gains after another strong rally - a new superstar in the cryptoverse, Tesla's Elon Musk, is on his dogecoin (DOGE) jokes again.
"Bought some Dogecoin for lil X, so he can be a toddler hodler," the world's (still) richest man tweeted, sending the price of DOGE around 10% up in an hour and liquidating around USD 5m short position at the same time.
Per media reports, Musk and his wife Claire Grimes named their son X Æ A-XI.
At the time of writing (16:41 UTC), DOGE trades at USD 0.076 and is up by 13% in a day. Oh, and it's the 10th largest cryptoasset by market capitalization again.
As reported, Tesla's and SpaceX's founder said on multiple occasions that his tweets about dogecoin are meant to be jokes. And these jokes helped some traders make more money (DOGE is up by 679% in a month), while others suffered losses due to wild fluctuations.
Meanwhile, another celebrity joined the bitcoin rush today.
Lindsay Lohan, an American actress, singer, has 8.4m followers on Twitter, and if they rushed to buy BTC after this tweet, they got it with a discount.
At the time of writing, BTC trades at USD 44,662, dropping from USD 47,300 reached earlier today. The price is down by 5% in a day, trimming its weekly gains to almost 25%.
___
Reactions:
____
Learn more:
- Elon Musk Rages at Wallet, May Land in Hot Water from Regulators
- Bitcoiners Bristle as Musk-fuelled Dogecoin Rocket Re-enters Top 10
- GameStop and Dogecoin Show How Memes Can Move Markets
- Musk's Doge, Bitcoin Tweets May Spur Double-Digit Returns - Report
- Are GameStop-Style Surges In Crypto Any Different From Old Pumps & Dumps?
---