Terra Luna Classic Price Prediction as LUNC Pumps Up 12% – Can LUNC Reach $1?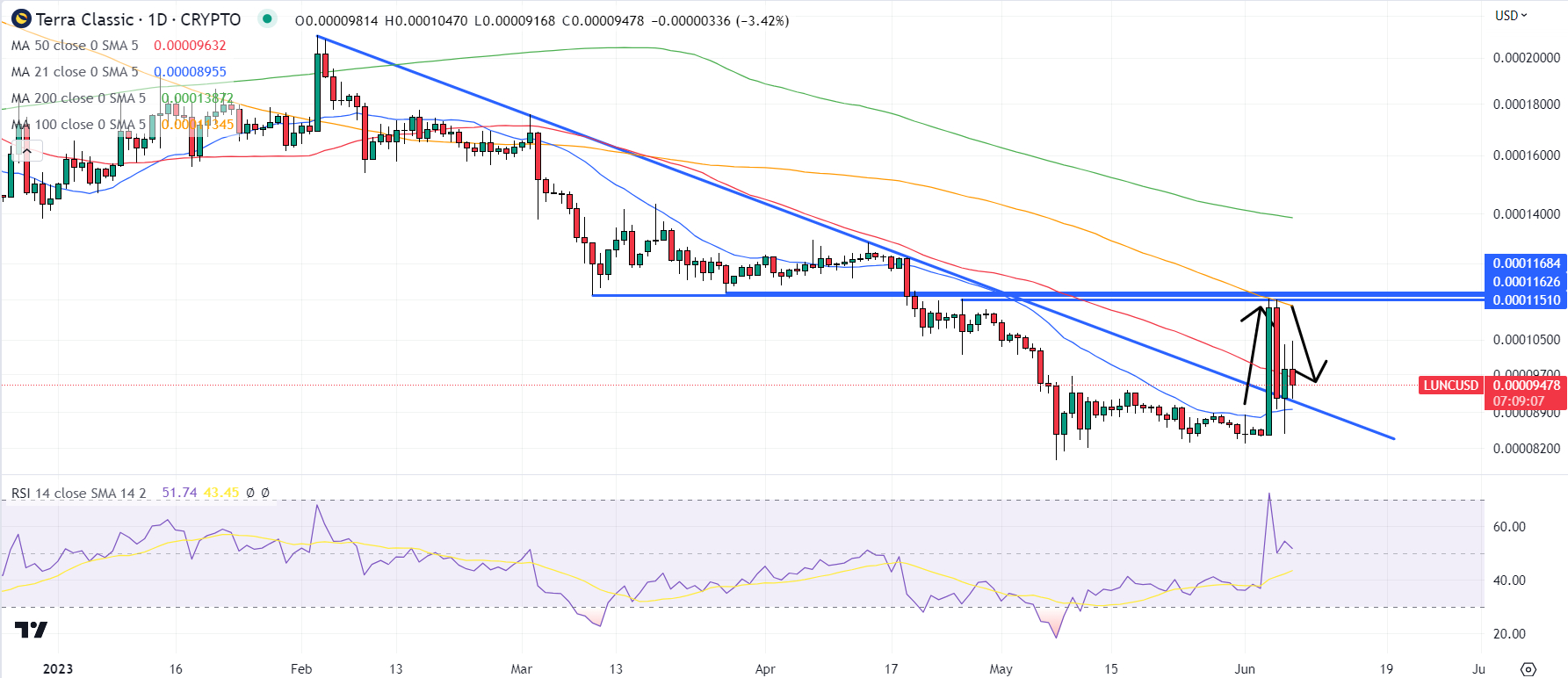 Terra Luna Classic (LUNC), the cryptocurrency which powers the original Terra blockchain that experienced catastrophe after its associated algorithmic "stablecoin" UST lost its 1:1 per to the US dollar last May, is close to 12% higher versus its Tuesday lows in the $0.000085 area.
LUNC/USD was last changing hands around $0.000094, with the cryptocurrency having experienced extreme volatility in recent days.
On Sunday, the cryptocurrency saw a huge 33% surge following the bullish breakout above a short-term pennant structure and the cryptocurrency's 21DMA.
However, LUNC was unable to break back above resistance in the $0.000115 area.
Price Prediction – Where Next for LUNC?
But the cryptocurrency for now holding to the north of a downtrend from the earlier yearly highs, the prospect of a retest of recent highs in the $0.0001150 area are good.
However, the prospect of a longer-term rebound remain weak, with fundamentals certainly not working in LUNC's favor.
Readers might recall that, when UST lost its 1:1 peg to the US dollar last May, this triggered a "bank run" that caused a so-called "death spiral" in LUNC.
LUNC holders lost everything as the supply was hyper-inflated as UST owners redeemed their UST tokens on masse via the protocol's mint-burn mechanism.
The Terra ecosystem saw an exodus of nearly all its capital, users and developers and has never recovered.
LUNC represents a long-dead and gone cryptocurrency network – the disaster of May 2022 dealt a fatal blow to the Terra project and its credibility and LUNC holders might want to consider giving in and selling whilst they still can.
Can LUNC Reach $1?
A rally to $1.0 per token is unlikely, unless the Luna Classic community implements big changes to the cryptocurrency's tokenomics.
That's because, at present, there are close to 7 trillion LUNC tokens in circulation.
Most would agree that Luna Classic is unlikely to ever reach a $7 trillion market cap, not least because the blockchain's entire web3 ecosystem was obliterated in mid-2022 when UST depegged from the US dollar and triggered hyperinflation in LUNC.
Still, crypto markets are a crazy place and nothing is impossible.
Terra Luna Classic (LUNC) Alternative to Consider – yPredict (YPRED)
investors might want to consider diversifying their crypto portfolio into project's with a better chance of delivering near-term gains.
One high-risk-high-reward investment strategy that some investors might want to consider is getting involved in crypto presales.
This is where investors buy the tokens of up-start crypto projects to help fund their development.
These tokens are nearly always sold very cheap and there is a long history of presales delivering huge exponential gains to early investors.
Many of these projects have fantastic teams behind them and a great vision to deliver a revolutionary crypto application/platform.
If an investor can identify such projects, the risk/reward of their presale investment is very good.
The team at Cryptonews spends a lot of time combing through presale projects to help investors out.
One such project that the team has identified as having a very strong potential is yPredict.
What is yPredict?
A ground-breaking new AI-powered crypto trading and market intelligence platform called yPredict is building a first-of-its-kind, institutional-grade crypto price prediction system.
According to observers, the tool, which is powered by yPredict's in-house deep data analysis, will help crypto investors discover the next explosive crypto with ease.
The best part, yPredict's crypto price prediction system will remain free and open for all users to access – the price predictions will be made publicly available and require no login to see, the project's Whitepaper explains.
But yPredict offers investors much more than just crypto price predictions.
The project is "building a cutting-edge crypto research and trading platform that provides traders and investors access to dozens of AI-powered signals, breakouts, pattern recognition, and social/news sentiment features", the start-up says in its Lite paper.
The platform's technology was designed using state-of-art predictive models and data insights built by top 1% AI developers and quants.
Meanwhile, "the ypredict.ai marketplace will enable experts to earn recurring revenue by offering their model predictions or data research as trading signals, which traders and investors can subscribe to".
To fund the development of its revolutionary AI-powered crypto trading and market intelligence platform, yPredict is running a presale of the native $YPRED token that will powers its platform.
The presale is absolutely flying and just hit the massive $2 million milestone.
The project's presale is in its sixth stage, with $YPRED tokens selling for $0.09.
However, there's still plenty of upside for new investors, as the token will list across major exchanges for $0.12 later this year, for paper gains of 33%.
But the pace at which yPredict's $YPRED token continues to fly off the shelves means that investors need to be careful not to miss out before the presale sells out.
yPredict has a presale hard cap of $6.5 million, which could be hit in a couple of weeks if the presale continues to gain pace like it has in recent days.
The 33% gains that investors who get in now can secure could pale in comparison with the upside $YPRED could enjoy in the long run.
---