TenX Denies Allegations of Wrongdoing, Claims Cards Are Finally Live
Singapore-based TenX, one of the top 10 initial coin offerings of 2017, has taken to a YouTube livestream to deny allegations of wrongdoing, specifically insider trading, that have begun to surface around the time their co-founder and former president Julian Hosp left the team. They also touched upon the subject of crypto cards, which they claim are live in Singapore as of today, with the rest of Asia set to follow soon. PAY, the native token of TenX, is up by 15% in the past 24 hours (UTC 02:09 PM.)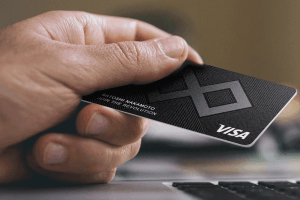 "At TenX, we have very strict insider trading rules and policies, especially for executors like myself and Julian. We have a rule that you have to announce to the board before you do any trades. What I can say about these transfers is that we have not received any notification," said Toby Hoenisch, co-founder & CEO. "There is a statement from Julian that said he has sold some. From the TenX perspective, we have not done any trades in the timeframe from the 21st December until today. In the case of these trades, we also don't know yet if we will want to pursue anything further."
Following questions from the community, the Q&A also addresses Julian's current position at TenX and whether he is in any way still affiliated with the project. Hoenisch revealed that Hosp is still a shareholder. "One thing though to add, he's not involved in day-to-day operations at TenX anymore," Hoenisch adds.
As TenX does not attempt to absolve Hosp of any potential guilt, he has taken that upon himself. A few days ago, he published a Medium post denying the speculations: "This is absolutely wrong and is based on false facts that someone tried to connect without any substance."
He explains some of this spending: "Fact is: Just like last year, I did sell some of my tokens at the end of the year. In this year's case after the snapshot, to offset part of my income tax. I received tokens as part of my salary and based on the value at when I get them, I have to pay tax on it  - just like anyone else, who pays their taxes. Nothing of all that was because of any insider information - actually, I have mentioned this fact several times in the past. The actual amounts are nowhere in the amounts that the press and social media speculate. So please, stop the lies about me dumping all my tokens on insider information. Nothing of that is correct," he claims.
PAY price chart: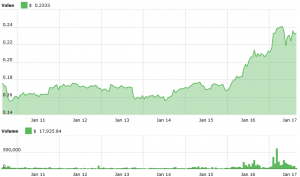 The Speculations
It started with Hosp announcing that he is leaving the team. While he stated that the decision was mutual, neither he nor TenX provided the reasons behind him quitting the company's executive team. The community speculates that Hosp soon dumped 2.2 million PAY tokens (USD 508,000,) and the primary evidence for this is based on a signed address, which, according to its signature message belongs to Hosp.
However, the last transaction conducted from that address was made over 392 days ago. It seems likely that the TenX co-founder was not using that address, but another, which is connected to the first one through a transaction. The second address in question has been receiving 6,250 PAY tokens every month from TenX, which is something that was previously brought to light on Twitter, and Hosp did not deny it at the time.
The speculation then goes on to say that the second address had sent more than 2.2 million PAY tokens to what looks like a Bittrex deposit address. The PAY token's value had taken a massive hit at the time. After December 30th, 2018, the price of the coin decreased from USD 0.41 to USD 0.26 in just a day and continued its downward slide to USD 0.20 on January 9th, when the speculations were published. However, the token is now increasing in price, sitting at USD 0.23 as of the time of writing.
The Issue of the Cards
"As of today, we have our cards live," said Hoenisch during the livestream. However, he refused to say how many cards have been sold, as "this is critical information, after all, our competitors are watching." The cards are live in Singapore, but can't be sold to interested parties in China, Japan, Indonesia and India at this point, but the rest of Asia "will roll out very soon."
One of the biggest issues people have with TenX is its ambitious promise to deliver TenX Card, which is supposed to be a debit card linked to a mobile wallet. The card should make it effortless to use cryptocurrencies both online and offline worldwide, and without any hidden transaction fees. On top of that, TenX payment platform enables digital and physical transactions even if the merchant doesn't accept cryptocurrencies.
Until recently, the TenX mobile app accepted deposits of the PAY token to reserve premium debit cards, but now the app says debit cards are unavailable in the United States, and users are prompted to sign up for a waitlist. It is unknown if users in the United States were refunded for their deposits, or if they must wait until the debit cards become available.
Meanwhile, TenX responded to the skeptics of the community by publishing a video with the official card announcement.
---