Stellar Price Prediction as XLM Rockets Up 10% Overnight – What's Going On?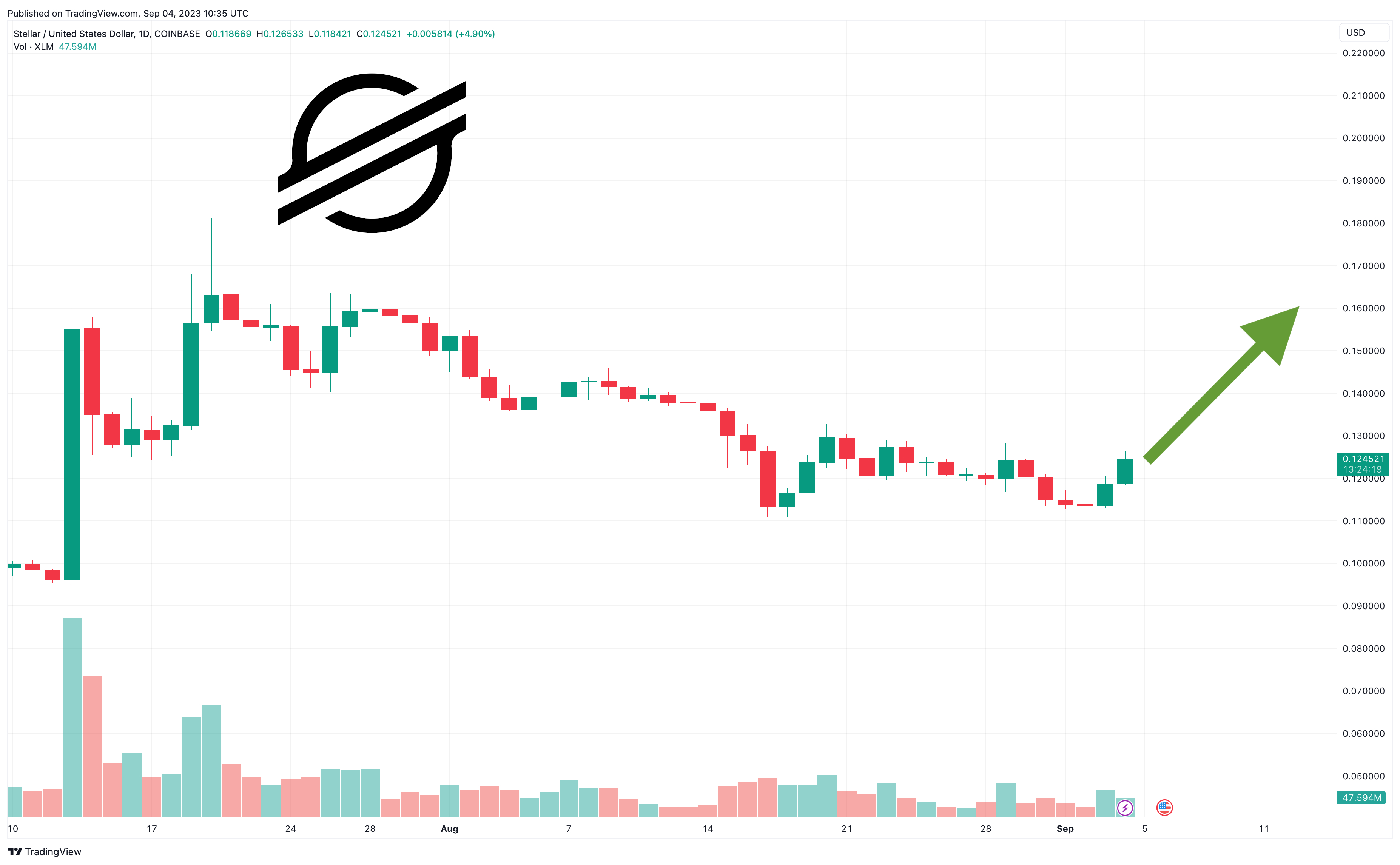 The price of Stellar (XLM) has jumped by 10% in the past 24 hours, with its move to $0.125598 coming after the Stellar team hinted at the release of "something cool" in the next ten days.
Today's change means that XLM is up by 5% in the past week but still down by 7.7% in the last 30 days, although the utility token remains up by 76% since the beginning of the year.
And with Stellar on the brink of announcing something potentially big in the next week or so, XLM could be in for some more gains very soon.
Stellar Price Prediction as XLM Rockets Up 10% Overnight – What's Going On?
XLM's chart indicates that the coin has gained some significant momentum after a period of relative weakness and underperformance.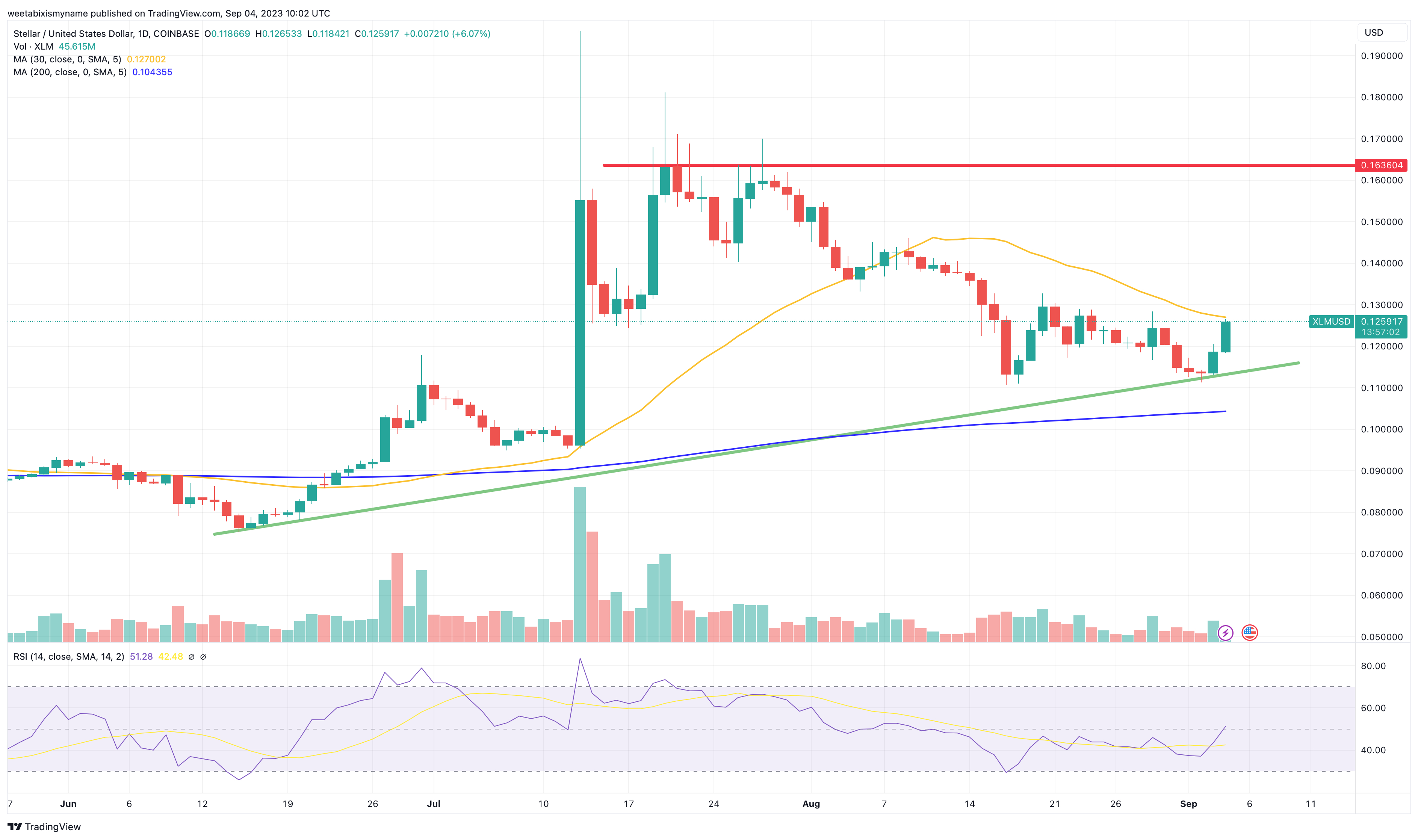 In particular, its relative strength index (purple) has shot above 50 after a couple of weeks between 40 and 30, suggesting that bulls are returning to the token and helping to increase its momentum.
Likewise, its price is about to climb over its 30-day moving average (yellow), providing another sign of growing buying pressure, while the 30-day is also about to rise higher above the coin's 200-day average (blue).
It's also encouraging to see that XLM's medium-term support level continues to rise steadily, providing the altcoin with an increasingly high base from which to mount further rallies.
Based on all this, it looks as though XLM could comfortably rise to $0.130 or $0.135 before its current rally loses momentum and becomes oversubscribed.
As noted above, it seems as though the main catalyst for today's events is a cryptic announcement from Stellar's Twitter account, which has hinted that "something cool is dropping in 10 days."
No further details have been provided on this incoming surprise, yet the likeliest explanation would probably involve either the announcement of a new partnership or of some kind of upgrade/product launch.
Either way, the reveal could ultimately provide XLM will a substantial boost, although it's worth remembering that it could also end up being an example of a 'buy the rumor, sell the news' event.
Despite this possibility, XLM has been one of the strongest major altcoins in recent months, especially since mid-July, when the ruling in the Ripple-SEC case was delivered.
While this ruling was of most relevance to XRP, it also had a major indirect benefit on XLM, which like XRP is also used for cross-border payment purposes.
And since the ruling Stellar has been expanding a little more aggressively than it had in previous months, with its foundation making a minority investment in MoneyGram, for instance.
This bodes very well for XLM's future, with the altcoin on course to reach $0.20 by the end of the year.
Other Altcoins For High Returns
As good as XLM looks right now, its overall progress may be gradual, requiring the passage of several months and possibly a return to full-on bullish conditions.
However, traders in pursuit of the above gains in the shorter term may do well to check one of several promising new altcoins currently holding their presales.
One of the most promising of these is Launchpad.xyz (LPX), a new comprehensive Web3 trading platform that has raised more than $1.5 million since opening its sale.
Set to launch later this year, Launchpad.xyz will boast an all-encompassing range of trading tools and resources, including a Web3 wallet, a play-to-earn gaming hub, trading signals, fractionalized assets, collaborative trading rooms, and automated trading bots.
Such features will provide intermediate and experienced traders alike with all the help and info they'll possibly need to stay ahead of the cryptocurrency market, which remains notoriously unpredictable for the beginner investors.
Launchpad's platform will also include a decentralized exchange and NFT marketplace, meaning that traders will probably no longer need to go anywhere else for their crypto requirements.
The sheer scope of Launchpad is one of the main reasons why its presale has already raised so much, with its native token – LPX – likely to perform very well once it lists on exchanges.
LPX will be used for staking and for paying platform fees and subs, giving it the kind of utility that should mean its price rises in parallel with Launchpad's growth as a platform.
And investors can grab themselves some discounted LPX by visiting the official Launchpad.xyz website, where 1 token costs $0.0445.
Such a price may end up seeming very cheap very soon, yet given that Launchpad has been designed to be of real use to traders, LPX has also been designed for the longer term too.
Disclaimer: Crypto is a high-risk asset class. This article is provided for informational purposes and does not constitute investment advice. You could lose all of your capital.
---