Steem Doubled in Price After Justin Sun Controversy
Steem (STEEM), the social media-like blockchain platform launched in 2016, has seen a massive surge over the past two days, after it decided to evade a hostile takeover by Justin Sun and the Tron Foundation by moving the entire platform over to a new blockchain called Hive. The new blockchain is expected to be launched already this Friday, March 20th.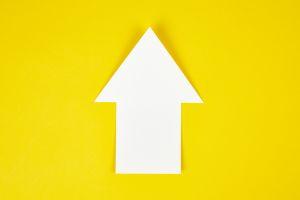 Earlier today, STEEM surged more than 100%, before correcting lower. As of press time (13:51 UTC), STEEM is up by 65% over the past 24 hours, trading at a price of USD 0.31. It's also up by 122% in a week, increasing its monthly gains to 42%. However, the price is down 35% in a year.
Today, it was even trading as high as USD 0.48 on Coinbase before it fell back. Unlike most other cryptoassets, STEEM has now recovered all the losses from the major crypto market crash last week.
The price is now hovering around the levels seen at the peak in mid-February, after it earlier today surged to price levels not seen since June 2019. If the price manages to close above the February high, the chart might look more bullish again after the prolonged downtrend that we have seen in STEEM over the past year.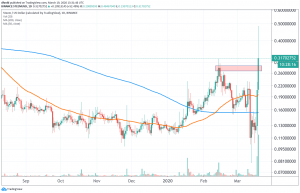 Following the recent price gains, STEEM stands out as the best performer among the top 100 cryptoassets by market capitalization over the past 24 hours, by far outperforming most of the major cryptoassets. The blockchain platform is currently ranked as the 44th most valuable cryptoasset by market capitalization.
The positive sentiment surrounding STEEM also comes as the two major crypto exchanges Binance and Huobi have both announced that they will support the hard fork that is needed to move STEEM to its new Hive blockchain.
According to Binance's announcement, the exchange "will distribute the new HIVE token to users holding STEEM" as of March 20 at 2 PM UTC time at a 1:1 ratio.
---