Sotheby's To Auction 'First NFT Ever Created'
In a forthcoming high-profile non-fungible token (NFT) auction to be hosted by the New York-based Sotheby's, digital art collectors could be given an opportunity to buy what the auction house describes as the first NFT to be ever created.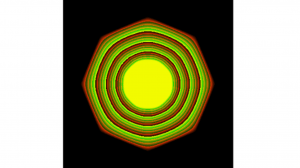 Artist Kevin McCoy created the piece, "Quantum", in 2014 by codifying provenance into an original digital work using blockchain technology, Sotheby's said in a statement.
"Reflecting the immutability of the blockchain timestamp, Quantum offers an unrivaled opportunity to acquire the very genesis of the NFT space. Generatively built entirely by code, Quantum prefigures the explosion of digital creativity through NFTs and will be available as the seminal work in Digitally Native," according to the auction house.
The Natively Digital: A Curated NFT Sale auction is to take place between June 3 and June 10 online, with a further two NFT works in the lineup: "CryptoPunk #7523" by Larva Labs, and "The Shell Record" by British artist Anna Ridler.
Larva Labs has risen into prominence in the NFT market by creating and selling a series of digital collectibles known as CryptoPunks, that were auctioned at Christie's in April.
"No two CryptoPunks are exactly alike, and these viral crypto collectibles have sold at auction for upwards of USD 8 million dollars. Natively Digital will feature one of the rarest crypto punks ever minted, called CryptoPunk #7523," the auction house said. "#7523 is one of nine "Alien" punks and the only one of those nine with a mask."
Most recently, Larva Labs released the Meebits, a range of 3D avatars for virtual worlds, games, and virtual reality.
Ridler's NFT work explores ideas around measurement and quantification, and how they relate to the natural world, according to Sotheby's.
The auctioned NFT will be featured at the auction as a series of JPEGs depicting various different shells from "the foreshore of the River Thames that form part of the dataset for the moving image which was created using generative adversarial networks (GAN)," the auction house said.
The entirety of the curated selections is to be revealed in the coming weeks.
Also, as reported, this week, Sotheby's said it partnered with Coinbase and will accept BTC and ETH as a payment for a physical artwork for the first time.
____
Learn more:
- Another World-Famous Meme Capitalizes on the NFT Hype
- New WWF Project To Use NFTs to Save Animals
- NFT Explosion Coming over Next 2 Years & Will Create Jobs, Say Insiders
- Why NFTs Aren't Just for Art and Collectibles
- Why Would Anyone Buy NFT – A Link To A JPEG File?
- Check These 4 Make-Your-Own-NFT Platforms
- Oversupplied NFT Market Sees Interest and Sales Plunge
- NFTs Are Selling for Millions, But How Do You Tell a Diamond From a Dud?
- Consider These Legal Questions Before Spending Millions on NFTs
- Non-Fungible 2021: Prepare Your NFTs For DeFi, Staking, and Sharing
---