Solana Price Prediction as SOL Dips Below $10 Before Ethereum Founder Vitalik Buterin Comes to the Rescue – Here's What Happened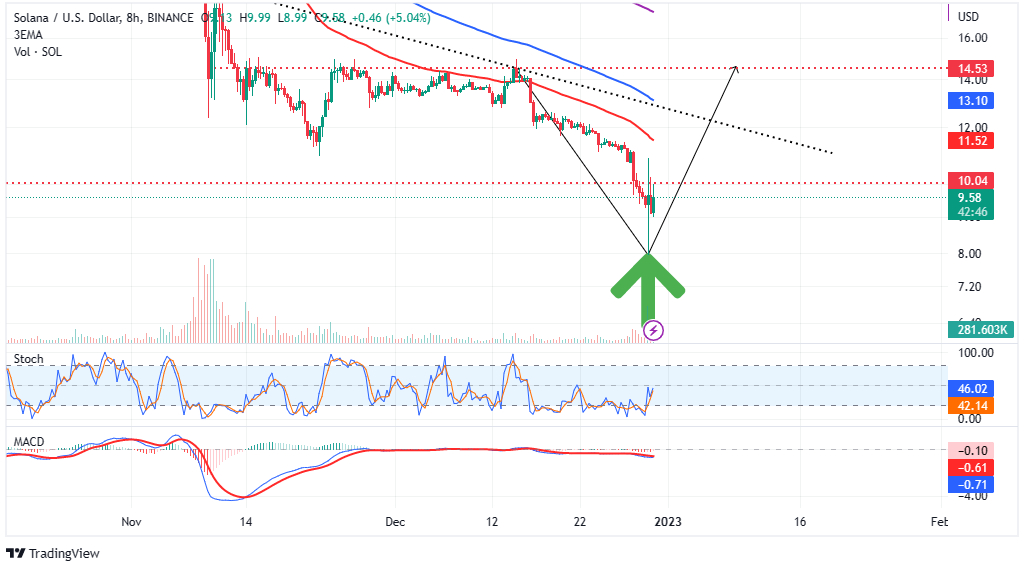 Solana's price has been experiencing a drop in value due to concerns that Sam Bankman-Fried and venture capital firms may sell their tokens. This has caused SOL's price to fall below $10 for the first time in over a year and a half. However, the price may be seeing a recovery due to positive comments from Ethereum co-founder Vitalik Buterin, who praised the Solana network for its development progress and thriving ecosystem.
SOL must reclaim support above $10 to validate a possible V-Shaped recovery to $14.53.
The Solana Chain Has a Bright Future – Vitalik Buterin
Ethereum co-founder Vitalik Buterin recently tweeted about the current state of the Solana blockchain ecosystem. According to Buterin, he has been informed that there is a strong and dedicated developer community within Solana. However, he also mentioned that the fate of this community may be uncertain due to the recent exit of "opportunistic money" seekers. Despite this, Buterin stated that he believes the Solana blockchain has a bright future.
Despite being an outsider to the Solana community, Buterin expressed hope that the community will be given a fair chance to thrive.
Buterin's input on the Solana ecosystem has been seen as a positive sign by many in the cryptocurrency community. His endorsement could potentially pave the way for the rebirth of the once-thriving Solana community and blockchain.
Solana Price Taps Fresh Liquidity Under $10, $14.53 Beckoning?
Solana's price has recently fallen below a crucial support level that it has not seen since February 2021, leading to concerns of further losses. However, Vitalik Buterin's recent comments has provided some optimism for the future of the network. As a result, Solana's price has slightly rebounded and is currently trading at around $9.48, recovering slightly from a low point of $8.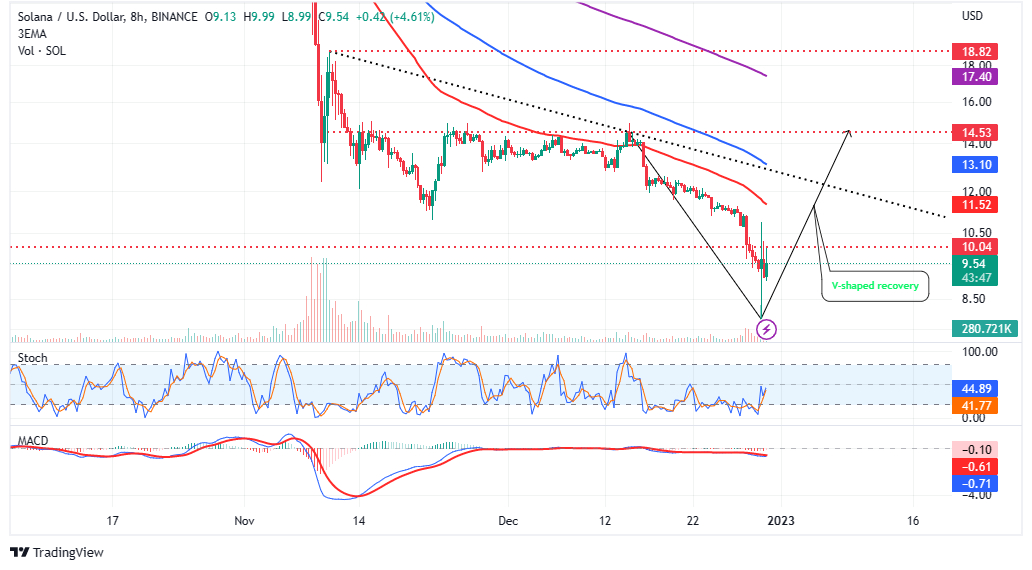 Bulls must throw all their weight behind SOL to reclaim support above $10 and confirm a possible buy signal from the Moving Average Convergence Divergence (MACD) indicator.
Traders will look out for the MACD (line in blue) to cross above the signal line (in red) before triggering their buy orders. The Stochastic already shows that buyers are gaining momentum as it carries on with the uptrend from the oversold area (below 20.00)) into the neutral area (between 20.00 and 80.00).
A V-shaped recovery pattern will likely guide Solana price on a northbound move to $14.53, where many traders would be looking to book profits. This pattern comes into the picture after an extended downtrend leading to oversold market conditions. If SOL breaks above the falling dotted trend line, it may push to $14.53 (medium-term hurdle) and $18.82, if the momentum continues.
Altcoins to Consider for Shorter Term Gains
With broader cryptocurrency markets having performed poorly in recent weeks, investors may be looking to diversify their holdings with the pre-sale tokens of promising, up-and-coming cryptocurrency projects.
FightOut (FGHT) – Presale Launched
They say, "it takes a community to raise a child," and FightOut believes it takes commitment and incentives to encourage a community to lead a healthy lifestyle. FightOut is approaching the fitness industry in a way not done before, at least not by existing Move-to-Earn (M2E) crypto platforms such as SweatCoin and STEPN.
The team behind FightOut is committed to changing the fitness industry one gym at a time with the help of an M2E fitness app. Users who join the platform will be rewarded for completing workouts and predetermined challenges.
FightOut aims to purchase a chain of gyms around the world for its members, as it plans to ease the masses into Web3 using the metaverse.
The FGHT presale is underway and is selling out fast. So far, $2.47 million has been raised and 1 FGHT costs 0.0166 USDT.
Dash 2 Trade (D2T) – Presale Ends in 7 Days
Those interested in investing in a promising crypto trading platform start-up should look no further than Dash 2 Trade. The up-and-coming analytics and social trading platform hopes to take the crypto trading space by storm with its host of unique features.
These include trading signals, social sentiment and on-chain indicators, a pre-sale token scoring system, a token listing alert system and a strategy back-testing tool. Dash 2 Trade's ecosystem will be powered by the D2T token, which users will need to buy and hold in order to access the platform's features.
Dash 2 Trade is currently conducting a token pre-sale at highly discounted rates and sales recently surpassed $11.5 million. The pre-sale dashboard is going to be released soon, with the development team currently running ahead of schedule. Tokens are currently selling for $0.0533 each and will be listed on multiple centralized exchanges in under one month.
C+Charge (CCHG)
Running on Binance Chain, C+Charge (CCHG) is a peer-to-peer payment system for electric vehicle (EV) charging stations. Also due to launch in the second quarter of next year, its aim is to widen access to carbon credits, with which it will reward users for charging their EVs at its terminals.
As a sign of how quickly it could grow, the platform has already signed a deal with Perfect Solutions Turkey, adding 20% of the EV chargers in Turkey to its network. 1 CCHG currently costs $0.013, and can be bought using either BNB or USDT.
---