Ethereum Price Prediction – Can ETH Hit $10,000 in the Next Bull Market?
Ethereum (ETH) has had a challenging time recovering in the bear market of 2022, with multiple unsuccessful attempts to reach highs above $2,000 since its decline to $879 in June. However, the current bullish green candle may indicate that Ethereum is finding support from a triangle pattern as outlined in Wednesday's article.
Ethereum is currently being traded at $1,197 as investors consider which cryptocurrencies to include in their portfolios for 2023. A break above the 50-day Exponential Moving Average (EMA) at $1,255 could potentially attract more buyers to the market.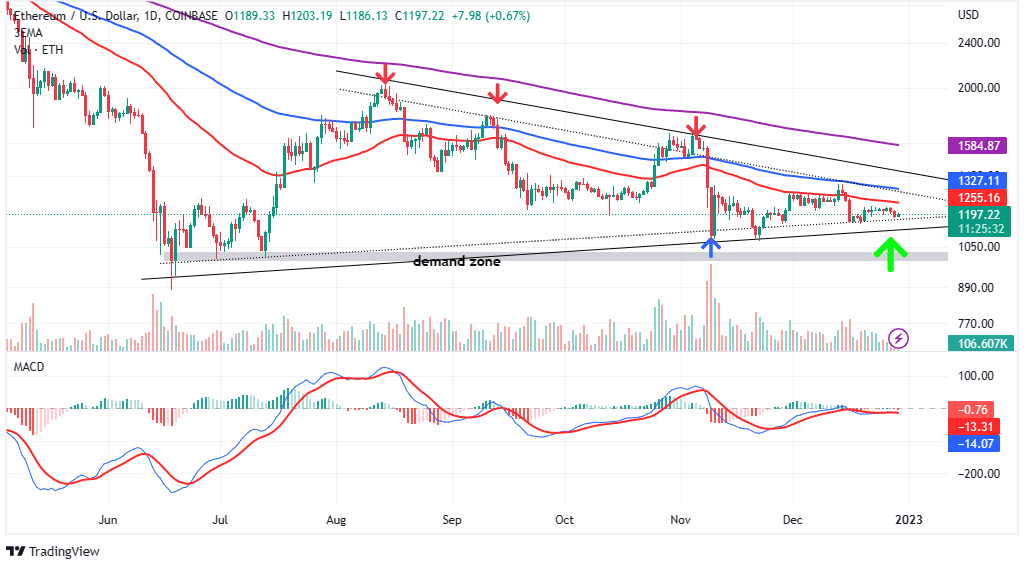 For now, Ethereum's price must prove to investors that it can hold above immediate resistance at $1,200 and keep off declines to $1,100 and $1,000. Analysts seem to be having conflicting predictions for 2023, with some forecasting a sideways trend and the most bullish hoping to see the Ethereum price above $4,000 by the end of 2023.
Ethereum Price Prediction: $10,000 ETH Incoming?
Ethereum is a renowned blockchain platform that has revolutionized the cryptocurrency space, with the introduction of smart contracts in 2015.
The second-largest cryptocurrency's utility continues to grow exponentially, especially with the transition to a proof-of-stake (PoS) consensus mechanism. According to the author of Cryptocurrency Investing For Dummies, Kiana Danial, Ethereum's value could be attributed to the problems it solves.
"Ethereum is valuable because of the problem that it solves, because of the size of its platform, and the number of people who use it to create their own apps."
It is difficult to visualize how vast the Ethereum ecosystem is until you learn that the blockchain platform holds over 44 million smart contracts.
The highly anticipated Shanghai upgrade in Q1 2023 will introduce mechanisms to bring down gas fees and support scaling through the sharding technology.
As well as this, Ethereum reached more than 200 million unique addresses this week, according to Etherscan.
The stats above show how valuable the Ethereum platform is and affirm the potential for a spike to $10,000.
Indeed, just last week, a Bloomberg analyst predicted that ETH would outperform BTC in 2023 due to its fundamentals.
What Would Take Ethereum Price to Hit $10,000?
Ethereum price has been facing a steep uphill battle in its efforts to break free from the dominant bearish trend that has persisted throughout 2022.
Many analysts believe that it is next to impossible for the cryptocurrency to reach $10,000 within the next 12 months. However, it is important to remember that anything is possible in the world of cryptocurrency.
Currently, Ethereum is attempting to lift itself above the $1,200 mark and the 50-day Exponential Moving Average. It is worth noting that Ether has fallen more than 75% from its all-time high of $4,878 in November 2021, meaning that it would need to experience a bullish move of around 700% to reach the $10,000 mark.
While this may seem unlikely, it is worth noting that Ethereum has experienced gains of more than 700% several times in the past. For example, in the last cycle, Ethereum went from around $80 to $4,800.
The current macroeconomic conditions and the dynamics of the cryptocurrency market are different from those of 2021 and 2017, making it difficult to predict whether Ethereum will be able to rise against the odds and reach $10,000.
However, the important upcoming upgrades to Ethereum have the potential to significantly improve the network's scalability and capacity. If these upgrades go well, then strong bullish momentum may return to ETH and see it hitting $10,000 and above in the coming years.
Key Takeaways
Is Ethereum price able to hit $10,000 by the end of 2023? Yes. But it is unlikely.
The Shanghai upgrade in Q1 2023 will have a positive impact on ETH prices if it goes well.
Investors are to get access to staked ETH for the first time in Q1 2023.
Ethereum developers to start working toward sharding with the Shanghai upgrade.
Promising Altcoins to Consider for 2023
Crypto markets are in a downtrend, but new altcoins with promising outlooks and presale early bird access may help investors recoup losses from the crypto winter. Here are some coins with huge potential in 2023.
FightOut (FGHT) – Presale Launches
FightOut, a brand-new move-to-earn (M2E) fitness application and gym chain that seeks to bring the fitness lifestyle into web3, has opened its pre-sale and investors think the project could transform the existing web3 M2E landscape.
While existing M2E applications such as STEPN only track steps and require expensive non-fungible token (NFT) buy-ins to take part, FightOut takes a more holistic approach to tracking and rewarding its users for their exercise and activity, and doesn't require any expensive buy-ins to take part.
FightOut's FGHT tokens are currently selling for 60.06 per 1 USDT, and interested investors are encouraged to move fast to secure their tokens, with the pre-sale having already raised nearly $2.45 million in just a few days. FGHT is the token that will power the FightOut crypto ecosystem.
Dash 2 Trade (D2T) – Presale Enters Final Stage
Those interested in investing in a promising crypto trading platform start-up should look no further than Dash 2 Trade. The up-and-coming analytics and social trading platform hopes to take the crypto trading space by storm with its host of unique features.
These include trading signals, social sentiment and on-chain indicators, a pre-sale token scoring system, a token listing alert system and a strategy back-testing tool. Dash 2 Trade's ecosystem will be powered by the D2T token, which users will need to buy and hold in order to access the platform's features.
Dash 2 Trade is currently conducting a token pre-sale at highly discounted rates and sales recently surpassed $11.2 million. The pre-sale dashboard is going to be released soon, with the development team currently running ahead of schedule. Tokens are currently selling for $0.0533 each and will be listed on multiple centralized exchanges in under one month.
C+Charge (CCHG)
The current electric vehicle (EV) charging system is inadequate maid issues such as lack of standardization. On the other hand, the carbon credits industry, which is projected to be worth $2.44 trillion by 2027 is dominated by big corporations like Tesla, locking out individuals who drive EVs.
However, C+Charge hopes to drastically change the narrative by building a blockchain-based Peer-to-Peer (P2P) payment system for EV charging stations that will allow the drivers of electric vehicles (EVs) to earn carbon credits.
Users on C+Charge will be able to pay to charge their vehicles with CCHG, the token powering the ecosystem and earn carbon credits – stored in an app. C+Charge presale launched recently with $37k raised so far. Investors can buy 1 CCHG for 0.013 USDT, but the price will soon shoot to $0.0165 USDT.
Related Articles
---