Shiba Inu Price Prediction as SHIB Rests on 0.00000776 Level – Are Bulls Preparing for the Next Leg Up?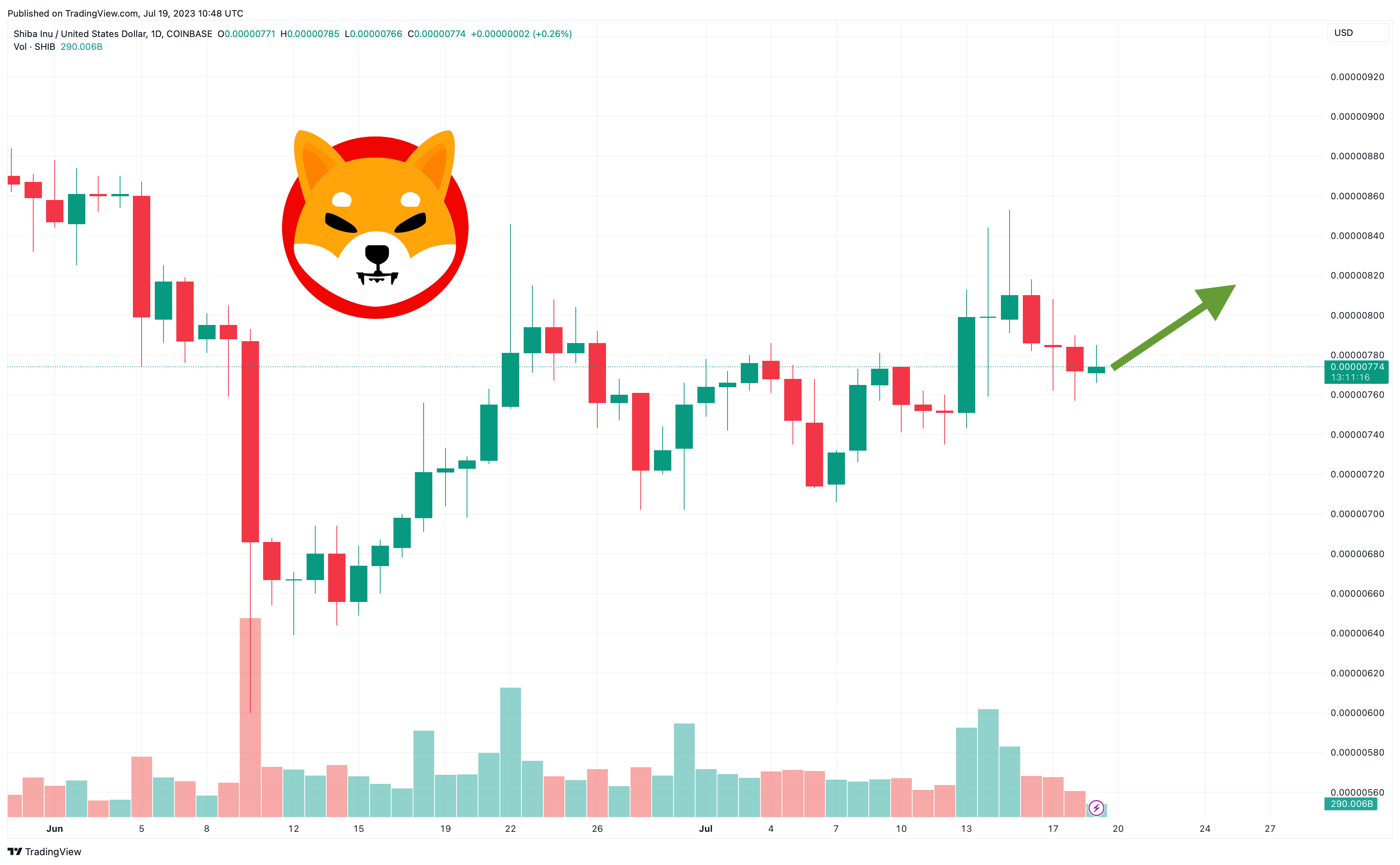 The price of Shiba Inu (SHIB) has barely moved in the past 24 hours, with its current level of $0.00000775 representing a 3% gain in the last seven days.
The meme token is also up by 7.5% in the last 30 days, yet it disappointingly remains down by 4% since the beginning of the year, even though such cryptocurrencies as Bitcoin (BTC) and Ethereum (ETH) are up by 81% and 60% over the same period.
SHIB's lackluster performance this year has come amid frustration regarding delays in rolling out Shibarium, which is Shiba Inu's very own layer-two network.
However, once Shibarium does arrive it's likely to boost SHIB considerably, with the related launch of Shibacals (NFTs) also likely to help the coin's price.
Shiba Inu Price Prediction as SHIB Rests on 0.00000776 Level – Are Bulls Preparing for the Next Leg Up?
While SHIB was one of many cryptocurrencies to benefit last week from Ripple's victory against the SEC, it has since calmed down.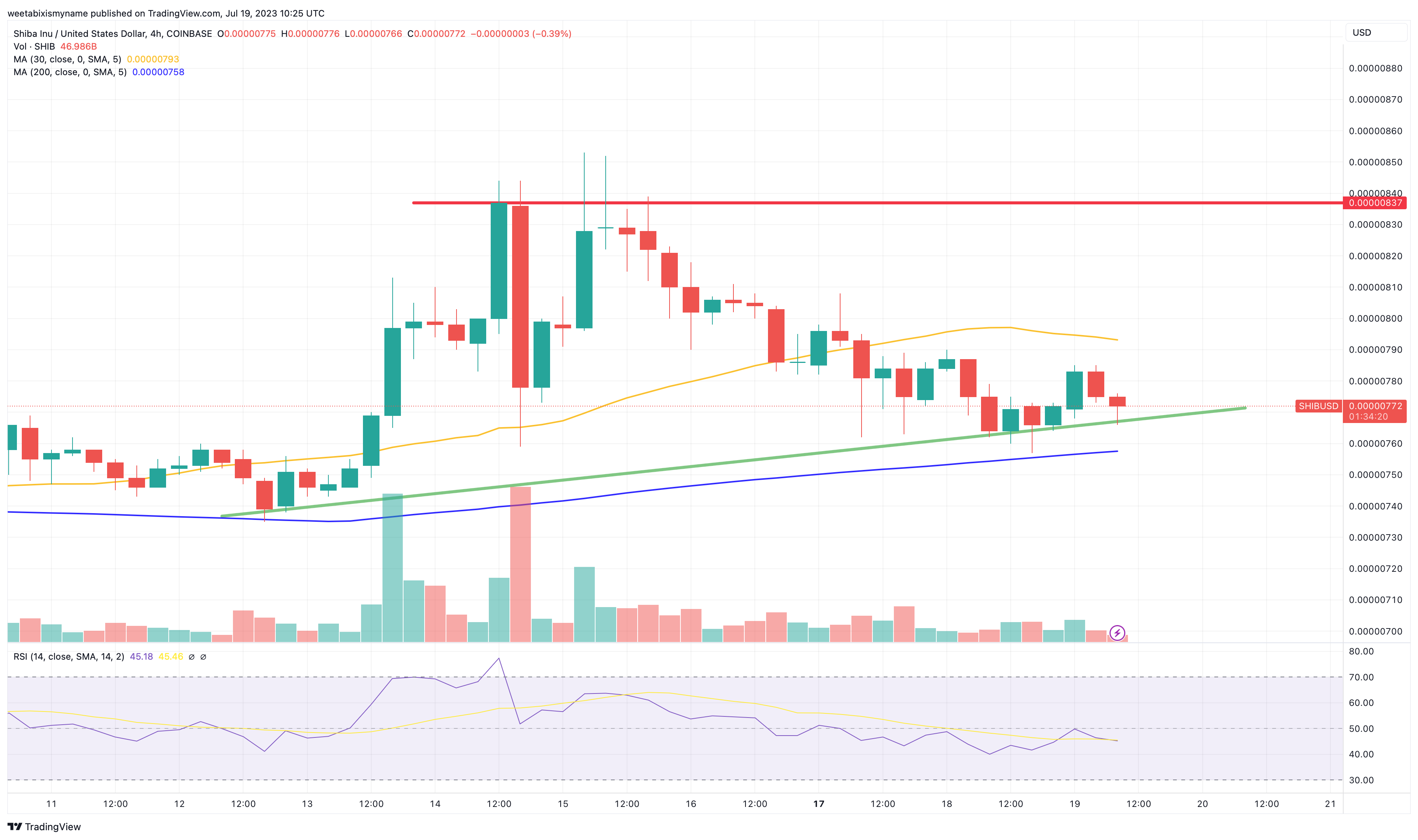 This is reflected in its indicators, with the coin's relative strength index (purple) sinking from 50, in a move that suggests a weakening of demand and the potential for further losses.
Likewise, SHIB's 30-day moving average (yellow) is slipping towards its 200-day (blue), with the possibility of a death cross also something that would signal more falls.
On the other hand, it's reassuring to note that SHIB's support level (green) has risen over the past week, implying that any additional losses may not be substantial.
Turning to fundamentals, SHIB has been hampered in recent weeks by the ongoing wait for Shibarium, a layer-two network that has already launched in beta, but which is repeatedly seeing its full launch pushed back.
This has hurt SHIB's price, with the market forming that impression that there may be issues with Shibarium, even if nothing major has been reported.
The latest expectation is that Shibarium will finally see its long-awaited rollout in August, although it needs to be remembered that similar things were said about previous months.
Regardless, Shibarium's eventual launch will be highly bullish for Shiba Inu, which will witness faster and cheaper transactions as a result.
In turn, developing SHIB-related apps will become more attractive, something which could boost demand for the meme token.
Assuming that Shibarium is launched next month, and assuming that Shibacals follow soon after, SHIB could reach $0.000010 in the following weeks.
And if the market becomes more bullish in general, SHIB could even rise up to $0.000020 or higher by the end of the year.
Rival Meme Tokens Emerging
Another reason why SHIB has underperformed in recent months is that the market has seen a wave of new meme tokens, with some of these luring away investors as a result of big rallies.
And new meme tokens continue to appear, with one of the most promising at the moment being Burn Kenny (KENNY), an ERC-20 coin based on the Kenny character from South Park.
Burn Kenny is about to launch the presale for its KENNY token, with 40% of its total supply (6,666,666,666 KENNY) allocated to the sale.
What's interesting about Burn Kenny is that, as its name suggests, it will regularly burn a fraction of its token supply every 24 hours.
In fact, 30% of its overall supply will be gradually burned, meaning that KENNY will be a deflationary meme token.
This burning will begin 24 hours from the end of KENNY's presale, which will have one stage and will make the meme token available at a price of $0.0001875.
Investors can participate in this sale by going to the Burn Kenny website and linking their wallets, with KENNY buyable using USDT, ETH or fiat currency.
While KENNY is certainly emerging into a busy and congested meme token market, its burn dynamics could potentially give it the edge over its rivals, helping to attract investors and making it a success once it launches on exchanges.
Disclaimer: Crypto is a high-risk asset class. This article is provided for informational purposes and does not constitute investment advice. You could lose all of your capital.
---