Shiba Inu Price Prediction as SHIB Becomes Top 20 Most Traded Coin in 24 Hours – Is a SHIB Pump Coming?
Disclosure: Crypto is a high-risk asset class. This article is provided for informational purposes and does not constitute investment advice. By using this website, you agree to our terms and conditions. We may utilise affiliate links within our content, and receive commission.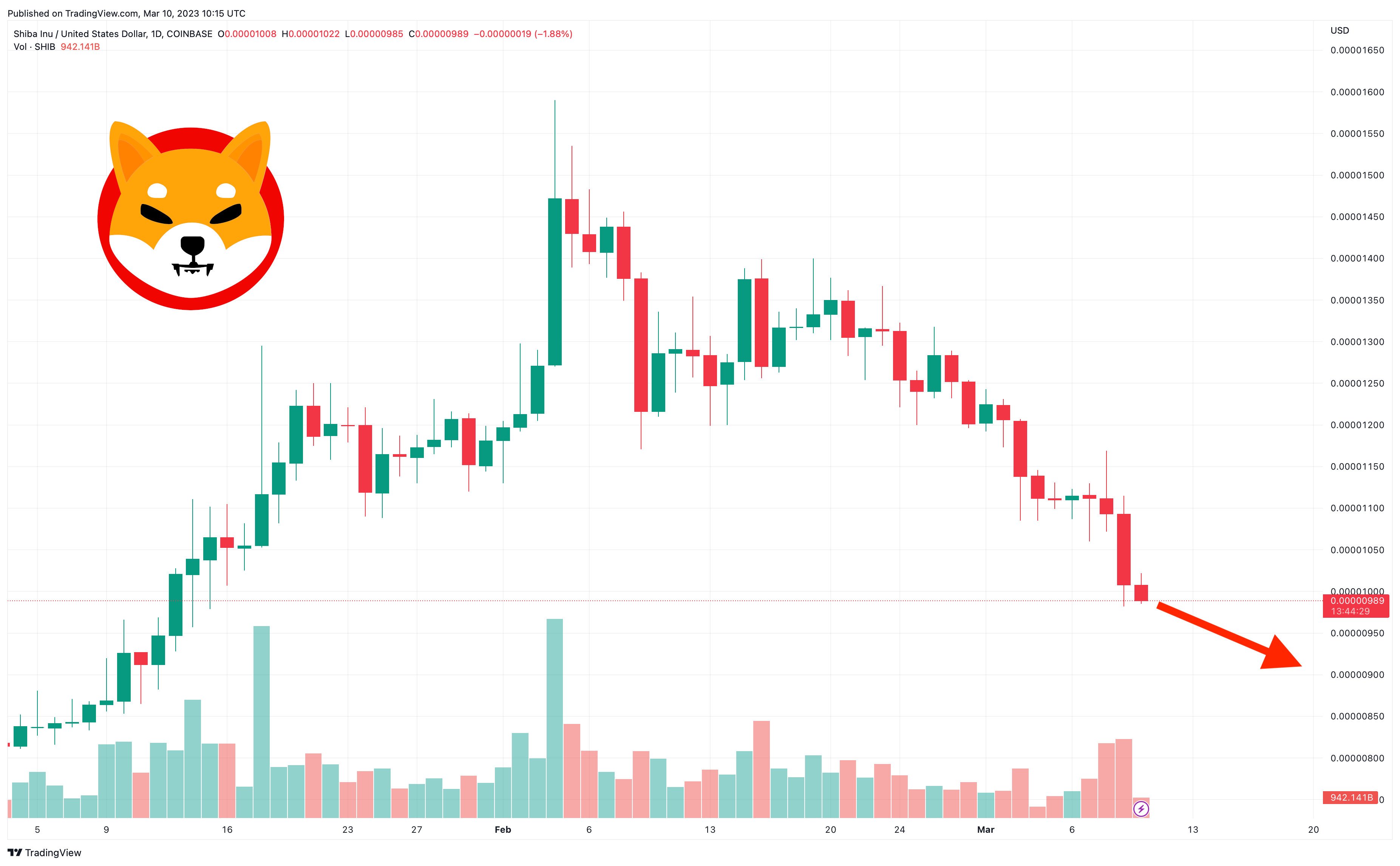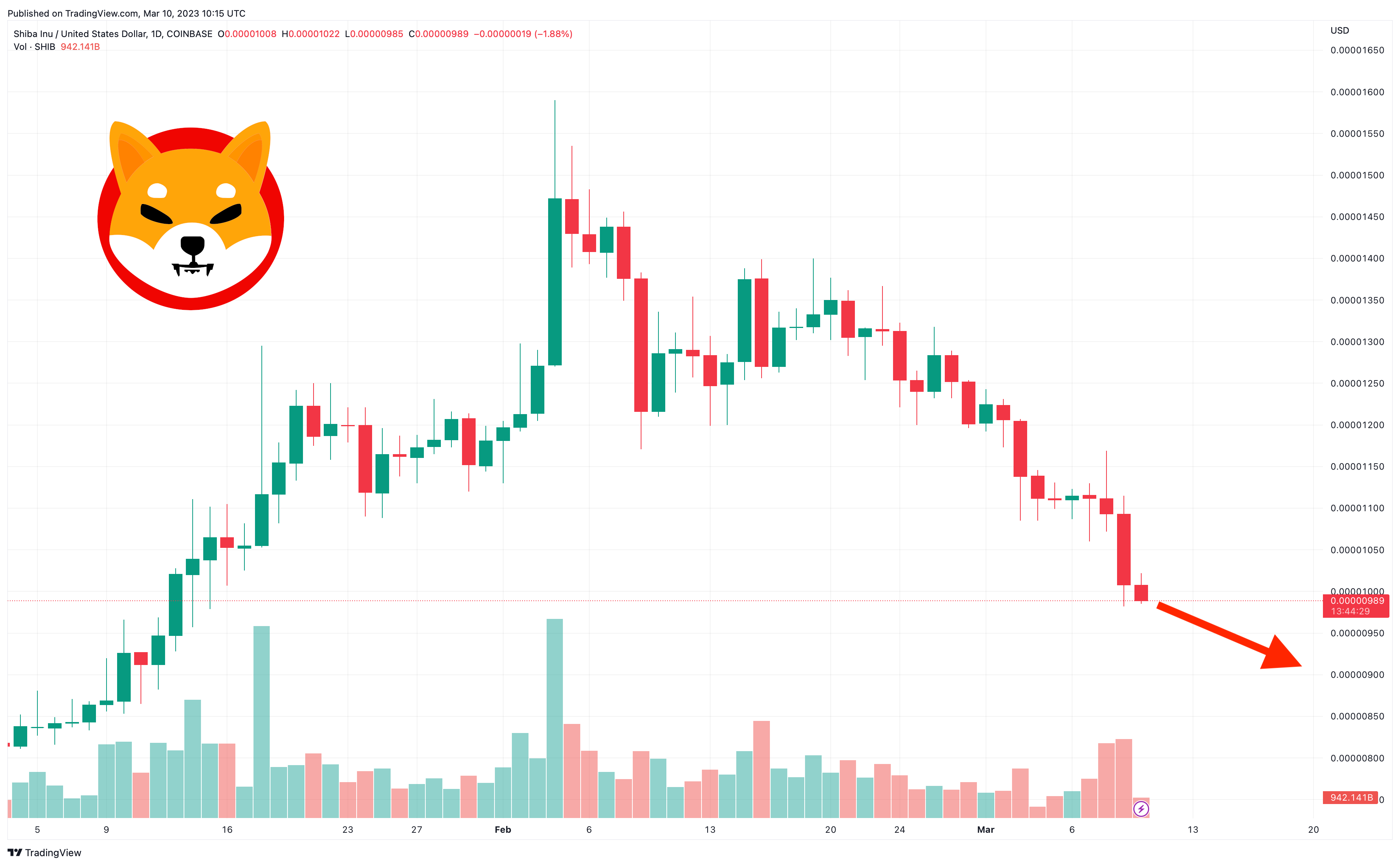 The price of Shiba Inu has fallen by 9% in the past 24 hours, brought down by the news of Silvergate Bank's liquidation, as well as a more hawkish stance from the Federal Reserve concerning further rate hikes.
At $0.0000099, SHIB is also down by 17% in a week and by 30% in the last 30 days, with today's losses reducing its gains for the year-to-date to 10%.
It's in the midst of this sell-off that SHIB has become one of the most-traded coins in the past 24 hours, with CoinGecko putting it 14th among "top purchased tokens" today.
The meme token also remains the most widely held cryptocurrency among whales (apart from ETH, USDC and USDT), indicating that it still remains a favorite with big investors.
As such, with the launch of layer-two network Shibarium imminent, SHIB could easily mount a recovery in the next few days, with the launch of SHIB: The Metaverse later in the year potentially pushing it further in the long-term.
Shiba Inu Price Prediction as SHIB Becomes Top 20 Most Traded Coin in 24 Hours – Is a SHIB Pump Coming?
SHIB's indicators suggest that it won't be long before it reaches a bottom and invites a big rebound.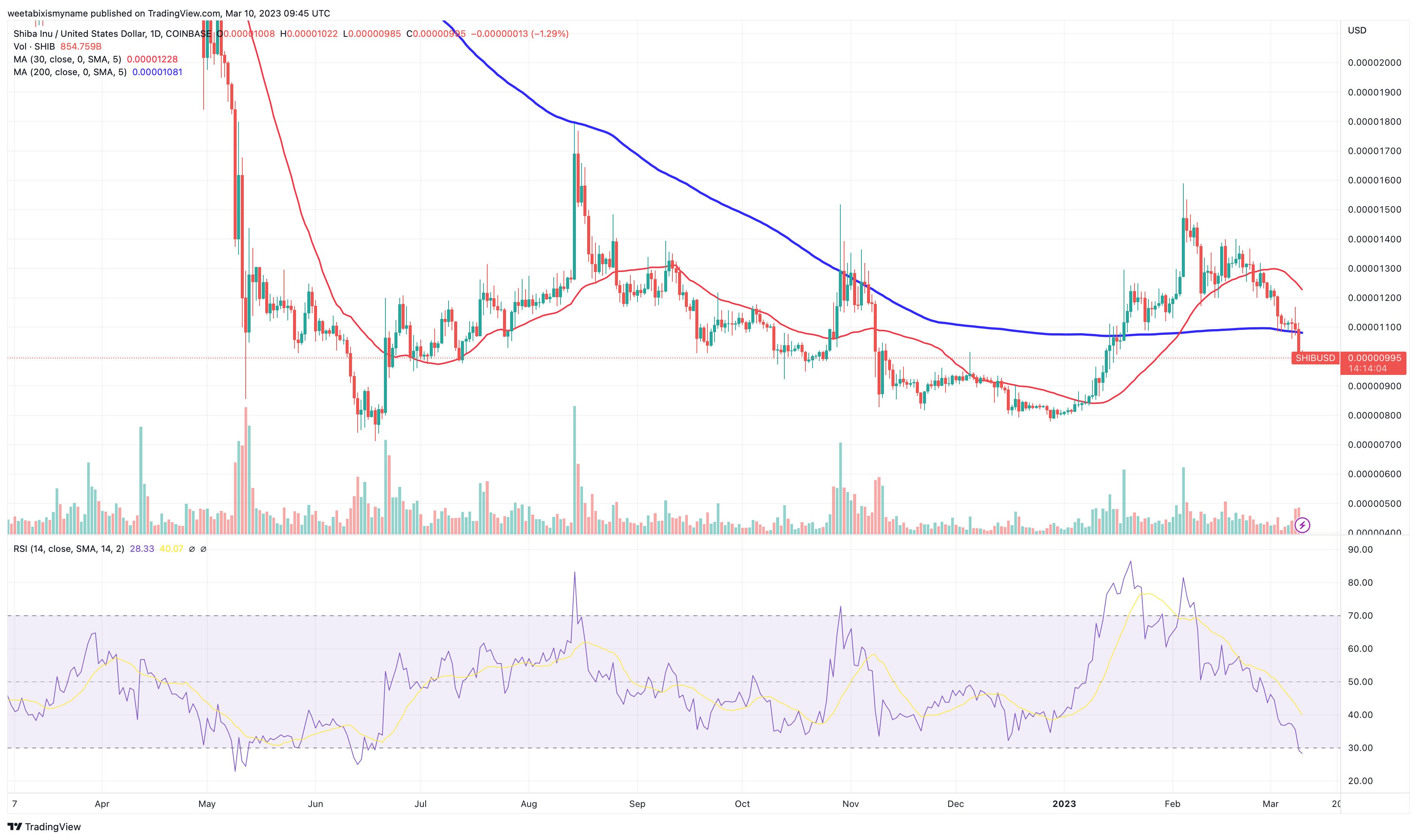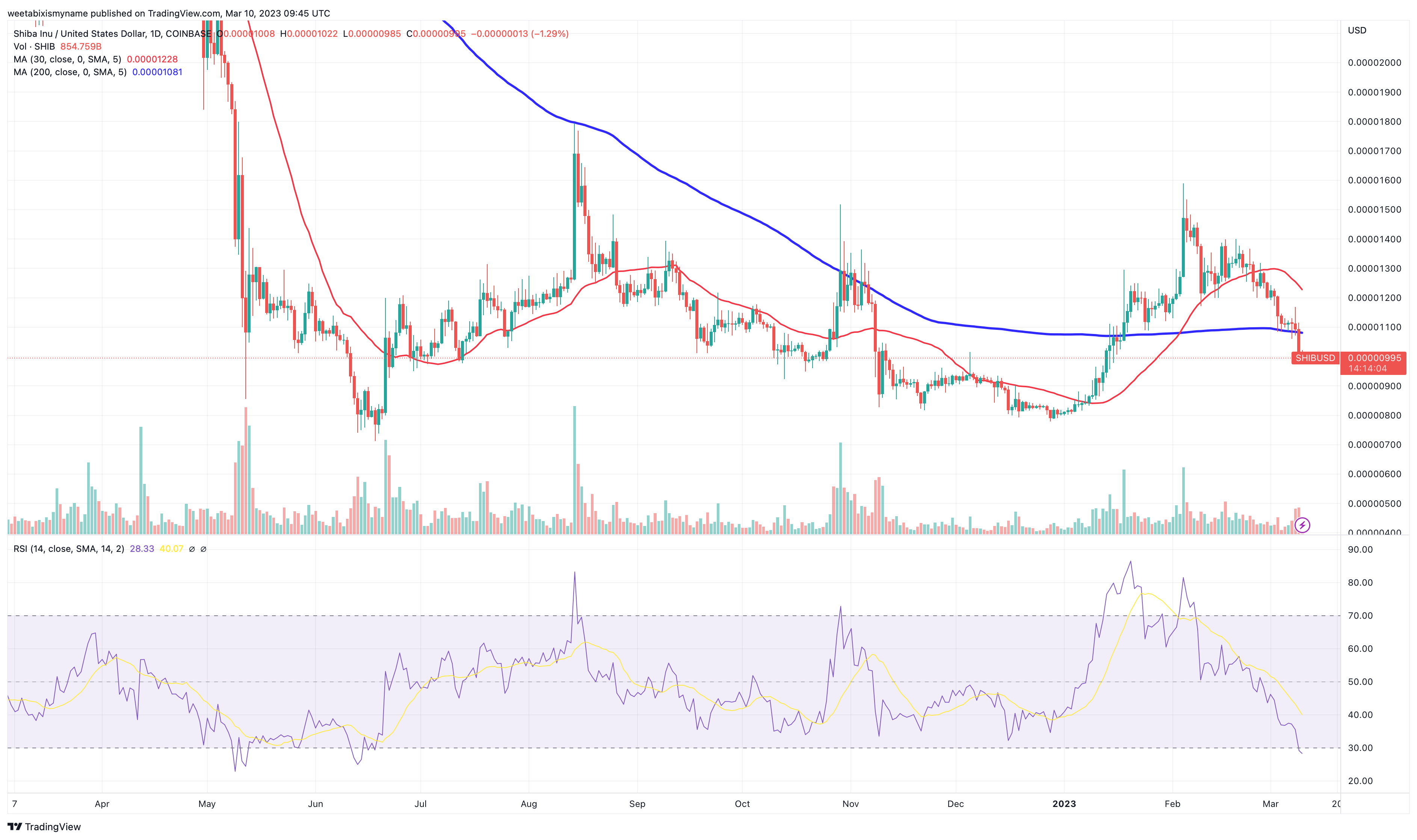 Its relative strength index (purple) has just dropped below 30, while its price has dropped below its 30-day (red) and 200-day (blue) moving averages, indicating that it's now being oversold.
As such, SHIB is arguably selling at a big discount and should rise again in the not-too-distant future.
Of course, with Silvergate's downfall still reverberating throughout the industry and with the Fed still indicating that it's likelier to raise interest rates than lower them, it could still be a few weeks before SHIB, and the market see a meaningful recovery.
Despite this, there are plenty of reasons to be optimistic about SHIB.
As noted above, it remains the fourth-most widely held ERC-20 token among whales in dollar terms, behind ETH, USDC and USDT.


On top of this, it's still the 13th-most purchased ERC-20 token among whales today, even with (or maybe because of) its losses.
This all highlights how bigger investors continue to have faith in the longer-term future of SHIB, and with the beta launch of Shibarium now very close, it's not hard to see why.
As a layer-two network, Shibarium will enable faster and cheaper transactions for the Shiba Inu ecosystem, which runs on Ethereum and has, up until now, been at the mercy of occasionally high transaction fees.
According to its developers, the beta of the network is due to go live by the end of this week, with its team opening registration to wallets.
Attention #SHIBARMY 🚨

We're thrilled to announce that #SHIBARIUM Public Beta will be launching THIS WEEK! 🎉

Make sure you're following our official socials over the next few days as we reveal all the details on how to access the beta website. Hail Shib! #ShibariumBeta 🦴 pic.twitter.com/0fG3u3mY4S

— Shib (@Shibtoken) March 7, 2023
Once it does go live, there's a good chance that SHIB will see a bounce, although it may be muted somewhat by the negative state of the cryptocurrency market as a whole.
Still, by making such apps as ShibaSwap more efficient, Shibarium's launch will help the Shiba Inu ecosystem attract more users, which in the longer term will boost SHIB's price.
At the same time, the layer two's launch will increase in SHIB burning via the destruction of transaction fees, which again will boost the meme token's price in the long run.
#Shibarium will BURN many zeros! 🔥 pic.twitter.com/6w3DDh5NhC

— SHIB HODLER (@ShibaInuHodler) February 24, 2023
The picture is made even more encouraging by the prospect of SHIB: The Metaverse, a Shiba Inu-themed virtual that could launch by the end of the year.
As a metaverse, SHIB will consist in 100,595 plots of land that can be purchased by users, as well as explored and used like in any other similar platform.
What's particularly bullish about its launch is that SHIB will experience a surge in demand, given that it will be usable to pay for plots of land and other in-game items.
The metaverse's launch will also help Shiba Inu shed its image as just another meme token, with the coin beginning to offer more utility and a more diverse ecosystem.
For this reason, we can expect SHIB to rise steadily as the year progresses and as the wider market mounts a recovery.
The latest data from Changelly suggests an average year-high prediction of 0.0000154485, down from $0.0000162484 around a week ago.
This drop in expectations signals the negative turn the market has taken in the past couple of days, yet a string of positive developments for SHIB could help it rise beyond this forecast in the long term.
Anything is possible in crypto. ✅#SHIB $0.1 🔥🔥🔥🔥

Do you agree?

— 🚨BSC Gems Alert🚨 (@BSCGemsAlert) March 10, 2023
In fact, many SHIB holders continue to target $0.10, and while this is overly ambitious, rising to this level wouldn't be the first time that SHIB has seen such a massive gain.
Alternatives to Shiba Inu
While SHIB is due a big recovery rally sooner or later, this may not happen for several weeks or even months.
As such, traders may prefer to look to other high-potential coins that could rise in the shorter term.
To this end, the Cryptonews Industry Talk team has analyzed and compiled a list of the top 15 cryptocurrencies for 2023, each with good short-term as well as long-term prospects.
This list is regularly updated with new altcoins and ICO projects.
Disclaimer: The Industry Talk section features insights by crypto industry players and is not a part of the editorial content of Cryptonews.com.
---