SEC Boss Gensler Hints that He Could Seek to Regulate DeFi
The US Securities and Exchange Commission chief Gary Gensler will not be a "cheerleader" for crypto, a new interview has revealed – and indicated that after tightening regulations on crypto exchanges, he may well turn his attention to policing the world of decentralized finance (DeFi).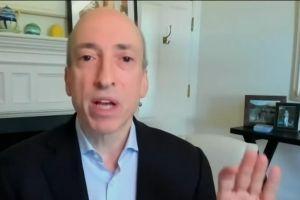 Gary Gensler. Source: A video screenshot, Youtube/Bloomberg Markets and Finance
In a feature about Gensler on Bloomberg, which also featured an interview with the man himself, the media outlet noted that it has "become a parlor game in Washington, on Wall Street and in Silicon Valley" to "figure out where Gensler stands on cryptocurrencies."
The answer may come as something of a let-down for those hoping for a lighter regulatory touch. Gensler was quoted as stating that he thinks that regulating crypto exchanges is "perhaps the easiest way for the government to get a quick handle" on crypto trading. However, he added that he was "concerned about the new ways people are getting into crypto, such as peer-to-peer lending on DeFi platforms."
He explained that if firms advertise "a specific interest-rate return on a cryptoasset, that could bring the loans under SEC oversight" – and that "platforms that pool digital assets could be seen as akin to mutual funds," opening the door for SEC regulation.
Gensler stated:
"While I'm neutral on the technology, even intrigued – I spent three years teaching it, leaning into it – I'm not neutral about investor protection. If somebody wants to speculate, that's their choice, but we have a role as a nation to protect those investors against fraud."
However, those fearing a tornado of regulation may also be cheered to learn that Gesler has plenty of non-crypto flavored fish to fry, and could be kept busy by the world of conventional finance. Bloomberg added that his current to-do list "included 49 non-crypto policy reviews that could slow progress on cryptocurrencies." Many of these are "high-profile and time-consuming efforts," it noted.
Token issuers may also take heed of Gensler's assertion that "most" coins "are unregistered securities that must comply with SEC rules."
He claimed that "strong and thoughtful" regulation would ultimately benefit the crypto industry, and used a motoring analogy, stating that the automobile industry "didn't fully take off until governments laid out driving rules," with "speed limits and traffic lights" providing "public safety," but also helping cars go mainstream.
He rationalized:
"It's only with bringing things inside – and sort of clearly within our public policy goals – that a technology has a chance of broader adoption."
Gensler also made the following comments:
He gave no timeline for SEC crypto action
He refused to comment on "the potential for approving a bitcoin (BTC) exchange-traded fund (ETF)
He has asked SEC staff to investigate "an array of potential policy changes" with "at least seven SEC initiatives" probing initial coin offerings (ICOS), as well as trading venues, lending platforms, DeFi, stablecoins, crypto custody, ETFs and other coin funds.
The same media outlet quoted Patrick McCarty, a crypto course instructor at Georgetown University's law school, as stating that Gensler was likely to give the crypto industry a "fair hearing," but that he will "likely disappoint many proponents."
McCarty said:
"When the crypto people say they want legal certainty, they don't mean that. They want to be unregulated. That's never been Gary's point of view."
Gensler famously created the blockchain course at the Massachusetts Institute of Technology (MIT) – and Bloomberg noted that the SEC chief "quotes the writings of Satoshi Nakamoto from memory" and "knew some of" the Bitcoin protocol's "core developers."
Meanwhile, the CEO of major crypto derivatives exchange FTX, Sam Bankman-Fried, told CNBC on Monday that he expects that governments will have a clearer regulatory stance in the next three to five years.
The CEO added that the exchange would like to be a part of the discussions with the regulators to build out the crypto regimes they're working on. He's already spending some five hours each day "on everything from regulation to licensing and everything in-between," the CEO said, stressing that regulations differ in each jurisdiction.
____
With additional reporting by Sead Fadilpašić.
____
Learn more:
- SEC's Head Wants to 'Fill in the Gaps' in Crypto Investor Protection
- Ripple Asks Court to Throw out SEC Case Following Commissioners' Letter
- SEC Coinschedule Settlement Opens up Old Crypto Securities Wounds
- SEC to Provide Clarity on Token Distribution, Crypto-Based ETPs - Hester Peirce
- SEC Sends Negative-ish Bitcoin ETF Signal that May Be Positive for Grayscale
- 'Don't Be Lulled' as European Commission Mulls a Crypto KYC Trap
- DeFi Has Had a Strong 2021, Driven By New Trends & Paradigms
- DeFi Sector May Face Threat from New EU Crypto Regulations – Survey
____
(Updated at 12:28 UTC with quotes from Sam Bankman-Fried.)
---