SEC to Provide Clarity on Token Distribution, Crypto-Based ETPs - Hester Peirce
Many industry observers expect the US Securities and Exchange Commission (SEC) to tighten its regulatory grip over cryptoassets, but the move could also bring more clarity to the markets, according to Hester Peirce, one of the five SEC commissioners.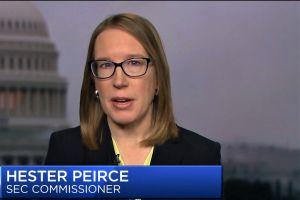 "With respect to what we're going to do at the SEC, I hope that we can provide clarity in a few areas," Peirce told Bloomberg TV.
"One would be: I've put out a token safe harbor to give some clarity around token distribution events. I think we need to approve an exchange-traded product [ETP] based on bitcoin, and frankly, we've gotten new applications in based on ethereum as well," she said.
ETPs would track the prices of cryptoassets, allowing investments in such assets without owning them.
Speaking of a token safe harbor, the regulator was making a reference to her initiative from last April, the release of an updated version of the token safe harbor proposal which aims to enable crypto businesses to offer tokens under initial coin offerings (ICOs) in compliance with the SEC's rules.
"And then we need to provide some clarity on custody for regulated entities, so for broker-dealers and investment advisors," she stated.
Referring to the approach adopted by Gary Gensler, the SEC's chairman appointed to his office last April, Peirce said he "has been quite outspoken already about wanting to have some oversight of the spot markets whether it's the SEC or another federal regulatory agency."
More regulatory clarity could also enter the SEC's longstanding row with blockchain company Ripple over the regulator's claim that the Ripple-affiliated XRP coin is an unregistered security, according to the commissioner.
"It's something that I've also again tried us to be a little more precise," Peirce said. "When we think about a cryptoasset … as being a security what we're doing is we're saying it's being sold as part of an investment contract [but] it doesn't mean that the asset itself necessarily has to be a security, it means that it was being sold as a security."
Also, in the past months, Peirce has voiced opposition to attempts by her fellow regulators, including Gensler, to enforce strict regulation of cryptoassets instead of promoting self-regulation, warning this could thwart innovation.
However, as reported, recently, the US SEC released its regulatory agenda for the spring and summer, and it does not include crypto-related matters.
Meanwhile, in a sign of disagreement with the current regulatory approach, Fred Ehrsam, co-founder of crypto exchange Coinbase, opined that "crypto is a nuanced issue, and it's possible that the US gets crypto wrong."
"You have a lot of regulators whose job it is to mitigate risk and keep us all safe, and that's very appropriate. At the same time, I think crypto is the next Internet-size opportunities for the United States," Ehrsam told Bloomberg TV.
____
Learn more:
- Crypto Industry's Lobbying Power Grows As Former Officials Change Sides
- Can't Beat Crypto Regulators? Educate Them
- SEC Commissioner Worried Tight Regulation Could Thwart Crypto Innovation
- 'Knives Coming Out' As Cryptoverse Responds To BTC FUD By US Senator
- Another US Regulator Wants Agencies to Join Hands to Regulate Crypto
- Ex-US Regulator: Fears of Regulation Suppressing Crypto Have Gone Away
---