'Russian Ethereum', Waves, Almost Triples Since Ukraine War Began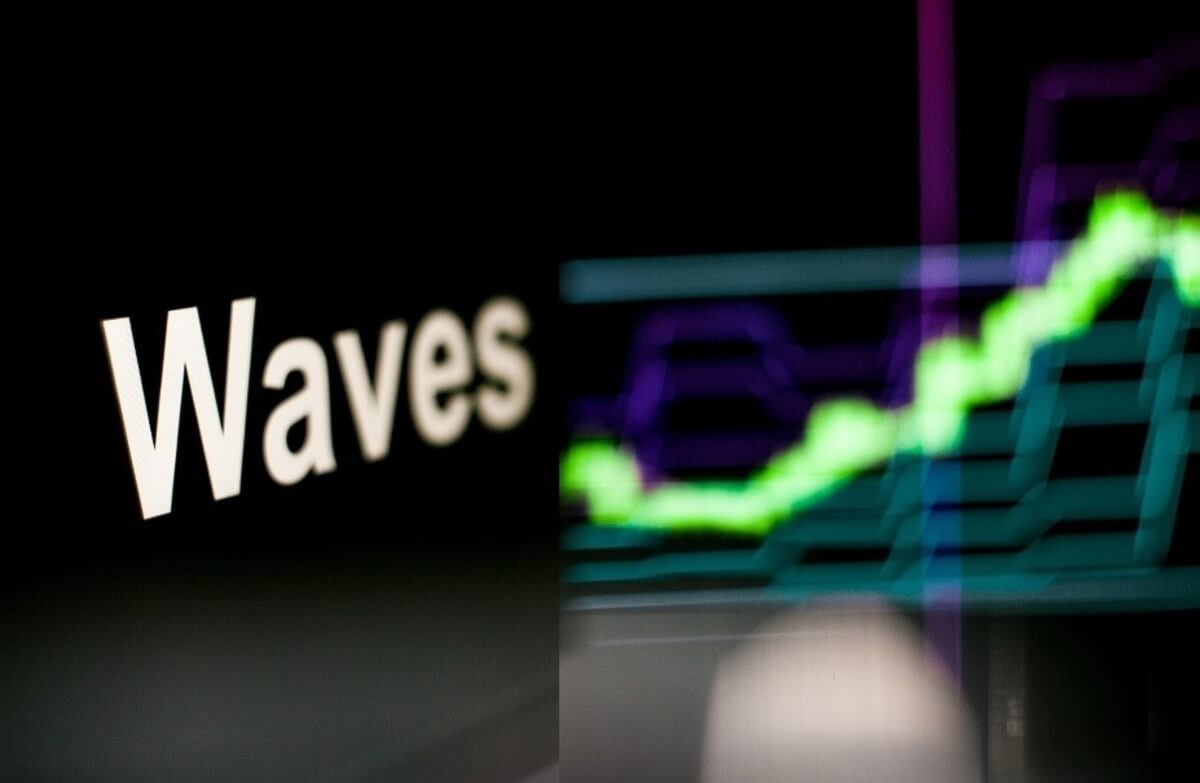 The WAVES token, issued by the protocol with ties in Russia, is close to a 3x price gain in a matter of just two weeks after it rallied right after Russia invaded Ukraine.
The massive gains also follow crypto exchange Binance integrating the token into its Loans platform last week, and a new roadmap showing plans for a changed consensus mechanism and compatibility with the Ethereum Virtual Machine (EVM).
On Tuesday at 9:49 UTC, WAVES, currently ranked 52nd by market capitalization according to CoinGecko, was up by 28% for the past 24 hours and 172% for the past two weeks, trading at USD 23.5.
WAVES price last 30 days: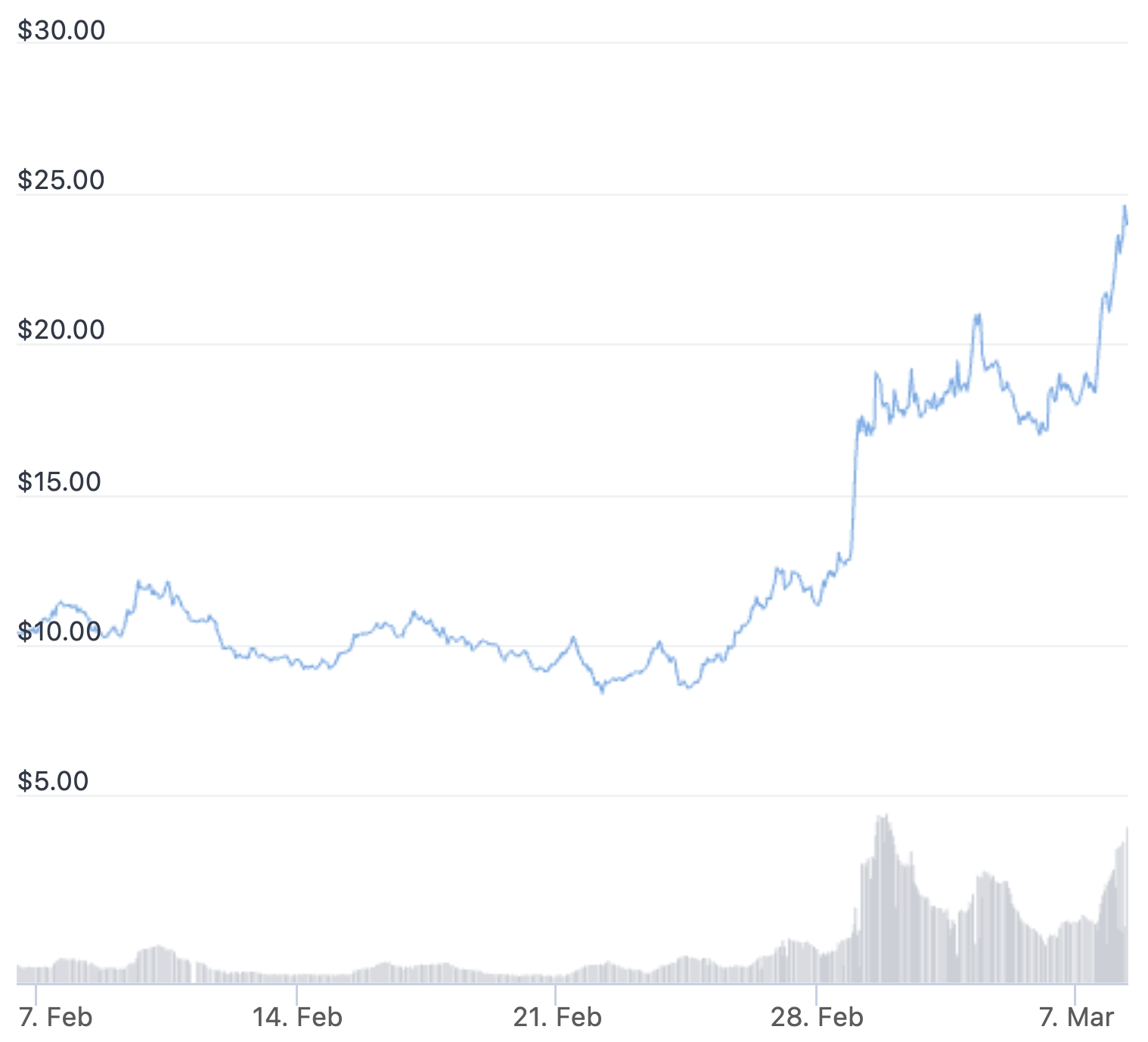 Notably, the price rise followed the start of the Russian invasion of Ukraine on February 24. The project's founder has connections to both countries. Some online users even called it "the Russian Ethereum."
The Waves project was founded in Russia by Ukrainian-born physicist Alexander Ivanov. Crunchbase states that he founded it back in 2016, with its base in Moscow, while it was registered in Switzerland in 2017.
In his post on February 27, Ivanov called for peace.
Back in 2019, Ivanov sold his stake in the Vostok platform founded by the Waves team to an early investor, Mark Garber of the Moscow-based financial consultancy GHP Group. Ivanov said that he wanted to focus on the Waves project and its international development.
Vostok itself has had a number of partnerships with large Russian companies and organizations, including those state-owned, such as Dom.RF, a financial institution for housing development created by a decree of the Government of the Russian Federation, as well as the long-sanctioned, state-owned manufacturing conglomerate Rostec, according to Gazeta.ru.
While Waves distanced itself from Vostok – and therefore, associated entities – the founder told to CoinDesk at the time that:
"We can't totally separate from our Russian roots, even if they might impede the business a bit. I think we should become the main blockchain tech advocate in Russia."
The Binance 'blessing', PPOSS, and multichain bridges
These latest gains come as Binance announced last week that WAVES is now among the digital assets that can be used as collateral on its Loans platform.
The token was added together with MATIC, THETA, and SLP in a move that could be seen as a sign that the exchange is now approving of these assets as substantial enough to be used as collateral for crypto loans.
Meanwhile, the team behind Waves has in recent weeks also announced a new roadmap that detailed a slew of changes to the protocol that are to be rolled out in 2022.
Per the roadmap, the Waves protocol will implement a new consensus mechanism called Practical Proof-of-Stake Sharding (PPOSS), with development starting "this spring."
With this, Waves is expected to become compatible with the Ethereum Virtual Machine, making it more accessible for external development teams, which in turn could attract more users.
"The new network will be connected to the existing one for a smoother transition to Waves 2.0 without depreciating the old network's value or efficacy," the Waves team wrote.
Further, the team also said that Waves will integrate the multi-chain bridges Gravity and Allbridge to enable WAVES connectivity with all EVM-compatible blockchains, as well as with the Bitcoin (BTC) and Solana (SOL) blockchains.
The move to establish improved interoperability with other chains came in addition to an announcement of the formation of the US-based company Waves Labs that will be set up in Miami in the first quarter of this year.
"The US is a key market to drive mass adoption in 2022," the Waves team said about their decision to relocate there, adding that they will also set up a USD 150m fund and an incubator program to help drive decentralized finance (DeFi) adoption in the country.
Lastly, from a technical analysis perspective, WAVES has already broken through several resistance levels on its way higher, suggesting strong momentum is backing the rally. However, the chart's Relative Strength Index (RSI) is currently at its highest since August last year, and well into 'overbought' territory, indicating that the upwards momentum could soon dissipate.
____
Learn more:
- Justin Sun Spoke of 'Cooperation with Russia' After Donating Funds to Ukraine
- Bitcoin Is Helping Both Sides in Ukraine War, But It Won't Wreck Russian Sanctions

- Russian Oligarchs Unlikely to Use Crypto to Dodge Sanctions - Coinbase CEO
- These Coins Have Moved the Most Since the Ukraine War Started

- Fantom, Other DeFi Tokens Shaken as Top DeFi Developer Andre Cronje Quits
- Staking in 2022: Ethereum's Merge, Institutions, Layer-2, and Liquid Staking

- Layer 2 in 2022: Get Ready for Rollups, Bridges, New Apps, Life With Ethereum 2.0, and Layer 3
- Altcoins in for a Bumper 2022 as Number of Crypto Traders Set to Double – Report
---