RichQuack Price Prediction 2023 – 2030
Disclosure: Crypto is a high-risk asset class. This article is provided for informational purposes and does not constitute investment advice. By using this website, you agree to our terms and conditions. We may utilise affiliate links within our content, and receive commission.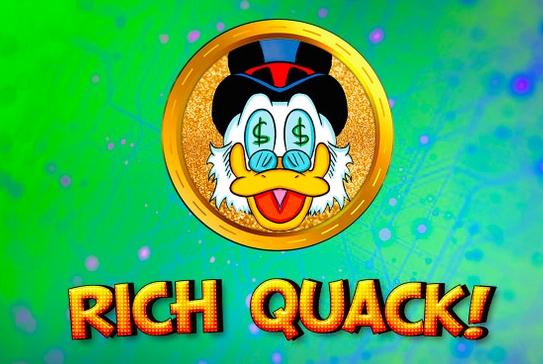 RichQuack is a relatively new meme token that has exploded in popularity with its strong social media backing and deflationary tokenomics. Many investors are now considering whether or not to invest in this meme cryptocurrency and wondering what the future price of QUACK could be. 
This guide forecasts a potential RichQuack price prediction for 2023 – 2030 by analyzing the project's features, upcoming releases and historical price performance. 
RichQuack Price Prediction Summary 
A hyper-deflationary cryptocurrency built on the Binance Smart Chain (BSC), RichQuack has a high maximum supply of 10 quadrillion tokens. However, the token has been designed to decrease in supply in the long term. 
With over 53% of the maximum supply now burnt, investors can earn cryptocurrency rewards by staking, voting and accessing launchpads to access new projects. The section below summarizes a possible RichQuack coin price prediction for 2023 – 2030. 
End of 2023 – By the end of 2023, RichQuack is expected to release its platform launchpad and incubator project. Some popular algorithmic price prediction sites expect the cryptocurrency to increase by 150% by the end of 2023, although those can be unreliable.
End of 2025 – As a hyper deflationary asset, QUACK has already burnt more than 53% of the maximum token supply. As the total supply further decreases, an increase in demand could see the token retest its previous all-time high of $0.000000011.
RichQuack Coin Price History
Built on the Binance Smart Chain, RichQuack (QUACK) is a BEP-20 token that follows a proof-of-stake (PoS) algorithm. 21 validators are chosen daily to validate the transactions and maintain the platform's security. 
Price Increase of RichQuack
One of the most trending deflationary cryptocurrency tokens, QUACK runs on hyper deflationary tokenomics to reduce its overall supply.  Despite its maximum supply of 10 quadrillion, over 53% of the tokens have been burnt since the release of this cryptocurrency. QUACK began trading on June 9th, 2021, at under $0.00000000001 per token. Its low price is due to the large token supply, but the RichQuack price could experience upwards momentum as the supply decreases over time.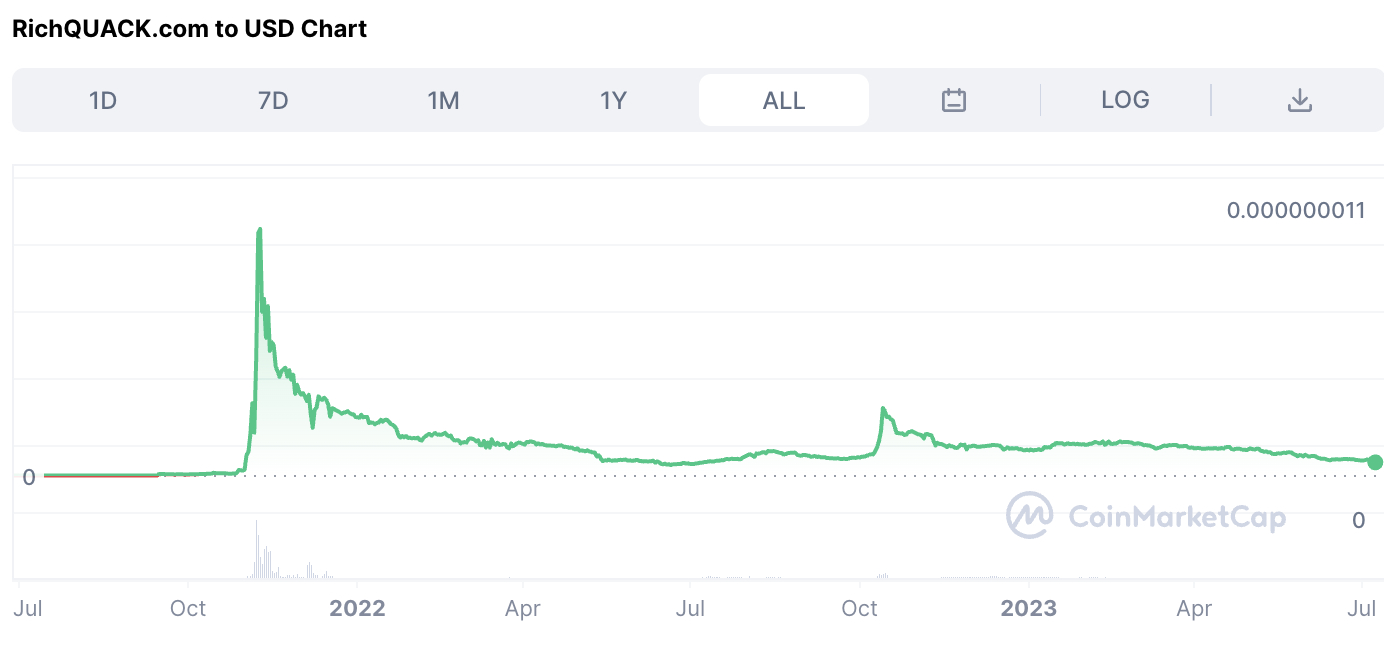 In November 2021, QUACK reached an all-time high (ATH) of $0.000000011. This tremendous price increase can be credited to the solid RichQuack social media following, making it one of the best meme coins in the space. With a Twitter following of more than 283K, the RichQuack community is among the strongest in the meme coins space. 
Price Correction
However, such cryptocurrencies tend to attract high levels of volatility. However, RichQuack investors are optimistic it could be one of the most sustainable meme tokens due to the variety of use cases it provides. 
RichQuack offers a staking feature for members to earn regular rewards, along with an upcoming launchpad which will offer access to new projects. Moreover, the decrease in token supply makes RichQuack a favourable token over even some of the most popular 'shitcoins' like Dogecoin (DOGE), which has inflationary tokenomics.
Readers may also be interested in our Dogecoin price prediction article.
RichQuack Pumps Amidst Social Media Following
In October last year, QUACK cryptocurrency increased in price by over 2.5x. One of the main reasons for this price pump was the growth and reach of RichQuack on social media platforms.
Most of that move was retraced in November, leading some to question whether its following was organic or botted. Others attributed the correction to the fallout from the FTX collapse, and Bitcoin crashing to $15,400.
📢Most Mentioned #MEMES Tokens last 24h🔥

🥇 @RichQuack
🥈 @BabyDogeCoin
🥉 @KibaInuWorld@Tamadogecoin@VitaInuCoin
@thecakemnstr@MiloInu@FlokiMooni@LakeviewMeta@Dosa_Coin@VoltInuOfficial@PigeInu@RoraRealm@BscPitbull@PolyDoge#CryptoNews #richquack #BabyDoge #Tamadoge pic.twitter.com/Y3UyeqvjKf

— Crypto Insights (@CryptoInsightsX) October 15, 2022

Currently, the RichQuack crypto price is at $0.000000001126, with a market cap of just under $50 million and a circulating supply of 4.4 quadrillion tokens. 
RichQuack Price History: Summarized
QUACK was launched in June 2021 at $0.00000000001 per token.
In November 2021, RichQuack reached an all-time high of $0.0000211.
The meme coin plunged by over 99% by the beginning of 2022.
In October 2022, RichQuack pumped by 250%, becoming one of the most trending meme cryptos.
In Q3 of 2023, Richquack has experienced some peaks and valleys. At press time, it is trading around the $0.00000000059 mark.
RichQuack Price Prediction 2023
In the medium term, RichQuack has the potential to grow further in price. One of the main reasons for this is the upcoming launchpad feature. As part of the project roadmap, RichQuack aims to create a decentralized launchpad for new blockchain-based platforms as part of the project roadmap.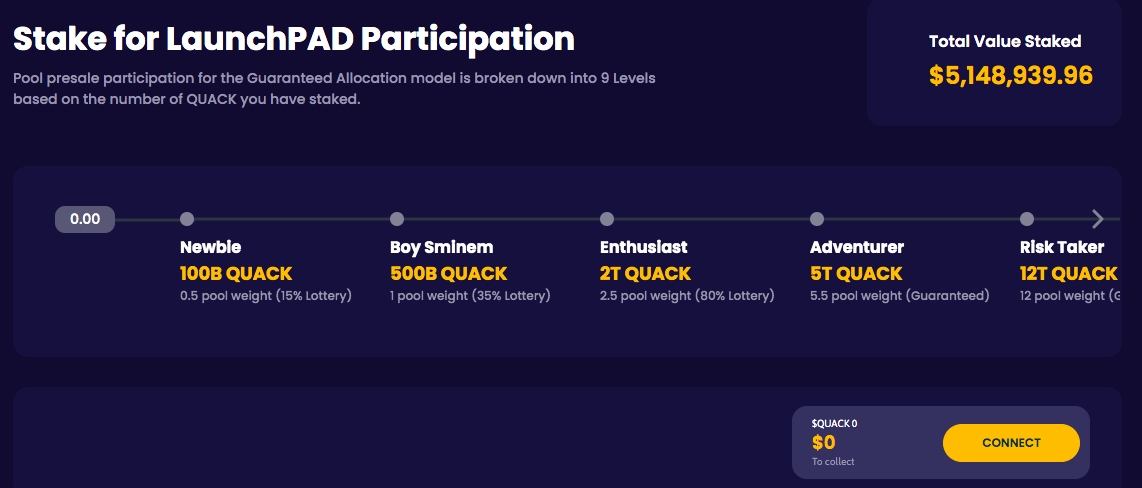 During the beginning of this feature, RichQuack will feature solely QUACK-based incubated projects. Once new projects are listed on the launchpad, platform users can contribute towards funding new decentralized exchange IDOs (initial DEX offerings). To participate in this feature, one must hold and stake at least 100B QUACK. 
Another popular feature of RichQuack will be staking – allowing investors to access voting rights for RichQuack's decentralized autonomous organization (DAO). Therefore, RichQuack is also positioned to become one of the best utility tokens in the space. 
With some of these projects expected to roll out by next year, we may witness an increase in trading volume. Since features such as the launchpad offer users the choice to fund unreleased projects, the QUACK token can increase in price following an increase in stakings. 
According to Digital Coin Price, a popular crypto forecasting algorithm, RichQuack could reach a maximum price of $0.00000000378 by 2023. This indicates a growth of nearly 150% from current levels. On the other hand, the website predicts a low of 0.00000000313 by the end of 2023. Due to the uncertainty surrounding the upcoming launchpad and incubator projects, investors may prefer staying tracking the latest developments of RichQuack to stay tuned with new release information. 
RichQuack Price Prediction 2025 – 2030
Despite the instant growth that meme tokens can provide, they have been known to create major market pumps and dumps. One of the main differences between RichQuack and other meme tokens lies in this cryptocurrency's tokenomics. 
Despite boasting a 10 quadrillion token supply, QUACK regularly burns through its token supply. Each QUACK transaction results in a 12% fee – 2% of which is burnt. Furthermore, 4% is sent back to the token holders, 4% is spent on a liquidity pool and 2% is used for marketing purposes. 
Due to the tokenomics, RichQuack has already reduced its supply by burning 53% of the existing tokens. For RichQuack to sustain itself in the next decade, the regular token burns can help increase the price. Furthermore, RichQuack also offers an anti-whale feature by not allowing a single wallet to hold more than 1% of the available token supply. 

The platform also offers anti-rug pulling strategies – by providing locked token liquidity for 5 years. This will ensure that tokens cannot be regularly bought and sold, contributing to further volatility. 
In the future, 50% of all profits from QUACK's platform will be distributed to liquidity providers (LP) contributing to securing and validating the network. Since tokens must be staked to become an LP, the rewards will incentivize more holders to lock QUACK and earn more rewards. 
One of the cheapest cryptos to invest in right now, QUACK has the potential to become a top cryptocurrency in the next few years. We expect the cryptocurrency reach its previous ATH of $0.00002 by 2025. Despite already reaching this target in 2021, RichQuack would have launched several platform use cases by the end of this decade. 
However, investing in meme tokens can often cause high levels of uncertainty. Digital Coin Price expects the cryptocurrency to experience further sideways momentum by 2025 – predicting an estimated price of $0.0000000144.
RichQuack Price Potential Highs & Lows
The table below provides an overview of the RichQuack price prediction for the next few years.
| | | | |
| --- | --- | --- | --- |
| Year of Price Prediction | Potential High | Potential Low | Average Predicted Price |
| 2023 | $0.00000000378 | $0.0000000005 | $0.00000000345 |
| 2025 | $0.00002 | $0.0000000144 | $0.00001 |
Where To Buy RichQuack
Binance is a good place to buy RichQuack. It's the largest exchange in the world by trade volume and has lots of products and services. It also has its own native coins (BNB and BUSD) as well as loans, an NFT marketplace, and staking APY on select tokens. Currently, there are over 160 million Binance users. 
So users who make a purchase through this exchange can gain access to many other products and services. Binance is a gateway to many other crypto products as an integrated ecosystem. It also has excellent security protocols and users can choose their 2FA as well as their 2FA type (email or phone) for specific transactions. 

Account signup with Binance is swift, requiring an email or phone verification. After this you can make a limited purchase will need to fulfill KYC information if it goes above a certain amount. 
We think Binance is an ideal place to buy RichQuack because it has so many associated products and services that cater to the preferences of any investor, from NFTs to staking APY to futures trading to non-custodial wallet solutions. The trading fees are also very low, at 0.1%, and there are no deposit fees.
It's a low-cost and secure means of purchasing Rich Quack. 
Don't invest unless you're prepared to lose all the money you invest. This is a high-risk investment and you should not expect to be protected if something goes wrong. Take 2 mins to learn more.
Is RichQuack the Best Crypto to Invest in Today?

While RichQuack may experience further price increases with the expected release of the launchpad and the projects, we recommend Wall Street Memes as the best cryptocurrency to invest in today.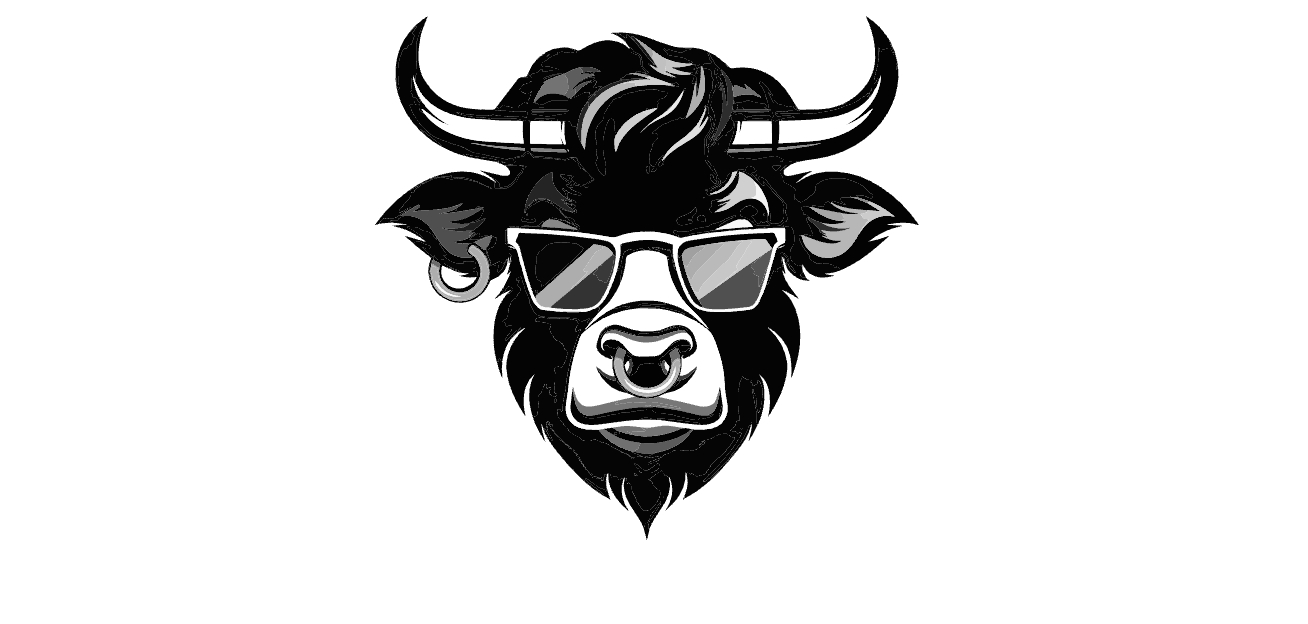 Wall Street Memes (WSM) coin has captured the meme coin community's attention with its soaring price. As the upcoming meme coin from a popular social media brand boasting over 1 million followers, WSM coin is currently in its presale stage, aiming to raise $13.5 million. Impressively, the project has already secured $12.9 million in ETH, USDT, and BNB.
Originally, Wall Street Memes gained traction through a Twitter handle that humorously targeted Wall Street, particularly after the Gamestop short squeeze event. In 2021, the brand launched its first NFT collection, Wall Street Bulls. However, the project has since lost momentum, raising concerns about the future value of WSM coin upon its market launch.
The current presale price of Wall Street Memes coin is $0.031, which will increase gradually. The project has set aside 50% of the total supply (1 billion coins out of 2 billion) for presale participants, with 20% allocated to CEX/DEX listings and liquidity provisions. Additionally, 30% of the coins will be distributed as community rewards.
Despite its high market cap of $31.3 million, which is significant for a meme coin, potential dilution and the introduction of new coins raise doubts about generating substantial returns. 
FAQs
Does RichQuack have a future?
In October last year, RichQuack has become one of the most popular meme tokens and increased by 250%. In the future, RichQuack can remain a bullish investment due to its decreasing token supply. This platform will also release its own launchpad and give users rewards through its liquidity pools. 
When was RichQuack coin launched?
RichQuack was launched in June 2021 at a price of just $0.00000000001 per token.
Is RichQuack a good investment?
Like any other cryptocurrency investment, QUACK will be a high-risk asset to trade. However, the future of RichQuack will depend on its multiple platform use cases – including the new launchpad platform, the RichQuack DAO and the liquidity pools. 
Disclaimer: The Industry Talk section features insights by crypto industry players and is not a part of the editorial content of Cryptonews.com.
---