Quantum Trade Wave Review - Scam or Legitimate Trading Software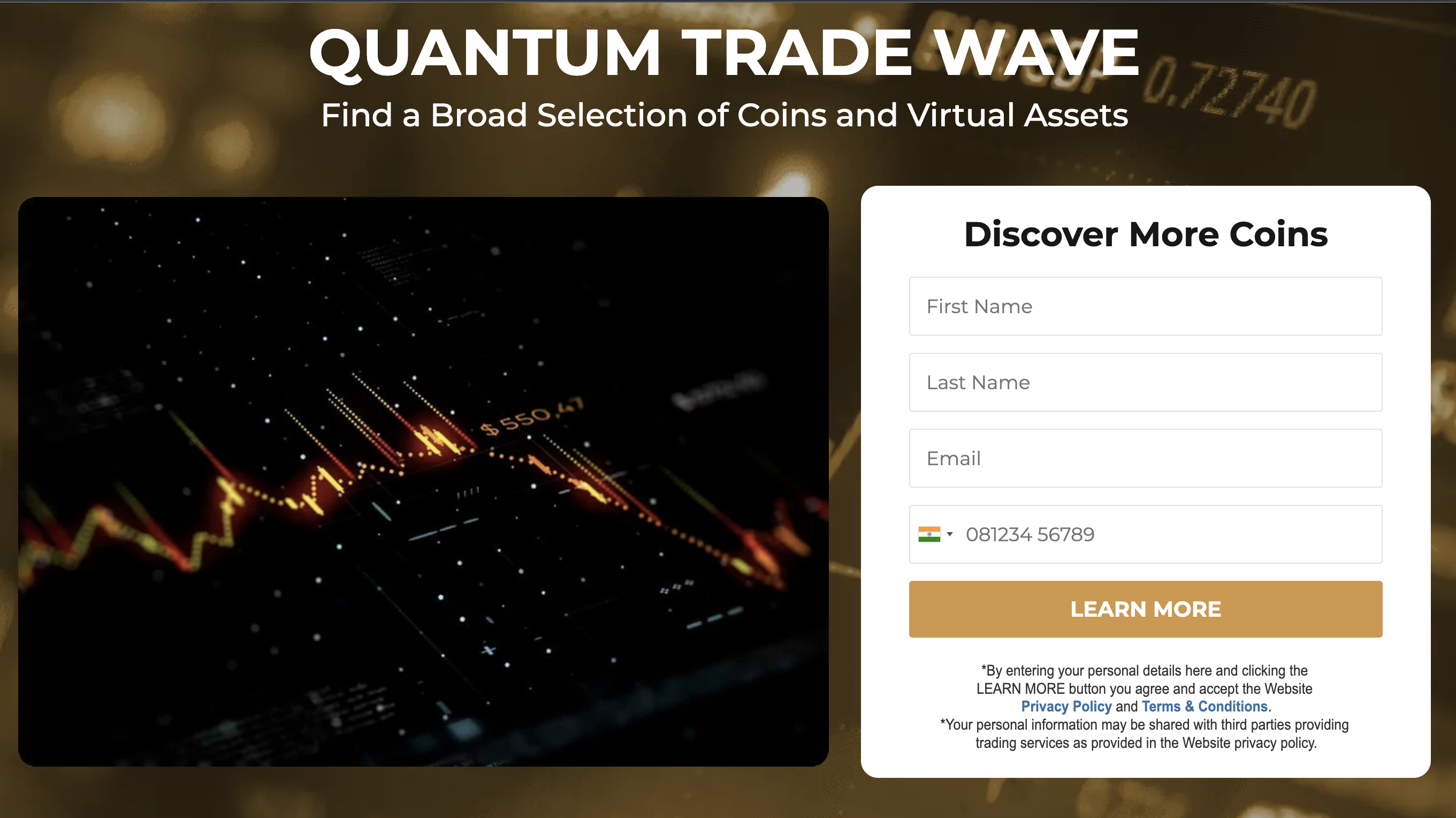 Disclaimer: The text below is an advertorial article that is not part of Cryptonews.com editorial content
Quantum Trade Wave claims to deliver crypto trading, analysis reporting and charting tools for all types of traders. Stating that it is to be suitable for investors of all levels of expertise who wish to kick-start their crypto journey, this platform promises to give users a trading edge through real-time updates.
But are these claims true? This Quantum Trade Wave review looks into the different claims this platform makes to discern its legitimacy.
Quantum Trade Wave Summary
Before we move forward to give a breakdown of the different attributes of Quantum Trade Wave, we must have a base on which to judge this platform. Here are the points to keep in mind before we begin our review:
| | |
| --- | --- |
| Supported Crypto | Over 150 crypto assets, including Bitcoin, Ethereum, Solana, Avalanche, Ripple, Polkadot, and Tether |
| Claimed Success Rate | Not specified |
| Available on Mobile? | It has no mention of a mobile application |
| Fees | No fee structure provided |
| Customer Support | Customer support available for registered traders |
| Withdrawal Speed | Up to 24 hours, depending on the mode |
| Minimum deposit | $250 |
Cryptocurrencies are unregulated. Trading with unregulated brokers will not qualify for investor protection
What is Quantum Trade Wave?
Quantum Trade Wave bills itself as a modern Bitcoin and crypto trading platform that, through analysis, reporting, and charting tools, allows traders of all experience level to make it big in the crypto space.
Claiming to be supporting more than 150 crypto assets, Quantum Trade Wave states that it also supports other financial instruments. While it hasn't provided any info about what those other financial instruments are, it has highlighted that Ethereum, Solana, and Ripple are part of the crypto assets it offers.
The platform's primary USP is apparently charting and analysis tools. It states that its 'top-notch' tools analyze trends and identify patterns in real time, helping investors make their way through a volatile crypto market. This trait makes it seemingly have some features similar to an auto trading platform that scans the market to assess its conditions, but the website doesn't state it blatantly.
In addition to market analysis tools that could or could not be AI-powered, Quantum Trade Wave also states that it delivers education resources, portfolio management tools, as well as social trading facilities that let investors trade alongside a community. Copy trading facilities are also discussed, but we couldn't find their full details.
While there is no mention of a trading fee, Quantum Trade Wave does require users to deposit a minimum amount: $250. This deposit apparently activates that account and helps users trade. There is also a mention of a practice mode that lets investors refine their skills before committing their funds to a high-risk market.
These claims could not be verified by our reviewers due to the paywall that Quantum Trade Wave implements through its minimum deposit requirement. We recommend investing only a minimum amount to test the site and only commit more funds if the platform delivers on its promises.
Quantum Trade Wave Pros and Cons
Here are the pros and cons of Quantum Trade Wave:
Pros:
Offers a simple sign-up process
The website is information heavy
It claims to deliver charting tools and a robo advisor to help traders make better decisions
Practice mode is available, the site says, to help trader refine their trading skills
Multiple assets supported - over 150
Cons
No information is available about the makers of this website
It is not clear whether it has autonomous trading facilities
The site isn't clear about its features
Requires a minimum deposit of $250 - which is a big commitment considering how much information is not made available to traders
How Does Quantum Trade Wave Work?
Quantum Trade Wave is a crypto trading platform that claims to offer charting, analysis and charting tools to users to help them navigate the volatile crypto market. While it doesn't have the same traits as a trading bot, some of its mechanics appear to be AI-powered, especially one that claims to scan the market and advise users quickly.
Manual charting tools and trading systems may help traders make better investment decisions. But in order to deliver more information, Quantum Trade Wave also claims that investors will get access to education resources that are "designed to empower traders with the skills and understanding required to make suitable trading decisions."
These tools, according to Quantum Trade Wave, will allow day traders, swing traders, and long-term traders to make the most out of the crypto market. However, the nature of these tools is still hidden as the platform has not expanded on them.
Since there is a fair bit of ambiguity around the working of this platform, we recommend that our readers independently test the site before committing any deposit.
Quantum Trade Wave Key Features
Listed below are the key features that Quantum Trade Wave claims to have:
User Friendly Interface
According to the website, Quantum Trade Wave has a stable, intuitive and user-friendly UI that new and advanced traders can interact with easily. The site claims that these make trading effortless, allowing investors to focus more on strategy rather than wasting time deciphering how the platform works.
Educational Resources
Quantum Trade Wave claims that it offers a wealth of educational resources to traders. These include guides, blog posts, and in-depth analysis of crypto price charts.
Support for Multiple Cryptocurrencies
Quantum Trade Wave states that it supports 150 cryptocurrencies, including Bitcoin, Polkadot, Ethereum, Solana, Ripple and others. Other portions of the website have also hinted at other financial instruments, but details about them are not available.
Portfolio Management
The website claims that users can trade their performance using portfolio management tools that the site provides. These features offer real-time monitoring facilities, which, according to Quantum Trade Wave, present trading data through interactive charts and graphs that can help investors visualize market trends.
Price Alerts
The platform says that it lets users set customized price alerts when a crypto asset hits a specific price. According to the website, these alerts can be set for multiple crypto assets simultaneously, and the notifications are provided via email.
Social Trading
Quantum Trade Wave claims to serve as a social trading platform, allowing investors to learn from more successful traders and share their insights to make better trading decisions.
Leverage Trading
Quantum Trade Wave also apparently allows leverage trading through which users can trade using borrowed funds for larger positions, allowing them to amplify their potential profits. But the platform also states that it is a risky investment strategy, and traders must be informed about its risks before implementing it.
Cryptocurrencies are unregulated. Trading with unregulated brokers will not qualify for investor protection
Quantum Trade Wave Account fees
There is no information on Quantum Trade Wave's official website about fees. Since we cannot say that it is zero, we recommend talking to the customer support team during the signup process to get clarity about it.
Quantum Trade Wave Minimum Deposit
The platform has informed via its FAQ section that users need to make a minimum deposit of $250 to get access to its trading facilities.
Quantum Trade Wave Compatible Devices
We opened the official website of Quantum Trade Wave on multiple devices, including laptops, desktops, Apple Phones, Android Phones, and tablets, and found that the site works flawlessly on all of them. The widescreen on desktops allowed us to see all the options available, and the responsive mobile design kept the texts clear and buttons interactable. But this is only the review of the website; the trading platform that investors get access to after depositing the minimum amount could provide a similar or different experience.
Is Quantum Trade Wave a Scam?
While Quantum Trade Wave promises to deliver a lot of facilities, there are many areas that we had problems with - and all of them stem from a lack of information.
For one, the platform hasn't provided any information about the trading tools it has. Yes, it has been stated that there are "charting" and "analyzing tools" that investors can use to make their trading journey smoother, but we do not know what these tools are.
While we appreciate that the site claims to focus on information through educational resources, we didn't get to look at them. The platform's portfolio management features, as well as copy trading features, were also inaccessible since getting any of these facilities required a deposit of $250. This amount can be too much for beginners, especially for a site that doesn't provide many details.
We did, however, find customer reviews on Sitejabber. It has an average rating of 4.4 stars, calculated from 22 reviews. The reviews are either too bullish or too critical of the platform, which gave us mixed feelings about Quantum Trade Wave.
Overall, there isn't enough information for us to count it as a legit trading platform or a scam. We recommend that our readers assess the trading risks before investing.
Quantum Trade Wave Customer Support
Registered users can take advantage of customer support on Quantum Trade Wave. The official website says that investors can contact the customer support team through phone, live chat, or email.
How to use Quantum Trade Wave?
Take the following steps to start trading on Quantum Trade Wave:
Step 1 - Visit the Quantum Trade Wave Website
Navigate to the Quantum Trade Wave site and enter your personal details.
Step 2 - Make the Minimum Deposit
After you talk to the account manager, you will be given a link to deposit the minimum amount. Make the deposit using the available methods.
Step 3 - Start Trading on Quantum Trade Wave
Provided that the claims made by Quantum Trade are true, you will gain access to all the trading facilities after depositing the amount. Before committing your funds to crypto assets, turn on the practice mode to refine your trading strategies.
How to Delete a Quantum Trade Wave Account?
There is no information available on the website about how to delete a Quantum Trade Wave account. Our recommendation is that you talk to the customer support team to terminate your account.
Is Quantum Trade Wave Endorsed by Celebrities and Big Brands?
Due to its high rating on Sitejabber, many believe that Quantum Trade Wave has gotten the attention of celebrities and big brands. That isn't true, as there is no proof to attest to these claims. Our recommendation is to assess the site based on its own pros and not focus on any celebrity endorsement.
Who is the Founder of Quantum Trade Wave?
Quantum Trade Wave doesn't have any information about the makers of the website. From its looks, it feels like a team of traders and developers have created it, but it's all speculation. While the lack of information about the site's makers is nothing new in the crypto field, things have changed this year; people now seek trading platforms that adhere to regulations. Therefore, we recommend exercising caution when trading on this Quantum Trade Wave.
Latest Bitcoin News
Since information is key to succeed in the cryptocurrency market, here is the latest Bitcoin-related news to know:
After losing $30k support in July 2023, Bitcoin has continued to slide down and is now trading around the $29k mark.
Microstrategy CEO Michael Saylor is planning to sell up to $750 million worth of stock to buy more Bitcoin, which could have a positive impact on the BTC price.
The Verdict
Quantum Trade Wave is a crypto trading platform that features a simple-looking website that offers little clarity about the features it delivers. The site claims to make trading simpler for traders of all levels by providing charting and analysis tools that anyone can interact with, but it has not provided any details about those tools.
However, customer reviews of this platform on Sitejabber have largely been positive. That said, our reaction to this platform is still mixed due to a lot of ambiguity around information and multiple active websites of the same name. Therefore, we recommend exercising caution when trading on Quantum Trade Wave.
Alternatively, we recommend checking out our list of crypto presales to invest in assets that can offer gains away from the crypto market's volatility.
Cryptocurrencies are unregulated. Trading with unregulated brokers will not qualify for investor protection
Quantum Trade Wave FAQs
What is the Quantum Trade Wave platform?
Quantum Trade Wave describes itself as a one-stop shop for crypto trading with charting, reporting and market analysis tools to make investing simpler. It says that it supports over 150 crypto assets, and users can start trading after depositing the minimum amount, which is $250.
Does Elon Musk endorse Quantum Trade Wave?
There is no information available online to suggest that Elon Musk, the Dogecoin hype man, is one of the endorsers of Quantum Trade Wave. Also, it is important to note that Musk has not endorsed any crypto trading platform in the past.
---