Best Crypto Social Trading Platforms (2020)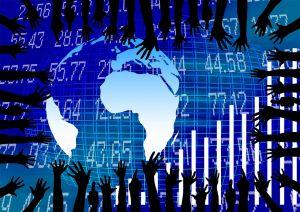 Do you know a person who was born being a great investor? Neither do we. Profitable investing often requires exceptional insight, luck, discipline, and experience. Most first-rate traders had lost money for weeks, months, or even years before they finally turned in profits. That's one way to look at it - sometimes you have to lose some to learn how to make some. But it doesn't necessarily have to be like this.
It's a fact that the quickest way to learn something is by doing. However, you can't just blindly jump into the fire without getting burned. That's where a strategy comes in.
Having a strategy means combining some theory with your market analysis and putting it into practice. It is a powerful combination, especially if you know what you're doing. Unfortunately, most beginning investors think they do, only to learn that they don't.
That's why a smart way to approach investing is by having someone to coach you. Having a mentor, a friend, a coach, or anyone else with the relevant experience can streamline your learning process without burning your portfolio via expensive trial and error experiments.
However, that's easier said than done. Great mentors or coaches typically cost sums of money that aren't available in just anyone's pockets. Not every retail investor can afford a great investing coach.
Despite that, having someone to discuss the market and your decisions is still an invaluable experience - you have to surround yourself with people who can challenge your perceptions. As billionaire investor and hedge fund manager Ray Dalio puts it:
"I just want to be right—I don't care if the right answer comes from me."
That's why one of the best places to kickstart your crypto investing career is a social trading platform which allows you to invest in cryptocurrencies. In this article, we review some of the best crypto social trading platforms in the market.
But first, what is crypto social trading?
What is crypto social trading?
Social trading platforms are like social networks for traders. In most cases, they act as a broker and allow you to purchase various assets, CFDs, ETFs, and cryptocurrencies.
Unlike regular trading platforms, social trading platforms let you connect with other traders trading the same markets or goods, copy their actions, share and discuss analyses and predictions, ask questions, grow your following and learn faster than you typically would.
Here, crypto social trading refers to social trading platforms which allow their clients to trade cryptocurrencies or crypto-based asset contracts.
So, which social trading platforms are the best for cryptocurrency enthusiasts in 2019?
Best crypto social trading platforms in 2019
1. eToro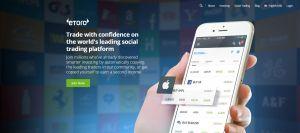 | Pros | Cons |
| --- | --- |
| Excellent social trading experience | Inactivity fees |
| Wide variety of instruments | No crypto deposits |
| Reputable, regulated company | Customer support can be slow at times |
eToro is a multi-asset social trading platform which is a pioneer of social trading. Hence, it has the most advanced social trading features in the market. Along with the cryptocurrencies, it lets you trade in Forex, commodities, stocks, and ETF contracts for difference (CDFs).
Currently, eToro supports 16 cryptocurrencies:
As one of the best-known social trading platforms, eToro boasts of millions of users and operates in more than 140 countries. Besides, the platform is regulated in three states - Cyprus (CySEC), The United Kingdom (FCA), and Australia (ASIC), and is accessible for the investors from the United States.
eToro's advanced social trading features make it the social network for traders - every user is free to interact with other investors and copy their trades. Much like on social media sites, you can also create your custom news feed, which includes your favorite traders and most relevant market news.
Last but not least, eToro's copy trading is an exciting feature, too. Unlike regular copy trading, eToro's social investing allows you to copy other traders actions with adjustable levels of risk and exposure. This way, you are not entirely dependent on other trader's activities and can alleviate the risk of losses if you want to.
If you don't feel ready to dive into the world of trading just yet, it might be helpful to know that eToro social trading platform is free to join and use. Besides, there's a handy demo portfolio to help you get going.
2. ZuluTrade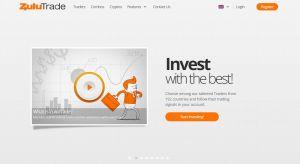 | Pros | Cons |
| --- | --- |
| Lots of signal providers | A limited number of cryptocurrencies |
| Wide range of brokers | Steep learning curve |
| Transparency | Many amateur traders |
Founded in 2007, ZuluTrade is a cross-broker social trading platform. It aggregates more than 50 brokers worldwide and connects them in a single copy trading and social trading service. As a user, you are free to choose and interact with thousands of signal providers, read their analysis, and copy their actions with a custom risk management strategy.
ZuluTrade's cross-brokerage service is licensed in the European Union and Japan. You can trade various different assets, including forex, stocks, ETFs, commodities, and binary options. Speaking of digital assets, ZuluTrade supports five cryptocurrencies:
All in all, ZuluTrade lets you choose from over 10,000 traders. You can find them using its advanced search, which lets you sort them by different categories such as profits made by followers or copy traders.
If you're new, you can start with a demo account. Otherwise, you need to deposit at least $300 to start trading on ZuluTrade.
3. NAGA Trader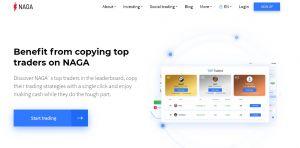 | Pros | Cons |
| --- | --- |
| Many trading instruments | Can be slightly overwhelming at first |
| Crypto-friendly company | Not available for the US residents |
| Well designed platform | High minimum deposit |
Naga Trader is another social trading platform which ventured into crypto. Back in 2017, the platform even launched its own ICO and NAGA (NGC) utility token and raised over $50 million.
At Naga Trader, you can network, connect, copy trade, and invest in more than 800 financial instruments in traditional and emerging markets like cryptocurrencies.
Speaking of cryptocurrencies, Naga Trader allows you to trade 11 cryptocurrency pairs, which include the following coins:
The platform is relatively easy to use for new traders. Besides, it comes with its multi-asset crypto wallet, charts, AI-powered trading bot that can trade for you and demo tokens for testing purposes.
4. Tradeo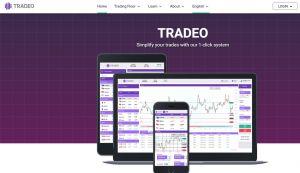 | Pros | Cons |
| --- | --- |
| Advanced social trading features | Limited number of cryptocurrencies |
| Many trading instruments | Not available for the US residents |
| Reliable, regulated broker | Basic options may discourage advanced traders |
Tradeo is another social trading platform with the ability to trade crypto CFDs, as well as many other products. It comes with advanced social trading features which allow you to find and follow the signals of other traders quickly.
Like most social trading platforms, it makes it easy to start trading. Even if you are not confident enough to trade with real money in the beginning, you can set up a realistic demo copy trading account and test yourself.
Apart from the traditional instruments, Tradeo lets you trade the following cryptocurrencies:
Although the selection of cryptos is quite limited, Tradeo social trading tools will do the job for both beginners and experienced investors. Besides, it has a unique feature that allows you to collect feedback on your strategies from more experienced traders.
All in all, Tradeo is a versatile platform for traders from all walks of life. If you don't mind the limited number of cryptocurrency CFDs, it is a great place to invest, learn, and connect with other like-minded people. Unfortunately, the platform is not available for the United States residents.
5. Covesting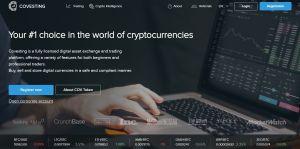 | Pros | Cons |
| --- | --- |
| Pure cryptocurrency platform and exchange | No leverage |
| Wide range of cryptocurrencies | High copy trading fees |
| Regulated | Some features require COV token |
Covesting is the only crypto social trading platform and exchange in this list, which focuses entirely on cryptocurrencies. It even has a native COV utility token, which is required for copy trading and other cool Covesting features like algorithmic trading.
As a starter, you can expect to get help from seasoned traders, who have a monetary incentive to do so and are paid for every profitable trade you make. Also, you can choose experts according to their strategies, followers, trading history, and reviews written by other traders.
Currently, Covesting supports 31 cryptocurrencies including the following coins:
In total, Covesting supports over 62 crypto-to-fiat and crypto-to-crypto markets.
If you're concerned about regulation, Covesting is regulated by Gibraltar Financial Services Commission and Republic of Estonia FINANCIAL INTELLIGENCE UNIT.
Overall, Covesting is a trustworthy platform for both seasoned and starting investors who are interested in the emerging world of cryptocurrencies.
Final thoughts
As both cryptocurrencies and social trading become increasingly popular, it is critical to remember that most of the retail traders (over 70%) tend to lose money. Therefore, having an expert help doesn't always produce the desired outcomes, and you should be aware of the risks. Even the experts get things wrong.
However, if you're willing to risk, you should expect some loses for the sake of learning. If you want to set off the right foot, starting to trade on a social trading crypto platform is an excellent starting point, especially if you are aware of the risks.