Profit Maximizer Review – Scam or Legitimate Trading Software
Disclosure: Crypto is a high-risk asset class. This article is provided for informational purposes and does not constitute investment advice. By using this website, you agree to our terms and conditions. We may utilise affiliate links within our content, and receive commission.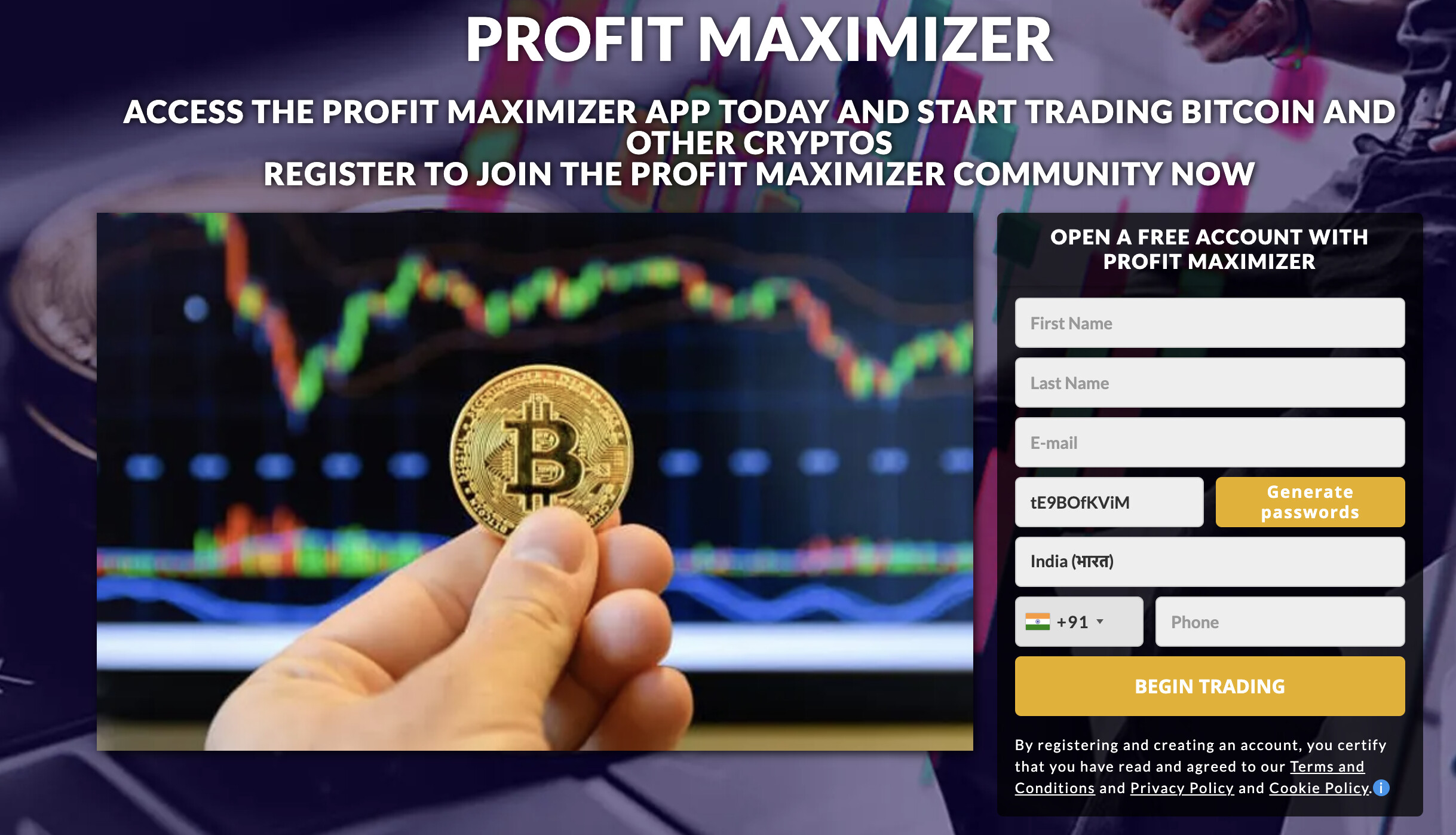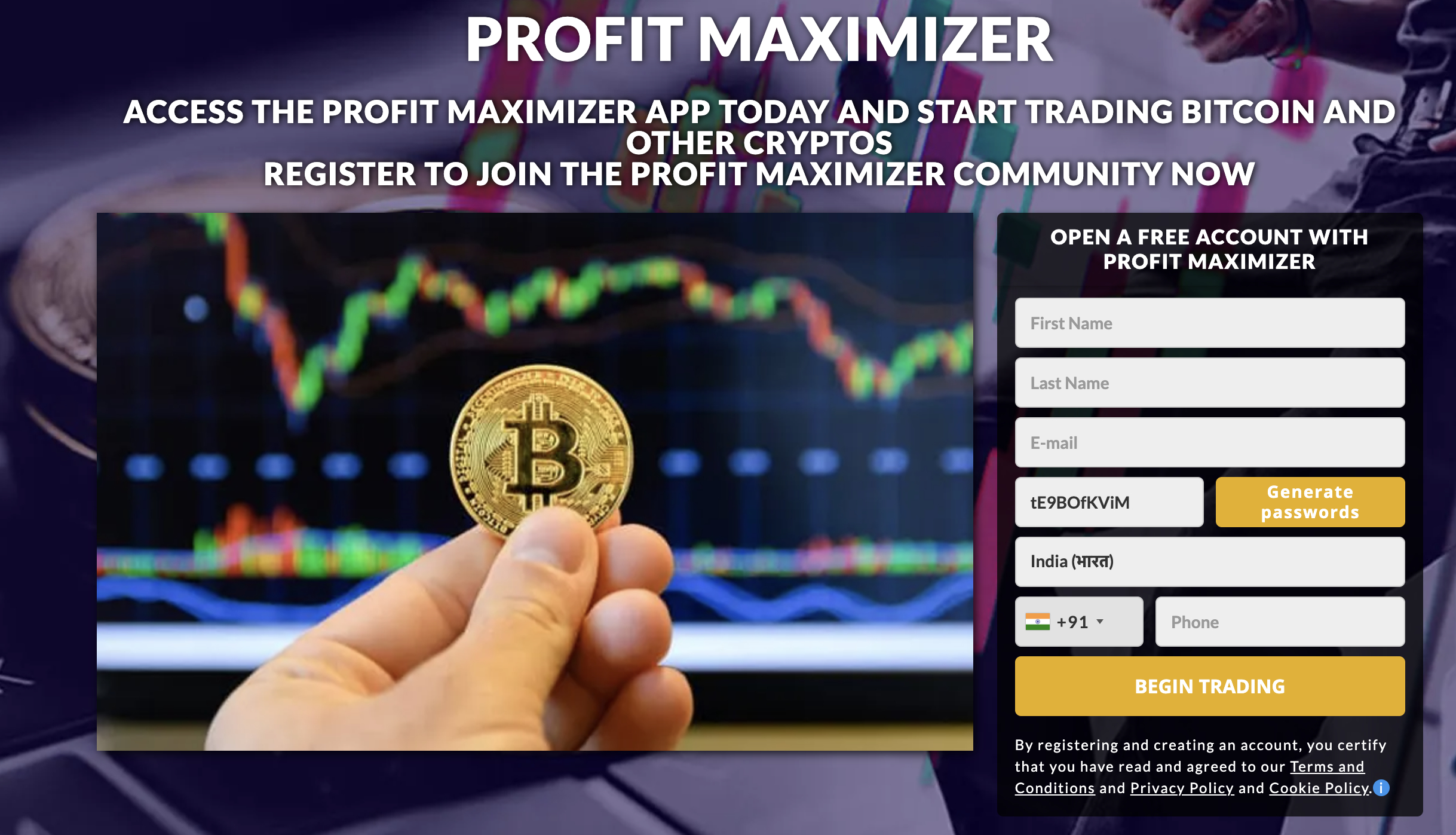 Disclaimer: The text below is an advertorial article that is not part of Cryptonews.com editorial content
Profit Maximizer is a trading platform that promises to maximize your profits using an array of user-friendly tools featuring market analysis facilities backed by algorithm-driven technologies.
Claiming to provide complete assistance while trading, this info-focused trading platform says that investors of all levels and generate a high ROI by using it. Does Profit Maximizer really work though?
This Profit Maximizer review will take a look at what's advertised on the site, to see if it really can maximize your profits or if it is just another marketing gimmick or scam.
Profit Maximizer Summary
Based on the Profit Maximizer website, here are the key details to know about this trading tool:
| | |
| --- | --- |
| Supported Crypto | Multiple cryptocurrencies |
| Claimed Success Rate | No mention of a success rate |
| Available on Mobile? | No mobile app is available |
| Fees | No details about the fee |
| Customer Support | Available 24/7 for registered users |
| Withdrawal Speed | It can take up to 24 hours, depending on the payment method |
| Minimum deposit | $250 |
Cryptocurrencies are unregulated. Trading with unregulated brokers will not qualify for investor protection
What is Profit Maximizer?
Profit Maximizer bills itself as a powerful and accurate trading software for traders. Promising to offer a wide array of assets, including Bitcoin, this trading platform states that it allows users to access highly accurate crypto signals based on data-driven market analysis.
According to the website, the application is backed by advanced algorithmic trading technology and uses advanced technical indicators to access the existing market conditions. The information collected in this manner is then conveyed to the user via a simplistic user interface that all levels of traders can use, Profit Maximizer says.
While the actual trading website wasn't available to us for assessment, we can attest to the claims about the presence of simple features. The sign-up process is very straightforward. However, you'll only get to use the trading facilities after you deposit $250, which Profit Maximizer states will allow you to open positions in the market.
These features are underscored by a security system that Profit Maximizer states is robust.
Overall, the content tells us that Profit Maximizer has standard trading features, which are further simplified using algo-based trading tools. While this is appealing, crypto trading is still risky. Therefore, always assess your skill level before buying and selling crypto.
Profit Maximizer Pros and Cons
Listed below are some of the pros and cons we could find upon checking out the rather limited content available on Profit Maximizer:
Pros:
It claims to have a simplistic UI
The platform claims to give users access to robust market analysis tools
Investors get alerted via regular trading signals, per the claims
It claims that it has a fee-free structure
Supports multiple cryptocurrencies, including Bitcoin
Cons
The content does not highlight the tools it delivers
It has a mandatory requirement of $250
The marketing copy does not talk about any demo trading account
How Does Profit Maximizer Work?
Profit Maximizer doesn't advertise itself as an automated trading platform featuring autonomous trading systems with hands-free trading facilities. In fact, much of what is written on the website tells us that its capabilities are conventional. Users are expected to come to the website and execute trades by themselves using a simplified UI.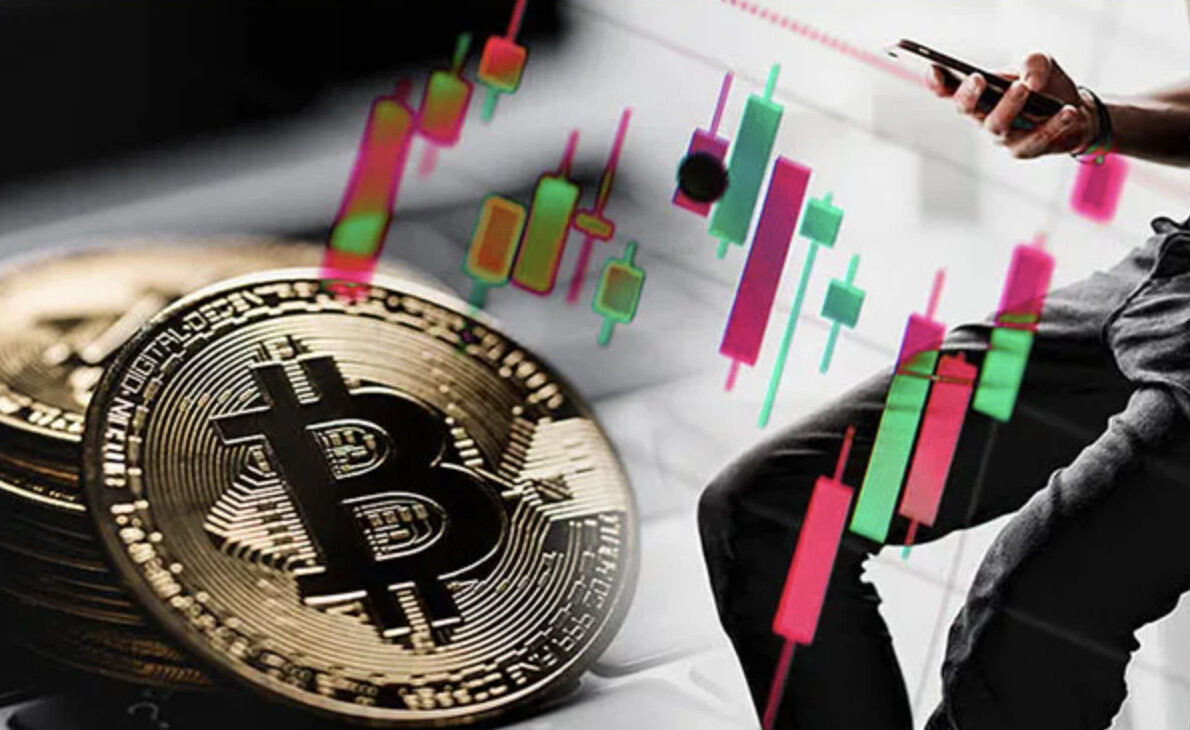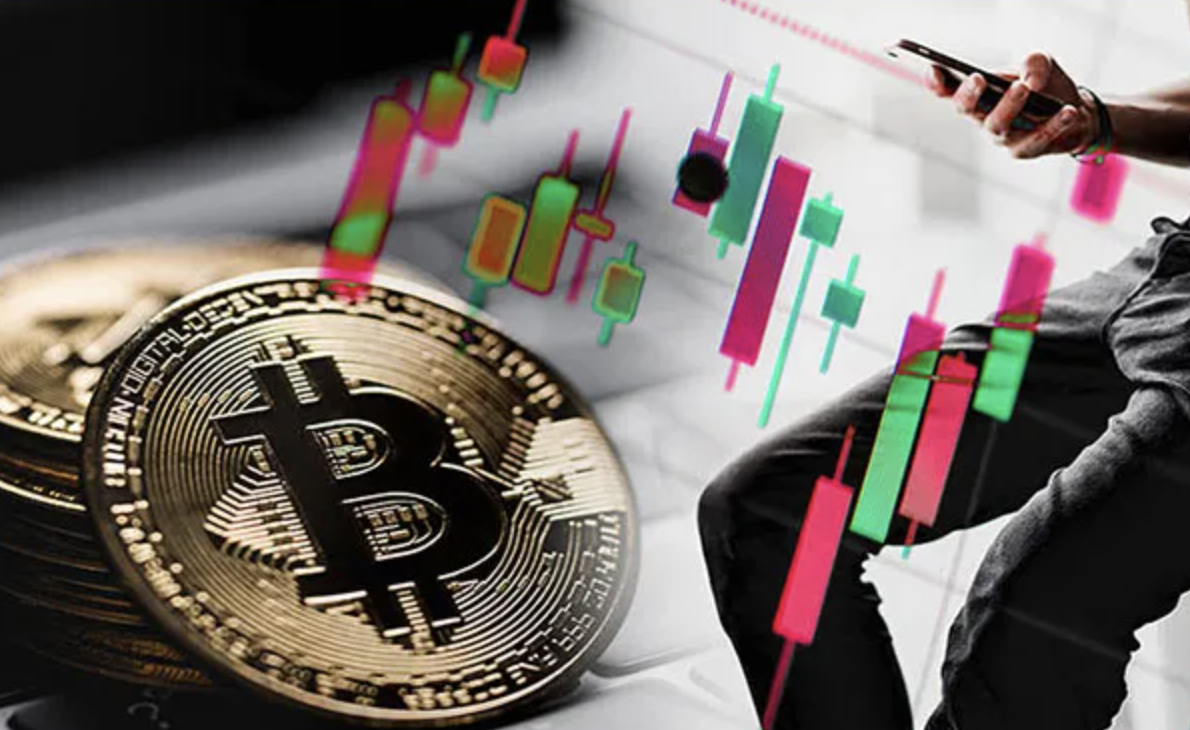 The only other assistance it reportedly gives to users is crypto signals that they can use to buy and sell cryptocurrencies at the right time and at the right rate. However, the website doesn't say anything about how accurate these signals are.
That said, there may be an account manager available as well since that's the case with similar platforms we have covered here. This manager would likely be the one alerting users and giving them the crypto signals when profit-making opportunities arise.
If you are one of the users who use those signals to trade crypto, and it turns out to be profitable, the account manager may take a percentage of your profits as a commission.
While this approach doesn't make trading exactly hands-free, it does remove some concerns about trading alone. However, crypto trading is still volatile, and profits are never guaranteed. Assess your risk tolerance and be well-read on crypto before trading.
Profit Maximizer Key Features
Here are the features that Profit Maximizer claims it uses to maximize your gains while you trade crypto:
Top-Notch Technology
Profit Maximizer states that it integrates powerful algorithmic technology to analyze the cryptocurrency market. According to the website, this approach helps it analyze the market in real time and deliver accurate signals. The platform claims to use an interplay of technical indicators and historical price data to assess the market conditions to alert investors of any good trading opportunity.
Simplified UI
Users won't need to suffer from any skill-based bottleneck, Profit Maximizer claims. It states that the user interface can be used by anyone; even those with zero trading experience aren't exempt from using it. This feature will likely allow users to navigate the markets without worrying.
Support for Multiple Cryptocurrencies
Profit Maximizer states that a wide range of cryptocurrencies are at your disposal once you start to use them. This approach would allow you to diversify your investment via a single website. However, no other crypto other than Bitcoin has been highlighted here.
Cryptocurrencies are unregulated. Trading with unregulated brokers will not qualify for investor protection
Profit Maximizer Account fees
Profit Maximizer hasn't posted any content about account fees. It states that the only requirement is the initial minimum deposit. If true, this will put this platform in the same league as other fee-free trading systems we have covered before. However, since the trading systems are manual and not much information is available on the website itself, we recommend talking to the customer support team first.
Profit Maximizer Minimum Deposit
To start trading on Profit Maximizer and enjoy the array of features it purportedly has, you must deposit a minimum of $250. The platform states that this deposit will allow you to open positions quickly.
Profit Maximizer Compatible Devices
While we can't say anything about the trading platform, the marketing copy of Profit Maximizer was accessible through all devices. The website loaded quickly regardless of which device we opened it on. The desktop version showed the site's layout correctly, and so did laptops and tablets. On mobile, the website was responsive. There was no issue with fonts, and the sign-up button was accessible everywhere.
Is Profit Maximizer a Scam?
Profit Maximizer does not make any large claim about users making consistent profits through an autonomous trading system. It only bills itself as a platform that makes interacting with the crypto market easy. According to the website, the platform does so via a combination of simplified trading tools and algorithm-based market research.
But that does not mean that these claims can be proven. The website's copy does not dive deep into the available features, and it says nothing about the types of tools users will have access to. The accuracy rating of the crypto signals has no historical data to back them up. Overall, the content is vague.
When it comes to some third-party reviews, they claim that there is a trading bot of the same name. That indicates that Profit Maximizer is not the first trading platform to bear this name, which can make it difficult for investors to find the right one.
These issues create a lot of confusion around this site, not making it clear whether it is a scam or legit. Our recommendation would be to do your own research to make a decision.
Profit Maximizer Customer Support
You can reach out to the customer support team via the Contact Us page, but we couldn't verify the time it would take to respond. According to some first-hand accounts from customers, however, the team is always available and can be contacted via the live chat feature, email, or through telephone.
How to use Profit Maximizer?
The following steps will allow you to trade on Profit Maximizer. Only follow them if you've thoroughly tested the site at your end:
Step 1 – Visit the Profit Maximizer Website
Go to the official Profit Maximizer website and enter your name, email, and phone number. You'll likely receive a verification email. Clicking the link it offers will register your account.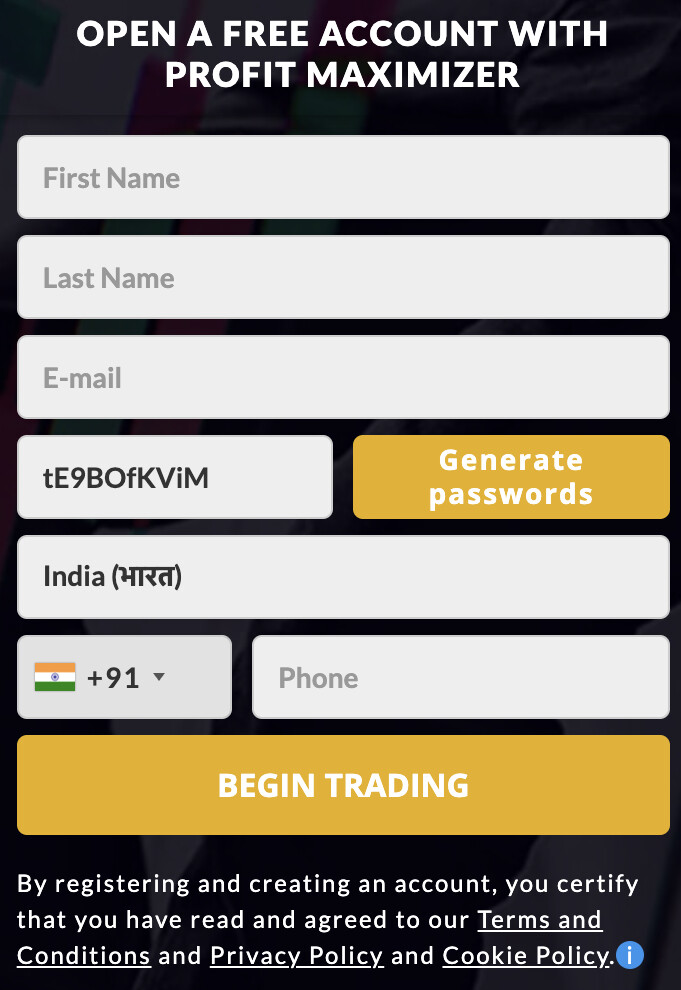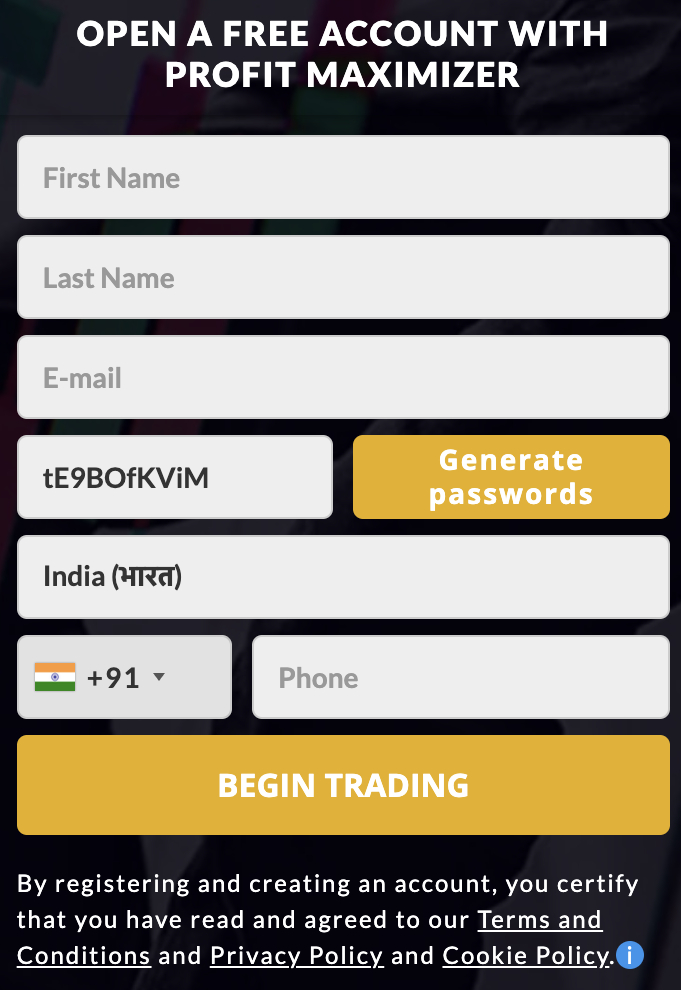 Step 2 – Make the Minimum Deposit
Deposit the minimum amount required, which is $250, using the methods you have at your disposal. It seems like Profit Maximizer allows users to choose between multiple payment methods.
Step 3 – Start Trading on Profit Maximizer
Take a tour of the trading platform first to see the features available. Find out if there is a way to test them. Start trading afterward. Make sure to invest only a minimum amount and test the trading signals from the get-go.
How to Delete a Profit Maximizer Account?
There is no information on the website about how one can delete their Profit Maximizer account. We recommend that you talk to your account manager for details about it.
Is Profit Maximizer Endorsed by Celebrities and Big Brands?
Profit Maximizer is not being endorsed by any celebrities. The site doesn't say anything about it. The third-party sites that have covered it also don't talk about it, and customer testimonials also don't provide any hints.
Who is the Founder of Profit Maximizer?
No one knows who the founders of Profit Maximizer are. On the About Us page, you'll only see the claims of there being an "exceptionally talented group of professionals" running things behind the scenes. The entire content is vague, with not a word about the team. As far as we can tell, the team is anonymous.
Latest Bitcoin News
After entering 2023 and climbing the price charts by 2x from its 2022 lows, Bitcoin is currently difficult to trade due to low liquidity after the exit of major market makers. Here are some recent crypto market updates:
The Bitcoin price is chopping around the $26k level following FOMC. Analysts are optimistic the Bitcoin price can start a new bull run following the 2024 halving.
Upcoming crypto ICOs have started gaining more interest as people are now moving toward assets with a lower market capitalization.
The Verdict
Profit Maximizer claims to use its regular trading system to maximize profits for investors. These systems are supposed to be backed by algo-based trading signals. However, there is little information online to verify these claims.
The founders of the site are unknown, the content available on the platform is vague, and the customer testimonials are few to speak of. As a result, there is not enough data to suggest whether it is a scam or a legit trading site. We recommend investors take caution and remember all trading carries risk.
Cryptocurrencies are unregulated. Trading with unregulated brokers will not qualify for investor protection
Profit Maximizer FAQs
What is Profit Maximizer?
Profit Maximizer is a crypto trading platform that aims to offer ample market research and analysis tools to help investors navigate the crypto market safely.
Does Elon Musk endorse Profit Maximizer?
While this trading platform is popular, it hasn't gotten a lot of attention from celebrities. So, it is unlikely that Elon Musk would endorse Profit Maximizer anytime soon, especially when the current market is so volatile.
---