Pepe Slips But $NOMEME Pumps 700% After Elon Musk Milady NFT Tweet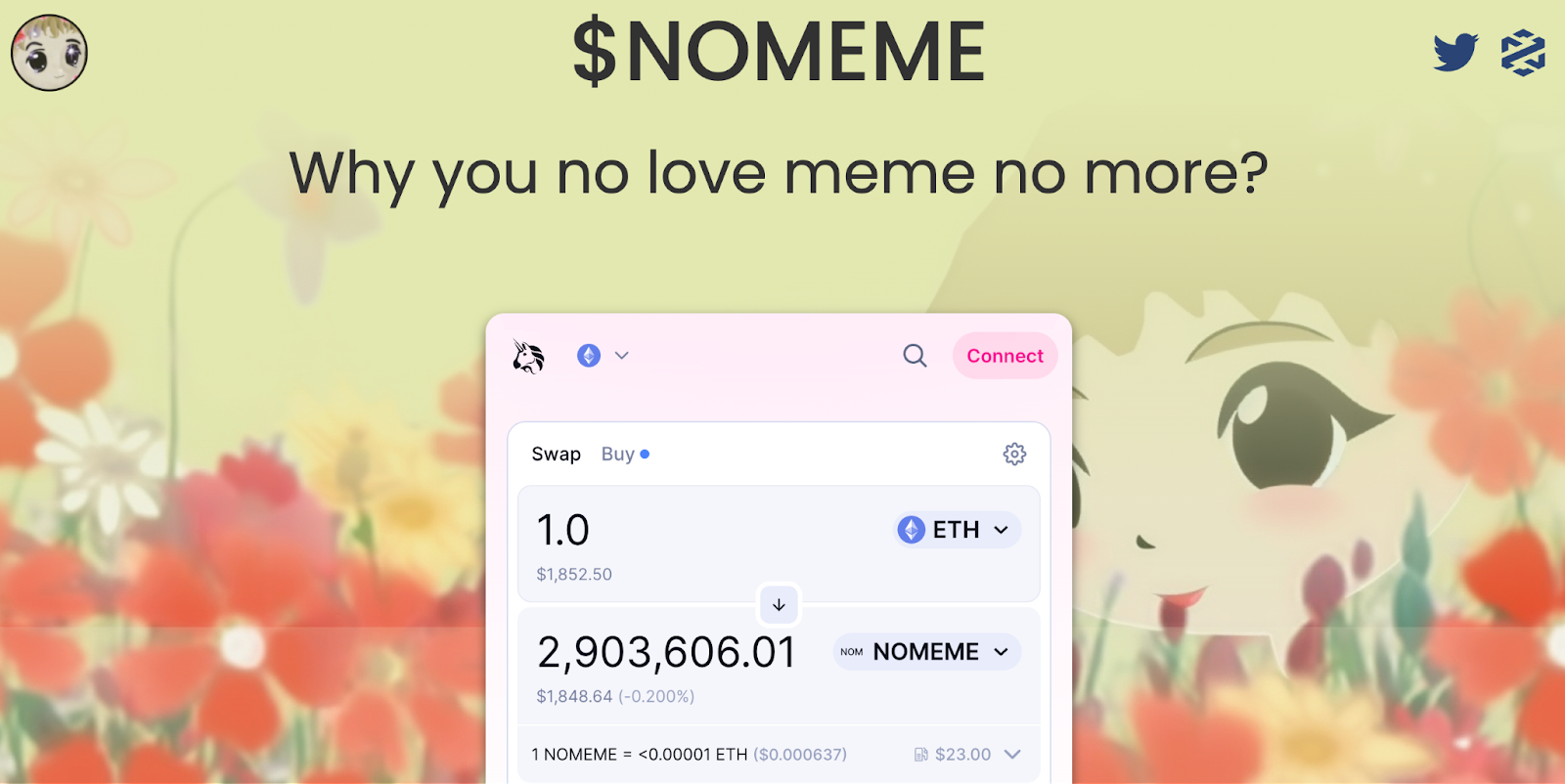 NoMeme ($NOMEME) Token was launched shortly after Elon Musk tweeted a Milady NFT image and its price pumped 700% in its first hour and a half of existence.
The new coin is now trading at $0.0003025 on decentralized exchange Uniswap, quickly amassing a trading volume of $30 million.
$NOMEME has an impressive liquidity of $1.7 million too and analysts are already talking up its 100x returns potential.
In Musk's tweet, he overlays the NFT image with a caption reading:
"There is no meme - I love you". It was a typically cryptic comment by Musk, or perhaps not cryptic at all.
Maybe Musk just likes the collection.
It is a typically mysterious tweet, which is fitting for the Milady NFT collection, surrounded as it is by mystery.
The collection is thought to be the work of the New York-based Remilia art collective and the meanings behind the NFT remain up for speculation.
Not surprisingly, perhaps, Elon Musk's tweet has sent Milady NFT prices through the roof.
The Milady Maker floor price is a whopping $10,575, or 5.7134 ETH at the current exchange rate.
The Milady Maker NFT collection's value has shot up by 54% on top NFT marketplace Opensea.
Has Elon Musk birthed a new coin category with $NONAME in its vanguard?
Elon Musk is well known for his role in pushing up the price of meme coins Dogecoin and Shiba Inu, so fast-moving crypto engineers and teams are showing great agility in promptly taking advantage.
It is not known who is behind $NOMEME, but it was launched at 19:00 UTC, within three hours after Musk posted his tweet.
Those in the know who watch the latest hot trends in the crypto market will have moved quickly to seize this opportunity for gains that could bring token owners astronomic returns.
NoMeme is trending at No.1 on Dexscreener: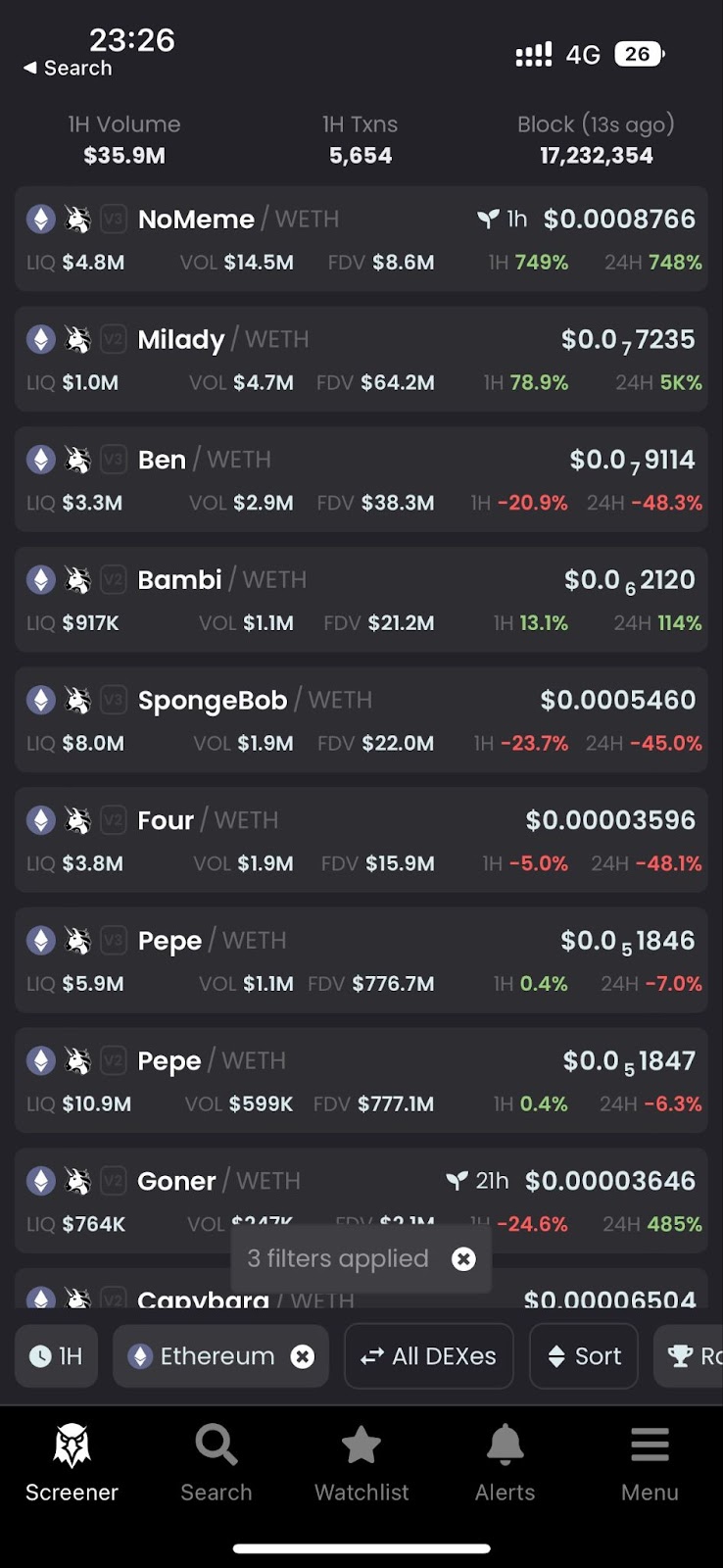 NOMEME is also trending at No.1 on high-profile exchange Crypto.com:



$NOMEME immediately raced ahead to kill a zero, breaking through $0.0010 an hour into the start of trading.
The price has since retraced providing newcomers an optimal entry point.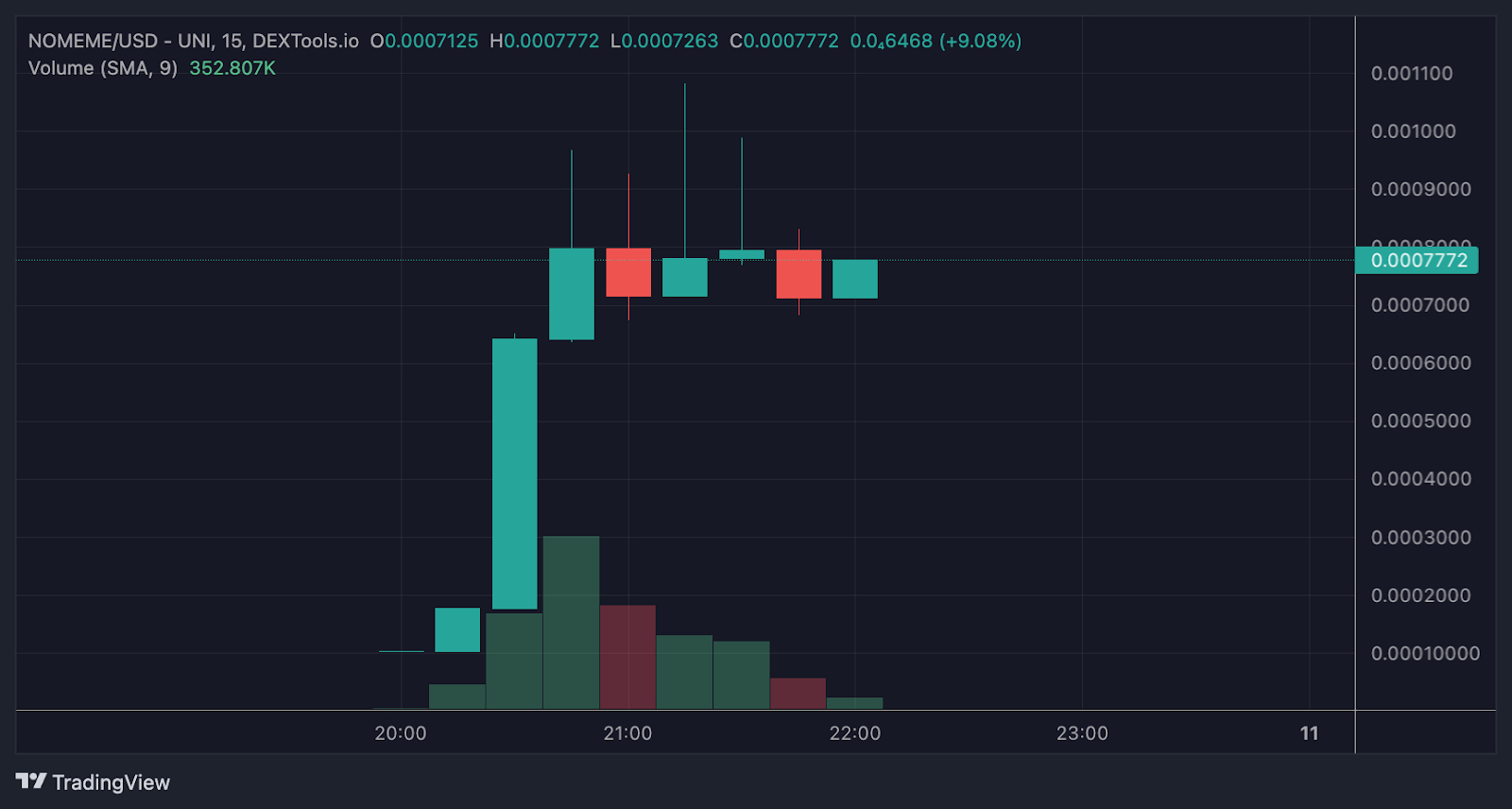 As news of the coin's existence spreads, expect early price action to see its price rapidly appreciate in the coming hours.
Such is Elon Musk's influence – his Milady tweet has been viewed 15.6 million times already and liked 141,500 times – the "NoMeme" news is spreading like wildfire across the internet, and so too is buying interest in $NOMEME.
It looks like the team behind the coin has made it super easy to buy the token.
Just head over to the https://nomeme.io/ website, connect your wallet to the Uniswap widget and make your purchase.
By recent standards, Ethereum gas fees are currently a reasonable $20 or so as opposed to the $90 or more seen last week.
$NOMEME is waiting – get ready for 100x price gains
Will Milady-branded coins and No Meme skits provide the basis for a whole new breed of coins and become the 'cancel culture' kryptonite that extinguishes the Pepe and $SPONGE meme coin new wave? Probably not.
Whatever the immediate outlook of meme coins, $NOMEME is already providing another magnetic pole of attraction for speculative funds flowing into the crypto space.
In fact, $NOMEME could be the meme coin anti-hero that becomes the ultimate meme coin.
It is not the only player in town either. Milady Meme Coin is another Musk-inspired token and it is up massively too, by 5,400% to $0.00000007964.
The smart money is on $NOMEME to more than match those returns in the coming hours and days.
Are you ready for a 100x return on investment?
Of course you are.
---