Pepe Coin Price Prediction as PEPE Rallies 75% After Volume Surge – What's Going On?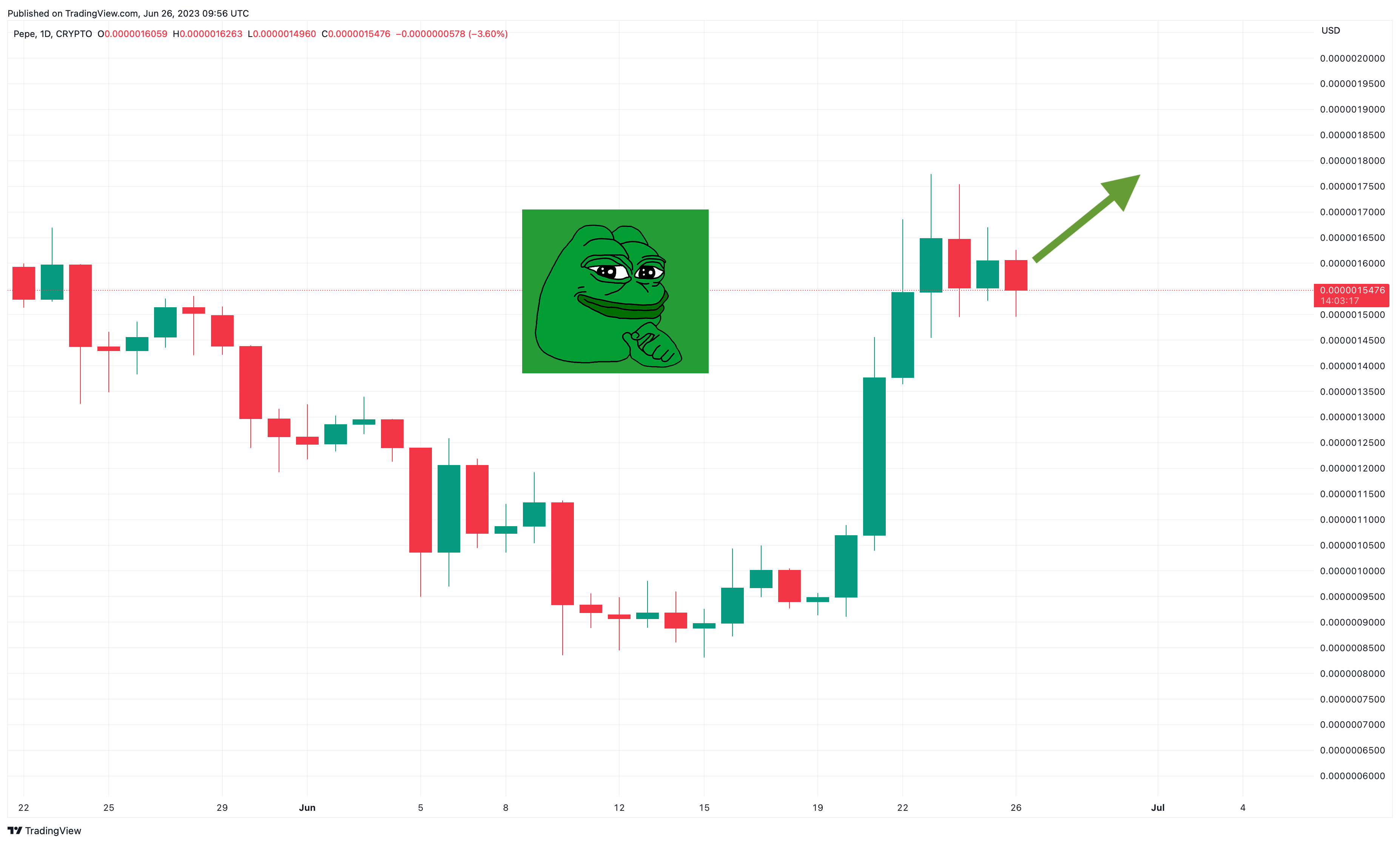 The Pepe Coin price remains up by 75% in the past week, despite falling by 3% today to $0.00000155.
This represents a 2,700% gain since TradingView began tracking the meme token's price in mid-April, although it has fallen by 63% since setting an all-time high of $0.00000431 in early May.
This was when the market's recent mania for meme coins had reached a peak, with PEPE struggling to maintain momentum since then.
However, the recent market-wide recovery (caused largely by BlackRock's application for a spot Bitcoin ETF) has helped PEPE recover in a big way, and with its trading volume remaining high, it could still see further gains in the coming days.
Pepe Coin Price Prediction as PEPE Rallies 75% After Volume Surge – What's Going On?
PEPE's indicators remain in a good position, even if they may be close to correcting, along with the coin's price.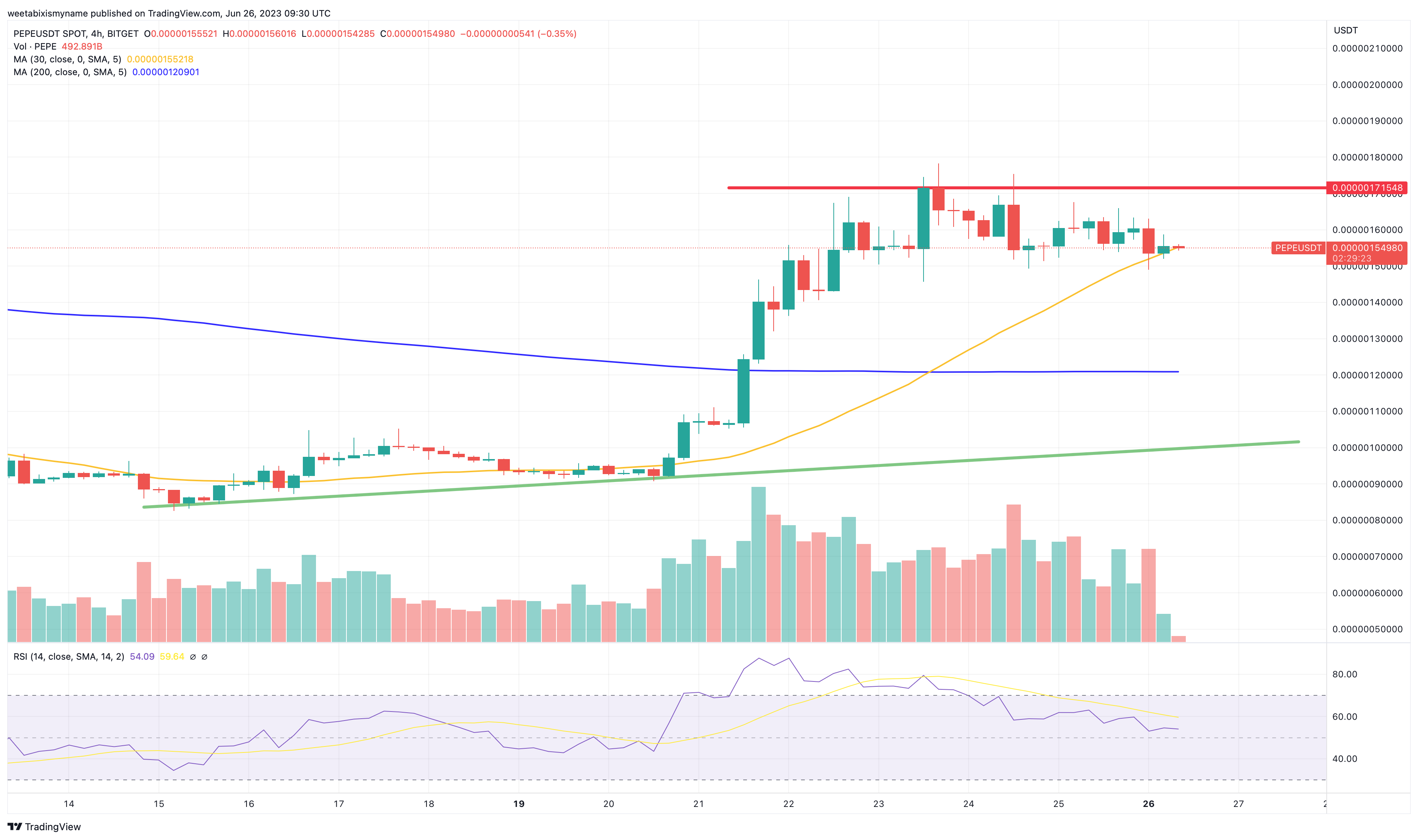 For one, PEPE's 30-day moving average (yellow) has risen well above its 200-day average (blue), meaning that it may be close to plateauing and then coming back down.
Similarly, the meme token's relative strength index (purple) has begun sliding downwards over the past few days, falling from just over 80 several days ago.
This would indicate that PEPE is losing a little momentum and may be due a correction, although it is worth underlining that both indicators remain in strong positions, signaling continued momentum.
It's also worth mentioning PEPE's trading volume, which remains elevated, with today's 24-hour reading at around $250 million.
This is much higher than it was a week ago (when it reached around $70 million), even if it still doesn't quite match the $1.6 billion level it reached when the token hit its ATH of $0.00000431.
It's likely that what has happened in the past few days is that (some) whales have begun buying PEPE again, using the recent market-wide upturn as an opportunity to make a profit out of more speculative alts.
Indeed, the above tweet from Lookonchain makes it clear that one large investor bought around 3.4 trillion PEPE on June 22, which is probably the biggest single factor in the meme token's recent gains.
Of course, the same whale could just as easily sell off their supply in the next few days or weeks (if they haven't already begun selling), meaning that PEPE could just as easily come back down.
That said, there is on-chain evidence that shows that the number of PEPE holders has grown considerably in recent weeks, meaning that ownership of the coin has become more distributed, making it less reliant on any single holder.
For this reason, it can't be ruled out that PEPE will rise further in the near future, potentially increasing to $0.000002 in the next few weeks.
Meme Tokens with More Momentum
It's entirely arguable that PEPE's biggest rallies are now behind it, and that any future gains are going to be pale imitations of its initial flurry of activity and growth.
Because of this, traders looking for the next meme coin-related rally may prefer to look towards tokens that haven't even listed yet, with certain presale coins looking especially promising.
One notable example is Wall Street Memes (WSM), an Ethereum-based cryptocurrency that has already raised more than $10.4 million in its presale, which kicked off at the beginning of June.
WSM has associated and positioned itself within the meme stocks movement, which was responsible for kicking off the GameStop and AMC rallies in 2021.
It's precisely because of this association that it has been able to raise so much money so quickly, with its 238,000 Twitter followers suggesting that it already commands a hefty community of holders and supporters.
Such a community will be vital if WSM is to have staying power as a meme coin, which tend to live and die by the health of their surrounding sub-culture.
New buyers can participate in the token's presale by visiting the official Wall Street Memes website and connecting their crypto wallets.
The sale is currently in its 18th stage, with 1 WSM selling for $0.0304.
This will increase to $0.0337 by the time the sale enters its 30th and final stage, although WSM's price has a real chance of rising much higher when it lists on exchanges later in the year.
Disclaimer: The Industry Talk section features insights by crypto industry players and is not a part of the editorial content of Cryptonews.com.
---