NOW Wallet Supports All Tokens on Six Blockchains
Disclaimer: The text below is an advertorial article that was not written by Cryptonews.com journalists.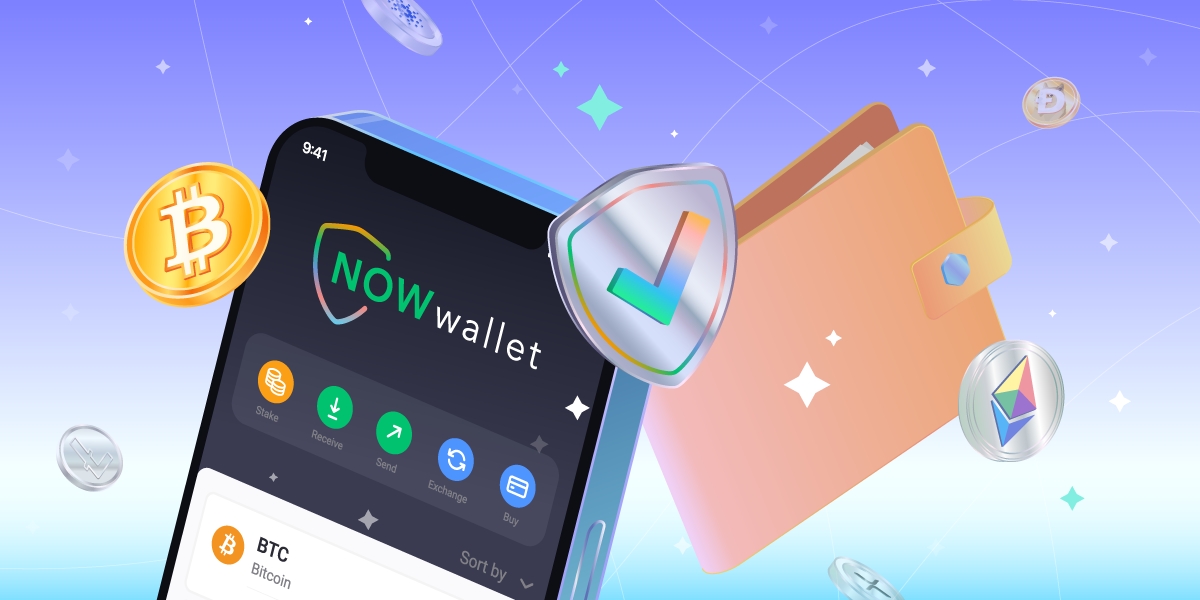 The crypto universe is expanding at an exponential rate, with a large number of new tokens and dApps springing to life every day. NOW Wallet offers something truly revolutionary with its support for all tokens on six public chains.
NOW wallet users can store and send tokens on Ethereum, BTC, Polygon, AVAX С-Chain, TRX, and KLAY networks. No more waiting for new tokens on the supported chain to be listed in the wallet – any new tokens appearing on the supported chain will be added automatically. All NOW wallet users have this advantage already for free.
The NOW Wallet team stays on top of the hottest trends in crypto, which is why it also implemented support for NFTs in the wallet app. It is possible to securely store and send ERC-721 and ERC-1155 NFTs in NOW Wallet, with support for more NFT standards coming soon.
What Makes NOW Wallet Unique
NOW Wallet, available on Google Play and App Store, was developed by the same team behind ChangeNOW, a cryptocurrency exchange and processing platform with years of experience and a global user base of over 4 million. In the same way as the flagship platform, NOW Wallet is a non-custodial solution, which means your funds aren't accessible by third parties. There is no compromise on safety and security.
All major coins and tokens can be stored, exchanged, and sold with the wallet, including BTC, Ethereum, DOGE, XMR, BNB, ADA, XRP, TRX, USDT, Theta, and SOL, along with any coin you can imagine on ETH, BTC, Polygon, AVAX Chain, TRX, and KLAY networks. Additionally, it allows you to buy crypto with your Visa, MasterCard, or bank account using fiat-to-crypto exchanges right in the app. The exchange process is fast and completed at the best rate possible for the customer.
Additionally, NOW Wallet users can earn passive income by staking BNB and NOW tokens, which gives them progressive rewards the longer they hold them and the larger the amounts they hold.
Why the Support for All Tokens Is Such a Big Deal
NOW Wallet is the only crypto wallet that supports all tokens across so many blockchains, and more will be added in the near future. So users can be confident that any token they need within a supported public chain will work with NOW Wallet:
1. Ethereum
The Ethereum blockchain system consists of decentralized open-source software and its own cryptocurrency Ether. The ETH protocol provides a platform for decentralized smart contracts, as well as numerous other cryptocurrencies.
2. Binance Smart Chain
Binance is not only the largest cryptocurrency exchange in the world, but it's also a whole ecosystem for its users. BNB was originally an ERC-20 token on the Ethereum blockchain. After introducing its own blockchain, Binance started issuing coins using its own blockchain, secured by the Tendermint byzantine-fault-tolerant consensus method. The native token of the ecosystem, BNB, has a market cap of USD 49,574,360,156 at the time of writing.
3. Polygon
The Polygon platform is the first well-structured platform for Ethereum scaling and infrastructure development. Its core component is Polygon SDK, a modular, flexible framework that is used to build a wide variety of applications. Through Polygon, Ethereum is transformed into a full-fledged multi-chain system (also known as the Internet of Blockchains). The native token of the blockchain is Polygon (MATIC), which has a market cap of USD 4,360,559,605 at the time of writing.
4.Avalanche
As measured by time-to-finality, Avalanche is the fastest smart contracts platform in the blockchain industry. After launching on mainnet in September 2020, it has grown to secure more than 450 projects. As of this writing, AVAX's native token has a market capitalization of USD 7,888,480,357.
5. TRON
Tron (TRX) is a decentralized blockchain-based operating system launched in 2017 by the Tron Foundation. Originally TRX tokens were deployed on Ethereum's ERC-20 protocol, but a year later they were moved to their own network. TRON software supports smart contracts, various types of blockchain systems, and decentralized applications. Built as an alternative to Ethereum, it serves as a tool for developers to build dApps. The TRON network allows anyone to build dApps, offer content, and receive digital assets as compensation. TRON (TRX) is the network's native token with a market capitalization of USD 7,227,191,055.
6. The Klaytn blockchain
The Klaytn blockchain is a public blockchain focused on the metaverse, gamefi, and the creator economy. It offers an end-to-end metaverse package that includes L2 solutions, SDKs, smart contract libraries, IPFS solutions, wallets, chain explorers, oracles, bridges, and an ecosystem of supporting services such as stablecoin integration, NFT marketplaces, tradefi interfaces, among others. KLAY is the ecosystem's native digital asset (market cap USD 1,194,790,244 as of this writing). Additionally, there are 362 lesser known tokens included in the protocol.
Other wallets that let you store tokens on a specific network commonly require you to enter the contract address yourself in order for the token to appear on your balance. With NOW WAllet, you don't have to do anything extra – all the supported tokens are already displayed in the app.
If you cannot find the token you need in the wallet, you can contact the NOW Wallet support team and they will make it immediately available to buy, sell, and store – that's really a breeze.
Token Swaps
NOW Wallet offers low fees for token swaps. When the tokens are available on several networks, they can be swapped over with a few taps in the wallet. Token swaps don't need to be expensive – you can choose whatever token you want and swap it to another network – the costs won't hurt your budget.
Don't Fall for Scam Tokens
Such an abundance of new tokens paves the way for new promising projects and innovations. Yet this is also a hotbed for scammers. Unfortunately, scam tokens are sometimes created on networks for the purpose of fraud.
Here are some tips on spotting a scam token:
In some tokens, the buy fee is 99%, so the buying process will drain all of your funds.
There are some tokens (like SQUID Token) that can only be sold by their owners. A buyer has no option to resell them.
Some tokens come with a 99% sell fee, which will rob you of every penny you invested.
Some allow the token owner to create more coins in their wallet and sell them.
The next category includes tokens with security flaws in their source code, which may be exploited by hackers.
Keep a careful eye out for tokens that look suspicious and do not send them anywhere.
---