New Cryptos Pump on DEXTools After Elon Musk Twitter Space – President Ron DeSantis (RON), Donald (TRUMP) Shitcoins
Disclosure: Crypto is a high-risk asset class. This article is provided for informational purposes and does not constitute investment advice. By using this website, you agree to our terms and conditions. We may utilise affiliate links within our content, and receive commission.


With a low DEXTscore and several smart contract warnings, new crypto coins with a US election theme have topped the daily gainers charts on DEXTools.
Unlike centralized crypto exchanges (such as Binance, Coinbase) anyone can list a new cryptocurrency token on a decentralized exchange (Uniswap, PancakeSwap) and often tokens pumping by tens of thousands of percent on a DEX are crypto scams.
Elon Musk Twitter Space Inspires New Crypto Shitcoins
While some 'shitcoins' can be bought and sold for a profit by experienced traders, the $TRUMP token for example has a 98% transaction tax on selling it, which some beginners may be trapped by.
The new crypto tokens may have been inspired by the 'technical glitches and hot mic moments' of DeSantis' recent Twitter Space, hyped by Elon Musk.
A viral parody of the event features DeSantis, George Soros, Klaus Schwab, Dick Cheney, Adolf Hitler, the Devil and Trump.
https://www.twitter.com/PapiTrumpo/status/1661491175281311745
President Ron DeSantis Token
President Ron DeSantis (RON) token has a blacklist function, modifiable tax and other issues in the automatic audit results displayed on its dextools.io page.
RON token currently only has 69 holders despite pumping over 30,000%, and a 53/99 rating.
That could suggest its price explosion is not real organic demand from buyers looking to invest in a Ron DeSantis coin.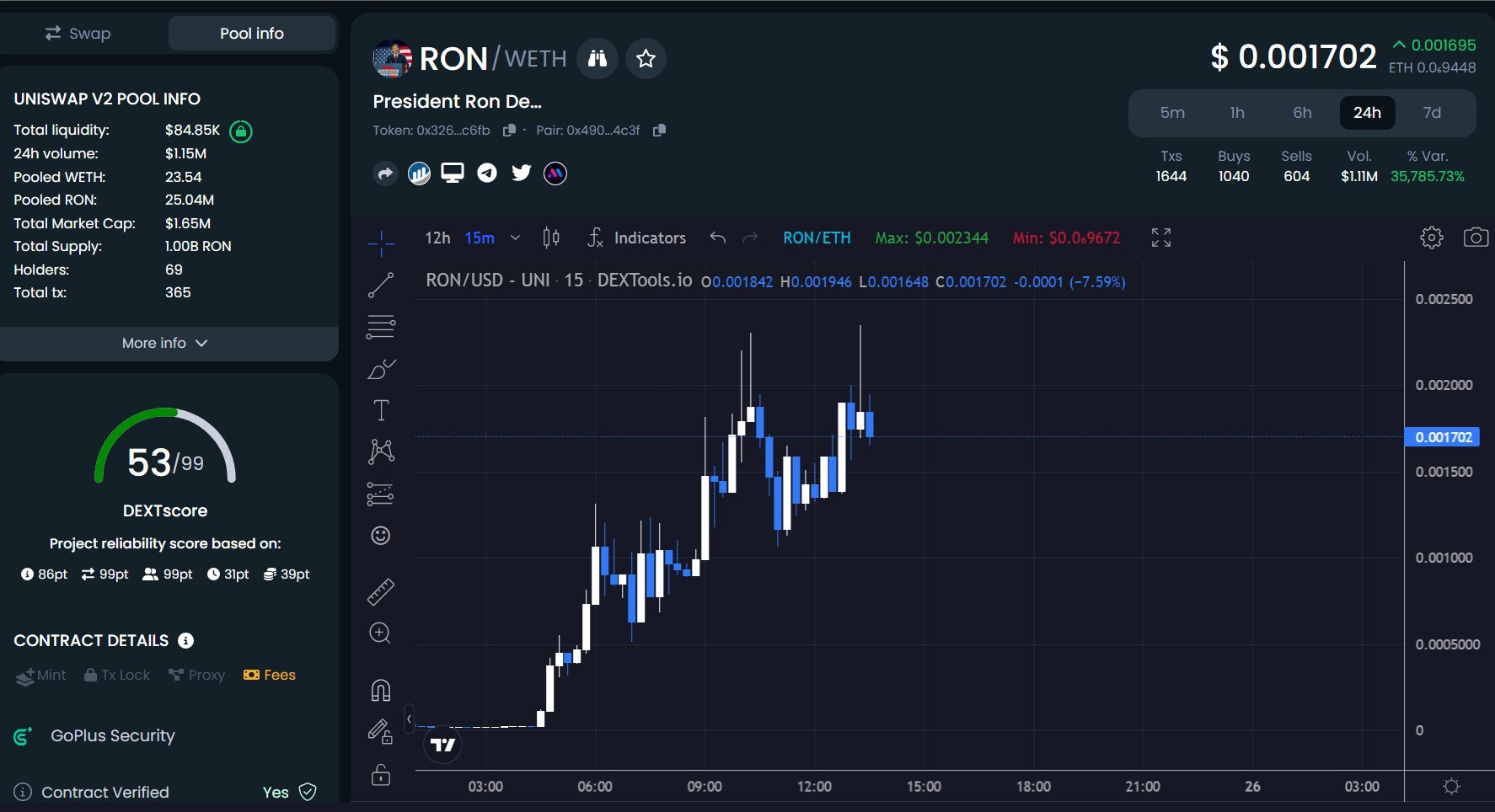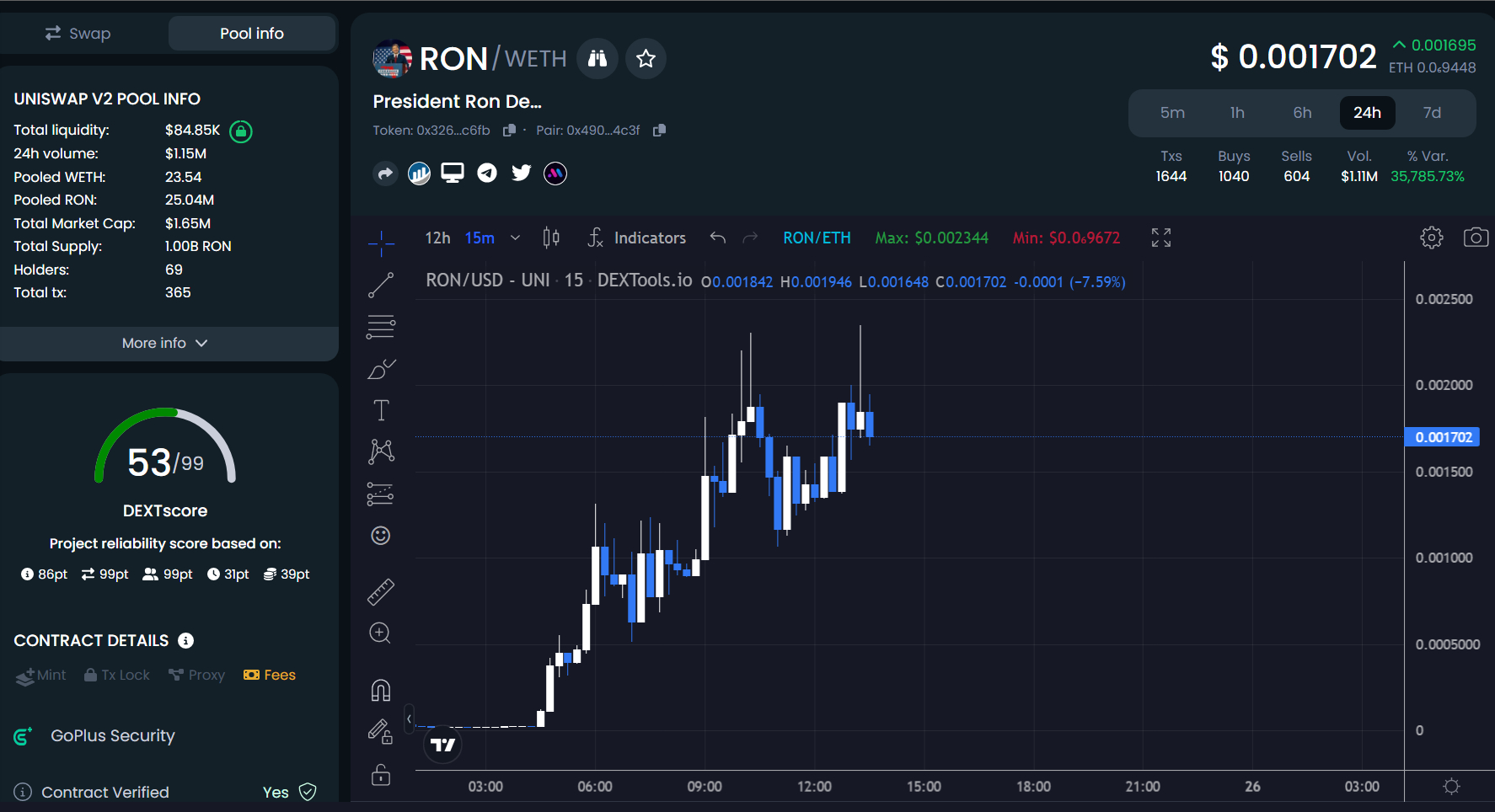 Another new coin on Uniswap Trust The Ponzi (TRUST) is also trending, a reference to QAnon phrase 'trust the plan' during the last US election race.
On May 24th a $BIDEN token also appeared on Uniswap before immediately retracing its initial pump.
Donald Trump Token
Donald (TRUMP) has a 98% sell tax, meaning any buyers will lose all but 2% of their tokens when closing a position, and a very low project reliability score of 19/99.
There are 77 holders of $TRUMP token. With its low liquidity, very little real buying volume is required to pump it by a large percentage in the five figures.
While buyers may be drawn in by seeing the Trump coin price up over 10,000%, they will not be able to take profit and realize any gains.
Safe New Cryptocurrency Projects
Earlier this week religious themed coins were the latest new crypto craze, which we reported also had similar issues with their Uniswap pairs.
We've reviewed many safe new cryptocurrency coins here at CryptoNews, some at the presale stage and others recently listed on Uniswap or centralized exchange (CEX) platforms.
In total we've picked out 21 new crypto coins with high growth potential for 2023 and heading into 2024, including a mix of meme coins and utility tokens.
Related
---