Mining Monero on HTC Exodus 1s is Coming in 3 Months
HTC Exodus 1s smartphone users should soon be able to mine crypto directly on their phone.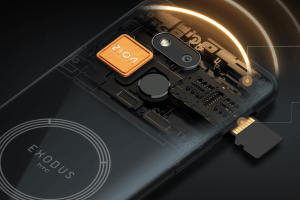 HTC, a major Taiwanese consumer electronics company, has partnered up with ASIC chip design company Midas Labs in order to enable users of the HTC blockchain-powered smartphone Exodus to utilize their devices to mine Monero (XMR) directly.
This will be accomplished via an app dubbed DeMiner, which is being developed by Midas Labs. Per the joint press release, the app is expected to become available to the smartphone users within these three months of this year's second quarter, so until the end of June.
The partners further explain that the DeMiner app works when the phone is plugged-in, and it's designed to automatically inactivate mining when the phone is in regular use and when the charger is unplugged so that the phone's normal operating standards would not be stressed.
Furthermore, the app is designed to enable a smartphone to have a hashrate comparable to a desktop, but consuming "much less" power, claims Dr. Jri Lee, founder and CEO of Midas Labs and Professor at National Taiwan University. "Starting from open source frameworks we restructured and optimized mining for mobile," he says, and adds that Exodus 1s users will be able to mine at least USD 0.0038 of XMR a day on average, "while the electricity cost is less than 50% of that."
As for the reasons behind this move, the consumer electronics giant argues that this is "an important breakthrough for the crypto community" as it brings everybody closer to the company's goal of enhancing blockchain security and decentralizing mining by making it practical, cost-efficient, and therefore available to the masses.
"The crypto world is under threat from the domination of the hashrate by giant mining pools," claims Phil Chen, Decentralized Chief Officer at HTC. "The most effective way to eliminate this problem is to make mining accessible for the masses, and that is through mobile," he says, adding that Monero, a privacy-centric token, "fits very well within the Exodus vision."
As reported, the 1s also comes with the Bitcoin (BTC) full node capability – which is software that allows devices to verify and process blocks in the Bitcoin network, thus allowing you to keep the entire Bitcoin ledger in its memory.
Meanwhile, Midas Labs has also announced its seed funding round, led by deep tech venture capital fund Proof of Capital, at which Chen is a General Partner, raising an undisclosed sum.
HTC launched its Exodus 1 in October 2018, and it unveiled its Exodus 1s a year later. In March this year, the company announced its work on a new blockchain router, dubbed Exodus 5G Hub, which will enable users to run a full bitcoin node and relay transactions, removing the need for a third party. It too should be available for purchase in Q2 of 2020.
We contacted HTC for comment and will update should they reply.
---