MicroStrategy and Willy Woo Have Good News For Bitcoin Bulls (UPDATED)
Just as a major US-based giant announced that it has increased its already large exposure to bitcoin (BTC), popular crypto analyst Willy Woo shared three new charts, which all painted a bullish picture for the number one cryptocurrency. (Updated at 15:21 UTC: updates in bold).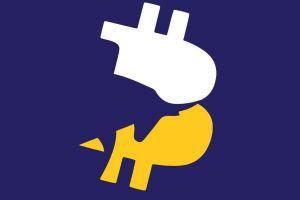 Michael J. Saylor, CEO of MicroStrategy, the US-based major business intelligence company which in August said it spent USD 250m on BTC, today confirmed today that the company "completed its acquisition of 16,796 additional bitcoins at an aggregate purchase price of $175 million" yesterday.
"To date, we have purchased a total of 38,250 bitcoins at an aggregate purchase price of $425 million, inclusive of fees and expenses," he said.
In a recent filing with the US Securities and Exchange Commission the company has already indicated that its holdings "may increase beyond the USD 250 million" initial investment.
MicroStrategy raised eyebrows in the crypto community and beyond when it first announced its intention to invest a large part of its cash holdings in bitcoin, effectively turning the company's publicly traded stock into a play on the bitcoin price. "MicroStrategy has recognized Bitcoin as a legitimate investment asset that can be superior to cash and accordingly has made Bitcoin the principal holding in its treasury reserve strategy," the CEO said back then.
Since MicroStrategy's initial investment was announced on August 11, however, the bitcoin price has dropped by around 10%. At the time of writing (15:16 UTC), BTC trades at USD 10,797 and is up by 1% in a day and 6% in a week. The price is down by almost 9% in a month, trimming its annual gains to 5.5%.
And while the software firm left the door open for an even larger bet on bitcoin, the well-known bitcoin analyst Willy Woo yesterday shared several bitcoin price models that all suggested a new bull run may be ahead for the cryptocurrency.
Writing in a Twitter thread, Woo said about his first model that a new "impulse of coins changing hands" has now completed, suggesting the next move for the bitcoin price is "likely upwards."
"It's very unlikely we'll see any kind of a catastrophic dump in price from here," the analyst added.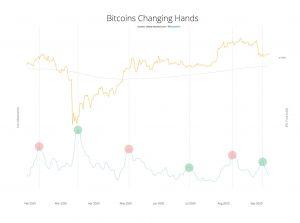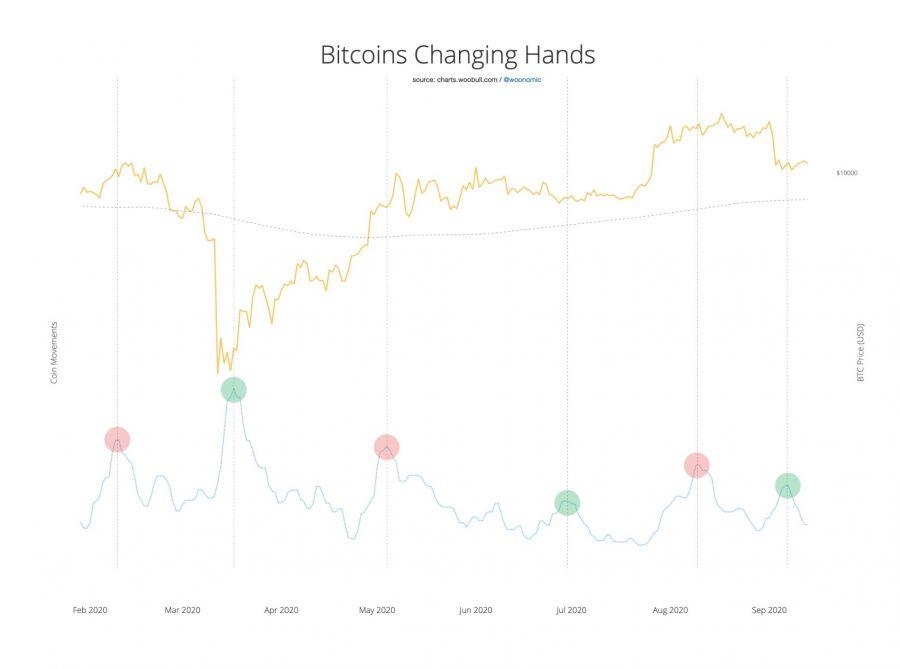 And despite warning that a "short term dump" could occur in bitcoin due to a weekend price gap on bitcoin futures on the CME exchange, Woo noted that "There's a lot of bids in the spot orderbooks wanting to snap up the gap in the mid-high 9000s."
Additionally, the analyst also shared snapshots of both his Bitcoin Difficulty Ribbon model and the Bitcoin RVT Ratio model, which both showed a bullish outlook for bitcoin.
"Overall, I'm not expecting any mega dump, some chance of smaller whipsaws in the short timeframes, resistance is teetering," Woo said, adding that now may be "not a bad time to get in if you're a spot investor, given the longer range macro.
"There's plenty of buy support below [USD 10,000], this is a buy the dip scenario," the analyst said.
___
Learn more:
Bitcoin Whales Using 2020 to Accumulate BTC - Research
September is Bitcoin's Worst Month & It Can Get Worse This Year - Kraken
Brace For More Bitcoin Flash Crashes In This Bull Market - Hut 8 Founder
This Generalist Investor Goes Long on Bitcoin, Says USD 40K-100K Possible
Fiat Failures, Inflation to Fuel 'Fear-Driven' Bitcoin Rally - Crypto Insiders
---