Meme Kombat Price Prediction 2023 – 2030
Disclosure: Crypto is a high-risk asset class. This article is provided for informational purposes and does not constitute investment advice. By using this website, you agree to our terms and conditions. We may utilise affiliate links within our content, and receive commission.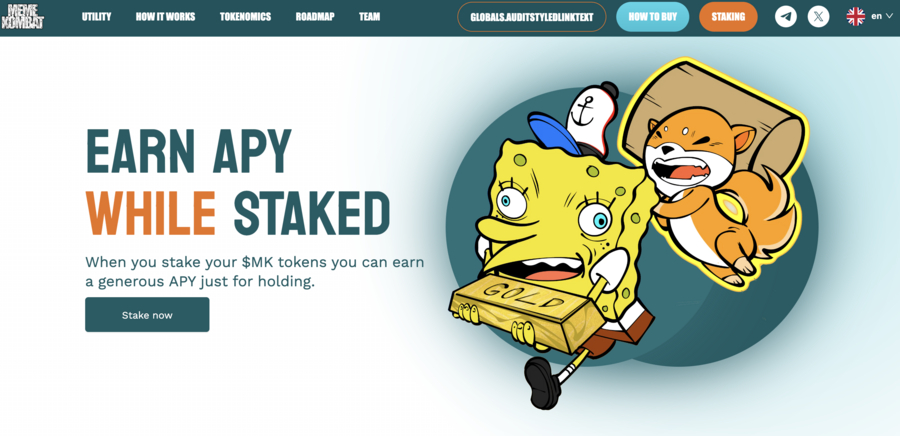 Meme Kombat ($MK) is a hot new token that combines the charm of memes and competitive gaming to create a unique Ethereum-based token—$MK.
The platform recently launched its presale and has already raised over $2 million in a few months, showing strong initial interest from investors. 
It has a roadmap that outlines its plans to further increase utility and also offers an annual percentage yield (APY) on staking of 477%.
This article outlines the Meme Kombat price prediction from 2023 through 2030, alongside analyzing factors that could influence its market value.
Meme Kombat Price Prediction Summary
End of 2023: Meme Kombat's native token, $MK, is projected to reach $4 by 2023, with an approximate 140% increase from its presale price of $0.287. Factors driving this estimate include a successful platform launch, in-game utility, and staking mechanisms. The game's official launch, anticipated in October or November 2023, is expected to catalyze this price movement.
End of 2025: With the rollout of Seasons 1 and 2 aimed at increasing user engagement and platform features, the $MK token could reach a valuation of $0.717 by 2025's end. User engagement, blockchain gaming trends, and community involvement are pivotal in this projection.
End of 2030: Considering the broader growth of the blockchain market, estimated to reach $469.49 billion by 2030, and Meme Kombat's focus on continuous updates and community-driven initiatives, $MK tokens could potentially hit $1 by the decade's end.
Meme Kombat Price History
Meme Kombat has taken a unique approach in merging the cultural trend of memes with competitive gaming, all built on Ethereum's blockchain, making it one of the best meme coins to watch.
The native crypto of this ecosystem is the Meme Kombat Token ($MK), designed to fuel interactions within the game and between its users.
The token debuted in a presale with a hard cap goal of $10 million. Investors showed considerable interest, drawn by the competitive pricing of $MK at $0.205 per token. 
The platform has already raised over $2 million in less than a few months of its launch, showing strong initial support from investors.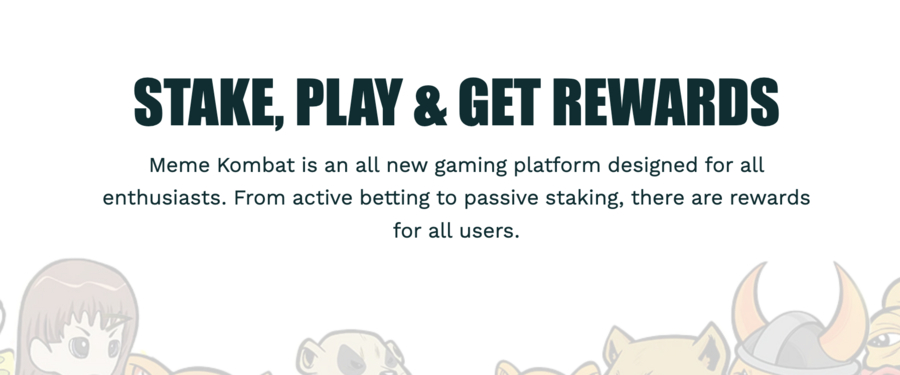 According to the Meme Kombat whitepaper, the total supply of $MK is 120 million tokens. The distribution plan allocates 50% for the presale, which equals 60 million tokens. 
This allocation shows a community-focused approach to tokenomics, ensuring that half of the supply is given to early believers while adding to ecosystem liquidity and stability.
The initial buzz and carefully designed tokenomics hint at a promising future. As the platform moves past the presale, the price of $MK is expected to be influenced by factors like user adoption rates, in-game utility, and the expansion of features.
Investors and gamers should monitor these variables, as they could directly impact $MK's price trajectory.
Early involvement could be beneficial, but it's essential to research and assess your risk tolerance before diving in.
Key Points:
Meme Kombat is built on the Ethereum blockchain, merging memes with competitive gaming through its native token, $MK.
The $MK token presale has a hard cap of $10 million and offers tokens at a discounted price of $0.205 each.
The Meme Kombat tokens have a total supply of 120 million $MK, 50% of which is allocated for the presale.
Meme Kombat Price Prediction 2023
Meme Kombat's native token, $MK, will likely expand its market presence with plans to be listed on more exchanges in the coming months. 
The listing could be a game-changer for the project, potentially driving the token's price higher due to increased accessibility and exposure.
The successful completion of the presale—pegged at a hard cap of $10,000,000—will set the stage for the platform's official launch.
The best crypto projects usually have a whitepaper that clearly outlines their plans for the future. Meme Kombat's roadmap states it is gearing up for its official launch in October or November 2023.
The launch is a massive milestone for any project and often acts as a catalyst for price movements. With the platform going live, users will gain access to its core features, including battles, staking, and more.
Consequently, the utility of $MK within the ecosystem will increase, creating a natural demand for the token.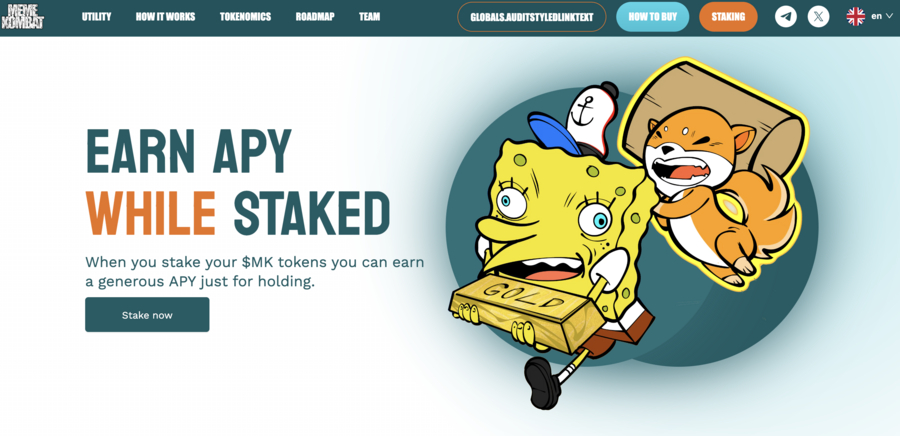 The platform launch is designed to attract both casual users and crypto enthusiasts. It brings a unique blend of meme-based characters and battle arenas, tapping into the growing trend of gamified experiences. 
Adding to this, the platform offers staking mechanisms, where $MK holders can earn passive returns. The staking pool, estimated to hold 30% of the total $MK supply, could serve as a constant price support mechanism, providing investors a reason to hold rather than sell.
Given these features and planned rollouts, more users will join the Meme Kombat ecosystem. The increased demand could drive the token price upwards. 
Considering these growth prospects, Meme Kombat's $MK token could reach $0.287 by the end of 2023 – an approximate 140% increase from its presale price. However, upcoming events and market shifts could affect these estimates.
Meme Kombat Price Prediction 2025
Per the platform's roadmap, Meme Kombat's Season 1 aims to engage users through battles and leaderboards. 
Its objective is clear: build a solid user base and create initial buzz. This directly influences the $MK token's demand, as players need it to engage in battles and other in-game activities.
Moreover, Season 2 will also roll out, adding new battle types and rewards. This move signals Meme Kombat's dedication to innovation, and by this time, the project would have received more user traction.
Based on the roadmap and token utility, a $0.717 valuation for $MK by the end of 2025 is plausible under certain conditions. Here's how:
User Engagement: Seasons 1 and 2 are crucial for building a committed user base. More users mean more demand for $MK tokens for staking, wagering, and earning passive income.
Blockchain Gaming Boom: The broader context of the blockchain gaming industry can't be ignored. As it gains mainstream traction, projects like Meme Kombat will naturally benefit.
Community and Partnerships: An engaged community and strategic partnerships can serve as a multiplier for token demand. With 10% of the total $MK token supply allocated for community rewards, this shows promise.
Market Sentiment: Crypto markets are driven by sentiment. Positive advancements from the Meme Kombat team could result in bullish sentiment and a price surge.
Meme Kombat Price Forecast 2030
The global blockchain market was valued at around $11.14 billion in 2022. It is expected to rise to $469.49 billion by 2030. This expansion will likely boost cryptos like Meme Kombat as blockchain spreads across different sectors.
The project's roadmap also includes launching new game modes and partnerships. These can attract users from various crypto and gaming niches.
Moreover, Meme Kombat plans to sustain active community involvement. Through community-driven updates, user satisfaction could increase, boosting credibility and demand. 
The more the community feels heard, the more loyalty the platform can gain, contributing to a potential price increase.
Regular updates to gameplay, tokenomics, and the platform can further improve the user experience. Also, any upgrades in crypto tech can attract a broader user base, increasing the demand for $MK tokens.
Combining the anticipated blockchain market growth, continuous upgrades, active community engagement, and targeted expansion, $MK tokens can reach $1 by 2030's end. While the broader crypto market remains uncertain, these contributing factors offer a strong case for potential long-term value gain.
Potential Highs and Lows of Meme Kombat
With an ability to leverage the power of memes with AI and gaming and an initial price of $1.667, $MK has the potential to be one of the best low-cap cryptos on the market.
Here's a summary of the Meme Kombat price prediction with potential highs and lows until 2030: 
| | | |
| --- | --- | --- |
| Year | Possible Low | Possible High |
| 2023 | $0.2 | $0.287 |
| 2025 | $0.5 | $0.717 |
| 2030 | $0.8 | $1 |
What is Meme Kombat?
Meme Kombat is an emerging Ethereum-based token that blends the viral nature of memes with the thrill of fighting arenas.
The project's native token, $MK, has undergone a Coinsult audit and is at the heart of the Meme Kombat ecosystem.
Leveraging AI algorithms, the game creates unpredictable fights between Meme Coin characters while offering a gambling component.
The platform's presale has secured over $2 million in less than two months, showing strong initial support from investors.
Using $MK tokens, you can place bets on these outcomes, and winning bets get additional $MK tokens and other perks.
How the Betting Mechanics Work
Player-vs-Player Betting: Individuals gamble directly against one another, increasing the stakes in risky face-offs.
Player-vs-Game Betting: You can also wager on specific in-game events, applying classic odds calculations for risk and return assessments.
Additional Betting Options: Apart from the above, bets can be made on individual match outcomes or other fluctuating game elements.
Combining these diversified betting structures with AI-driven battles gives Meme Kombat an unparalleled gaming experience. The blockchain basis ensures that all activities are transparent and fair.
Staking Benefits
Users can earn passive income by staking $MK tokens through the official website. This serves two objectives:
It rewards sustained commitment to the ecosystem.
It offers market stability by encouraging token retention.
The platform offers a massive APY of 477% on staking, providing an excellent opportunity to compound returns to early buyers.
Also, 30% of the total token supply is reserved for staking and battle prizes, further incentivizing users to engage in staking.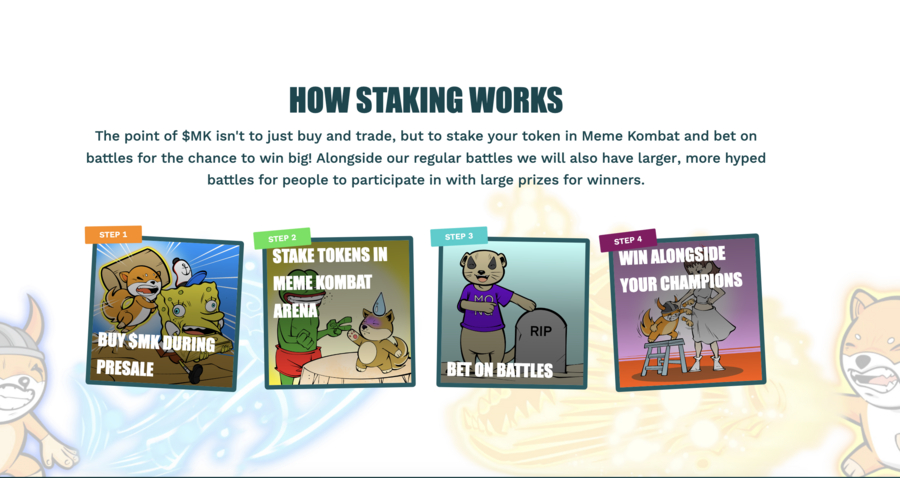 Although the tokens can be unstaked after network activation, a 14-day lock-in period applies. It's worth noting that no partial withdrawals are allowed. On re-staking, the APY benefits reset, beginning a new lock-in cycle.
Moreover, early adopters can get the advantage of automatic staking, leading to high APYs even before the presale ends. Once the presale ends, daily APY compounding becomes available to all.
Tokenomics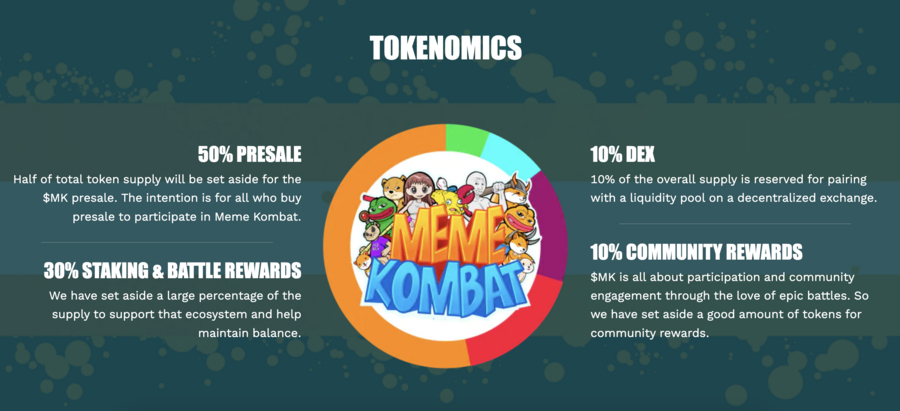 Its supply cap is 120 million $MK tokens, designed to create a strong community over the long term. Here's a breakdown of the tokenomics.
Presale: 50% or 60 million tokens
Staking & Combat Rewards: 30% or 36 million tokens
Decentralized Exchange (DEX) Allocation: 10% or 12 million tokens
Community Rewards: 10% or 12 million tokens
What Influences the Meme Kombat Price?
Many internal and external factors can influence meme Kombat's price. Below are some key factors:
User Engagement in Betting and Staking: The dual utility of $MK tokens for wagering in battles and staking for APY makes the token highly functional within its ecosystem. Higher engagement not only improves the token's utility but also its demand, thereby affecting its price.
Roadmap and Updates: Meme Kombat has an ambitious roadmap, including scheduled rollouts and gameplay improvements. Achieving these milestones can increase investor confidence and drive the $MK token price.
Market Sentiment and Trends: Being an Ethereum-based token, $MK's price is also subject to the overall market trends and crypto regulations affecting the Ethereum network and the crypto world. A bull market could positively impact the token's value and vice versa.
Community and Partnerships: Meme Kombat's plans involve community feedback and new partnerships. A strong, engaged community and high-profile partnerships could put significant bullish pressure on the token price.
Economic Models: The project's tokenomics, such as allocating tokens for staking and rewards, are designed to create a stable environment. Any change or imbalance in this economic model, like a change in APY rates, could influence the $MK price either way.
How to Buy Meme Kombat
Here's a quick seven-step process explaining how to buy Meme Kombat tokens:
Step 1 – Set Up a Wallet 
Download a crypto wallet. MetaMask and Trust Wallet are popular choices, available as browser extensions or mobile apps.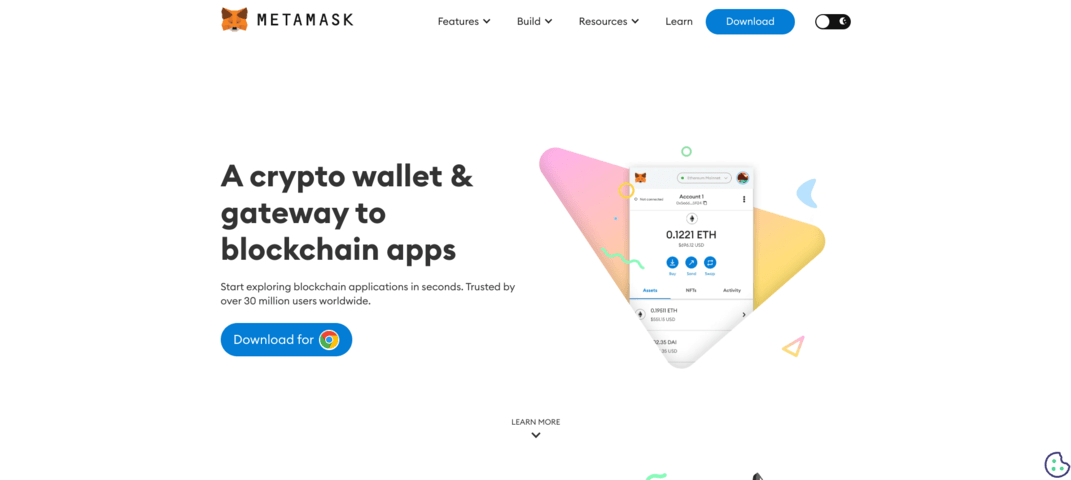 Step 2 – Load Your Wallet 
Deposit crypto like ETH, BNB, or USDT into your wallet. This can be done directly within MetaMask or by transferring from another crypto exchange.
Step 3 – Go to Meme Kombat's Site 
Visit the official website at www.MemeKombat.io. Locate the presale buy form at the top of the homepage, which is the only official way to buy Meme Kombat tokens in presale.
Step 4 – Pick Crypto To Exchange 
Depending on your choice, decide whether you'll use Ethereum (ETH or USDT) or the Binance Smart Chain (BNB or USDT).
Step 5 – Connect Wallet 
Hit the "Connect Wallet" button on the site. Your wallet will typically connect to the Ethereum Mainnet by default. If you're using Binance Smart Chain, you may have to approve a network change.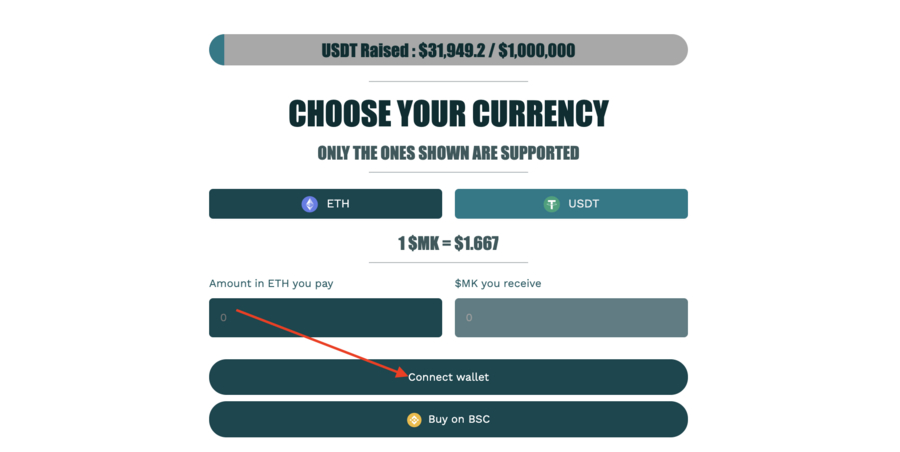 Step 6 – Specify Token Quantity 
Input how many $MK tokens you want. Keep in mind there's a minimum requirement. For Ethereum, it's 0.015 ETH on top of the token cost; for Binance Smart Chain, it's a different but mandatory minimum. The minimum purchase is $5.
Step 7 – Confirm Purchase 
Confirm the transaction details. Wait for the on-chain process to complete, which could vary depending on network traffic. Remember to stay on the page until it's completed.
Note: After the $MK presale starts, you can stake your tokens for APY earnings even before the presale finishes. If you opt not to stake, you can claim your tokens from the official website once the network goes live. The exact launch date is unknown, contingent on when the presale ends.
You can join the Meme Kombat Telegram channel and follow it on X (formerly Twitter) to get the latest updates.
Best Exchange to Buy Cryptocurrencies
With over 160 million users and the largest spot and derivatives trading volume every day, Binance is the largest and the most popular crypto exchange.
You can buy over 350 cryptocurrencies, including popular coins like Bitcoin, Ethereum and Solana, and less popular ones like MEME and ORDI. Binance frequently lists new coins and it even launches new coins via its launchpad where over 70 coins have raised more than $100 million, giving Bianance users the chance to buy in early before official listing.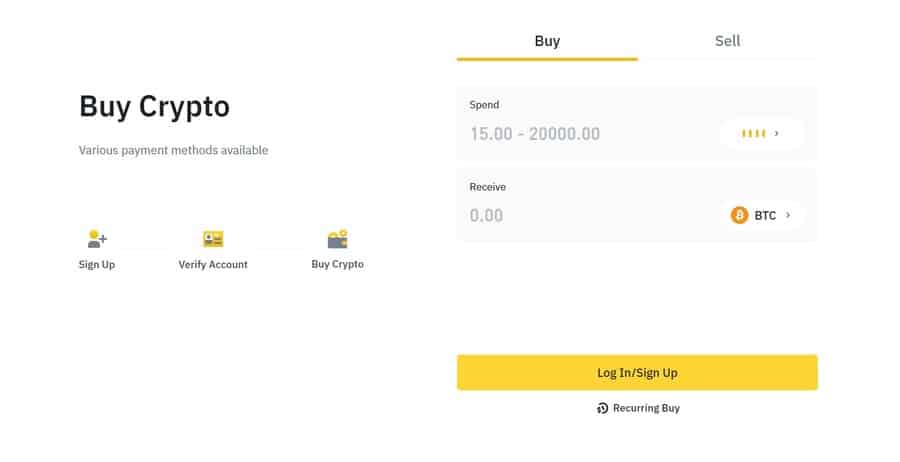 Spot trading comes with one of the lowest fees of 0.1% maker/taker, which you can further lower if you BNB coins to pay the fees or trade more than $1 million in volume within a 30-day period. If you're looking to buy crypto with fiat, you can get some of the lowest fees via peer-to-peer exchange.
Moreover, you can lock your coins and tokens for a select period of time and earn rewards of up to 100% or more on select coins. Sounds good? Check out the Binance exchange.
Don't invest unless you're prepared to lose all the money you invest. This is a high-risk investment and you should not expect to be protected if something goes wrong.
Conclusion
Meme Kombat offers an exciting intersection of memes, competitive gaming, and blockchain. With a focus on community involvement, its native token, $MK, offers utility and potential for price appreciation.
The project also has clearly outlined tokenomics and a roadmap, setting a high bar for its future ambitions. Meme Kombat aims to be more than a gaming platform; it seeks to create a financial ecosystem where $MK holders can earn through staking, battles, and more.
The project is off to a great start, raising over $2 million in less than a few months after its presale launch. At press time, buyers can get the $MK tokens for a discounted presale rate of $0.205.
References
https://www.fortunebusinessinsights.com/industry-reports/blockchain-market-100072
https://www.worldbank.org/en/news/podcast/2021/12/22/how-crypto-technologies-could-revolutionize-development-the-development-podcast
https://money.usnews.com/investing/cryptocurrency/articles/will-cryptocurrency-regulation-affect-crypto-prices
FAQs
What will Meme Kombat be worth in 2025?
Meme Kombat's $MK token could reach $1 by 2025 based on its roadmap, planned features, and increased user adoption. However, this estimate could be affected by market sentiment, user engagement, and broader crypto trends.
Is Meme Kombat a good buy?
Meme Kombat has strong initial support, unique gameplay, and a community-centric tokenomics model. However, it's crucial to research and assess your risk tolerance before investing.
Disclaimer: The Industry Talk section features insights by crypto industry players and is not a part of the editorial content of Cryptonews.com.
 
---