How to Buy Meme Kombat ($MK) – Easy Guide
Disclosure: Crypto is a high-risk asset class. This article is provided for informational purposes and does not constitute investment advice. By using this website, you agree to our terms and conditions. We may utilise affiliate links within our content, and receive commission.

Meme Kombat is a trending new token that combines the power of memes with combat gaming to offer active and passive income streams for its players.
The Meme Kombat Token ($MK) is at the heart of its ecosystem, an audited token providing multiple earnings avenues, from betting to staking.
At press time, it offers an Annual Percentage Yield (APY) of 477% on staking. Want to know how you can stake your tokens or bet on your favorite meme characters? This guide outlines step-by-step instructions on how to buy Meme Kombat tokens.
What is Meme Kombat?
Meme Kombat is a hot new token on Ethereum that merges the popularity of memes with the excitement of combat arenas.
The project's native crypto is the Meme Kombat Token or $MK, which is audited by Coinsult and creates an ecosystem that benefits players and stakeholders.
The game uses AI technology to generate captivating and unpredictable battle outcomes between Meme Coin characters.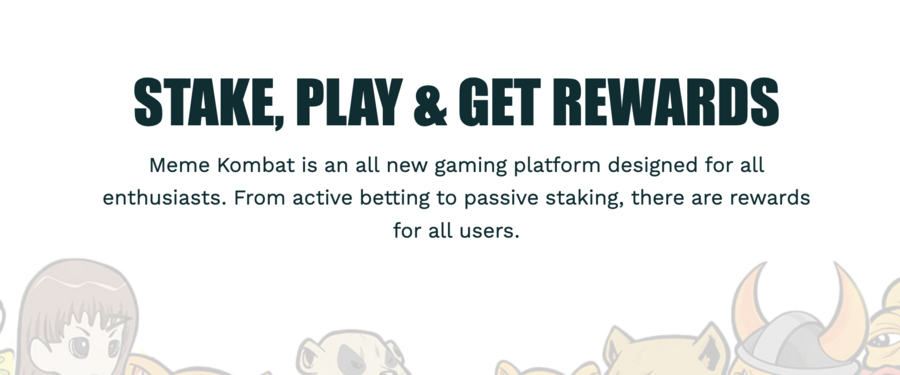 It also offers a wagering feature where $MK holders can bet on the outcomes and earn more tokens. Players can bet on the results of these battles using $MK tokens. Winners earn an additional $MK and other incentives.
Beyond the combat arena, holding $MK tokens earns you a passive APY, incentivizing long-term platform engagement.
How Betting Works
The platform offers several betting options:
Player-vs-Player (PvP) Betting: Players bet against each other, setting their stakes and engaging in high-risk confrontations.
Player-vs-Game (PvGame) Betting: Users can place bets on in-game events using traditional odds mechanics to assess risk and reward.
Direct and Side-action Betting: Besides PvP and PvGame, players can directly bet on specific battle outcomes or other dynamic elements in the game.
This betting system and AI-generated, randomized battle sequences offer a unique, immersive gaming experience. On-chain processing ensures transparency and fairness, adding another layer of trust to the system.
Staking Mechanics
Staking $MK tokens allows users a passive income via APY. This mechanism serves dual purposes: it rewards long-term investment in the Meme Kombat ecosystem and helps mitigate market volatility by incentivizing users to hold their tokens.
Users stake $MK tokens via the platform's website after securely linking their crypto wallets. You can allocate some of your staked tokens for wagering in Meme Kombat battles.
Moreover, 30% of the total $MK supply is set aside specifically for staking and combat rewards. This encourages users to stake tokens, as they can earn more $MK and other benefits.
Meme Kombat also provides flexibility by allowing users to un-stake their tokens anytime after the network becomes active.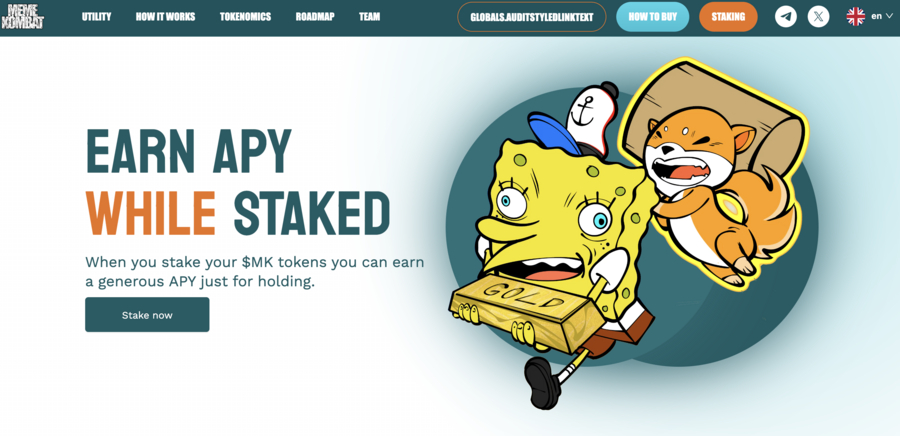 However, there is a 14-day lock-in period, after which users can withdraw their tokens or keep them staked to continue earning APY.
It's crucial to note that partial withdrawals from the staking pool are prohibited. Users have to pull out all their tokens if they decide to un-stake. Then, if they opt to re-stake, the APY incentives restart, subject to another lock-in period.
You can stake your tokens and then wager some of them in different types of bets—PvP, PvGame, and more. This synergy simplifies token management and improves the gaming experience.
The platform offers a current APY of 477%, giving early buyers an opportunity for a huge upside by compounding their returns over time.
Tokenomics and Presale Information
Meme Kombat has a total supply of 120 million $MK tokens. The platform's tokenomics is designed to create a stable and growing ecosystem:
Presale: 50% (60 million tokens)
Staking & Battle Rewards: 30% (36 million tokens)
DEX Allocation: 10% (12 million tokens)
Community Rewards: 10% (12 million tokens)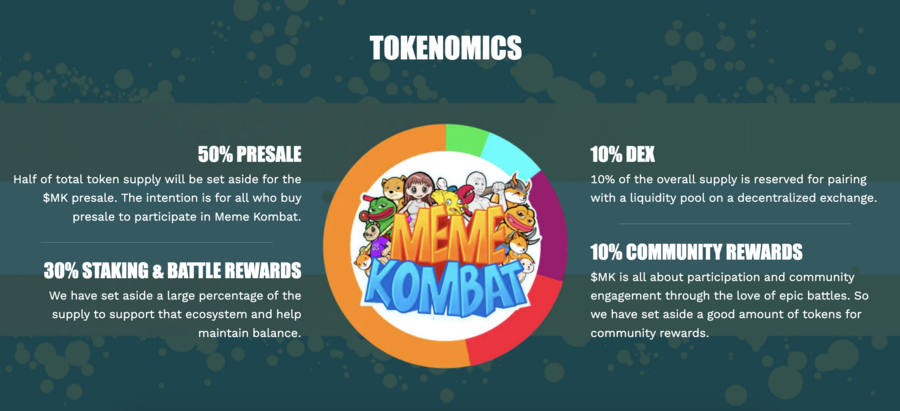 The platform's presale is live and has already raised over $2 million in a few months, showing strong initial investor interest. The hard cap for the presale is set at $10 million, with each token priced at $0.205.
Also, the tokens are automatically staked for early buyers participating in the presale, earning them a high APY.
After the presale ends, staking features will become accessible to all, along with a daily APY compounding mechanism.
Roadmap
Scheduled for October or November 2023, the platform aims to roll out with various features, including combat and staking. 
Meme Kombat Season 1 follows soon, designed to maintain user engagement through battles and leaderboards.
By December 2023, the project also has plans to release Meme Kombat 2, which will include improved gameplay features.
Per the Meme Kombat whitepaper, the platform will focus on constant upgrades and community engagement for sustained growth in the coming months. 
This involves tailoring future seasons based on feedback, adjusting tokenomics, and venturing into new gaming formats and partnerships post-2023.
You can enter the Meme Kombat Telegram channel and follow the platform on X (previously Twitter) for the latest updates.
How to Buy Meme Kombat ($MK) Tokens – Step-by-Step Guide
Here are some easy steps to buy and stake Meme Kombat tokens in its presale stage.
Step 1: Get a Wallet
You'll need a secure crypto wallet like MetaMask or Trust Wallet to join the presale. These wallets are available as mobile applications or desktop browser plugins.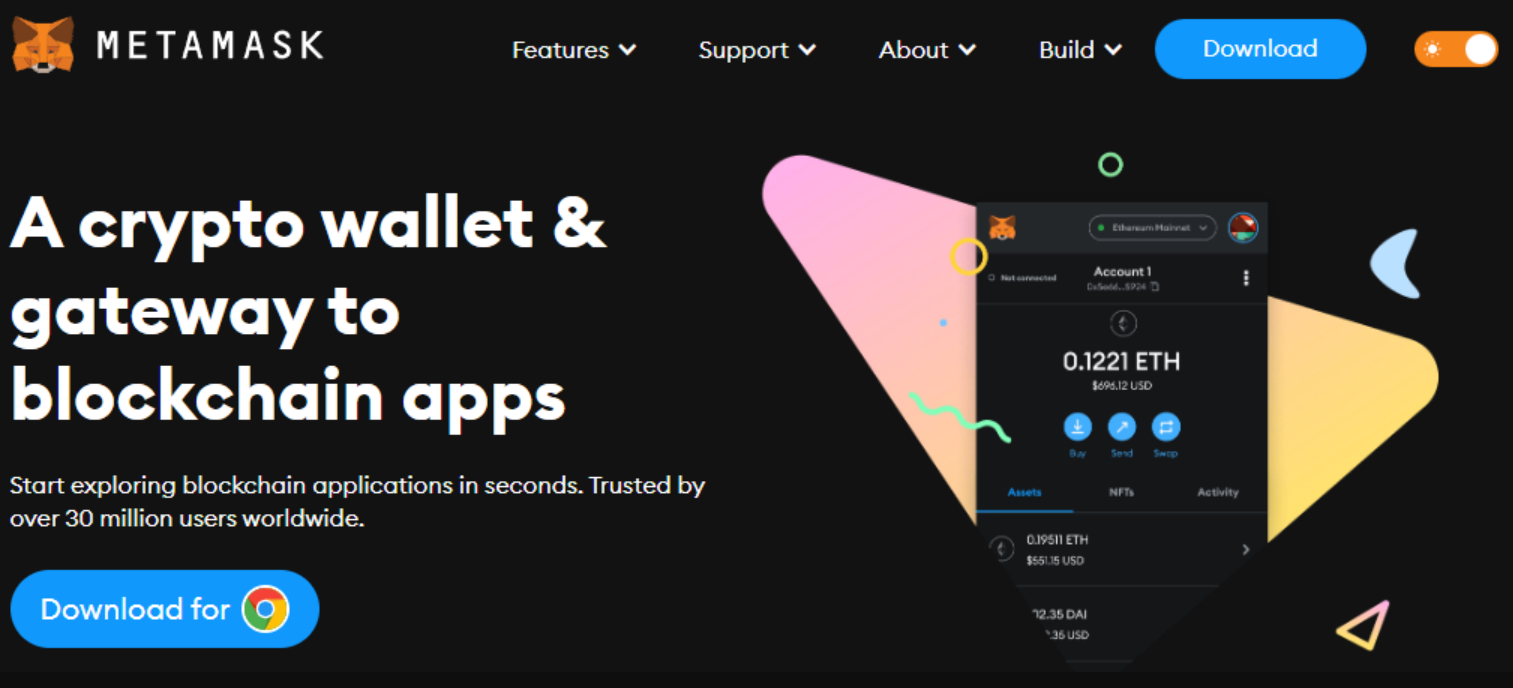 Step 2: Fund Your Wallet
Ensure that your wallet holds crypto, which you'll later exchange for $MK tokens. You can deposit BNB, ETH, or USDT.
MetaMask offers a direct purchasing option through trusted third-party platforms, or you can transfer funds from a crypto exchange.
Step 3: Visit the Official Site
Go to the authorized Meme Kombat website. The presale buy form is at the top of the homepage and is the only place to buy the $MK presale tokens.
Step 4: Choose Payment Method
When buying $MK tokens, you can use Ethereum (ETH or USDT) or the Binance Smart Chain (BNB or USDT). Make your selection and proceed to the next step.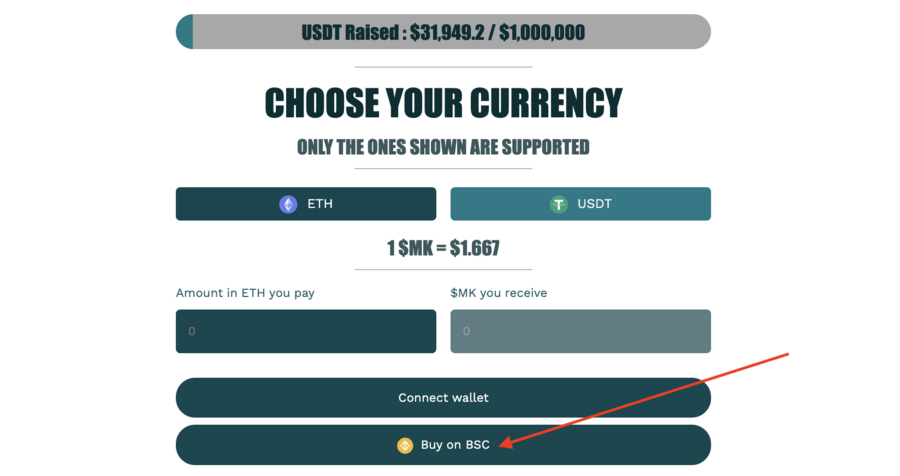 Step 5: Link Your Wallet
Click the "Connect Wallet" button on the homepage to connect your wallet. The wallet usually defaults to the Ethereum Mainnet. If you opt for BSC, you might be asked to approve a network change.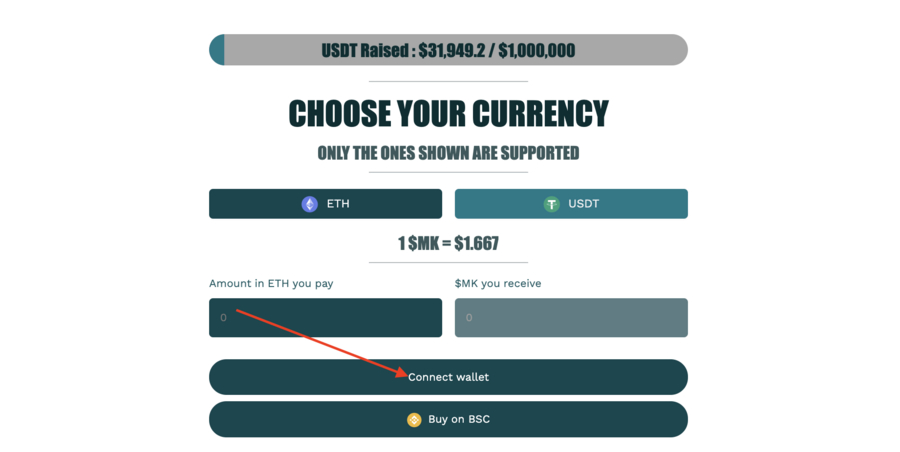 Step 6: Enter Purchase Amount
Specify the number of $MK tokens you want to buy. Note that a minimum of 0.015 ETH is required to finalize the transaction, in addition to the cost of the tokens you're buying. 
For Binance Smart Chain, the minimum requirement is lower but still mandatory. Note: The minimum purchase for $MK tokens is $5.
Step 7: Confirm Transaction
You'll be asked to confirm the transaction once you've entered the number of $MK tokens to buy. Upon approval, the transaction will occur on-chain. Completion time may vary based on network congestion. Don't leave the page until it's finalized.
Decision on Staking
Soon after the $MK presale begins, you can stake your tokens for passive income to earn APY before the presale ends.
But if you decide against staking, you can later claim your tokens from www.MemeKombat.io after the network launches. The launch date is yet to be determined and depends on the presale's conclusion.
Conclusion
Meme Kombat is a fusion of meme culture and gaming that creates a unique, engaging platform for players and investors.
With a Coinsult-audited Meme Kombat Token, the project offers multiple betting avenues such as Player-vs-Player, Player-vs-Game, and side-action betting, all powered by AI-generated outcomes.
Moreover, the staking model lets buyers earn staking income with an APY of 477%. Raising over $2 million in a few months, Meme Kombat has already shown strong community support.
FAQs
What is Meme Kombat?
Meme Kombat is a blockchain game on Ethereum that features battles between meme characters. The game uses AI to generate battle outcomes and offers various betting options. Its native token, $MK, is audited by Coinsult and provides an APY of 477%.
How to Invest in Meme Kombat?
Investing in Meme Kombat involves buying its native $MK tokens. First, secure a crypto wallet like MetaMask. Fund the wallet with ETH, BNB, or USDT. Visit Meme Kombat's official website and link your wallet to purchase $MK tokens during the presale stage.
How much can I earn staking Meme Kombat?
Staking $MK tokens provides a current APY of 477%. The staking process is accessible via Meme Kombat's website.
Disclaimer: The Industry Talk section features insights by crypto industry players and is not a part of the editorial content of Cryptonews.com.
 
---