Meme Coin Chimpzee Is Set to Become Bigger Than Dog Meme Coins as Investors Love Environmental Use Case - Next 10X?
Disclaimer: The text below is a press release that is not part of Cryptonews.com editorial content.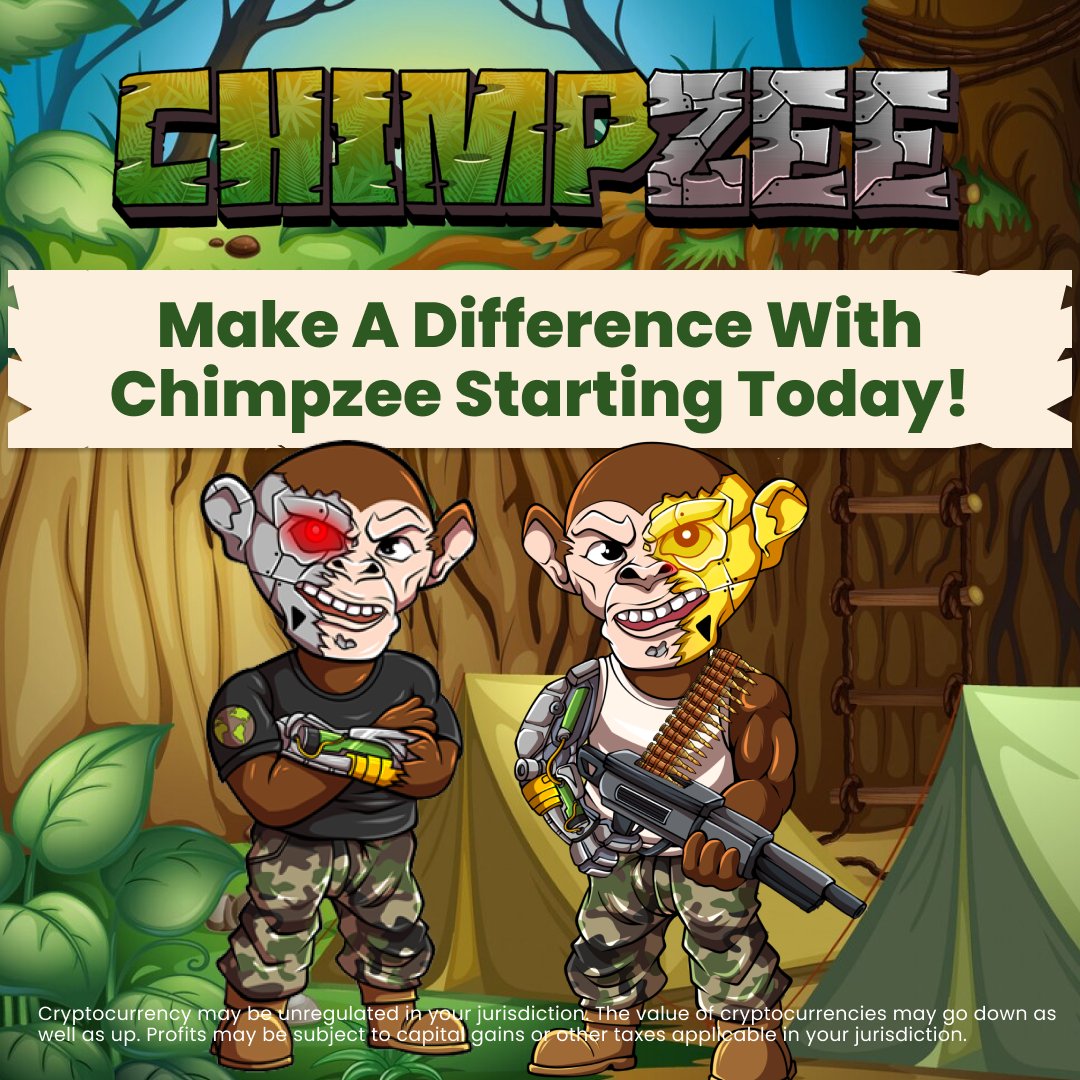 A multitude of new ventures in the crypto market are now focusing on environmental or social causes. Teams are recognizing the potential of decentralized technology to unite people for positive objectives. Consequently, several projects are customizing their solutions to address admirable goals.
Chimpzee (CHMPZ) serves as a prime example of such a project. It offers a system that seamlessly combines enjoyment and profitability, all while motivating users to contribute to animal and environmental causes. In addition to conducting numerous charitable initiatives, Chimpzee is currently hosting its presale, which comes with a variety of rewards. We'll provide all the details here.
Chimpzee Mixes Meme Coin Fun With Charity
Chimpzee is an initiative aimed at addressing critical challenges such as wildlife conservation and climate change, while also providing users with a means to generate passive income. To support these causes, the project team has allocated 10% of the token supply and a portion of profits to organizations dedicated to tackling these issues. Additionally, Chimpzee intends to establish an ambassador and community outreach program, funded by the project's resources, to underscore the importance of raising awareness and funds for conservation-related projects.
In pursuit of its mission, Chimpzee offers a range of robust features, including Play-to-Earn, Shop-to-Earn, and Trade-to-Earn functionalities. These features enable users to earn rewards while actively contributing to the project's overarching goals.
Chimpzee presents an array of features designed to engage cryptocurrency enthusiasts, with a special focus on the Chimpzee shop, NFT marketplace, and Zero Tolerance Game. Among the available features, these three stand out as particularly noteworthy and worthy of attention.
Distinguishing itself from a typical online marketplace, the Chimpzee shop serves as a centralized hub for various goods and commodities. Conversely, the NFT marketplace allows users to participate in the buying and selling of NFTs, providing an avenue to earn passive income through a portion of the platform's trading fees.
By achieving specific milestones within the unique Zero Tolerance Game, which steadfastly upholds the principle of zero tolerance for any mistreatment of nature and the environment, players can accumulate CHMPZ tokens. For enhanced passive income within the Chimpzee ecosystem, holders of Chimpzee NFT passports gain access to additional benefits, contributing to the accumulation of more CHMPZ tokens. Below, we outline the steps involved in acquiring a Chimpzee NFT passport.
Furthermore, Chimpzee is poised to introduce a mobile application incorporating AI technology to create personalized Chimpzee AI avatars. Through this innovative mobile app, users will have the opportunity to create their own distinct chimpzee avatars.
The CHMPZ Presale Has Rewards For Investors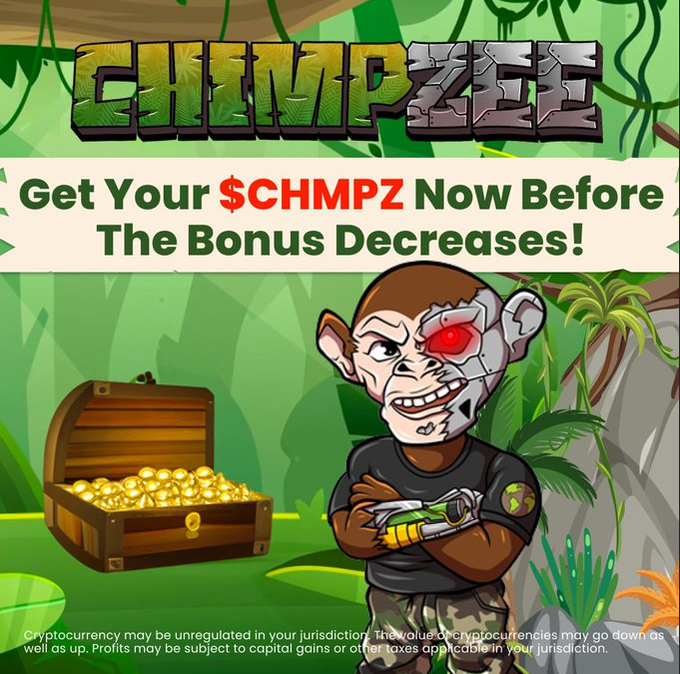 Chimpzee's ecosystem centers around the CHMPZ token, serving as the primary currency for all platform features and rewards. Users can utilize this token for various transactions within the ecosystem and will receive rewards in the form of CHMPZ tokens.
Currently, Chimpzee is actively conducting an ongoing presale, offering the token at a rate of $0.001 in the current phase. In the next phase, the price will rise to $0.00105, with a listing price of $0.00185. So far, it has raised over $1.3 million.
Additionally, users have the opportunity to acquire the Chimpzee NFT passports, which come with substantial rewards. For those who don't acquire Chimpzee NFT passports during the presale, they will later be available at a higher price, though with limited availability. Non-presale investors will need to wait until after whitelist NFT passport prelaunch, exclusively reserved for presale participants. Only those who participate in the initial presale round will have eligibility to obtain the Chimpzee Diamond NFT passport. When CHMPZ coins are used to acquire Chimpzee NFT passports, they will be subject to burning, potentially removing up to 5 Billion tokens from the total circulating supply.
After the presale phase, the Chimpzee team will focus on securing listings on various exchanges and advancing technological aspects, including the development of the Chimpzee store, which is already ahead of schedule, NFT minting platform, and the staking engine. The debut listing on a centralized exchange (CEX) is expected to take place in the latter half of the year.
Conclusion
Chimpzee has the potential to transform how individuals perceive participation in crypto ecosystems. Its initiatives demonstrate how cryptocurrencies can contribute to the well-being of all living beings, surpassing purely financial incentives. This project is making a significant impact on the cryptocurrency market and has the capacity to pave the way for socially conscious projects. Therefore, it's highly recommended to explore the CHMPZ presale without delay.
---