Litecoin Price Prediction as $700 Million Sends LTC Up 12% – Are Whales Buying?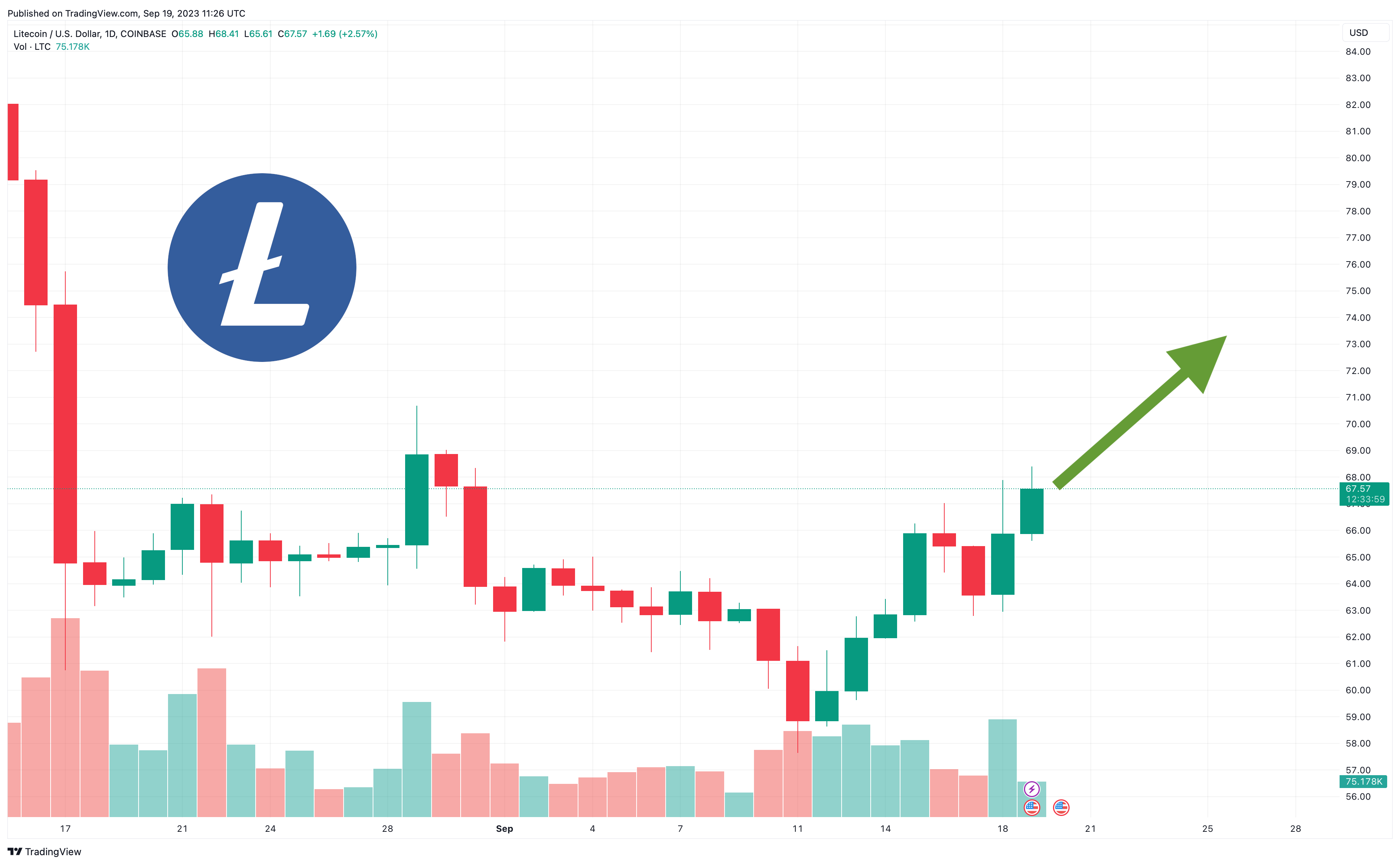 The price of Litecoin (LTC) has increased by 2.5% in the past 24 hours, rallying to $67.98 on a day when the cryptocurrency market as a whole has gained by a more modest 1%.
LTC is now up by 13% in a week and by 5.5% in the past month, with the altcoin's 24-hour trading volume rising beyond $700 million today, as buyers enter its market.
And it seems that much of the impetus for its gains today has come from the news that someone used LTC to buy an Omega wristwatch worth around $2,895, underlying its utility and potential as a means of payment.
Litecoin Price Prediction as $700 Million Sends LTC Up 12% – Are Whales Buying?
Litecoin's indicators have taken a turn for the bullish in the past few days, with its relative strength index (purple) rising beyond 50, after having spent a very long time in a decidedly oversold position.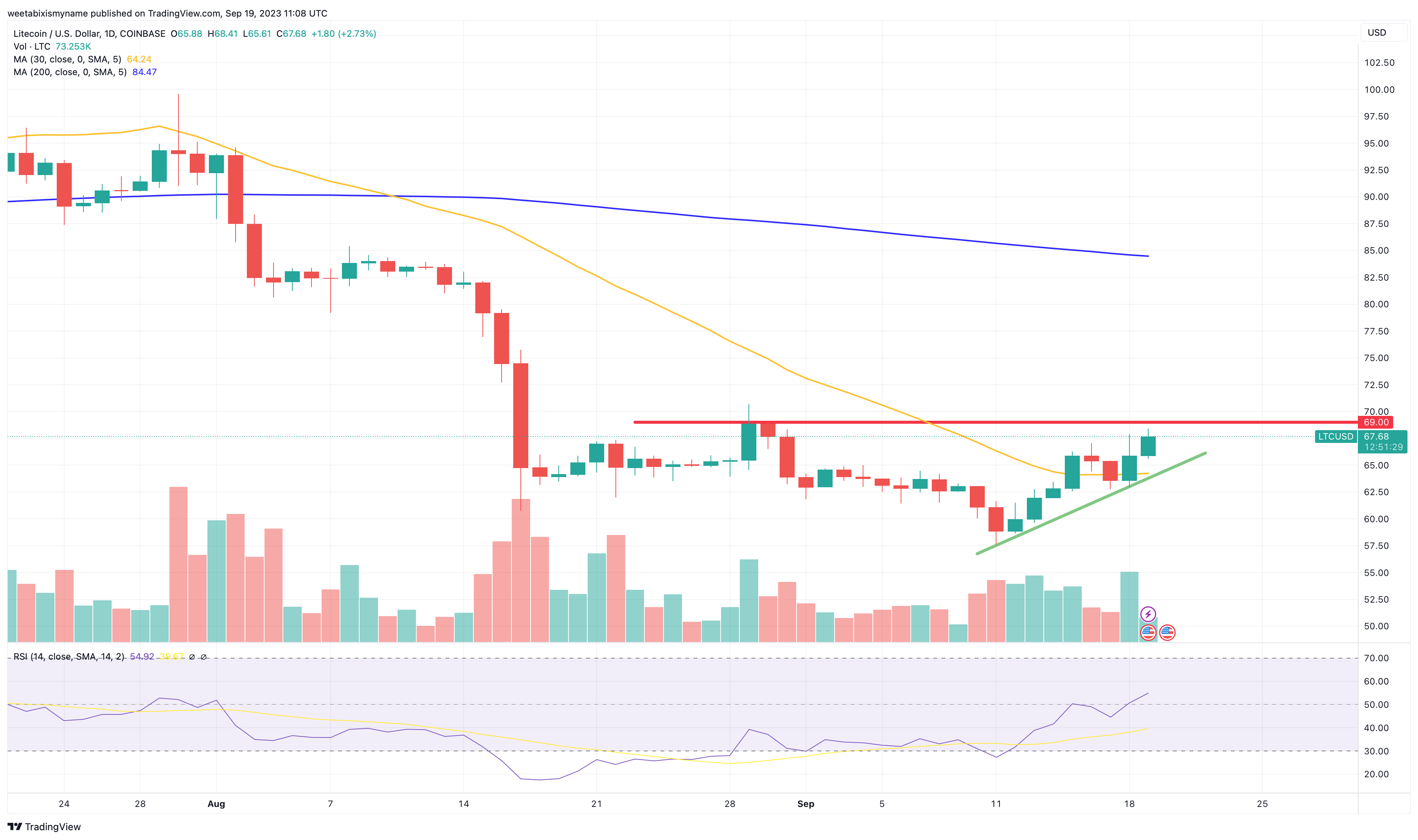 The RSI's climb would suggest increasing momentum, as would the fact that LTC's 30-day moving average (yellow) has stopped falling and looks ready to begin climbing towards its 200-day average (blue) once again.
Perhaps a more bullish sign is that a pennant has been formed between LTC's resistance (red) and support (green) levels, implying that a breakout is likely to occur very soon for the altcoin.
As such, the market could see it reach $70 in the next few days or weeks, a level it last held back in the middle of August.
The coin had already been enjoying some steady gains over the past week, yet it's likely that today's surge was helped by the news of the aforementioned watch purchase, which testifies to LTC's utility as a cryptocurrency.
Indeed, it's telling that Litecoin (rather than Bitcoin) was used for this purchase, something which suggests that the cryptocurrency may have a future as a means of payment.
Having said that, it also needs to be highlighted that LTC has also witnessed some bad news in the past day or so, with the New York Department of Financial Services removing the altcoin from its list of approved virtual currencies.
This means that trading platforms registered with the DFS will not be able to list the token, depriving New York-based residents of the ability to trade it.
While LTC doesn't appear to have reacted to this news, it could have negative repercussions going forward, potentially undercutting price gains.
Putting this disappointing news to one side, LTC can still be expected to reach $70 in the near term, with the altcoin potentially rising to $90 by the end of the year.
Presale Tokens Can Bring The Profit
Given the uncertainty that surrounds Litecoin, some traders may find it more prudent to look towards newer tokens that offer more potential for bigger gains in the shorter term.
One particular source of such gains are presales, which occasionally result in tokens rallying once they get added to trading platforms.
Probably the likeliest presale coin to do this is Wall Street Memes (WSM), an ERC-20 meme token that has raised in excess of $25 million over only a few months.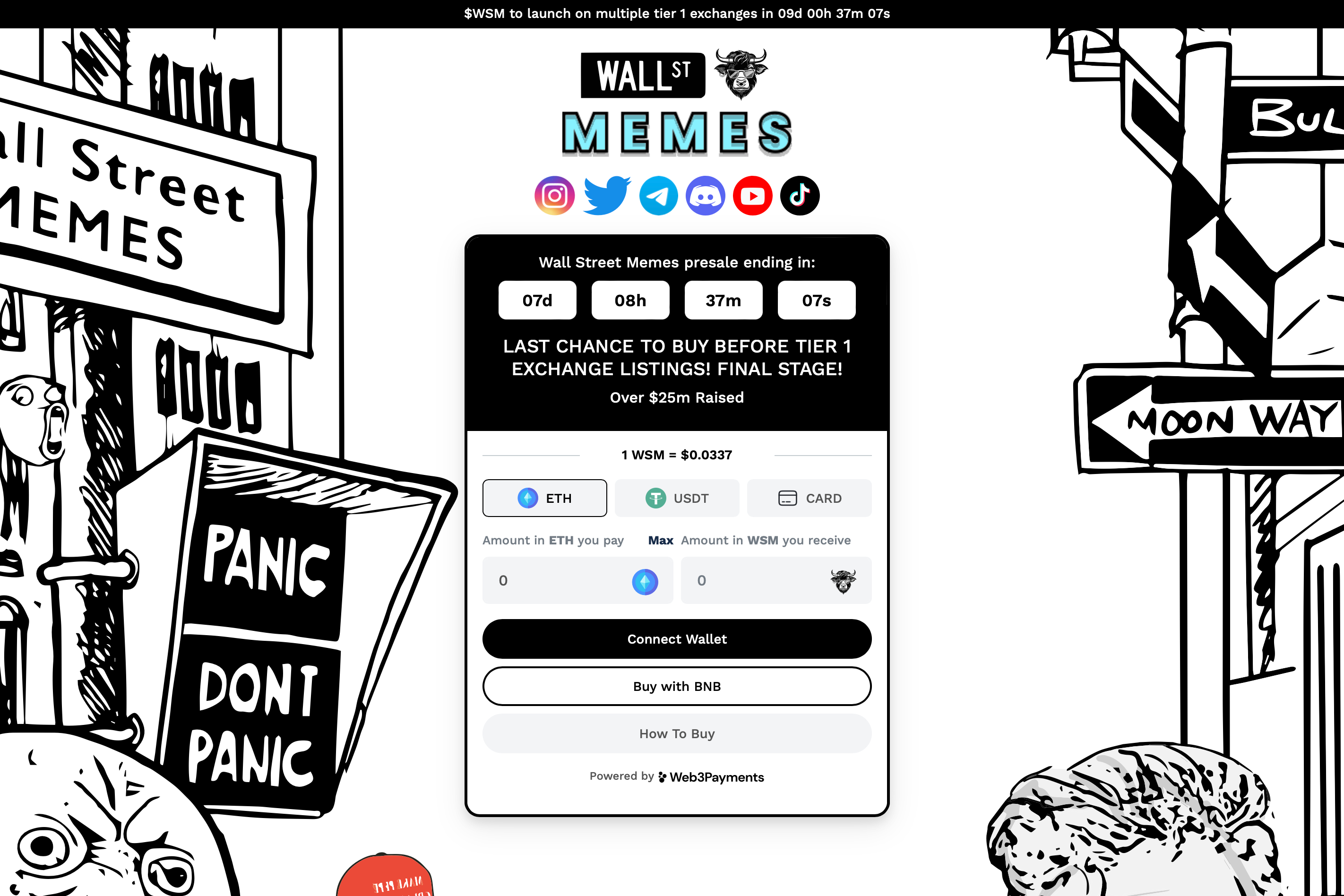 With its roots in the meme stocks movement, Wall Street Memes has been able to raise so much money so quickly by virtue of the fact that it already has a strong community surrounding it.
This is further evidenced by its Twitter profile, which now boasts over 274,000 followers, many of whom have likely invested in the presale and whom are likely to support WSM once it lists on exchanges.
Incentivizing community involvement is the coin's decentralized tokenomics, with 50% of its max supply (2 billion WSM) going to the presale and 30% being dedicated to community rewards.
Because of this, WSM is likely to have more success and more staying power than other new meme tokens, which often fade out quickly due to the absence of a healthy community, as highlighted by crypto experts like Satoshi Stacker.
While the coin's presale is due to end in less than a week, new investors can still get involved by visiting the official Wall Street Memes website.
1 WSM costs $0.0337, yet this price is likely to be eclipsed as soon as the exciting new meme token lists on exchanges.
Disclaimer: Crypto is a high-risk asset class. This article is provided for informational purposes and does not constitute investment advice. You could lose all of your capital.
---