LHINU vs Dogecoin: Which Meme Coin Will Come Out on Top in 2023?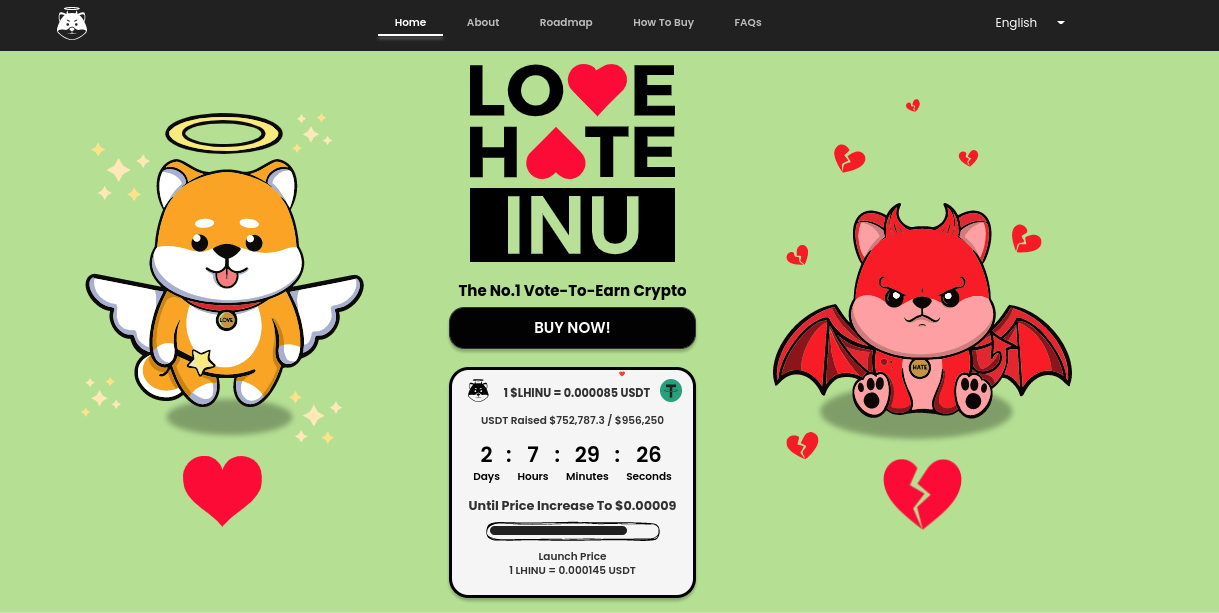 Riding on the popularity of Dogecoin and Shiba Inu, a new meme coin, Love Hate Inu, may become the most well-known token on the market.
The platform will allow users to weigh in on various subjects, from lighthearted, popular, and shareable content to serious polls and sponsored ones with special prizes.
Although Love Hate Inu was only created a few weeks ago, it has already generated over $740,000, demonstrating investors' tremendous interest in this cryptocurrency project.
But will Love Hate Inu offer a better return on investment than Dogecoin?
The New DOGE-Like Meme Coin Sensation
Experts believe Love Hate Inu's native token, $LHINU, has what it takes to compete with Dogecoin in terms of better massive returns and a much more well-structured utility in 2023. Here's why.
Memecoins are frequently referred to as "hype" coins due to the exponential growth attributed to their price value whenever top crypto influencers such as Elon Musk make any form of announcement.
Although LHINU is part of the meme family, it embodies functional use cases that add value to the global industry.
According to the Business Research Industry report, the online survey sector is estimated to be worth over $3.2 billion, making it one of the most lucrative industries in recorded output.
Love Hate INU asserts to disrupt this industry as it offers participants a chance to voice their opinions on politics, entertainment, and social justice and rewards them for contributing ideas and opinions on these subjects.
The Love Hate Inu ecosystem is deployed on the Ethereum blockchain technology.
The Ethereum chain offers decentralized application (DApp) infrastructure fused with metaverse and governance capabilities to ensure participants can vote in a truly safe, fair, and transparent way – which will allow them to express themselves while remaining completely anonymous and protected.
Individuals and brands will be able to create polls on the platform and, in the case of brands, reward respondents with a variety of digital and non-digital goods.
With Love Hate Inu, Users can express their feelings about these characters without fear of repercussions and earn while doing so.
LHINU has a lot of potentials to become the next meme cryptocurrency to go viral due to its versatile survey technology utility and incentive protocol.
As the platform ecosystem and real-world use cases evolve, the crypto project will see massive adoptions.
By blending the natural attraction attributed to all meme coins with the utility and versatile voting protocol, we believe there's a huge chance the metaverse coin will surpass the height previously achieved by notable meme coins like Dogecoin and Shiba Inu in 2023.
The Innovative Voting Mechanism: The Major Role Player in LHINU Ecosystem
Love Hate Inu is built on the Ethereum blockchain, offering a tested and reliable DApp infrastructure connected with the metaverse.
Participants will find it simpler to move throughout the environment in a few key places.
Firstly, users of Love Hate Inu can stake tokens to earn voting rights, and more voting power is accumulated based on the length and amount of tokens staked.
The website interface allows participants to vote in real-time and receive rewards by connecting their wallets – Metamask and Wallet Connect are supported.
Once connected, users can access the Vote submission platform, where interested parties can propose new questions for the community to consider.
There is also a management dashboard that allows various developers to check that all active votes are carried out in a way that protects the community.
The platform has incorporated a real-time staking mechanism that utilizes users' 30-day average balances to thwart spam and voting system manipulation.
Because of the original logic underlying the system, every user will eventually have more voting power, whether or not they lock up their tokens.
The authors of Love Hate Inu seek to demonstrate to the public that there is no chance of a ruse of any kind. Therefore, 90% of the tokens will be available for presale.
However, the other 10% is kept for liquidity, listing fees, and community rewards.
Buy $LHINU and Earn
$LHINU is the voting token for the Love Hate Inu platform. The token holders gain more voting power and influence over poll results as they stake more tokens.
The asset has proven to be very popular with early investors, raising over $752,000 just a few weeks after its launch.
At press time, $LHINU is selling at 0.000085. The token's price will gradually increase every week, and there are only three days left before it rises to $0.00009.
Interested investors can buy $LHINU with ETH or USDT. However, they'll need to install a Metamask wallet for their PCs and a Trust wallet for their mobile devices.

Visit Love Hate Inu Here
Disclaimer: The Industry Talk section features insights by crypto industry players and is not a part of the editorial content of Cryptonews.com
---