Is it Too Late to Buy Conflux? CFX Pumps Up 11% in 24 Hours and Mr. Hankey Coin Presale is Launching in Less Than 24 Hours – 100x Potential?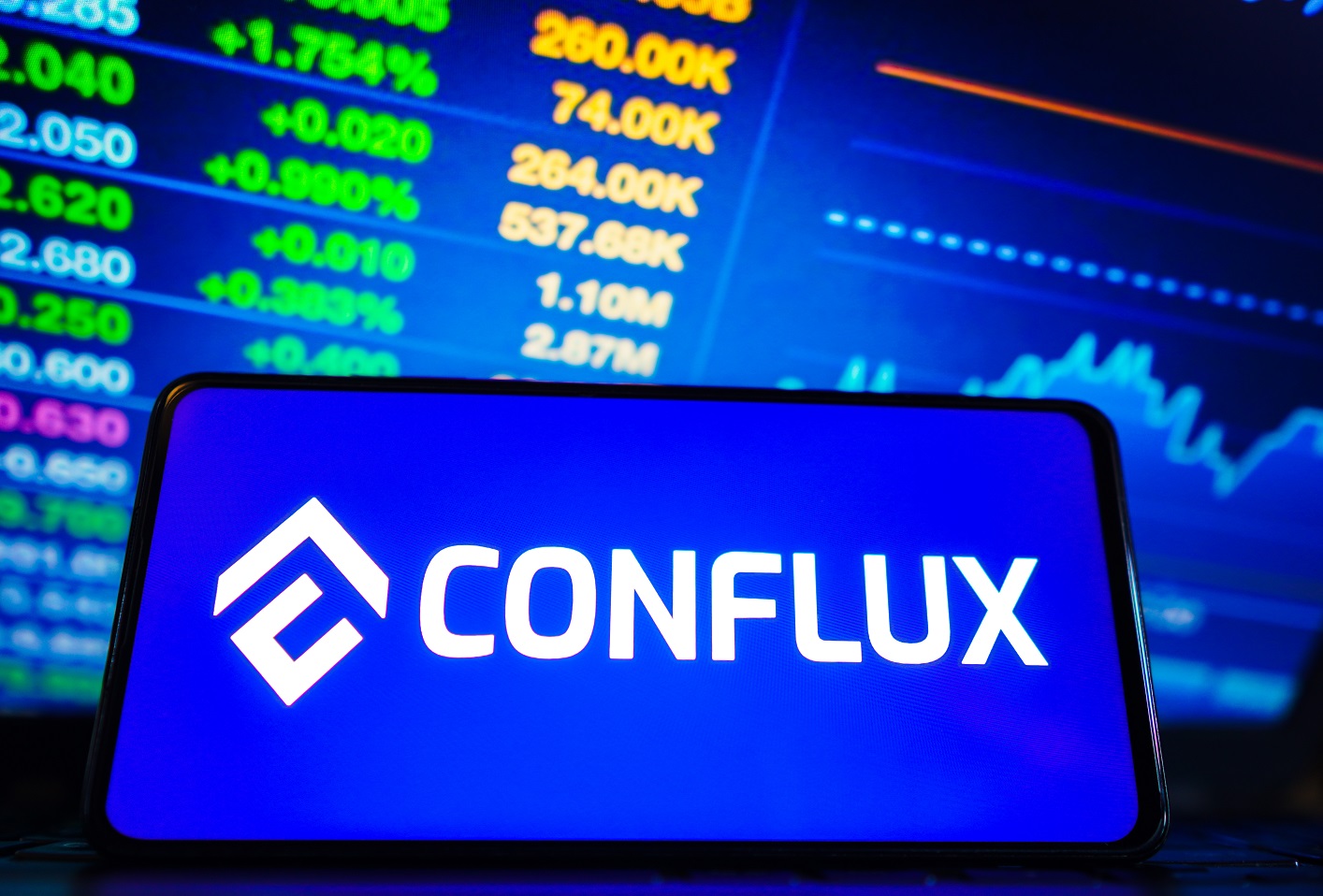 The recent bullish surge in the price of Conflux (CFX) appears to be stalling, as the cryptocurrency faces a notable resistance in the form of its 20-day exponential moving average (EMA).
On July 12, CFX advanced 11.22% to retest the 20-day EMA and the Fib 0.236 level at $0.2096.
However, in today's session, the CFX price is showing signs of weakness as it slips down 1.99% so far today, teetering around $0.1973.
This pullback could potentially pave the way for a retest of its immediate horizontal support area.
Conflux Price Prediction and Technical Analysis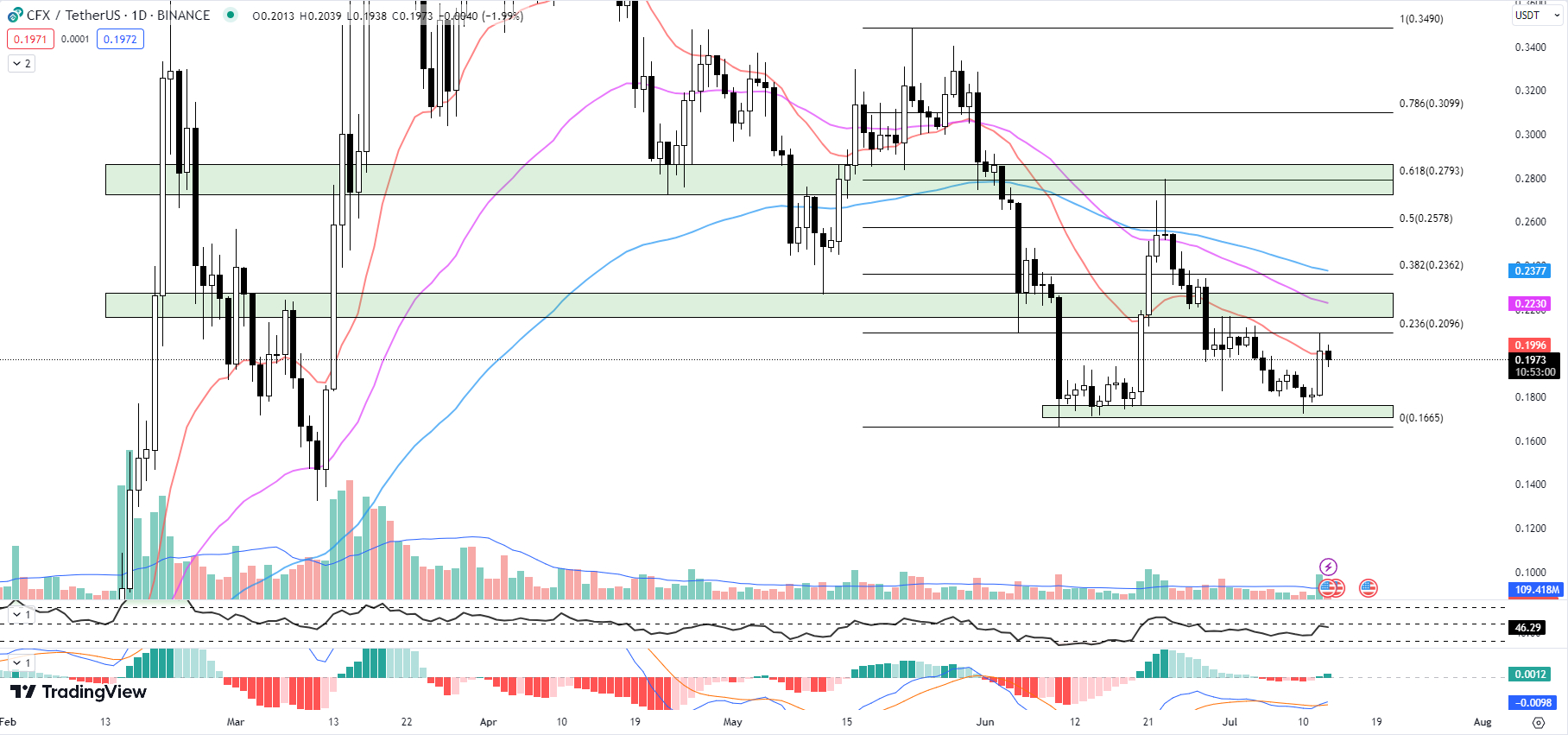 From a technical standpoint, the 20-day, 50-day, and 100-day EMA are often used by traders as dynamic support or resistance levels.
The current 20-day EMA for CFX stands at $0.1996, slightly above the current price. This EMA level appears to be acting as resistance, causing the CFX price to retreat.
The next significant EMA, the 50-day EMA, is at $0.2230, marking another potential challenge for the bulls.
Despite the immediate bearish scenario, if the CFX price can consolidate around the 20-day EMA, a decisive move above this point could inspire a potential rally toward the 50-day EMA.
This would, however, require a significant increase in trading volume, which at present is down by 23.37% so far today.
Another key consideration in this technical analysis of CFX price is the relative strength index (RSI), which currently sits at 46.29.
An RSI value below 50 indicates bearish momentum, which aligns with the selling pressure observed in the market.
However, the RSI is not yet in oversold territory (below 30), implying that the CFX price may have further room to fall before strong buying pressure emerges.
The MACD histogram also provides interesting insights. MACD histogram currently shows a value of 0.0012, indicating that the bulls are trying to regain control, albeit not very successfully.
Should the MACD cross above the signal line, it could be a potential bullish reversal signal.
The immediate future for the Conflux price seems to be leaning towards further downside.
However, as the CFX price approaches the robust horizontal support area between $0.1708 to $0.1761, traders should keep an eye out for signs of a reversal.
The journey back up will not be easy, with the 20-day EMA acting as immediate resistance and the market cap decreasing by 1.60% so far today.
Nonetheless, the interplay of the technical indicators mentioned above will be pivotal in determining CFX's trajectory in the immediate future.
Moving from the relatively unsettled conditions surrounding Conflux, the narrative now turns to a fresh, humor-infused addition to the crypto market - Mr. Hankey Coin.
This coin's reliance on meme culture and humor offers a different, engaging opportunity for those interested in exploring alternative crypto investments.
Mr. Hankey Coin - Embracing the Meme Culture
Mr. Hankey Coin is a soon-to-be-released meme coin that draws inspiration from the iconic South Park character of the same name.
The project's focus on humor and memes sets it apart from other cryptocurrencies, offering investors a unique and entertaining way to participate in the market.
According to their website, Mr. Hankey Coin heralds a departure from striving to be another Bitcoin, choosing instead to "embrace our inner turd."
This humorous approach is a refreshing take on the often-serious cryptocurrency industry, and it paints a picture of Mr. Hankey Coin as an opportunity wrapped in a comical package.
An expected $500,000 is projected to be raised via a sale of 40% of its 1 billion token supply, pegging the presale valuation of this new digital asset at a modest $1.25 million.
The road to success for any meme coin is paved with a strong, devoted community of supporters who embrace the token's underlying message, whether it be a witty joke or a sincere value proposition. The creators behind Mr. Hankey Coin comprehend this well.
Another aspect that distinguishes Mr. Hankey Coin is its commitment to a seamless trading environment underpinned by ample liquidity.
The project plans to allocate 40% of its token supply to decentralized exchange (DEX) liquidity, reducing the chances of inefficient trades and major losses due to price slippage.
In an effort to protect their investors and promote transparency, the Mr. Hankey Coin team has chosen to lock liquidity, a decision that is not commonly made in the meme coin space.
This move underscores the team's commitment to creating a secure and reliable platform for their community.
By taking proactive steps to prevent rug pulls, Mr. Hankey Coin is setting itself apart from other meme coins and positioning itself for success in the competitive cryptocurrency market.
Bright Prospects for Mr. Hankey Coin
With a modest valuation, Mr. Hankey coin is likely to draw a large pool of small-cap gem hunters seeking projects under a $5 million market cap.
The limited presale supply is also expected to fuel demand and anticipation of its DEX launch.
A successful meme coin relies heavily on robust community engagement, and Mr. Hankey Coin seems to be in the hands of a proactive marketing team.
Reports of its association with other successful crypto projects like $SPONGE and $PEPE, coupled with mentions across popular crypto news outlets, point towards a powerful marketing engine backing it.
The growth of its social media presence is likely to continue, potentially propelling $HANKEY into the list of trending coins upon its launch.
Disclaimer: The Industry Talk section features insights by crypto industry players and is not a part of the editorial content of Cryptonews.com.
---