IBM Crypto Head Sees Bitcoin at USD 1 Million "Someday"
Jesse Lund, Head of Blockchain & Digital Currencies at IBM, just made the wildly bullish prediction that he sees bitcoin "at a million dollars someday."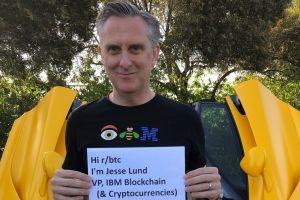 "Let me just say this, I have a long-term outlook […] and it goes back to the discussion about the utility of the network leading to a higher price, so I see bitcoin at a million dollar someday," he said in a recent interview with Finder.com at IBM's Think 2019 event.
"If bitcoin is at a million dollars, then a satoshi [1 BTC = 100M satoshis] is at value parity with a US penny, and that means there's over 20 trillion dollars of liquidity in this network […] Think about how that changes things like corporate payments," Lund, who previously worked with US banking giant Wells Fargo, explained.
In the interview, which covered a range of topics related to blockchain technology and IBM's work in the field, Lund was also asked where he believed the bitcoin price would be on New Year's Eve 2019, to which he replied that he sees USD 5,000 as a likely target by year-end.
Bitcoin price chart: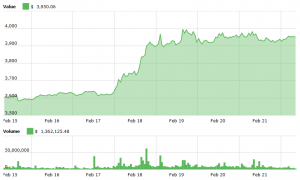 Asked about his personal view of the potential of blockchain technology, Lund also offered his insights:
"I think the landscape of banking, of lending, and payments, it's going to radically change," he said, before adding "50 years from now, we're gonna look back and say 'paper money, what was that?'"
In the past, Cryptonews.com has also reported that IBM has been backing and exploring uses for a stablecoin project named Stronghold, the first stablecoin to launch on the Stellar network.
"IBM will explore use cases with business networks that we have developed, as a user of the token. We see this as a way of bringing financial settlement into the transactional business network that we have been building," Jesse Lund was quoted as telling Reuters at the time.
Separetely, in an interview with Cryptonews.com Maciek Jędrzejczyk, Blockchain Leader for Central and Eastern Europe (CEE) at IBM, said that instead of focusing on blockchain as a technology, people should be focusing more on letting it resolve real business problems. Also, expecting blockchain to solve any and all problems you have is a common pitfall in the industry: "You have to be aware of the limitations of the technology, and you need to let your clients know," he explains.
____
Watch the entire interview with IBM's Jesse Lund below:
---