How This Crypto Wallet Turned $50k to $500k In a Day With New Meme Coin $SPONGE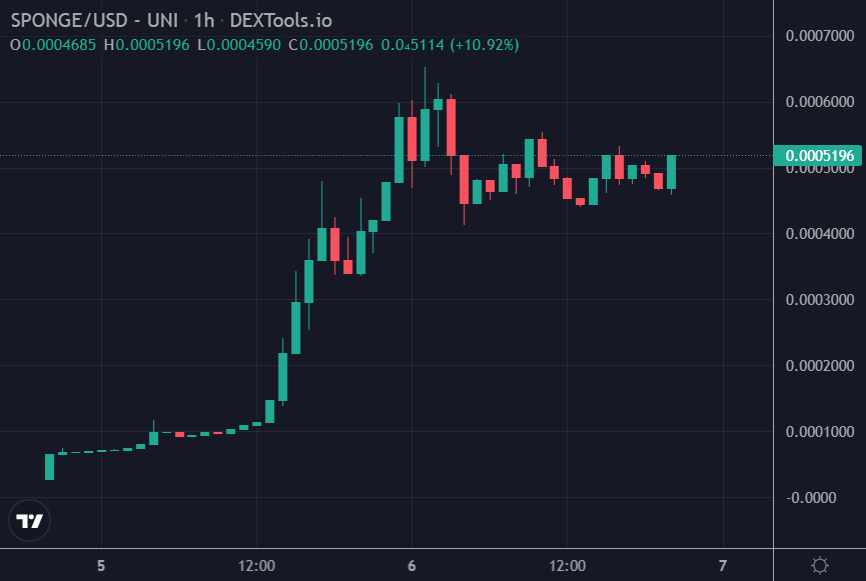 One trader bought new meme coin $SPONGE on Uniswap and made a 10x return on investment within a little over 24 hours.
SpongeBob (SPONGE) was listed on May 4th, opening at $0.00002749 and reaching $0.0006533 shortly after, its current all-time high.
Early Buyers of Sponge Token
While he didn't capture the entire move, one early investor bought 972 million SPONGE for 31.5 Ether, worth just over $50,000 at the time.
View that $SPONGE purchase here on Etherscan.
That crypto wallet now has a balance valued at $500,000, according to crypto portfolio tracker Debank, including 0.45 ETH.
The trader took profit on 2.5% of his position, selling 25 million $SPONGE so far - appearing confident that it will continue to rise in price.
A relatively new wallet, Debank records the investors' net worth as having increased over 52,000%.
$SPONGE Market Cap
The $SPONGE live market cap is $19 million according to CoinMarketCap, with a fully diluted valuation of $21 million.
On its launch day Sponge token was among the top crypto gainers, ranking in the top 2-3 coins over that 24 hour period, outperforming leading meme coins like $PEPE, $WOJAK, $BOB and $TURBO in percentage gains.
Following Uniswap DEX, two centralized crypto exchange (CEX) platforms have also listed $SPONGE at the time of writing - CoinW and Toobit.
Two exchange listings within its first two days is faster than PEPE at launch, leading to some analysts tipping it for success. The project has stated a top ten exchange is also set to announce their listing of the new meme coin, on Tuesday May 9th.
Update - the traders' wallet balance increased further as $SPONGE went on to set new highs and become the #1 trending 'hot pair' on DEXTools.
Pepe Coin Mints New Multi Millionaires
With its explosive rally to an almost $2 billion market cap the day Binance announced they would list the meme token - alongside Floki Inu - $PEPE has created even higher sums of wealth for holders.
Last month it made headlines that one unknown meme coin investor swapped 0.125 ETH for 5.9 trillion PEPE tokens, worth $250 at the time.
That position was later valued at just over $1 million in late April - and since then Pepe rallied even further, increasing over 6x from that date.
Now with a market cap of $1.2 billion after a correction, the Pepe price is consolidating around the $0.000003 mark, having spiked over $0.000004 this week.
How to Buy SpongeBob
Find links to the DEXTools trading pair, a Uniswap widget and links to the social media channels on sponge.vip.
Alternatively visit CoinW or Toobit exchange.
Update - $SPONGE is also now listed on LBank exchange.
---