GrimaceCoin Undergoes CertiK Audit and Eyes Metaverse Development
Disclosure: Crypto is a high-risk asset class. This article is provided for informational purposes and does not constitute investment advice. By using this website, you agree to our terms and conditions. We may utilise affiliate links within our content, and receive commission.
Disclaimer: The text below is an advertorial article that was not written by Cryptonews.com journalists.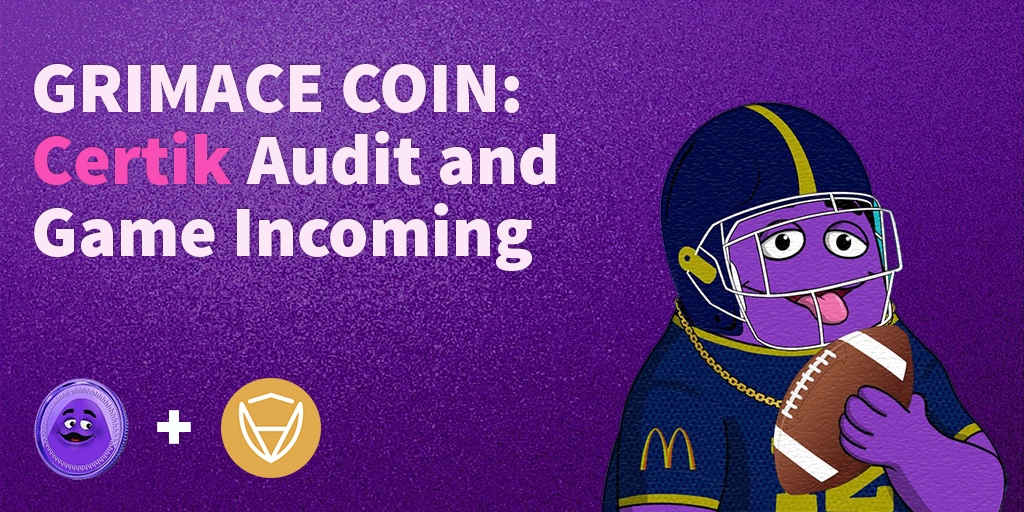 In the wild west of MEME coins, influencers and giant organizations hold tremendous power and influence over the market. One tweet or statement can catapult the next big thing into the mainstream and turn a MEME into a real, authentic cryptocurrency.
You'll be forgiven for not having heard of Grimace before January 2022 – I mean, who has? What once was a mascot of sorts has now graced the crypto world as a new coin, all at the hands of friendly banter between Elon Musk and McDonald's – who else did you expect?
The coin was formed on 25th January 2022 after Musk tweeted McDonald's stating that he would "eat a happy meal on live TV if they started to accept Dogecoin." We've seen this before. The price of Bitcoin and Dogecoin has previously risen and dropped as a result of Musk's tweets. But what exactly drove the creation of GrimaceCoin?
In response to Musk's humorous suggestion, McDonald's stated that they would if "Tesla started accepting Grimace Coin." It's worth noting that the currency didn't exist at this point in time – this was all part of a joke on McDonald's part. However, we don't live in such times anymore. The market identified an opportunity, and before long, someone created Grimace Coin utilizing Binance Smart Chain as the platform.
McDonald's Brings Back Grimace
For those lacking in fast-food trivia knowledge, Grimace was a character first created for McDonald's promotional campaigns in the 70s. Since then, the big, purple figure has appeared sporadically, such as at an MLB game in 2012 and the 2020 Macy's Thanksgiving Day Parade, with a prime spot alongside McDonald's poster boy – Ronald.
Most recently, the fast-food giant brought back Grimace to feature in their promotional adverts during the 2022 Super Bowl, one of the world's most expensive and prized ad real estate spaces. Re-introducing Grimace has helped increase the coin's value and popularity amongst the crypto community. This also leaves one wondering whether we'll see more of this character in McDonald's campaigns?
Grimace Coin experiences a strong start
Despite the coin's origins, the project reportedly sold out its NFT collection in a flash. In a tweet, Grimace Coin states that 1,000 NFTs were sold in the space of 7 hours and 20 minutes at a value of 0.3 BNB each. This incredible feat highlights the power of the so-called 'meme coins.' and their potential to provide investors with outstanding ROIs.

What started as a humorous bit of Twitter fun has now turned into a fully functioning cryptocurrency that's gaining ground and growing in popularity. A CoinDesk article even states that a token created after the tweet rose over 285,000% in value in just a few hours.
Metaverse development
One of the exciting things happening at Grimace Coin is metaverse development. There's plenty of research into the benefits of this, with J.P Morgan recently reporting that metaverse has the potential to be a USD 1 trillion annual market. Keen on not missing out on the trend, Grimace has followed suit with ambitious plans to expand their own metaverse.
In their telegram group, Grimace Coin has stated, "We're about to start developing the metaverse full time now. There's going to be P2E (play to earn) mode added to it (You'll be able to earn Grimace Coins from activities within the Sandbox game). Every NFT holder will be getting a free car to the game; NFT holders can then sell the car to other people in the marketplace. NFT Holders will get private access to VIP areas in the game."
CertiK Audit
One of the main challenges for crypto projects is demonstrating a level of high-security to their holders. Unlike traditional centralized banking services, crypto relies on code to handle transactions and high volumes of funds. With this in mind, the project is currently being audited by blockchain security firm CertiK, which ensures that code is up to standard.
This is a crucial element for any project, let alone a MEME coin. CertiK offers an excellent solution, having already secured other popular projects, such as Binance and Huobi. The firm identifies vulnerabilities and provides valuable solutions to sure-up those potential system weaknesses.
Feeding those in need
Grimace Coin doesn't just represent a new normal. It highlights the good that can be achieved by new and exciting cryptocurrency projects. Through their 'Feeding the Needy' campaign, Grimace Coin donates to various charities and initiatives. The initiative is backed by theholders, which also have a say in who receives McDonald's gift card donations.
As of writing this article, Grimace Coin has donated dog and cat food to charities and provided McDonald's meals to homeless people in their area. This is an excellent approach and should be considered by other current and future cryptocurrency projects.

Grimace Coin can be found at CoinMarketCap
---