Good News: Major Adviser Just Pushed Big Money Towards Crypto
Cambridge Associates, a consultant for pensions and endowments, thinks institutional investors should look more into cryptocurrencies. According to a research note published on Monday and reported by Bloomberg, the consultant thinks that, "Though these investments entail a high degree of risk, some may very well upend the digital world."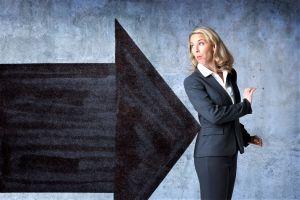 Source: iStock/DNY59
Boston-based Cambridge Associates, which specializes in pension and endowment consultancy, reportedly works with institutions that collectively manage over USD 300 billion. Assessing the 2018 cryptocurrency market slump, the analysts reportedly argued that the crypto investment landscape as a whole nonetheless demonstrates "an industry that is developing, not faltering.''
The document advises prospective investors to do their own, thorough research and educate themselves, as well as explore diverse investment routes. Those diverse routes range from illiquid venture capital funds to simply buying tokens on an exchange.
Investors often steer clear from the industry due to the 2018 bear market which has left many disillusioned, and the consultancy acknowledges this. However, the note adds that, "Despite the challenges, we believe that it is worthwhile for investors to begin exploring this area today with an eye toward the long term."
Meltem Demirors, a cryptocurrency investor, Chief Strategy Officer at CoinShares, a crypto focused investment company, reacted to the news by tweeting her view on where investors will initially allocate: "Most will buy structured, regulated products and vehicles that can pass the investment committee's risk review process."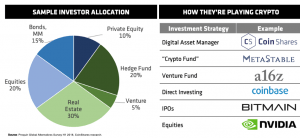 Source: CoinShares
However, some institutionals are already here, as shown by the example of two separate pension funds that collectively manage USD 1.2 billion in assets for the state of Virginia police force and other employees backing a cryptocurrency fund. Pensions on blockchain are far from a new idea, as many players, both startups and established companies, are looking into this possibility.
"The institutions aren't coming. They're already here," Anthony Pompliano, co-founder and partner at Morgan Creek Digital, said last week after the company announced its deal with the pension funds.
There are already ways for investors to dip their toes into crypto without taking on too much risk, like Grayscale Investment offers - "a traditional investment vehicle with shares titled in the investors name, providing a familiar structure for financial and tax advisors and easy transferability to beneficiaries under estate laws" - although their CEOsees altcoins collapse, but remains bullish on Bitcoin.
Also, as reported by Cryptonews.com, despite the bear market, crypto and blockchain will continue to appeal to institutional investors through 2019 and beyond, while asset managers most interested in new models for the tokenization and management of traditional securities and other assets
Meanwhile, the CEO of futures exchange operator CME Group, Terry Duffy thinks that until governments really start to accept cryptocurrencies of some way, shape, or form, it's gonna be very difficult for the major institutional investors to tap into crypto.
However, in an interview last week, Mike Novogratz, founder and chief executive officer at Galaxy Digital, a digital assets merchant bank, said that "all the architecture institutions need to feel comfortable with [crypto] is being put in place" and much-anticipated custody solutions to be launched very soon.
"Over the next 6-12 months you're going to start seeing institutions putting a small amount of their assets [into crypto]," Novogratz estimated, stressing that it would still be a lot of money.
---