Fight Out Move-to-Earn Crypto Presale Raises Nearly $2.5 Million, 50% Bonus Ends Soon – Is This the Next 25x ICO?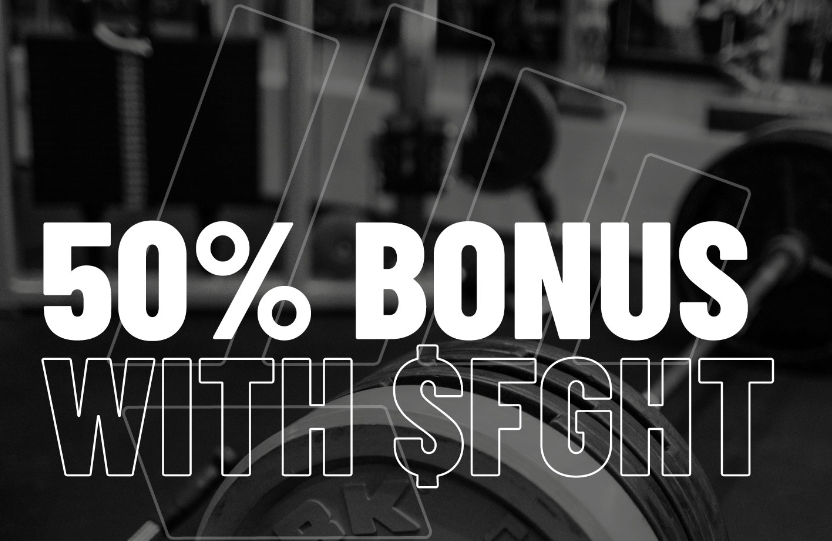 Disclaimer: The Industry Talk section features insights by crypto industry players and is not a part of the editorial content of Cryptonews.com.
Revolutionary new move-to-earn crypto project Fight Out has already raised nearly $2.5 million during its presale - with early investors also able to earn a 50% bonus on FGHT tokens.
The project has ambitious plans to develop an exciting new fitness app as well as build and develop Web3-integrated gyms in key locations around the world.
Locations for the first gym are already being scouted and earlier this week, Fight Out announced it has already partnered with three world-class athletes to act as ambassadors.
The first presale stage is almost 50% complete - with a target of $5m - and once that is reached bonus tokens will no longer be available to investors, while FGHT tokens will also increase in price after stage 1 is complete.
Tokens are currently on sale for $0.0166 each and will then increase every second to a max of $0.0333 on March 31, 2023 - an increase of 100%.
Fight Out Price Prediction - 25x Possible?
While a 25x - or 2,500% - sounds like a large amount, the tokenomics of Fight Out and the huge interest in the project have seen some experts consider it a distinct possibility.
For FGHT tokens to increase 25x from the current price, they would need to reach a price of $0.415 per token.
However, as mentioned above, while FGHT tokens are currently on sale for $0.0166, those who buy now will see the price of tokens double before the presale ends - meaning FGHT at $0.415 is only a 12.5x increase from that price point, making it one of the best cryptos to buy right now.
Fight Out has a max supply of 10 billion tokens which means the project would need to reach a market cap of $4.15 billion tokens for the FGHT token to reach that price. Again, that sounds like a large figure but considering the utility of the project and its ambitious plans it is a huge possibility that, in time, the project could reach such huge heights.
The project will also see lock 30% of tokens locked and released linearly over the next 10 years, which brings the required market cap down to under $3 billion.
The largest move-to-earn project currently in the market, STEPN, was a trailblazer in the M2E space and earlier this year reached a peak market cap of just under $2.5 billion.
However, the value of GMT tokens spiked largely off of hype alone and has crashed in the last eight months with the community put off by the need to purchase expensive NFTs to access the rewards system.
Fight Out avoids that pitfall with no NFTs needed to access the Fight Out app and rewards distributed in REPS - a second currency that acts only within the app and has no value outside of it - while FGHT tokens underpin the project, with the majority of money raised in the presale used to fund venue acquisition and refurbishment (70%), marketing & partnerships (18%) and product development (12%).
Investors who buy FGHT tokens in the first stage of the presale are able to claim up to 50% of their purchase in bonuses - with up to 25% given for investment amounts over $50k and a further 25% offered to those who lock their tokens for 24 months.
Fight Out has been developed by doxxed team KYC-verifed by CoinSniper, while the FGHT token smart contract has been fully audited by trusted blockchain security firm Certik.
For more information on the project and the presale bonus scheme, read through the Fight Out whitepaper.
Fight Out to Revolutionize M2E Space
Investors are so excited by Fight Out because it is set to provide a bona fide answer to the huge potential of the move-to-earn space.
While other projects have only counted steps while walking or running, Fight Out uses smart technology to reach movement, key effort indicators, sleep and nutrition to build a digital fitness profile in its app and then tailor individual workout regimes to each user.
Training regimes are not only focused on strength and cardio but offer a holistic approach that also take into account wellness and mental fortitude.
The fitness profile is represented in a soulbound NFT avatar - meaning they cannot be sold or traded - with users earn REPS for completing workouts at home or in a gym and further REPS able to be won through competitions against other users.
REPS can be used to earn discounts on app subscriptions and gym memberships, book personal training sessions, or purchase apparel, supplements and training equipment.
The Fight Out developers are already scouting locations for their first real-world gym, which will have Web3-integrated features such as 'mirrors' that show the digital fitness profile and sensors that track workouts - the project is aiming to build and develop multiple gyms in key locations around the globe that act as community hubs.
The first three of many major athletes have already been brought into the project to act as ambassadors, not only to help market the project but also to provide exclusive content such as masterclass workouts and behind-the-scenes access to training camps.
UFC pair Amanda Ribas - ranked No 9 in the strawweight division - and rapidly rising star Taila Santos, who is ranked No 12 in the pound-for-pound rankings and fought for the flyweight title in June have joined the project, as has British boxing queen Savannah Marshall.
Former WBO middleweight champion Marshall lost her title in a mega-fight against Claressa Shields in October, in what was the most-watched women's boxing match of all time.
Fight Out Video Analysis
How To Buy FGHT Tokens
The Fight Out presale has now sold out nearly 50% of its stage 1 allocation, with tokens on sale for $0.0166 and bonuses of up to 50% available.
To buy tokens, read through our full guide on how to buy FGHT during the presale.
Fight Out is also offering one winner the chance to win $250,000 of FGHT tokens - to enter you must hold $250 of FGHT tokens on the day of the draw.
Entries can be stacked by completing tasks on social media.
---