Ethereum Price Prediction as $1,800 Level Holds Strong – Time to Buy?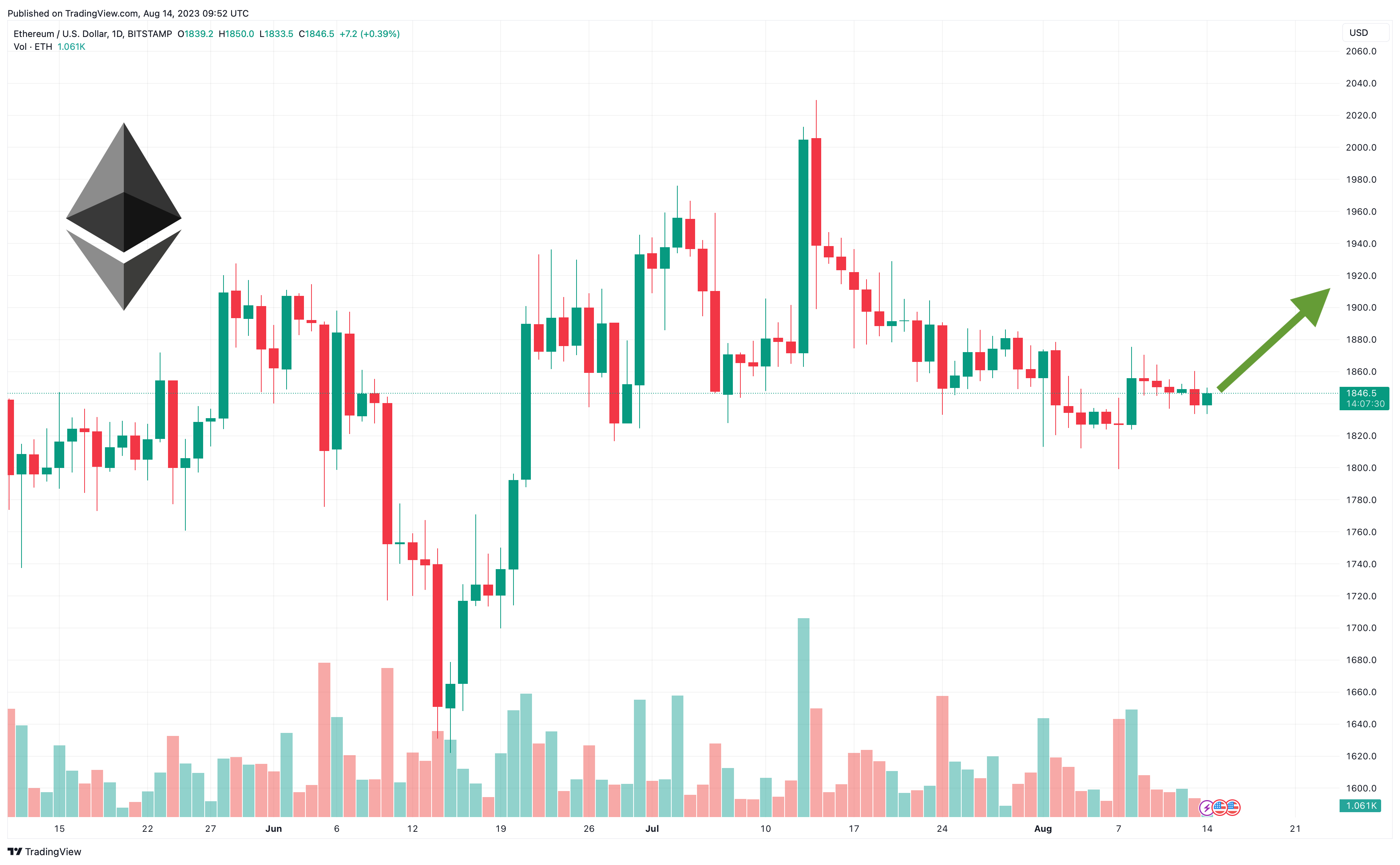 The Ethereum price has barely budged today, with its current level of $1,846 representing a 0.1% fall in the past 24 hours.
ETH remains up by 1% in the past week, and while it is down by 5% in the past month, it remains up by 54% since the beginning of the year.
And while it has, like most of the market, had a disappointing few weeks, it has held firmly to the $1,800 support level, indicating that it's unlikely to fall much further.
This means it's due to rebound again in the near future, particularly when Ethereum's fundamentals remain as strong as ever.
Ethereum Price Prediction as $1,800 Level Holds Strong – Time to Buy?
Ethereum's chart and general performance continues to be decidedly mixed, with the altcoin neither fall further in the past few weeks nor mounting a serious comeback.
Its indicators reflect this indeterminacy, with its relative strength index (purple) hovering around the 50 level, which could equally point to incoming gains or losses.
It's something similar with ETH's 30-day moving average (yellow), which continues to struggle just below its 200-day average (blue) and doesn't look like it's going to rise anytime soon.
However, it's arguable that ETH has been undervalued for far too long, and that it's overdue a big rally.
This may be entirely true, yet it still seems that larger investors are more inclined to sell the altcoin right now rather than buy it, as indicated by recent updates from Whale Alerts.
That said, such possible sales are more about the overall state of the cryptocurrency market than about Ethereum itself, given that investors continue to be spooked by the SEC's ongoing cases against Coinbase and Binance.
Then there's the continued underwhelming performance of stock markets and the global economy, with recent data related to the Chinese economy unnerving investors last week, for instance.
It's, therefore, probably no surprise that ETH continues to disappoint, even if the token's fundamental value remains as strong as ever.
For example, Ethereum continues to account for more than half the DeFi sector in terms of total value locked in, although its dominance rises even higher when its layer-two networks are added to the equation.
And it also continues to attract more high-profile adoption than most of its rivals, with last week witnessing the announcement that PayPal would be launching its own stablecoin, which would run on Ethereum.
Because of this, it's really only a matter of time before ETH rises again, with the altcoin likely to return to $1,900 in the next few weeks.
It could also reach $2,000 in a couple of months, before passing $2,500 by the end of the year.
Newer Altcoins Promise Faster Gains
The only issue with ETH is that, as an established altcoin, its gains may be gradual, meaning that traders hoping for a sudden payoff with the token may be disappointed.
Still, there's currently no shortage of newer altcoins that show the potential to rise aggressively, something which is particularly the case with presale tokens.
Such tokens can often enjoy market-beating rallies when they list on exchanges for the first time, and one of the likeliest candidates to do this right now is Launchpad.xyz (LPX), a one-stop-shop Web3 platform that launched the offering for its LPX token last month.
Impressively, it has already raised more than $1.2 million in its presale, with investors clearly impressed by its plans to provide a universal channel for all things Web3-related.
As a single, all-encompassing channel for Web3 applications, Launchpad.xyz will offer all the tools and services users will need to become an active participants in the growing Web3 economy.
This will include a Web3 wallet address, as well as a play-to-earn game hub, a launchpad for presales, a trading terminal, and an AI-powered search engine specifically for cryptocurrency trading.
Even more impressively, Launchpad will deliver its very own decentralized exchange by the end of 2023, while 2024 will bring an NFT exchange and the ability to create – and trade – fractionalized assets.
Given such ambition, it's entirely possible that Launchpad xyz will go on to become one of the most successful presales and new tokens of the year.
Investors can join its sale by visiting its official website and connecting their wallets, with 1 LPX currently costing $0.0445.
Disclaimer: Crypto is a high-risk asset class. This article is provided for informational purposes and does not constitute investment advice. You could lose all of your capital.
---