Crypto Flash Crash: Recovery, Unavailable Exchanges & Tesla's 'Diamond Hands'
Disclosure: Crypto is a high-risk asset class. This article is provided for informational purposes and does not constitute investment advice. By using this website, you agree to our terms and conditions. We may utilise affiliate links within our content, and receive commission.
On Wednesday, what initially appeared as another usual sharp correction in the crypto market, suddenly turned into a less usual flash crash, once again marked by exchange outages and sharp rebound, while professional investors educate newbies, and Elon Musk claims that Tesla has not sold their bitcoin (BTC) holdings.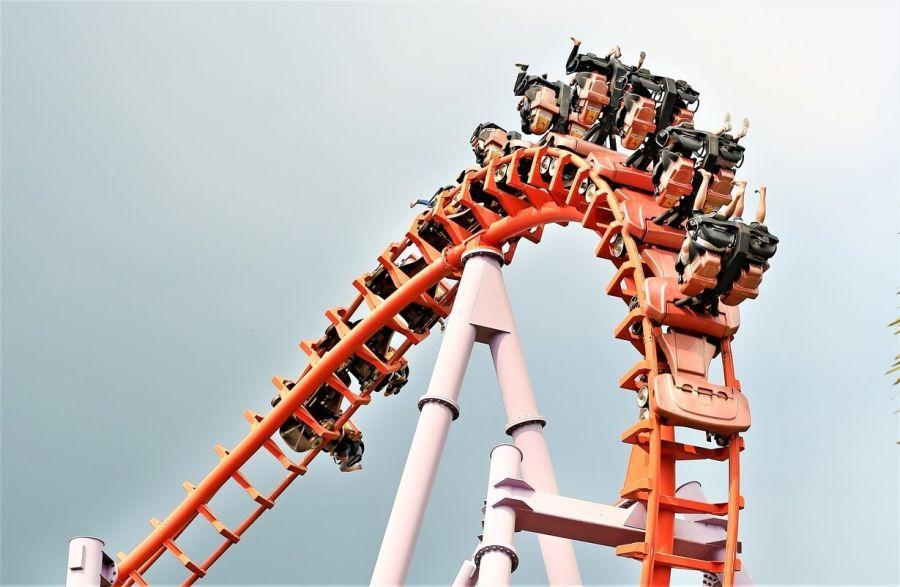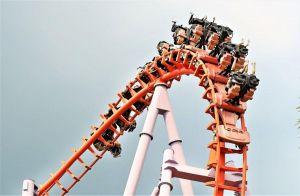 Source: Adobe/zilvergolf
At 17:43 UTC, BTC trades USD 39,798, rebounding from USD 30,415, reached earlier today. The price is still down by almost 9% in a day. Ethereum (ETH) recovered from USD 2,051 to USD 2,839, trimming its daily losses to less than 17%. Other coins from the top 10 list are down by 13%-29% in a day.
"This will feel very uncomfortable for many traders and investors who are new to this high volatility area of the market and rightfully so, we've seen a lot of higher leverage positions be liquidated in a short span of time," Jeffery Wang, Head of America's at the Amber Group, said in an emailed comment.
This was "a large flushout," Wang added, and if the market wants to continue higher it was "likely necessary to remove some of the froth from overleveraged positions."
The next few days will be important to see how overall sentiment is, "a term we've heard repeatedly over the past 6 months is many traders wanted the opportunity to buy lower, ie buy the dip, so with the opportunity now upon us will see if people do put new money to work or if their stance has changed."
In light of this massive drop across crypto markets, many in the Cryptoverse, such as FTX CEO Sam Bankman-Fried, have noted large liquidations across the board.
So that's why it reached 30k. ATH liquidations of bitcoin longs pic.twitter.com/oFEb0gL6Kg

— Andrei Tavanllar 💎 (@drei4u) May 19, 2021
USD 8.7bn worth of trading positions (790,625 in total) in the crypto derivatives market were liquidated in the past 24 hours, per Bybt.com data. USD 3.7bn of these are trading positions in BTC. Ethereum traders lost over USD 2.3bn.
"The last 48 hours in the markets were bloody – really bloody," wrote Anthony Sassano, SetProtocol product marketing manager and author of the Ethereum-focused newsletter The Daily Gwei, and ETH fell "much lower than almost anyone thought it was going to drop."
That said, Sassano suggested that investors might want to "think in years, not days."
Also, per Ju Ki-young, CEO of crypto analytics provider CryptoQuant, people should wait for whales to stop deposits for selling in the next few hours. "Don't try to be a hero who captures the bottom," he said. "Be safe."
On the other hand, some of those who wanted to purchase bitcoin and other crypto found themselves unable to. "There is nothing more frustrating than trying to buy bitcoin on sale but every exchange struggling under the high traffic," said prominent crypto investor Anthony Pompliano. (Learn more: Crypto Exchanges Scale, But Outages Likely To Remain A Fact Of Life)
That said, a number of people started reporting that they were unable to access certain exchanges and trading tools, or that they were lagging, or that they experienced some sort of noticeable issue – and nobody found it surprising as it's not the first time this has happened. Some of these reportedly include Blockfolio, BlockFi, Cryptowatch, Binance desktop, Bitpanda, FTX, Bitstamp, Kraken, Huobi, and a number of others.
One of the major exchanges experiencing issues (once again) was Coinbase, who said: "We're seeing some issues on Coinbase and Coinbase Pro and we're aware some features may not be functioning completely normal." They added that customers are experiencing some issues with logging in, seeing their balances, and trading, but that funds are safe.
https://www.twitter.com/Rager/status/1395014502169468928?s=20
There's a difference.

Everyone in the queue to the bank is trying to get money out.

Some people in crypto are trying to put money IN at the same time as others taking out.

— tommysgn (@tommyhodlsgn22) May 19, 2021
Analysis, forecasts, and advice
"With hundreds of projects getting built across various blockchains, key crypto segments like DeFi up at USD 71B of total value locked, NFTs getting their fair share of attention in mainstream media, Ethereum, the second-largest blockchain in the world, getting multiple efficiency updates and moving to proof-of-stake in the upcoming months, the markets are bound to make a quick comeback sooner," Ganesh Swami, CEO and Co-Founder of Covalent, a blockchain data provider, said in an emailed comment.
"More than anything, however, what this undeniably large correction and those before it prove is that the crypto market is resilient, that it's a long-term game ill-suited to the weak-handed," Antoni Trenchev, Co-founder and Managing Partner of major crypto lender Nexo, said.
Also, according to him, "a lot" of their clients roll out of BTC into ETH because, "on the surface, Bitcoin is now where ETH was a few months back: it hit USD 2,000 in February and then failed to reconquer that territory for more than a month."
Meanwhile, Gunnar Jaerv, Chief Operating Officer of First Digital Trust, a Hong Kong-based digital asset custodian, stressed that it is paramount that those in the crypto space spend sufficient time researching facts before believing any social media discourse, especially given the reactivity of so many of the comments that have driven the crash of both BTC and ETH.
At the same time, the BTC advocate and Quantum Economics analyst Jason Deane stressed that Bitcoin's fundamentals, network, and objectives remain entirely intact.
"Musk's musings are, ultimately, irrelevant to any of these factors. He can influence the markets temporarily in terms of value, but he can't change any other factors," he said, claiming that the recovery is "inevitable."
He also suggested that new BTC investors should understand their own strategy better.
"You'll find your level of comfort is directly proportional to how clear you are on what you're doing, what your level of exposure is and, most importantly, what confidence you have in what you're buying (or selling). If you're feeling stressed and worried, something in that mix is wrong," he said.
Another Quantum Economics analyst Lou Kerner has shared his own BTC investment strategy.
"So I dollar-cost average. It eliminates the effects of investor psychology and market timing on my bitcoin holdings. I simply committed to a certain dollar amount I'm going to invest on a daily basis, and I set it and forget it. When the market goes down, I get to buy bitcoin cheaper, and cheaper, as has been happening for the last 10 days," he said.
At the same time, some big investors, such as the MicroStrategy boss, Michael Saylor, and Tesla's Elon Musk also chimed in. Saylor said that they did not nor plan to sell their BTC, while Musk suggested that the company has "diamond hands," meaning that they are not selling their BTC now. According to Musk, credit for this goes to their Master of Coin – the Chief Financial Officer of the car manufacturer, Zachary Kirkhorn.
Entities I control have now acquired 111,000 #BTC and have not sold a single satoshi. #Bitcoin Forever.

— Michael Saylor⚡️ (@saylor) May 19, 2021
Are you referring to #bitcoin or Doge?

— Peter McCormack🏴‍☠️ (@PeterMcCormack) May 19, 2021
Meanwhile, Cathie Wood, Chief Executive Officer and Chief Investment Officer at Ark Investment Management, a major investor in Tesla and Coinbase, told Bloomberg TV that BTC is "on sale" right now, although it is not necessarily at a bottom. Also, she estimates that BTC will hit USD 500,000 eventually.
____
Other reactions:
https://www.twitter.com/CryptoCobain/status/1395019400609255425
Obvious warning signs of pain coming a month ago:

– ETHheads gloating about flippening
– "DogeArmy" talking about HODLing Doge 🤦
– Mark Cuban becomes self appointed "crypto" expert

The pain is necessary to purge this nonsense.

— Vijay Boyapati (@real_vijay) May 19, 2021
Unprecedented opportunity in the midst of a #bitcoin bull market.

— Corey Wilson (@Dr_CoreyWilson) May 19, 2021
#BTC

The reason prices are not much higher right now is b/c MOST exchanges absolutely SUCK

I don't think that most people have any clue of what is happening right now to pause price

Sickening!

— Mr. Anderson (@TrueCrypto28) May 19, 2021
Literally the worst gas spike I've ever seen. pic.twitter.com/SEYKsx8711

— Alex Svanevik 🐧 (@ASvanevik) May 19, 2021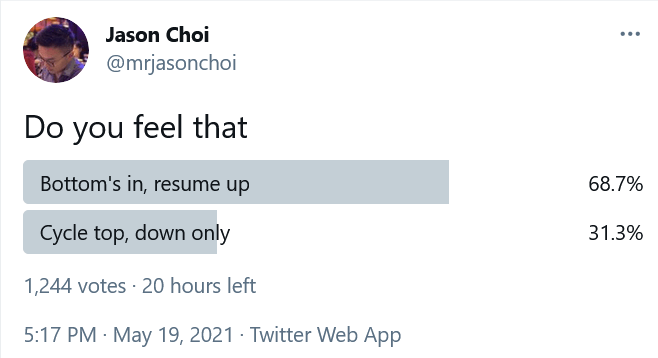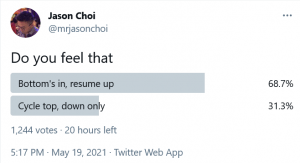 Bitcoin correction update: -53% from last month's high. $BTC pic.twitter.com/utX4Puaxgb

— Charlie Bilello (@charliebilello) May 19, 2021
This was not a black swan event. This was greed and stupidity leaving the market. Condition yourself to optimize for survival.

— limzero.eth (@pleyuh) May 19, 2021
time for the strong hands play!!! pic.twitter.com/4ZKSVmjUPT

— Bitbit.BTFD (@bitbitcrypto) May 19, 2021
____
Learn more:
– Another Usual Bitcoin Crash? BTC Almost Tests USD 30K
– Many Major Stablecoins Take a Brief Plunge Below USD 0.9
– Weeks Of Sideways Trading Ahead as Bitcoin Newbies Panic Selling to Hodlers
– Fundstrat's Tom Lee Boosts Bitcoin Target 25% Despite Musk's Criticism
– Bitcoin May Double This Year Despite Energy Concerns – Pantera CEO
– Traders Rotate From Bitcoin To Alts, While JPMorgan Sees Ether As Overvalued
– If History Rhymes, ETH Might Hit USD 19K; Downside Risk Stronger Than BTC's
---